The global protein supplements market was valued at USD 24 billion in 2022 and grew at a CAGR of 7% from 2023 to 2032. The market is expected to reach USD 47.21 billion by 2032. The increasing demand for protein supplements, given the rising awareness about nutrition and well-being, will drive the growth of the global protein supplements market.
Market Introduction:
Protein is necessary for the human body to operate correctly. Protein provides strength and aids in the growth and repair of cells. The human body needs different amounts of protein depending on age, gender, weight, and general health. One vital part of a healthy diet is protein. The chemical 'building blocks' of proteins are amino acids. The body uses amino acids to make hormones enzymes, and to grow and repair bones and muscles. Protein helps with weight loss and management, gains muscular leanness, and minimizes muscle loss. Additionally, proteins regulate metabolism, the immune system, and brain activity. Natural protein sources include legumes, chickpeas and beans, animal protein from chicken, and dairy products. There are seven types of protein powder available: whey, egg, soy, rice, hemp, pea, and mixed protein. An alternative to natural sources is the consumption of a protein supplement. It can be consumed as a powder, bar, or protein smoothie. There are plant- and animal-based protein supplements. Protein supplements are equally efficient in promoting muscle growth, hormone and enzyme production, and tissue healing.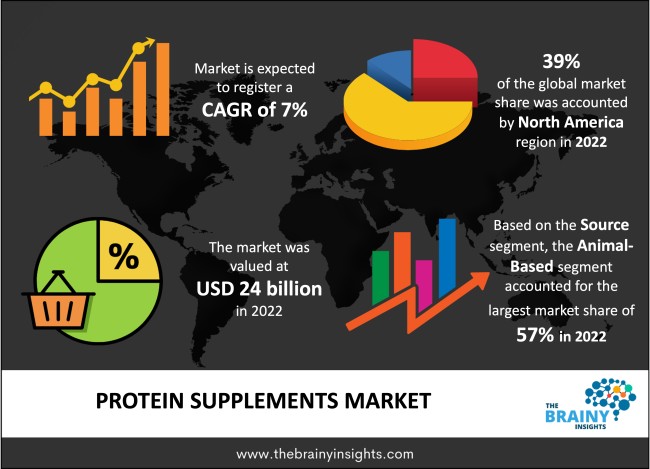 Get an overview of this study by requesting a free sample
Recent Development
Research has demonstrated that protein, or protein supplements, can assist in enhancing insulin sensitivity and reduce blood sugar levels, which suggests that protein aids in the management of diabetes. According to the Dietary Guidelines for Americans, adults over 19 should consume 46–56 grams (g) of protein daily, depending on their age and gender. Adults should get 10–35% of their daily calories from protein, and protein beverages are a smart way to supplement to meet the daily RDA requirements, say medical professionals.
Market Dynamics:
Drivers
The increasing awareness about nutrition and health – the COVID-19 pandemic led to many individuals reevaluating their life choices and making lifestyle changes that were healthy, sustainable and good for their overall well-being. Social media became a major driver in this change, given the growing content creation and consumption in and around fitness, nutrition and healthy lifestyle. Protein supplements like protein powders, smoothies, shakes and bars became highly popular given their nutritional value and effectiveness in gaining muscle mass, retaining muscle gain, muscle recovery assistance and weight loss. The introduction of various choices by multiple brands with different packaging, flavours, and ingredients also augmented the demand for protein supplements. The marketing strategies of industry players, especially through social media collaboration with fitness influencers, assisted in market growth. Therefore, the increasing awareness about protein supplements and their overall positive effect on physical health will drive the market's growth.
Restraints:
The high cost of protein supplements – high-quality protein supplements are expensive. The expensive nature of good-quality, authentic, and effective protein supplements makes them inaccessible and unaffordable for most people. Furthermore, consumers prefer consuming protein through natural sources rather than supplements if they can, considering it is a far more rich and affordable protein source. Therefore, the high cost of protein supplements will limit the market's growth.
According to the Union Health Ministry of India, more than 40,000 cases were brought in 2022–2023 about dangerous protein powder samples and nutritional supplements that were marketed but did not adhere to food safety regulations. The union health minister provided information on the steps the government has taken to stop the sale of protein powders and dietary supplements that are dangerous to the public. In response to a query about protein powder and dietary supplement sales in the market, the minister discussed whether the Food Safety and Standards Authority of India (FSSAI) had taken any action against individuals or businesses that were selling dangerous goods.
Opportunities:
The introduction of new varieties – the growing adoption of veganism and vegetarianism as a part of lifestyle changes or environmentally conscious decisions has prompted market players to introduce vegan and plant-based protein supplements to bridge this market gap. Therefore, introducing new varieties of plant-based protein that will cater to the vegan population will offer lucrative opportunities during the forecast period.
Gentle Beast, the leading company in the supplement sector, proudly presents the innovative 3-in-1 Multi-Flavored 100% Whey Protein Isolate. This introduction is going to completely change how health-conscious people and fitness enthusiasts get their recommended daily intake of protein. The 3-in-1 Multi-Flavored Whey Protein Isolate from Gentle Beast sets the standard and promises a fresh method to satisfy its customers' wide range of tastes. For individuals who value quality, flavour, and individuality, this product represents a paradigm leap rather than just another supplement. Gentle Beast is aware of the differences in customer tastes regarding protein selections.
Regional segmentation analysis:
The regions analyzed for the market include North America, Europe, South America, Asia Pacific, the Middle East, and Africa. North America emerged as the most significant global protein supplements market, with a 39% market revenue share in 2022.
The fitness industry is growing, given the rising influence of social media in the region. The growing presence of social media fitness enthusiasts and influencers and partnerships/collaborations with protein supplement makers have increased their sales significantly in the regional market. The increasing presence of fitness studios, gyms and other sports centres drives the market's growth.
North America Region Protein Supplements Market Share in 2022 - 39%
www.thebrainyinsights.com
Check the geographical analysis of this market by requesting a free sample
By Source Segment Analysis
The source segment is divided into animal-based, plant-based and others. The animal-based segment dominated the market, with a market share of around 57% in 2022. Whey protein, egg white protein, casein, collagen, and beef protein isolate are common animal-based protein supplements. Soy, pea, oat, brown rice, hemp, and pumpkin seed are plant-based proteins. Animal-based protein supplements are more effective and offer faster and better results, which translates to their dominance in the market. Dairy-based product proteins are the most popular and easily available protein supplements. Animal-based protein is highly effective in building muscle mass, retaining muscle gain and assisting in muscle recovery and weight management. Animal-based protein is used by both Athletes/bodybuilders and regular consumers. The effectiveness, easy availability, and wide variety of options on the market drive the segment's growth.
Product type Segment Analysis
The product type segment is divided into powder, ready-to-drink beverages, bars and others. The powder segment dominated the market, with a market share of around 44% in 2022. Protein powders are dietary supplements that aid in tissue healing, muscle growth, and the production of hormones and enzymes. Additionally, it helps people lose weight. Protein powders come in various forms, such as plant- and dairy-based powders. The powder form protein enables versatility and flexibility to consumers. It can be mixed in water milk or infused in other relevant beverages. It can also be used as an ingredient in other recipes to increase their nutritional value. They are widely available in different packaging, flavours, and ingredients. There are multiple market players offering protein powders in the market, which increases the choices for consumers.
Distributional Channel Segment Analysis
The distribution channel segment is divided into supermarkets/hypermarkets, convenience stores, online and others. The supermarkets/hypermarkets segment dominated the market, with a market share of around 45% in 2022. Supermarkets/hypermarkets are convenient shopping destinations for consumers, given their growing presence globally. They offer various protein supplements with dedicated aisles and sections, giving consumers a choice and easy accessibility. The choices also enable consumers to make a better and more informed decisions.
Some of the Key Market Players:
Abbott Laboratories
BPI Sports LLC
CytoSport Inc.
Glanbia Plc
Iovate Health Sciences International Inc.
MusclePharm
NOW Foods
QuestNutrition LLC
RSP Nutrition
The Bountiful Company
Report Description:
| Attribute | Description |
| --- | --- |
| Market Size | Revenue (USD Billion) |
| Market size value in 2022 | USD 24 Billion |
| Market size value in 2032 | USD 47.21 Billion |
| CAGR (2023 to 2032) | 7% |
| Historical data | 2019-2021 |
| Base Year | 2022 |
| Forecast | 2023-2032 |
| Region | The regions analyzed for the market are Asia Pacific, Europe, South America, North America, and Middle East and Africa. Furthermore, the regions are further analyzed at the country level. |
| Segments | Source, Product Type and Distribution Channel |