The global point of care molecular diagnostics market was valued at USD 8 billion in 2022, growing at a CAGR of 10.8% from 2023 to 2032. The market is expected to reach USD 22.3 billion by 2032. Rising demand for rapid testing and a large number of new product launches for point-of-care tests are expected to fuel the growth of the point-of-care molecular diagnostics market in the forecast period. Furthermore, one of the essential causes for market expansion is constant improvement in the quality of items available on the shelf.
Market Introduction:
Point-of-Care (POC) molecular diagnostics are tests performed close to the patient. It can be done at a hospital, ambulance, clinic, field, or doctor's office. POC molecular diagnostics is quick and efficient, allowing it to reach more patients. The test findings are quick, ensuring that patients receive prompt therapy. It also removes the patient's follow-up visits. Molecular technologies examine the patient's nucleic acid and DNA for pathogens, infections, tumours, or anomalies. These tests look for specific DNA or RNA sequences linked to disorders, such as single nucleotide polymorphism (SNP), insertions, rearrangements, deletions, and others. Oncology, human leukocyte antigen typing, pharmacogenomics, infectious illnesses, genetic disease screening, and coagulation are a few of molecular diagnostics' therapeutic uses. Each molecular analysis requires three basic steps: extraction and purification of nucleic acid, amplification or making copies of the nucleic acid of interest (target), or attaching multiple copies of a dye to a single target copy, and detection of the amplified target using real-time polymerase chain reaction (PCR) or end product detection including microarrays, Luminex, i.e. siRNA.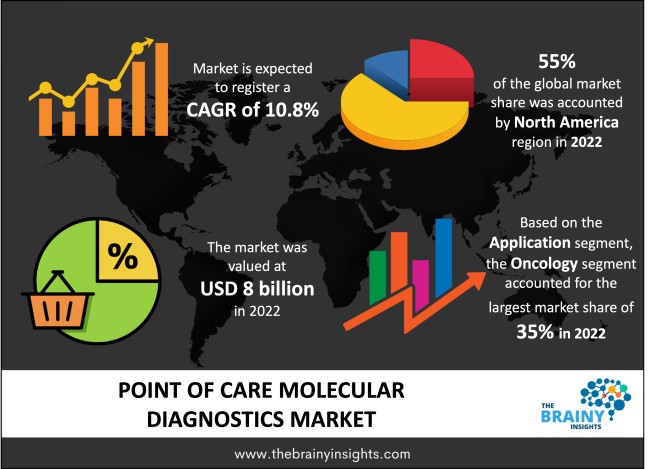 Get an overview of this study by requesting a free sample
Recent Development
In December 2021, FIND invested USD 21 million in Biomeme, Bioneer, Qlife, and S.D. Biosensor to speed the research, manufacturing, and deployment of low-cost point-of-care molecular diagnostic platforms capable of detecting various pathogens that cause disease, including COVID-19.
In January 2022, Roche will launch its Cobas Pulse System in certain countries that accept the CE Mark. Roche Diagnostics' latest generation of integrated point-of-care solutions for professional blood glucose management.
In October 2021, Thermo Fisher Scientific announced that it had received FDA Emergency Use Authorization (EUA) to run COVID-19 tests with the Spectrum Solutions Spectrum DNA SDNA-1000 collection device, a high-throughput, automated COVID-19 testing system on the Amplitude Solution that employs a new saliva sample collection method.
Market Dynamics:
Drivers
Rise of Chronic Disease- Chronic diseases and acute infections are on the rise in developing countries, owing to, among other things, a lack of health knowledge, inadequate medical infrastructure, and a sedentary lifestyle. As a result of these factors, diagnosis and treatment are delayed, as is the quality of care. The need for point-of-care tests for rapid diagnosis is increasing because of its ease of use, low cost, and small product size.
Restraints:
Growing Awareness of Health Issues- The market's expansion has been impeded by higher levels of education and growing awareness of health issues associated with tobacco use, such as various cancers, cardiovascular disorders, pulmonary ailments, etc. In addition, stringent laws in wealthy nations further impede market expansion.
Opportunities:
Launching New Products- Launching novel products will boost the industry's growth by allowing for rapid advancement in the research and development (R&D) of point-of-care testing (POCT) diagnostic instruments. Furthermore, advancements in component materials, reader technologies, reagents, and sensitivities have made quantitative results using lateral flow assay more attainable, boosting market expansion.
Regional segmentation analysis:
The regions analyzed for the market include North America, Europe, South America, Asia Pacific, the Middle East, and Africa. North America emerged as the largest global point of care molecular diagnostics market, with a 55% market revenue share in 2022.
The presence of a growing senior population base and increased healthcare expenditure levels are two significant factors contributing to its highest proportion. Furthermore, increased government backing and funding for COVID-19-related items are expected to lay the groundwork for a regional market. The Departments of Health and Human Services and Defence granted more than USD 562 million to a dozen U.S. companies in October 2021 to fund the fabrication of COVID-19 tests and associated supplies.
In February 2022, Sense Biodetection signed a strategic partnership with Una Health (Una) to distribute the Veros COVID-19 test in the United Kingdom.
North America Region Point of Care Molecular Diagnostics Market Share in 2022 - 55%
www.thebrainyinsights.com
Check the geographical analysis of this market by requesting a free sample
Application Segment Analysis
The application segment is divided into infectious diseases, oncology, hematology, prenatal testing, endocrinology, and others. The oncology segment dominated the market, with a market share of around 35% in 2022. Key market players focus on new product launches and collaborations to preserve their market position. Inex Innovate, for example, announced C.E. clearance of their point-of-care OvaCis Rapid Test in May 2022. This test can tell you whether your ovarian cysts are benign or cancerous. This test produces results in 15 minutes and has significantly reduced test duration. Many pipeline projects are expected to join the market in the following years, supporting the expansion of the oncology segment. Capsulomics, for example, stated in March 2022 that they will be releasing two PCR-based epigenetic assays for esophageal cancer.
Technology Segment Analysis
The technology segment is divided into PCR, genetic sequencing, hybridization, and microarray. The PCR segment dominated the market, with a market share of around 40% in 2022. The availability of multiple RT-PCR and dPCR techniques is projected to fuel segment expansion in the coming years. The use of this amplification technology in respiratory illnesses and HIV has expanded significantly, and firms in this market are adopting the trend of updating platforms and cartridges based on consumer expectations to give convenience to testing.
Some of the Key Market Players:
Abbott
Bayer AG
F. Hoffmann-La Roche AG
Nova Biomedical
QIAGEN
Nipro Diagnostics
Danaher
Bio-Rad Laboratories, Inc.
bioMérieux
Agilent Technologies, Inc.
Abaxis
OraSure Technologies
Report Description:
| Attribute | Description |
| --- | --- |
| Market Size | Revenue (USD Billion) |
| Market size value in 2022 | USD 8 Billion |
| Market size value in 2032 | USD 22.3 Billion |
| CAGR (2023 to 2032) | 10.8% |
| Historical data | 2019-2021 |
| Base Year | 2022 |
| Forecast | 2023-2032 |
| Region | The regions analyzed for the market are Asia Pacific, Europe, South America, North America, and Middle East & Africa. Furthermore, the regions are further analyzed at the country level. |
| Segments | Application, Technology |
Frequesntly Asked Questions
As per The Brainy Insights, the size of the point of care molecular diagnostics market was valued at USD 8 billion in 2022 to USD 22.3 billion by 2032.
The global point of care molecular diagnostics market is growing at a CAGR of 10.8% during the forecast period 2023-2032.
North America emerged as the largest point of care molecular diagnostics market.
1. Introduction
1.1. Objectives of the Study
1.2. Market Definition
1.3. Research Scope
1.4. Currency
1.5. Key Target Audience

2. Research Methodology and Assumptions

3. Executive Summary

4. Premium Insights
4.1. Porter's Five Forces Analysis
4.2. Value Chain Analysis
4.3. Top Investment Pockets
4.3.1. Market Attractiveness Analysis by Application
4.3.2. Market Attractiveness Analysis by Technology
4.3.3. Market Attractiveness Analysis by Region
4.4. Industry Trends

5. Market Dynamics
5.1. Market Evaluation
5.2. Drivers
5.2.1. Rise of chronic disease
5.3. Restraints
5.3.1. Growing awareness of health issues
5.4. Opportunities
5.4.1. Launching new products
5.5. Challenges
5.5.1. Inadequate reimbursements

6. Global Point of Care Molecular Diagnostics Market Analysis and Forecast, By Application
6.1. Segment Overview
6.2. Infectious Diseases
6.3. Oncology
6.4. Hematology
6.5. Prenatal Testing
6.6. Endocrinology
6.7. Others

7. Global Point of Care Molecular Diagnostics Market Analysis and Forecast, By Technology
7.1. Segment Overview
7.2. PCR
7.3. Genetic Sequencing
7.4. Hybridization
7.5. Microarray

8. Global Point of Care Molecular Diagnostics Market Analysis and Forecast, By Regional Analysis
8.1. Segment Overview
8.2. North America
8.2.1. U.S.
8.2.2. Canada
8.2.3. Mexico
8.3. Europe
8.3.1. Germany
8.3.2. France
8.3.3. U.K.
8.3.4. Italy
8.3.5. Spain
8.4. Asia-Pacific
8.4.1. Japan
8.4.2. China
8.4.3. India
8.5. South America
8.5.1. Brazil
8.6. Middle East and Africa
8.6.1. UAE
8.6.2. South Africa

9. Global Point of Care Molecular Diagnostics Market-Competitive Landscape
9.1. Overview
9.2. Market Share of Key Players in Global Point of Care Molecular Diagnostics Market
9.2.1. Global Company Market Share
9.2.2. North America Company Market Share
9.2.3. Europe Company Market Share
9.2.4. APAC Company Market Share
9.3. Competitive Situations and Trends
9.3.1. Product Launches and Developments
9.3.2. Partnerships, Collaborations, and Agreements
9.3.3. Mergers & Acquisitions
9.3.4. Expansions

10. Company Profiles
10.1. Abbott
10.1.1. Business Overview
10.1.2. Company Snapshot
10.1.3. Company Market Share Analysis
10.1.4. Company Product Portfolio
10.1.5. Recent Developments
10.1.6. SWOT Analysis
10.2. Bayer AG
10.2.1. Business Overview
10.2.2. Company Snapshot
10.2.3. Company Market Share Analysis
10.2.4. Company Product Portfolio
10.2.5. Recent Developments
10.2.6. SWOT Analysis
10.3. F. Hoffmann-La Roche AG
10.3.1. Business Overview
10.3.2. Company Snapshot
10.3.3. Company Market Share Analysis
10.3.4. Company Product Portfolio
10.3.5. Recent Developments
10.3.6. SWOT Analysis
10.4. Nova Biomedical
10.4.1. Business Overview
10.4.2. Company Snapshot
10.4.3. Company Market Share Analysis
10.4.4. Company Product Portfolio
10.4.5. Recent Developments
10.4.6. SWOT Analysis
10.5. QIAGEN
10.5.1. Business Overview
10.5.2. Company Snapshot
10.5.3. Company Market Share Analysis
10.5.4. Company Product Portfolio
10.5.5. Recent Developments
10.5.6. SWOT Analysis
10.6. Nipro Diagnostics
10.6.1. Business Overview
10.6.2. Company Snapshot
10.6.3. Company Market Share Analysis
10.6.4. Company Product Portfolio
10.6.5. Recent Developments
10.6.6. SWOT Analysis
10.7. Danaher
10.7.1. Business Overview
10.7.2. Company Snapshot
10.7.3. Company Market Share Analysis
10.7.4. Company Product Portfolio
10.7.5. Recent Developments
10.7.6. SWOT Analysis
10.8. Bio-Rad Laboratories, Inc.
10.8.1. Business Overview
10.8.2. Company Snapshot
10.8.3. Company Market Share Analysis
10.8.4. Company Product Portfolio
10.8.5. Recent Developments
10.8.6. SWOT Analysis
10.9. BioMérieux
10.9.1. Business Overview
10.9.2. Company Snapshot
10.9.3. Company Market Share Analysis
10.9.4. Company Product Portfolio
10.9.5. Recent Developments
10.9.6. SWOT Analysis
10.10. Agilent Technologies, Inc.
10.10.1. Business Overview
10.10.2. Company Snapshot
10.10.3. Company Market Share Analysis
10.10.4. Company Product Portfolio
10.10.5. Recent Developments
10.10.6. SWOT Analysis
10.11. Abaxis
10.11.1. Business Overview
10.11.2. Company Snapshot
10.11.3. Company Market Share Analysis
10.11.4. Company Product Portfolio
10.11.5. Recent Developments
10.11.6. SWOT Analysis
10.12. OraSure Technologies
10.12.1. Business Overview
10.12.2. Company Snapshot
10.12.3. Company Market Share Analysis
10.12.4. Company Product Portfolio
10.12.5. Recent Developments
10.12.6. SWOT Analysis

List of Table
1. Global Point of Care Molecular Diagnostics Market, By Application, 2019-2032 (USD Billion)
2. Global Infectious Diseases, Point of Care Molecular Diagnostics Market, By Region, 2019-2032 (USD Billion)
3. Global Oncology, Point of Care Molecular Diagnostics Market, By Region, 2019-2032 (USD Billion)
4. Global Hematology, Point of Care Molecular Diagnostics Market, By Region, 2019-2032 (USD Billion)
5. Global Prenatal Testing, Point of Care Molecular Diagnostics Market, By Region, 2019-2032 (USD Billion)
6. Global Endocrinology, Point of Care Molecular Diagnostics Market, By Region, 2019-2032 (USD Billion)
7. Global Others, Point of Care Molecular Diagnostics Market, By Region, 2019-2032 (USD Billion)
8. Global Point of Care Molecular Diagnostics Market, By Technology, 2019-2032 (USD Billion)
9. Global PCR, Point of Care Molecular Diagnostics Market, By Region, 2019-2032 (USD Billion)
10. Global Genetic Sequencing, Point of Care Molecular Diagnostics Market, By Region, 2019-2032 (USD Billion)
11. Global Hybridization, Point of Care Molecular Diagnostics Market, By Region, 2019-2032 (USD Billion)
12. Global Microarray, Point of Care Molecular Diagnostics Market, By Region, 2019-2032 (USD Billion)
13. North America Point of Care Molecular Diagnostics Market, By Application, 2019-2032 (USD Billion)
14. North America Point of Care Molecular Diagnostics Market, By Technology, 2019-2032 (USD Billion)
15. U.S. Point of Care Molecular Diagnostics Market, By Application, 2019-2032 (USD Billion)
16. U.S. Point of Care Molecular Diagnostics Market, By Technology, 2019-2032 (USD Billion)
17. Canada Point of Care Molecular Diagnostics Market, By Application, 2019-2032 (USD Billion)
18. Canada Point of Care Molecular Diagnostics Market, By Technology, 2019-2032 (USD Billion)
19. Mexico Point of Care Molecular Diagnostics Market, By Application, 2019-2032 (USD Billion)
20. Mexico Point of Care Molecular Diagnostics Market, By Technology, 2019-2032 (USD Billion)
21. Europe Point of Care Molecular Diagnostics Market, By Application, 2019-2032 (USD Billion)
22. Europe Point of Care Molecular Diagnostics Market, By Technology, 2019-2032 (USD Billion)
23. Germany Point of Care Molecular Diagnostics Market, By Application, 2019-2032 (USD Billion)
24. Germany Point of Care Molecular Diagnostics Market, By Technology, 2019-2032 (USD Billion)
25. France Point of Care Molecular Diagnostics Market, By Application, 2019-2032 (USD Billion)
26. France Point of Care Molecular Diagnostics Market, By Technology, 2019-2032 (USD Billion)
27. U.K. Point of Care Molecular Diagnostics Market, By Application, 2019-2032 (USD Billion)
28. U.K. Point of Care Molecular Diagnostics Market, By Technology, 2019-2032 (USD Billion)
29. Italy Point of Care Molecular Diagnostics Market, By Application, 2019-2032 (USD Billion)
30. Italy Point of Care Molecular Diagnostics Market, By Technology, 2019-2032 (USD Billion)
31. Spain Point of Care Molecular Diagnostics Market, By Application, 2019-2032 (USD Billion)
32. Spain Point of Care Molecular Diagnostics Market, By Technology, 2019-2032 (USD Billion)
33. Asia Pacific Point of Care Molecular Diagnostics Market, By Application, 2019-2032 (USD Billion)
34. Asia Pacific Point of Care Molecular Diagnostics Market, By Technology, 2019-2032 (USD Billion)
35. Japan Point of Care Molecular Diagnostics Market, By Application, 2019-2032 (USD Billion)
36. Japan Point of Care Molecular Diagnostics Market, By Technology, 2019-2032 (USD Billion)
37. China Point of Care Molecular Diagnostics Market, By Application, 2019-2032 (USD Billion)
38. China Point of Care Molecular Diagnostics Market, By Technology, 2019-2032 (USD Billion)
39. India Point of Care Molecular Diagnostics Market, By Application, 2019-2032 (USD Billion)
40. India Point of Care Molecular Diagnostics Market, By Technology, 2019-2032 (USD Billion)
41. South America Point of Care Molecular Diagnostics Market, By Application, 2019-2032 (USD Billion)
42. South America Point of Care Molecular Diagnostics Market, By Technology, 2019-2032 (USD Billion)
43. Brazil Point of Care Molecular Diagnostics Market, By Application, 2019-2032 (USD Billion)
44. Brazil Point of Care Molecular Diagnostics Market, By Technology, 2019-2032 (USD Billion)
45. Middle East and Africa Point of Care Molecular Diagnostics Market, By Application, 2019-2032 (USD Billion)
46. Middle East and Africa Point of Care Molecular Diagnostics Market, By Technology, 2019-2032 (USD Billion)
47. UAE Point of Care Molecular Diagnostics Market, By Application, 2019-2032 (USD Billion)
48. UAE Point of Care Molecular Diagnostics Market, By Technology, 2019-2032 (USD Billion)
49. South Africa Point of Care Molecular Diagnostics Market, By Application, 2019-2032 (USD Billion)
50. South Africa Point of Care Molecular Diagnostics Market, By Technology, 2019-2032 (USD Billion)
List of Figures
1. Global Point of Care Molecular Diagnostics Market Segmentation
2. Global Point of Care Molecular Diagnostics Market: Research Methodology
3. Market Size Estimation Methodology: Bottom-Up Approach
4. Market Size Estimation Methodology: Top-Down Approach
5. Data Triangulation
6. Porter's Five Forces Analysis
7. Value Chain Analysis
8. Global Point of Care Molecular Diagnostics Market Attractiveness Analysis by Application
9. Global Point of Care Molecular Diagnostics Market Attractiveness Analysis by Technology
10. Global Point of Care Molecular Diagnostics Market Attractiveness Analysis by Region
11. Global Point of Care Molecular Diagnostics Market: Dynamics
12. Global Point of Care Molecular Diagnostics Market Share by Application (2023 & 2032)
13. Global Point of Care Molecular Diagnostics Market Share by Technology (2023 & 2032)
14. Global Point of Care Molecular Diagnostics Market Share by Regions (2023 & 2032)
15. Global Point of Care Molecular Diagnostics Market Share by Company (2022)