The global podcasting market was valued at USD 19.0 billion in 2022, growing at a CAGR of 28% from 2023 to 2032. The market is expected to reach USD 224.3 billion by 2032. One of the key elements driving the expansion of the podcasting market is the rising use of artificial intelligence (AI) in podcasting. By converting it to text in a word processor and enhancing the recording's natural tone, the incorporation of AI enables podcasters to edit content quickly. It offers a better user experience and draws in a large customer base.
Market Introduction:
A service known as podcasting allows users to effortlessly download files to portable devices like a portable media player (PMP) or personal digital assistant (PDA) or stream them online as part of a subscription. While engaging in various activities, like walking, gardening, cleaning, exercising, and cleaning, it is accessible and conveniently available anytime, anywhere. To draw in a large customer base, it offers flexible distribution of audio learning resources and improves user experience and interactive content. In addition to this, it helps to provide better education, entertainment, and fun while enhancing people's mental health. As a result, podcasting is widely used globally in the banking, financial services, insurance (BFSI), energy and utilities, telecommunications, automobile, and healthcare sectors. During the forecast period, the market expansion is driven by important factors like the accessibility of regional content on these platforms and the rising popularity of podcasting. In global podcasting markets, podcasting has been quickly gaining popularity. As of September 2020, more than 1,000,000 podcasts were available on the global market, with more than 30 million audio episodes. The Analysis & Policy Observatory, apo.org.au, reports that people listen to podcasts more frequently.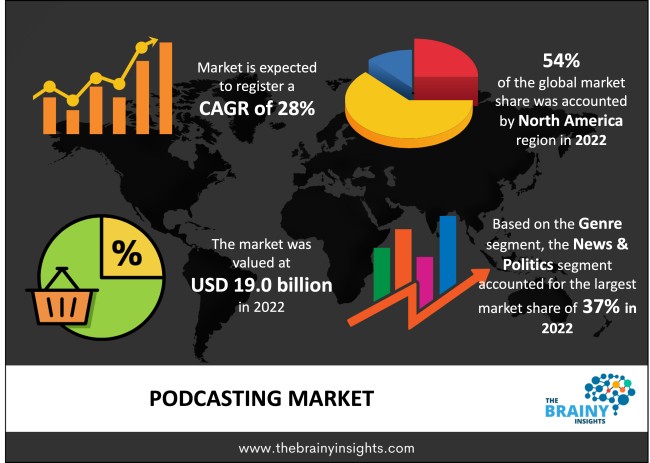 Get an overview of this study by requesting a free sample
Recent Development
The multi-platform content asset monetization company jointly owned by TV18 and Viacom18, IndiaCast Media Distribution Pvt. Ltd., has partnered with Amagi to launch Desi Play TV in January 2023. Desi Play TV is a free, ad-supported streaming television (FAST) channel available in HD on Sling in the US and Plex in the US, Canada, and the Middle East. Amagi is a leader in cloud-based SaaS technologies for connected and broadcast TV.
January 2023, A leading Middle Eastern network operator's 3.6 Terabit network was successfully built by Beyond Technology, a global player in technology transformation, and Infinera to accommodate the rise in domestic and international demand for the 2022 FIFA World Cup.
In July 2020, Sirius acquired Variety, the Stitcher podcast production, distribution, and advertising division of E.W. Scripps Co. The acquisition increased Sirius XM's presence in all types of audio entertainment.
In May 2020, Amazon purchased podcast networks for news and sports. The company was able to enter local search advertising thanks to the acquisition. Local podcasting enhanced Amazon's Echo product.
Market Dynamics:
Drivers
Technological Development- The market has undergone significant changes in recent decades, driven by several causes, like the adoption of the Internet of Things (IoT), machine learning (ML), and artificial intelligence (AI) across podcasting channels, as well as rising levels of disposable income. Increased mobile adoption, cheaper data, and the development of AI and ML have created an excellent environment for streaming players to survive and prosper. Few companies currently control the music streaming market. By utilizing cutting-edge technology, they offer listeners an almost infinite number of songs from musicians around the globe. The music industry, which has long suffered from internet piracy and has seen diminishing earnings, benefits from this.
Restraints:
Internet Issues- If there is no internet, reaching a larger audience is difficult because people need the internet to access podcasts. A sizable population still needs internet connection in emerging and undeveloped nations.
Opportunities:
Use of AI- AI and ML can be used by music producers and songwriting teams to distribute their work. AI gathers a lot of user data to learn about music listeners. There are countless AI and machine learning applications in music and online music streaming. Additionally, the industry is anticipated to improve due to developments in content-based technologies, including "Autonomous Sensory Meridian Response" (ASMR), cutting-edge transcription techniques, and live-streaming podcasting events. High disposable income and rising consumer spending worldwide are essential factors in the growth of the podcasting industry. The middle class is rapidly growing in emerging economies like India, Brazil, China, Turkey, Poland, and Mexico, to mention a few. There has also been a significant increase in foreign and domestic investment.
Regional segmentation analysis:
The regions analyzed for the market include North America, Europe, South America, Asia Pacific, the Middle East, and Africa. North America emerged as the most significant global podcasting market, with a 54% market revenue share in 2022.
This dominance can be attributed to the area's quick uptake of new technology and sophisticated consumer base. Furthermore, audience size and engagement are growing in the Canadian market. While businesses are integrating the audio-on-demand podcast approach within their platforms, publishers focus on enhancing their ad services. The rise of the regional market has been spurred by the widespread use of digital devices and the increased accessibility and popularity of podcast material. For instance, A Mulher da Casa Abandonada, which had more than 1.75 million downloads per week at the time, became the most popular podcast in Latin America in July 2022.
North America Region Podcasting Market Share in 2022 - 54%
www.thebrainyinsights.com
Check the geographical analysis of this market by requesting a free sample
Genre Segment Analysis
The genre segment is divided into news & politics, comedy, sports, society & culture, and others. The news & politics segment dominated the market, with a market share of around 37% in 2022. This is because many people listen to this form of music every day. Numerous formats, such as one-on-one interviews, panel discussions, and solitary news updates, are popular in the news & politics category. These days, many podcast listeners opt for news roundups and bulletins, which, respectively, last 1 to 5 minutes and 5 to 10 minutes and cover everyday subjects. As a result, many radio hosts and print journalists routinely publish their information via audio streaming services.
Format Segment Analysis
The format segment is divided into interviews, panels, solo, conversational and repurposed content. The interviews segment dominated the market, with a market share of around 43% in 2022. Interview podcasts' creativity and originality are to blame for the segment's expansion. Each episode's guest or invitee contributes high-quality information, creative concepts, and exciting experiences that keep listeners interested and involved. Additionally, the interview method encourages various ideas and opinions, leading to vibrant discussions and increased audience engagement.
Some of the Key Market Players:
Amazon.com, Inc.
Apple, Inc.
iHeartMedia Inc.
Megaphone LLC
Pandora Media, LLC
Tune In, Inc.
Audacy, Inc.
Sound Cloud Limited
Spotify AB
Stitcher
Report Description:
| Attribute | Description |
| --- | --- |
| Market Size | Revenue (USD Billion) |
| Market size value in 2022 | USD 19.0 Billion |
| Market size value in 2032 | USD 224.3 Billion |
| CAGR (2023 to 2032) | 28% |
| Historical data | 2019-2021 |
| Base Year | 2022 |
| Forecast | 2023-2032 |
| Region | The regions analyzed for the market are Asia Pacific, Europe, South America, North America, and Middle East & Africa. Furthermore, the regions are further analyzed at the country level. |
| Segments | Genre, Format |
Frequesntly Asked Questions
1. Introduction
1.1. Objectives of the Study
1.2. Market Definition
1.3. Research Scope
1.4. Currency
1.5. Key Target Audience

2. Research Methodology and Assumptions

3. Executive Summary

4. Premium Insights
4.1. Porter's Five Forces Analysis
4.2. Value Chain Analysis
4.3. Top Investment Pockets
4.3.1. Market Attractiveness Analysis by Genre
4.3.2. Market Attractiveness Analysis by Format
4.3.3. Market Attractiveness Analysis by Region
4.4. Industry Trends

5. Market Dynamics
5.1. Market Evaluation
5.2. Drivers
5.2.1. Technological Development
5.3. Restraints
5.3.1. Internet Issues
5.4. Opportunities
5.4.1. Use of AI
5.5. Challenges
5.5.1. High Cost

6. Global Podcasting Market Analysis and Forecast, By Genre
6.1. Segment Overview
6.2. News & Politics
6.3. Comedy
6.4. Sports
6.5. Society & Culture
6.6. Others

7. Global Podcasting Market Analysis and Forecast, By Format
7.1. Segment Overview
7.2. Interviews
7.3. Panels
7.4. Solo
7.5. Conversational
7.6. Repurposed Content

8. Global Podcasting Market Analysis and Forecast, By Regional Analysis
8.1. Segment Overview
8.2. North America
8.2.1. U.S.
8.2.2. Canada
8.2.3. Mexico
8.3. Europe
8.3.1. Germany
8.3.2. France
8.3.3. U.K.
8.3.4. Italy
8.3.5. Spain
8.4. Asia-Pacific
8.4.1. Japan
8.4.2. China
8.4.3. India
8.5. South America
8.5.1. Brazil
8.6. Middle East and Africa
8.6.1. UAE
8.6.2. South Africa

9. Global Podcasting Market-Competitive Landscape
9.1. Overview
9.2. Market Share of Key Players in Global Podcasting Market
9.2.1. Global Company Market Share
9.2.2. North America Company Market Share
9.2.3. Europe Company Market Share
9.2.4. APAC Company Market Share
9.3. Competitive Situations and Trends
9.3.1. Product Launches and Developments
9.3.2. Partnerships, Collaborations, and Agreements
9.3.3. Mergers & Acquisitions
9.3.4. Expansions

10. Company Profiles
10.1. Amazon.com, Inc.
10.1.1. Business Overview
10.1.2. Company Snapshot
10.1.3. Company Market Share Analysis
10.1.4. Company Product Portfolio
10.1.5. Recent Developments
10.1.6. SWOT Analysis
10.2. Apple, Inc.
10.2.1. Business Overview
10.2.2. Company Snapshot
10.2.3. Company Market Share Analysis
10.2.4. Company Product Portfolio
10.2.5. Recent Developments
10.2.6. SWOT Analysis
10.3. iHeartMedia Inc.
10.3.1. Business Overview
10.3.2. Company Snapshot
10.3.3. Company Market Share Analysis
10.3.4. Company Product Portfolio
10.3.5. Recent Developments
10.3.6. SWOT Analysis
10.4. Megaphone LLC
10.4.1. Business Overview
10.4.2. Company Snapshot
10.4.3. Company Market Share Analysis
10.4.4. Company Product Portfolio
10.4.5. Recent Developments
10.4.6. SWOT Analysis
10.5. Pandora Media, LLC
10.5.1. Business Overview
10.5.2. Company Snapshot
10.5.3. Company Market Share Analysis
10.5.4. Company Product Portfolio
10.5.5. Recent Developments
10.5.6. SWOT Analysis
10.6. Tune In, Inc.
10.6.1. Business Overview
10.6.2. Company Snapshot
10.6.3. Company Market Share Analysis
10.6.4. Company Product Portfolio
10.6.5. Recent Developments
10.6.6. SWOT Analysis
10.7. Audacy, Inc.
10.7.1. Business Overview
10.7.2. Company Snapshot
10.7.3. Company Market Share Analysis
10.7.4. Company Product Portfolio
10.7.5. Recent Developments
10.7.6. SWOT Analysis
10.8. Sound Cloud Limited
10.8.1. Business Overview
10.8.2. Company Snapshot
10.8.3. Company Market Share Analysis
10.8.4. Company Product Portfolio
10.8.5. Recent Developments
10.8.6. SWOT Analysis
10.9. Spotify AB
10.9.1. Business Overview
10.9.2. Company Snapshot
10.9.3. Company Market Share Analysis
10.9.4. Company Product Portfolio
10.9.5. Recent Developments
10.9.6. SWOT Analysis
10.10. Stitcher
10.10.1. Business Overview
10.10.2. Company Snapshot
10.10.3. Company Market Share Analysis
10.10.4. Company Product Portfolio
10.10.5. Recent Developments
10.10.6. SWOT Analysis

List of Table
1. Global Podcasting Market, By Genre, 2019-2032 (USD Billion)
2. Global News & Politics, Podcasting Market, By Region, 2019-2032 (USD Billion)
3. Global Comedy, Podcasting Market, By Region, 2019-2032 (USD Billion)
4. Global Sports, Podcasting Market, By Region, 2019-2032 (USD Billion)
5. Global Society & Culture, Podcasting Market, By Region, 2019-2032 (USD Billion)
6. Global Others, Podcasting Market, By Region, 2019-2032 (USD Billion)
7. Global Podcasting Market, By Format, 2019-2032 (USD Billion)
8. Global Interviews, Podcasting Market, By Region, 2019-2032 (USD Billion)
9. Global Panels, Podcasting Market, By Region, 2019-2032 (USD Billion)
10. Global Solo, Podcasting Market, By Region, 2019-2032 (USD Billion)
11. Global Conversational, Podcasting Market, By Region, 2019-2032 (USD Billion)
12. Global Repurposed Content, Podcasting Market, By Region, 2019-2032 (USD Billion)
13. North America Podcasting Market, By Genre, 2019-2032 (USD Billion)
14. North America Podcasting Market, By Format, 2019-2032 (USD Billion)
15. U.S. Podcasting Market, By Genre, 2019-2032 (USD Billion)
16. U.S. Podcasting Market, By Format, 2019-2032 (USD Billion)
17. Canada Podcasting Market, By Genre, 2019-2032 (USD Billion)
18. Canada Podcasting Market, By Format, 2019-2032 (USD Billion)
19. Mexico Podcasting Market, By Genre, 2019-2032 (USD Billion)
20. Mexico Podcasting Market, By Format, 2019-2032 (USD Billion)
21. Europe Podcasting Market, By Genre, 2019-2032 (USD Billion)
22. Europe Podcasting Market, By Format, 2019-2032 (USD Billion)
23. Germany Podcasting Market, By Genre, 2019-2032 (USD Billion)
24. Germany Podcasting Market, By Format, 2019-2032 (USD Billion)
25. France Podcasting Market, By Genre, 2019-2032 (USD Billion)
26. France Podcasting Market, By Format, 2019-2032 (USD Billion)
27. U.K. Podcasting Market, By Genre, 2019-2032 (USD Billion)
28. U.K. Podcasting Market, By Format, 2019-2032 (USD Billion)
29. Italy Podcasting Market, By Genre, 2019-2032 (USD Billion)
30. Italy Podcasting Market, By Format, 2019-2032 (USD Billion)
31. Spain Podcasting Market, By Genre, 2019-2032 (USD Billion)
32. Spain Podcasting Market, By Format, 2019-2032 (USD Billion)
33. Asia Pacific Podcasting Market, By Genre, 2019-2032 (USD Billion)
34. Asia Pacific Podcasting Market, By Format, 2019-2032 (USD Billion)
35. Japan Podcasting Market, By Genre, 2019-2032 (USD Billion)
36. Japan Podcasting Market, By Format, 2019-2032 (USD Billion)
37. China Podcasting Market, By Genre, 2019-2032 (USD Billion)
38. China Podcasting Market, By Format, 2019-2032 (USD Billion)
39. India Podcasting Market, By Genre, 2019-2032 (USD Billion)
40. India Podcasting Market, By Format, 2019-2032 (USD Billion)
41. South America Podcasting Market, By Genre, 2019-2032 (USD Billion)
42. South America Podcasting Market, By Format, 2019-2032 (USD Billion)
43. Brazil Podcasting Market, By Genre, 2019-2032 (USD Billion)
44. Brazil Podcasting Market, By Format, 2019-2032 (USD Billion)
45. Middle East and Africa Podcasting Market, By Genre, 2019-2032 (USD Billion)
46. Middle East and Africa Podcasting Market, By Format, 2019-2032 (USD Billion)
47. UAE Podcasting Market, By Genre, 2019-2032 (USD Billion)
48. UAE Podcasting Market, By Format, 2019-2032 (USD Billion)
49. South Africa Podcasting Market, By Genre, 2019-2032 (USD Billion)
50. South Africa Podcasting Market, By Format, 2019-2032 (USD Billion)
List of Figures
1. Global Podcasting Market Segmentation
2. Global Podcasting Market: Research Methodology
3. Market Size Estimation Methodology: Bottom-Up Approach
4. Market Size Estimation Methodology: Top-Down Approach
5. Data Triangulation
6. Porter's Five Forces Analysis
7. Value Chain Analysis
8. Global Podcasting Market Attractiveness Analysis by Genre
9. Global Podcasting Market Attractiveness Analysis by Format
10. Global Podcasting Market Attractiveness Analysis by Region
11. Global Podcasting Market: Dynamics
12. Global Podcasting Market Share by Genre (2023 & 2032)
13. Global Podcasting Market Share by Format (2023 & 2032)
14. Global Podcasting Market Share by Regions (2023 & 2032)
15. Global Podcasting Market Share by Company (2022)