The global pectin market was valued at USD 1.63 billion in 2022 and growing at a CAGR of 7.95% from 2023 to 2032. The market is expected to reach USD 3.50 billion by 2032. North America is expected to increase the fastest during the forecast period.
Market Introduction:
A soluble fibre compound made from plants called pectin is produced as a whitish and pale brown powder for use in food items. It is a polysaccharide starch extracted from the cell walls of numerous fruits and veggies, such as apples, apricots, sugar cane, carrots, and sugar beets. As a stabilizer and gelling agent, it is added to milk-based drinks and fruit juices to make solid jellies, marmalades, and jams. It contributes to faster cooking times, improved texture and colour, and extended product storage life. It is also used to make pharmaceutical products like specialized medical preparations and adhesives for healing wounds. Regular pectin intake helps reduce cholesterol, indigestion, gastroesophageal reflux disease (GERD), and diabetes. The rise in the global demand for premium food and drink products is a crucial factor fueling the market's expansion. Increased use of pectin in juice to improve mouthfeel, acidified dairy applications for little jams, oxidized protein drinks, protein stabilization, and a greater understanding of pectin's multifunctionality among food and beverage makers all contribute to market expansion. Due to rising middle-class incomes and a growing population, the market is anticipated to expand. Recent developments in the supply chain and urbanization have significantly impacted the business. Due to people's busy lifestyles and rising demand for functional foods, pectin powder demand is predicted to grow. Strict laws and the requirement for quality standards are expected to constrain industry development along with price variations in pectin and related products. Over the forecast period, it is anticipated that the pectin market will be constrained by the availability of substitutes for pectin and confusing labelling that creates ambiguity and confusion. Several factors affect the market, including the growing use of packaged products to shorten cooking times, extend shelf lives, and enhance texture and colour, as well as pectins' numerous uses, which encourage demand from innovative uses. Additionally, market participants will benefit from higher R&D investment during the projected time.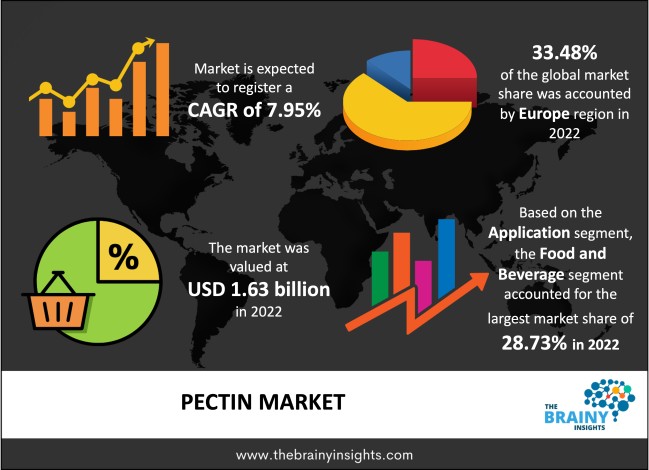 Get an overview of this study by requesting a free sample
Market Dynamics:
Drivers
Growing demand for clean label and natural ingredients in addition to its widespread use and functionality- Pectin, a label-friendly and versatile food gum usually made from citrus peels and apples, is one of the most commonly used food gums. As a result, it is favoured for application in numerous clean-label formulations, especially in dairy-alternative drinks, such as the low-pH and low-sugar forms. The following low-pH procedures are suitable: jams, jellies, fruit syrups, yoghurts, yoghurt drinks, and yoghurt substitutes. Other applications include gummies, chews, and glazes for a more luxurious confectionery. Market players in the production of citrus pectin are concentrating while integrating backwards to expand their companies, boost their capacity for production, and create clean-label products with proper certifications. The promotion and rules from many government organizations for using food products with natural ingredients are also helping to boost pectin's potential for global development. The need for organic food additives with clean labels, like pectin, has grown due to these factors. One of the main reasons propelling the pectin market is using pectin as a jellying agent or thickener in making yoghurt, jelly, and jam. It is also used in low-fat dairy items, spreads, baked goods, and desserts. The growth of efficient and cutting-edge technology increased customer knowledge of functional foods, and a surge in consumer demand for low-fat and low-calorie food products are all factors propelling the use of pectin throughout the food industry globally. Because there is a greater emphasis and per-person spending on functional food items, mainly among Americans, producers have been supported to involve active as well as plant-based components in the final product to satisfy consumers' changing demands.
Restraints:
Simple access to options that are reasonably priced- The technique used most frequently to extract pectin from citrus fruit peels is alcohol precipitation. Pectin is necessary for producing citrus fruit, so price fluctuations in raw materials during different seasons increase expenses. Due to imbalances in demand and supply, price fluctuations, and other variables, pectin is more expensive than its alternatives. End-user and consumer businesses are shifting to hydrocolloids because of the high price of pectin. The readily available gelatine, which has significant dietary advantages, is anticipated to limit market expansion. End-user industries have a financially viable option due to pectin substitutes with similar or higher nutritional qualities at competitive prices; hence market expansion is constrained.
Opportunities:
Acid-free milk drinks using pectin innovation- As consumers have become more wealthy and selective, they have demanded the superior quality and excellent innovation in their food and beverages, especially in the significant category known as acidified dairy drinks. Pectin is frequently used in acidified dairy drinks as it can be utilized in food as a thickener, stabilizer, and gelling agent. Pectins with improved functionality are crucial ingredients that help food manufacturers achieve sensory distinction in their acidified dairy beverage products. It is done by integrating the capacities of flavour, protein stabilization, and revitalizing mouthfeel. In the case of acidified dairy drinks, Cargill recently revealed its new Unipectine AYD R series. The creation process took one year and was created to satisfy essential sensory without sacrificing product stabilization.
Regional segmentation analysis:
The regions analyzed for the market include North America, Europe, South America, Asia Pacific, the Middle East, and Africa. Europe emerged as the highest in the global pectin market, with a share of 33.48% in 2022. The food business is thriving, trustworthy, and well-balanced in Germany. For both domestic and foreign markets, it develops novel products and ingredients. Some of the most cutting-edge pectin production plants are Cargill in Malchin and CP Kelco in Großenbrode. Due to complex manufacturing processes, the pectin market can better rapidly adapt to changing consumer demands. In the food processing business in Germany, both high-value, heavily processed ingredients and low-value, slightly processed ingredients are used. The German pharmaceutical industry is expanding with emerging pectin innovations like MCP (Modified Citrus Pectin). During the forecast period, it is expected that pectin and pharmaceutical innovation will assist in expanding the European market.
Europe Region Pectin Market Share in 2022 - 33.48%
www.thebrainyinsights.com
Check the geographical analysis of this market by requesting a free sample
Type Segment Analysis
The type segment is divided into low methoxyl pectin and high methoxyl pectin. The high methoxyl pectin segment had the highest market share of 58.32% in 2022 in the pectin market. The market for jams, jellies, and berry preserves is dominated by high methoxyl (HM) pectin. High methoxyl pectin consumption increased as a result of these factors. The degree of esterification varies among pectin sources, and high methoxyl pectin has more than 50 DE. Depending on how long it takes them to settle and the conditions outside, they are either "rapid-set" or "slow-set." The degree of esterification provides indications through gel structure and setting time. High DE pectin produces more elastic and jellifies faster than less esterified pectin. This broadens its marketability as a thickening substance for a variety of uses.
Application Segment Analysis
The application segment is divided into food and beverage, beauty and personal care, pharmaceuticals, and others. The food and beverage segment had the highest market share of 28.73% in 2022 in the pectin market. Jam, jelly, preserves, baked foods, and dairy products are different food and drink categories. Jellies, jams, and preserves solidify and gel when pectin is added. In these, methoxyl pectin of all levels is used. Sugar enhances shelf life, flavour, and mouthfeel in regular jams. Due to health worries, jams without added sugar, less-sweetened and preserves are taking the place of sugar. Due to low-fat and low-carb diets, consumers select tasty and convenient foods like jams, marmalades, jellies and preserves because they are more nutrient-dense and have reduced sugar and fat content. Low methoxyl pectin is more common in marmalade, preserves, and jelly. The trend accelerated towards the end of the projected time frame and is predicted to continue.
Some of the Key Market Players:
FMC Corporation
Cargill Incorporated
Devson Impex Private Limited
B&V srl
DuPont Nutrition & Health
Herbstreith & Fox
CP Kelco
Yantai Andre Pectin Co. Ltd.
Report Description:
| Attribute | Description |
| --- | --- |
| Market Size | Revenue (USD Billion) |
| Market size value in 2022 | USD 1.63 Billion |
| Market size value in 2032 | USD 3.50 Billion |
| CAGR (2023 to 2032) | 7.95% |
| Historical data | 2019-2021 |
| Base Year | 2022 |
| Forecast | 2023-2032 |
| Regional Segments | The regions analyzed for the market are Europe, Asia Pacific, North America, South America, and Middle East & Africa. |
| Segments | Type, Application |
Frequesntly Asked Questions
1. Introduction
1.1. Objective of the Study
1.2. Market Definition
1.3. Research Scope
1.4. Currency
1.5. Key Target Audience

2. Research Methodology and Assumptions

3. Executive Summary

4. Premium Insights
4.1. Porter's Five Forces Analysis
4.2. Value Chain Analysis
4.3. Top Investment Pockets
4.3.1. Market Attractiveness Analysis By Type
4.3.2. Market Attractiveness Analysis By Application
4.3.3. Market Attractiveness Analysis By Region
4.4. Industry Trends

5. Market Dynamics
5.1. Market Evaluation
5.2. Drivers
5.2.1. Growing demand for natural and clean label ingredients in addition to its widespread use and functionality
5.3. Restraints
5.3.1. Simple access to options that are reasonably priced
5.4. Opportunities
5.4.1. Acid-free milk drinks using pectin innovation

6. Global Pectin Market Analysis and Forecast, By Type
6.1. Segment Overview
6.2. Low Methoxyl Pectin
6.3. High Methoxyl Pectin

7. Global Pectin Market Analysis and Forecast, By Application
7.1. Segment Overview
7.2. Food and Beverage
7.3. Beauty and Personal Care
7.4. Pharmaceuticals
7.5. Others

8. Global Pectin Market Analysis and Forecast, By Regional Analysis
8.1. Segment Overview
8.2. North America
8.2.1. U.S.
8.2.2. Canada
8.2.3. Mexico
8.3. Europe
8.3.1. Germany
8.3.2. France
8.3.3. U.K.
8.3.4. Italy
8.3.5. Spain
8.4. Asia-Pacific
8.4.1. Japan
8.4.2. China
8.4.3. India
8.5. South America
8.5.1. Brazil
8.6. Middle East and Africa
8.6.1. UAE
8.6.2. South Africa

9. Global Pectin Market-Competitive Landscape
9.1. Overview
9.2. Market Share of Key Players in the Pectin Market
9.2.1. Global Company Market Share
9.2.2. North America Company Market Share
9.2.3. Europe Company Market Share
9.2.4. APAC Company Market Share
9.3. Competitive Situations and Trends
9.3.1. Product Launches and Developments
9.3.2. Partnerships, Collaborations, and Agreements
9.3.3. Mergers & Acquisitions
9.3.4. Expansions

10. Company Profiles
10.1. FMC Corporation
10.1.1. Business Overview
10.1.2. Company Snapshot
10.1.3. Company Market Share Analysis
10.1.4. Company Product Portfolio
10.1.5. Recent Developments
10.1.6. SWOT Analysis
10.2. Cargill Incorporated
10.2.1. Business Overview
10.2.2. Company Snapshot
10.2.3. Company Market Share Analysis
10.2.4. Company Product Portfolio
10.2.5. Recent Developments
10.2.6. SWOT Analysis
10.3. Devson Impex Private Limited
10.3.1. Business Overview
10.3.2. Company Snapshot
10.3.3. Company Market Share Analysis
10.3.4. Company Product Portfolio
10.3.5. Recent Developments
10.3.6. SWOT Analysis
10.4. B&V srl
10.4.1. Business Overview
10.4.2. Company Snapshot
10.4.3. Company Market Share Analysis
10.4.4. Company Product Portfolio
10.4.5. Recent Developments
10.4.6. SWOT Analysis
10.5. DuPont Nutrition & Health
10.5.1. Business Overview
10.5.2. Company Snapshot
10.5.3. Company Market Share Analysis
10.5.4. Company Product Portfolio
10.5.5. Recent Developments
10.5.6. SWOT Analysis
10.6. Herbstreith & Fox
10.6.1. Business Overview
10.6.2. Company Snapshot
10.6.3. Company Market Share Analysis
10.6.4. Company Product Portfolio
10.6.5. Recent Developments
10.6.6. SWOT Analysis
10.7. CP Kelco
10.7.1. Business Overview
10.7.2. Company Snapshot
10.7.3. Company Market Share Analysis
10.7.4. Company Product Portfolio
10.7.5. Recent Developments
10.7.6. SWOT Analysis
10.8. Yantai Andre Pectin Co. Ltd.
10.8.1. Business Overview
10.8.2. Company Snapshot
10.8.3. Company Market Share Analysis
10.8.4. Company Product Portfolio
10.8.5. Recent Developments
10.8.6. SWOT Analysis

List of Table
1. Global Pectin Market, By Type, 2019-2032 (USD Billion)
2. Global Low Methoxyl Pectin, Pectin Market, By Region, 2019-2032 (USD Billion)
3. Global High Methoxyl Pectin, Pectin Market, By Region, 2019-2032 (USD Billion)
4. Global Pectin Market, By Application, 2019-2032 (USD Billion)
5. Global Food and Beverage, Pectin Market, By Region, 2019-2032 (USD Billion)
6. Global Beauty and Personal Care, Pectin Market, By Region, 2019-2032 (USD Billion)
7. Global Pharmaceuticals, Pectin Market, By Region, 2019-2032 (USD Billion)
8. Global Others, Pectin Market, By Region, 2019-2032 (USD Billion)
9. Global Pectin Market, By Region, 2019-2032 (USD Billion)
10. North America Pectin Market, By Type, 2019-2032 (USD Billion)
11. North America Pectin Market, By Application, 2019-2032 (USD Billion)
12. U.S. Pectin Market, By Type, 2019-2032 (USD Billion)
13. U.S. Pectin Market, By Application, 2019-2032 (USD Billion)
14. Canada Pectin Market, By Type, 2019-2032 (USD Billion)
15. Canada Pectin Market, By Application, 2019-2032 (USD Billion)
16. Mexico Pectin Market, By Type, 2019-2032 (USD Billion)
17. Mexico Pectin Market, By Application, 2019-2032 (USD Billion)
18. Europe Pectin Market, By Type, 2019-2032 (USD Billion)
19. Europe Pectin Market, By Application, 2019-2032 (USD Billion)
20. Germany Pectin Market, By Type, 2019-2032 (USD Billion)
21. Germany Pectin Market, By Application, 2019-2032 (USD Billion)
22. France Pectin Market, By Type, 2019-2032 (USD Billion)
23. France Pectin Market, By Application, 2019-2032 (USD Billion)
24. U.K. Pectin Market, By Type, 2019-2032 (USD Billion)
25. U.K. Pectin Market, By Application, 2019-2032 (USD Billion)
26. Italy Pectin Market, By Type, 2019-2032 (USD Billion)
27. Italy Pectin Market, By Application, 2019-2032 (USD Billion)
28. Spain Pectin Market, By Type, 2019-2032 (USD Billion)
29. Spain Pectin Market, By Application, 2019-2032 (USD Billion)
30. Asia Pacific Pectin Market, By Type, 2019-2032 (USD Billion)
31. Asia Pacific Pectin Market, By Application, 2019-2032 (USD Billion)
32. Japan Pectin Market, By Type, 2019-2032 (USD Billion)
33. Japan Pectin Market, By Application, 2019-2032 (USD Billion)
34. China Pectin Market, By Type, 2019-2032 (USD Billion)
35. China Pectin Market, By Application, 2019-2032 (USD Billion)
36. India Pectin Market, By Type, 2019-2032 (USD Billion)
37. India Pectin Market, By Application, 2019-2032 (USD Billion)
38. South America Pectin Market, By Type, 2019-2032 (USD Billion)
39. South America Pectin Market, By Application, 2019-2032 (USD Billion)
40. Brazil Pectin Market, By Type, 2019-2032 (USD Billion)
41. Brazil Pectin Market, By Application, 2019-2032 (USD Billion)
42. Middle East and Africa Pectin Market, By Type, 2019-2032 (USD Billion)
43. Middle East and Africa Pectin Market, By Application, 2019-2032 (USD Billion)
44. UAE Pectin Market, By Type, 2019-2032 (USD Billion)
45. UAE Pectin Market, By Application, 2019-2032 (USD Billion)
46. South Africa Pectin Market, By Type, 2019-2032 (USD Billion)
47. South Africa Pectin Market, By Application, 2019-2032 (USD Billion)
List of Figures
1. Global Pectin Market Segmentation
2. Pectin Market: Research Methodology
3. Market Size Estimation Methodology: Bottom-Up Approach
4. Market Size Estimation Methodology: Top-Down Approach
5. Data Triangulation
6. Porter's Five Forces Analysis
7. Value Chain Analysis
8. Global Pectin Market Attractiveness Analysis By Type
9. Global Pectin Market Attractiveness Analysis By Application
10. Global Pectin Market Attractiveness Analysis By Region
11. Global Pectin Market: Dynamics
12. Global Pectin Market Share by Type (2023 & 2032)
13. Global Pectin Market Share by Application (2023 & 2032)
14. Global Pectin Market Share by Regions (2023 & 2032)
15. Global Pectin Market Share by Company (2022)