The global orthopaedic devices market was valued at USD 50.4 billion in 2022 and is anticipated to grow at a CAGR of 3.5% from 2022 to 2030. The global orthopaedic devices market is expected to reach USD 66.3 billion by 2030. The Asia Pacific is expected to grow the fastest during the forecast period.
Market Introduction:
Arthroscopic devices, spinal devices, joint reconstruction devices, trauma fixation devices, accessories, braces, and orthobiologics are some types of orthopaedic equipment used to diagnose and treat muscle-skeletal abnormalities and injuries. The high prevalence of orthopaedic problems, such as degenerative bone disease, the ageing population's growth and the increase in traffic accidents are all factors contributing to the market's expansion. Additionally, the market is expected to rise due to the early onset of musculoskeletal problems, which are usually brought on by obesity and a sedentary lifestyle. Due to a lack of effective surgical equipment, current trauma care techniques cannot fully replace bodily components. As a result, market players make significant R&D investments to create novel and effective gadgets. This boost in R&D activity is projected to guarantee rapid market expansion over the forecast period. The market is anticipated to grow even more due to technological developments and the prevalence of other bone-related ailments. One of the main things that can cause arthritis is obesity. Studies published in the BMJ Journal in 2020 showed that compared to people of average weight, being overweight or obese raised the incidence of knee osteoarthritis (OA) by 2.5 to 4.6 times. Hospitals are being compelled to upgrade their equipment and services continually due to growing public awareness of the availability of cutting-edge items. The popularity of orthopaedic operations has also been fuelled by financial coverage for orthopaedic treatments. These elements enable clients to select more expensive and sophisticated treatment alternatives, increasing overall income. The cost of more traditional orthopaedic devices is projected to drop dramatically with the advent of more modern ones. In Asia Pacific and the Middle East, developing economies with limited access to medical reimbursement encourage further adoption of the latter. It is anticipated that the combined impact of these actions will increase procedure volume and market growth during the forecast period.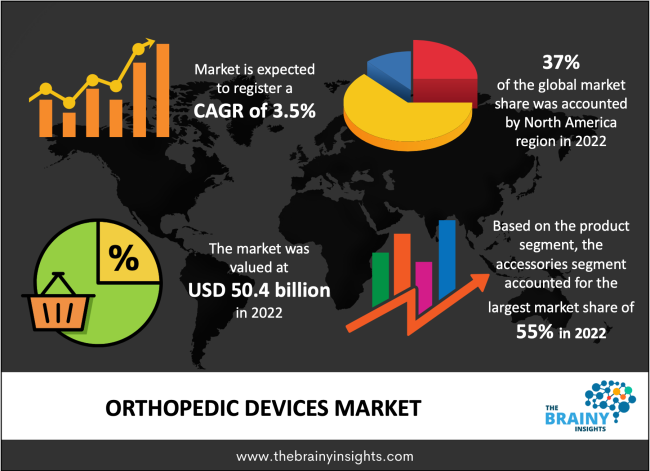 Get an overview of this study by requesting a free sample
Recent Development
In February 2022, 4WEB Medical introduced a broad selection of hyperlordotic lateral implants. With the help of 4WEB's Lumbar Spine Plating Solution, the implants enable more affordable treatment alternatives and lessen the need for more extensive posterior corrective surgeries.
In February 2022, Spire Orthopedic Partners announced collaborations with Orthopaedic Surgical Associates and Middlesex Orthopedic Surgeons, PC (MOS). (OSA). Both are outstanding surgical facilities committed to providing complete orthopaedic and spine care.
Market Dynamics:
Drivers:
High Prevalence Bone Disorders – Age-related bone conditions such as osteoarthritis, rickets, and osteomalacia are more common in geriatric patients, which is expected to drive the market's growth. In the past several years, there has been a noticeable rise in the number of elderly patients seeking joint replacement surgery. According to the Global Arthritis Network, 350 million people worldwide have arthritis. Osteoarthritis causes about 25 out of every 1,000 persons to need orthopaedic surgery. The World Health Organization (WHO) estimates that by 2050, there will be 2 billion people worldwide who are 60 years of age or older.
Restraints:
Stringent Regulations- The growth of the orthopaedic devices market is expected to be hindered by stringent government regulations. As there is increasing use of orthopaedic devices by hospitals and clinics to earn money. Furthermore, several hospitals and doctors also use low-quality materials, affecting patients' health. This has forced the government to impose stringent regulations on the use of orthopaedic devices, hindering the market's growth.
Opportunities:
Role of Technological Advancements- The market for orthopaedic devices is being pushed by an increase in outpatient operations and the launch of innovative product ideas. The market is driven by the rapid development of the spine, hip, and knee replacement devices in design and functionality, including smart implants with built-in sensors for real-time data processing and metal-on-metal and metal-on-ceramic implants. The industry's growth is also supported by advancements in tissue engineering and gene editing technologies.
Challenges:
High Cost- With the increased use of orthopaedic devices, the cost of treating orthopaedic problems is rising. Only some people can afford the treatment, which has become a challenge for the market's growth. Furthermore, there is an increase in the quality of devices used for orthopaedic devices, which increases its overall cost. The surgical cost of orthopaedic treatment also adds to the cost challenging the market's growth.
Segmentation analysis:
Regional segmentation analysis:
The regions analyzed for the market include North America, Europe, South America, Asia Pacific, the Middle East, and Africa. North America emerged as the largest market for the global Orthopedic Devices Market, with a 37% share of the market revenue in 2022.
North America currently dominates the Orthopedic Devices Market. The presence of industry, a well-developed healthcare infrastructure, and payment coverage is projected to fuel the area market's high demand for sophisticated healthcare services. The target patient population is continuously growing due to ageing and an increase in traffic accidents, further boosting the number of orthopaedic surgeries performed in the area. The high frequency of orthopaedic diseases and the widespread use of cutting-edge treatment methods are expected to drive market expansion in the United States.
The Asia Pacific is expected to be the fastest-growing region. The large pool of elderly population in the world are anticipated to be in China and India. Therefore, it is anticipated that these nations' demand will increase significantly in the near future. In addition, the expanding medical tourism sector is anticipated to draw more patients from the target patient group due to the affordable availability of cutting-edge medical treatments. Japan has more implant makers than most other nations in its region, spending more on healthcare. Furthermore, it is anticipated that the widespread use of new technology will support regional market expansion.
North America Region Orthopedic Devices Market Share in 2022 - 37%
www.thebrainyinsights.com
Check the geographical analysis of this market by requesting a free sample
Product segment analysis
The Product segment is divided into accessories and surgical devices. The accessories segment dominated, with a market share of around 55% in 2022. The accessories segment covers products such as arthroscopes, braces, and other consumables, which propels the segment's growth. Furthermore, this segment also includes other devices, such as plaster materials, sutures, and screws, adding impetus to the segment's growth.
Application segment analysis
The application segment is divided into Hip Orthopedic Devices, Joint Reconstruction, Knee Orthopedic Devices, Spine Orthopedic Devices, Trauma Fixation Devices, Dental Orthopedic Devices, and Others. Over the forecast period, the joint reconstruction segment is expected to grow at the fastest CAGR of 4.9%. The joint reconstruction diagnostics segment has been growing owing to the ageing population, increasing rates of osteoporosis and osteoarthritis, and increasing numbers of auto accidents and sports injuries. For instance, according to the United Nations estimate, almost 703 million individuals worldwide were 65 years of age or older in 2019. In 2050, it is predicted that there will be 1.5 billion senior people.
Some of the Key Market Players:
Medtronic PLC
Stryker Corporation
Zimmer-Biomet Holdings, Inc.
DePuy Synthes
Smith and Nephew PLC
Aesculap Implant Systems, LLC
Conmed Corporation
Donjoy, Inc.
NuVasive, Inc.
Report Description:
| Attribute | Description |
| --- | --- |
| Market Size | Revenue (USD Billion) |
| Market size value in 2022 | USD 50.4 Billion |
| Market size value in 2030 | USD 66.3 Billion |
| CAGR (2022 to 2030) | 3.5% |
| Historical data | 2019-2020 |
| Base Year | 2021 |
| Forecast | 2022-2030 |
| Segments | Product, Application |
| Regional Segments | North America, Asia Pacific, Europe, Latin America, Middle East and Africa |
1. Introduction
1.1. Objectives of the Study
1.2. Market Definition
1.3. Research Scope
1.4. Currency
1.5. Key Target Audience

2. Research Methodology and Assumptions

3. Executive Summary

4. Premium Insights
4.1. Porter's Five Forces Analysis
4.2. Value Chain Analysis
4.3. Top Investment Pockets
4.3.1. Market Attractiveness Analysis By Product
4.3.2. Market Attractiveness Analysis By Application
4.3.3. Market Attractiveness Analysis By Region
4.4. Industry Trends

5. Market Dynamics
5.1. Market Evaluation
5.2. Drivers
5.2.1. High Prevalence Bone Disorders
5.3. Restraints
5.3.1. Stringent Regulations
5.4. Opportunities
5.4.1. Role of Technological Advancements
5.5. Challenges
5.5.1. High Cost

6. Global Orthopedic Devices Market Analysis and Forecast, By Product
6.1. Segment Overview
6.2. Accessories
6.3. Surgical Devices

7. Global Orthopedic Devices Market Analysis and Forecast, By ApplicatioN
7.1. Segment Overview
7.2. Hip Orthopedic Devices
7.3. Joint Reconstruction
7.4. Knee Orthopedic Devices
7.5. Spine Orthopedic Devices
7.6. Trauma Fixation Devices
7.7. Dental Orthopedic Devices
7.8. Others

8. Global Orthopedic Devices Market Analysis and Forecast, By Regional Analysis
8.1. Segment Overview
8.2. North America
8.2.1. U.S.
8.2.2. Canada
8.2.3. Mexico
8.3. Europe
8.3.1. Germany
8.3.2. France
8.3.3. U.K.
8.3.4. Italy
8.3.5. Spain
8.4. Asia-Pacific
8.4.1. Japan
8.4.2. China
8.4.3. India
8.5. South America
8.5.1. Brazil
8.6. Middle East and Africa
8.6.1. UAE
8.6.2. South Africa

9. Global Orthopedic Devices Market-Competitive Landscape
9.1. Overview
9.2. Market Share of Key Players in Global Orthopedic Devices Market
9.2.1. Global Company Market Share
9.2.2. North America Company Market Share
9.2.3. Europe Company Market Share
9.2.4. APAC Company Market Share
9.3. Competitive Situations and Trends
9.3.1. Product Launches and Developments
9.3.2. Partnerships, Collaborations, and Agreements
9.3.3. Mergers & Acquisitions
9.3.4. Expansions

10. Company Profiles
10.1. Medtronic PLC
10.1.1. Business Overview
10.1.2. Company Snapshot
10.1.3. Company Market Share Analysis
10.1.4. Company Product Portfolio
10.1.5. Recent Developments
10.1.6. SWOT Analysis
10.2. Stryker Corporation
10.2.1. Business Overview
10.2.2. Company Snapshot
10.2.3. Company Market Share Analysis
10.2.4. Company Product Portfolio
10.2.5. Recent Developments
10.2.6. SWOT Analysis
10.3. Zimmer-Biomet Holdings, Inc.
10.3.1. Business Overview
10.3.2. Company Snapshot
10.3.3. Company Market Share Analysis
10.3.4. Company Product Portfolio
10.3.5. Recent Developments
10.3.6. SWOT Analysis
10.4. DePuy Synthes
10.4.1. Business Overview
10.4.2. Company Snapshot
10.4.3. Company Market Share Analysis
10.4.4. Company Product Portfolio
10.4.5. Recent Developments
10.4.6. SWOT Analysis
10.5. Smith and Nephew PLC
10.5.1. Business Overview
10.5.2. Company Snapshot
10.5.3. Company Market Share Analysis
10.5.4. Company Product Portfolio
10.5.5. Recent Developments
10.5.6. SWOT Analysis
10.6. Aesculap Implant Systems, LLC
10.6.1. Business Overview
10.6.2. Company Snapshot
10.6.3. Company Market Share Analysis
10.6.4. Company Product Portfolio
10.6.5. Recent Developments
10.6.6. SWOT Analysis
10.7. Conmed Corporation
10.7.1. Business Overview
10.7.2. Company Snapshot
10.7.3. Company Market Share Analysis
10.7.4. Company Product Portfolio
10.7.5. Recent Developments
10.7.6. SWOT Analysis
10.8. Donjoy, Inc.
10.8.1. Business Overview
10.8.2. Company Snapshot
10.8.3. Company Market Share Analysis
10.8.4. Company Product Portfolio
10.8.5. Recent Developments
10.8.6. SWOT Analysis
10.9. NuVasive, Inc.
10.9.1. Business Overview
10.9.2. Company Snapshot
10.9.3. Company Market Share Analysis
10.9.4. Company Product Portfolio
10.9.5. Recent Developments
10.9.6. SWOT Analysis
List of Table
1. Global Orthopedic Devices Market, By Product, 2019-2030 (USD Billion)
2. Global Accessories, Orthopedic Devices Market, By Region, 2019-2030 (USD Billion)
3. Global Surgical Devices, Orthopedic Devices Market, By Region, 2019-2030 (USD Billion)
4. Global Orthopedic Devices Market, By Application, 2019-2030 (USD Billion)
5. Global Hip Orthopedic Devices, Orthopedic Devices Market, By Region, 2019-2030 (USD Billion)
6. Global Joint Reconstruction, Orthopedic Devices Market, By Region, 2019-2030 (USD Billion)
7. Global Knee Orthopedic Devices, Orthopedic Devices Market, By Region, 2019-2030 (USD Billion)
8. Global Spine Orthopedic Devices, Orthopedic Devices Market, By Region, 2019-2030 (USD Billion)
9. Global Trauma Fixation Devices, Orthopedic Devices Market, By Region, 2019-2030 (USD Billion)
10. Global Dental Orthopedic Devices, Orthopedic Devices Market, By Region, 2019-2030 (USD Billion)
11. Global Others, Orthopedic Devices Market, By Region, 2019-2030 (USD Billion)
12. North America Orthopedic Devices Market, By Product, 2019-2030 (USD Billion)
13. North America Orthopedic Devices Market, By Application, 2019-2030 (USD Billion)
14. U.S. Orthopedic Devices Market, By Product, 2019-2030 (USD Billion)
15. U.S. Orthopedic Devices Market, By Application, 2019-2030 (USD Billion)
16. Canada Orthopedic Devices Market, By Product, 2019-2030 (USD Billion)
17. Canada Orthopedic Devices Market, By Application, 2019-2030 (USD Billion)
18. Mexico Orthopedic Devices Market, By Product, 2019-2030 (USD Billion)
19. Mexico Orthopedic Devices Market, By Application, 2019-2030 (USD Billion)
20. Europe Orthopedic Devices Market, By Product, 2019-2030 (USD Billion)
21. Europe Orthopedic Devices Market, By Application, 2019-2030 (USD Billion)
22. Germany Orthopedic Devices Market, By Product, 2019-2030 (USD Billion)
23. Germany Orthopedic Devices Market, By Application, 2019-2030 (USD Billion)
24. France Orthopedic Devices Market, By Product, 2019-2030 (USD Billion)
25. France Orthopedic Devices Market, By Application, 2019-2030 (USD Billion)
26. U.K. Orthopedic Devices Market, By Product, 2019-2030 (USD Billion)
27. U.K. Orthopedic Devices Market, By Application, 2019-2030 (USD Billion)
28. Italy Orthopedic Devices Market, By Product, 2019-2030 (USD Billion)
29. Italy Orthopedic Devices Market, By Application, 2019-2030 (USD Billion)
30. Spain Orthopedic Devices Market, By Product, 2019-2030 (USD Billion)
31. Spain Orthopedic Devices Market, By Application, 2019-2030 (USD Billion)
32. Asia Pacific Orthopedic Devices Market, By Product, 2019-2030 (USD Billion)
33. Asia Pacific Orthopedic Devices Market, By Application, 2019-2030 (USD Billion)
34. Japan Orthopedic Devices Market, By Product, 2019-2030 (USD Billion)
35. Japan Orthopedic Devices Market, By Application, 2019-2030 (USD Billion)
36. China Orthopedic Devices Market, By Product, 2019-2030 (USD Billion)
37. China Orthopedic Devices Market, By Application, 2019-2030 (USD Billion)
38. India Orthopedic Devices Market, By Product, 2019-2030 (USD Billion)
39. India Orthopedic Devices Market, By Application, 2019-2030 (USD Billion)
40. South America Orthopedic Devices Market, By Product, 2019-2030 (USD Billion)
41. South America Orthopedic Devices Market, By Application, 2019-2030 (USD Billion)
42. Brazil Orthopedic Devices Market, By Product, 2019-2030 (USD Billion)
43. Brazil Orthopedic Devices Market, By Application, 2019-2030 (USD Billion)
44. Middle East and Africa Orthopedic Devices Market, By Product, 2019-2030 (USD Billion)
45. Middle East and Africa Orthopedic Devices Market, By Application, 2019-2030 (USD Billion)
46. UAE Orthopedic Devices Market, By Product, 2019-2030 (USD Billion)
47. UAE Orthopedic Devices Market, By Application, 2019-2030 (USD Billion)
48. South Africa Orthopedic Devices Market, By Product, 2019-2030 (USD Billion)
49. South Africa Orthopedic Devices Market, By Application, 2019-2030 (USD Billion)
List of Figures
1. Global Orthopedic Devices Market Segmentation
2. Global Orthopedic Devices Market: Research Methodology
3. Market Size Estimation Methodology: Bottom-Up Approach
4. Market Size Estimation Methodology: Top-Down Approach
5. Data Triangulation
6. Porter's Five Forces Analysis
7. Value Chain Analysis
8. Global Orthopedic Devices Market Attractiveness Analysis By Product
9. Global Orthopedic Devices Market Attractiveness Analysis By Application
10. Global Orthopedic Devices Market Attractiveness Analysis By Region
11. Global Orthopedic Devices Market: Dynamics
12. Global Orthopedic Devices Market Share By Product (2022 & 2030)
13. Global Orthopedic Devices Market Share By Application (2022 & 2030)
14. Global Orthopedic Devices Market Share By Regions (2022 & 2030)
15. Global Orthopedic Devices Market Share By Company (2021)