The global ornamental fish market was valued at USD 6.27 Billion in 2022, which is anticipated to grow at a CAGR of 10.25% from 2023 to 2032. It is projected that a critical driver of business growth will continue to be millennials' increased desire for colourful aquariums and decorative fish as part of a luxurious lifestyle. As customers search for decorative items to highlight in a room, emerging developments in aquariums with cutting-edge designs contribute to market progress. Planter tanks and aquascaping are two more concepts that have been available for a while but are still gaining popularity.
Market Introduction:
Colourful, appealing fish are maintained as pets in aquariums at home or outdoors for aesthetic purposes. Fish come in various colours, sizes, and forms, with many different types. A few well-known decorative fish include barbs, loaches, and danios. Aquariums containing these species are kept in homes as decorations or for aesthetic reasons. They come in various types, including marine, freshwater, and tropical climates. Particularly in generating foreign currency, ornamental fish have gained more importance in the commercial world. Typically, tanks or other aquarium systems are used for keeping ornamental fish. Because the fish's health depends entirely on the keeper, water quality is crucial in aquaculture. Due to the rising demand for uncommon and exotic fish species, the ornamental fish market has experienced tremendous growth over time. Small fish species and nano-aquariums have recently gained popularity. For a variety of reasons, hobbyists enjoy the small tanks and fish. It is simpler for people to start keeping fish because they require less space, equipment, and maintenance. Second, they add interest and colour to little apartments, offices, and other places where larger tanks are inappropriate. Thirdly, they enable users to produce uncommon and distinctive fish not found in bigger tanks. As fishkeeping becomes more popular, there is an increasing need for high-tech aquarium supplies. Modern fish keepers are looking for equipment that a smartphone can manage. They also enjoy novel products that enhance tank aesthetics, water quality, and fish health. High-tech aquarium accessories in high demand include LED lighting systems, automatic feeders, and computer-controlled water pumps. The increased demand for hybrid fish species is a further development in the ornamental fish market. Unique physical and behavioural traits result from the cross-breeding of two fish species. Years may go by until the right fish partners are chosen based on genetics, temperament, and physical characteristics. Successful hybrids fetch high prices from hobbyists and fish collectors.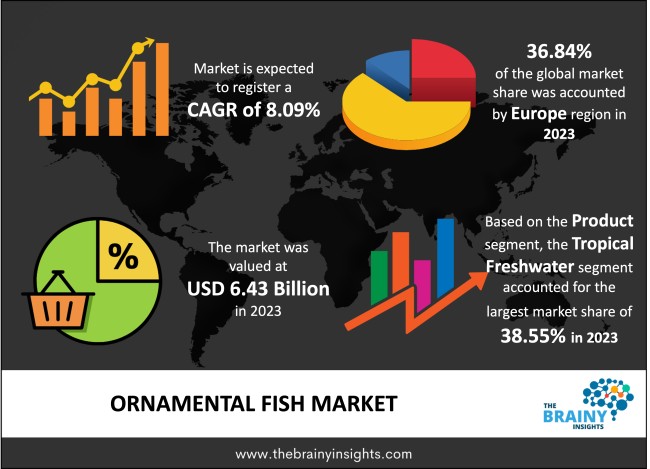 Get an overview of this study by requesting a free sample
Recent Development
To help shrimp farmers utilize sustainable aquaculture practices to boost productivity and profitability while minimizing risks and costs, Qian Hu Corporation Limited and AquaEasy Pte Ltd. agreed to a partnership in December 2021. AquaEasy integrates sensors, software, and services based on its ability to analyse data.
The Japanese fish food company Hikari and Imperial Tropicals partnered in November 2021. Whether raised in tanks or caught in the wild, all fish can use this feed brand. This collaboration aided customers in familiarising themselves with the brand of fish food to safeguard the wellbeing of their fish.
Market Dynamics:
Drivers
Growing interest in aquascaping and ornamental fish -The market has seen a massive increase in the demand for ornamental fish in recent years, and this development doesn't appear to be slowing down. One of the primary factors contributing to this growth is the growing interest in fish farming and aquaculture. Consumers are accessing various fish species due to improved breeding methods. A rise in consumer spending on expensive items like ornamental fish has also been attributable to growing disposable money. The growing popularity of decorative fish is also due to aquascaping as a hobby. Aquascaping, creating underwater aquarium landscapes, has boosted interest in rare and unusual fish species. Demand on the market has increased due to rising knowledge of the therapeutic benefits of keeping fish. The hospitality sector is also contributing to the surge in demand for ornamental fish as hotels and restaurants work to enhance the aesthetic value of their spaces. Developing themed and custom aquariums also influences the demand for specific fish species. The prevalence of online marketplaces for buying and selling has made it simpler for consumers to access a broader spectrum of fish species. The demand for household pets is rising due to this and rapid urbanization. It will be crucial for businesses in the ornamental fish market to maintain their adaptability, adjust to these changes, and predict emerging trends in customer behaviour. Companies that stay ahead of the trend will be ideally suited for future success as the market for ornamental fish is expected to grow.
Restraints:
Fish mortality rates and stress from transport -Ornamental fish are a popular choice for people who want to keep pets in their homes or offices. In their aquariums, people enjoy seeing these colourful creatures swim. The market for ornamental fish is nevertheless constrained in growth and profitability by various issues. It requires transportation to move ornamental fish between locations. However, this approach might put these delicate creatures under substantial stress, resulting in high mortality rates. Potential issues include long-distance travel, poor water quality, and careless handling. Multiple types of ornamental fish are available in different parts of the world. A species may not thrive in various conditions if native to a particular geographic area. Because of this restriction, vendors find it challenging to maintain a sufficient supply of the species, reducing their availability. Strict government laws and restrictions govern the import and export of ornamental fish. These laws are meant to safeguard the legality, well-being, and humanity of the fish population. However, it is challenging for small-scale manufacturers and sellers to compete in the market due to the high costs associated with complying with these laws. Aquarium setup and maintenance require substantial tools, accessories, and care investments. The market's ability to attract more customers is constrained since the high price prevents people from adopting ornamental fish as a hobby.
Opportunities:
Eco-friendly ornamental fish aquaculture and online platforms - The market for ornamental fish has the potential for rapid expansion because of several prospects. This market is fueled by various trends, including the rising desire for organic and environmentally friendly ornamental fish farming methods, the prominence of smart aquariums, and automated fishkeeping systems. One of the key factors propelling the expansion of the ornamental fish market is the rising desire for rare and exotic fish species. Consumer interest in discovering new species is rising, and they are prepared to pay more for this opportunity. This trend is opening up new prospects for breeders and vendors who can offer customers unique and exotic fish species. Another critical reason for the expansion of this market is the development of online marketplaces for the acquisition and sale of ornamental fish. As more people use internet resources to find and buy their preferred fish, online platforms are emerging as a significant player in this market. With the help of these platforms, breeders and suppliers can reach a wider audience and increase their customer base. Another development fueling expansion in the ornamental fish business is the rise in demand for themed and specially created aquariums. Customers seek unique aquariums that showcase their tastes and design aesthetics. Fish wholesalers and breeders who can make custom aquariums for consumers are currently in a position to take advantage of this trend.
Regional segmentation analysis:
The regions analyzed for the market include North America, Europe, South America, Asia Pacific, the Middle East, and Africa. Europe emerged as the most significant global ornamental fish market, with a 37.25% market revenue share in 2022. This is because ornamental fish are being imported on a big scale from Asian nations like Singapore, Thailand, and Japan to satisfy the region's enormous demand for visually appealing fish. Fishkeeping is a straightforward, stress-relieving hobby. Thus, ornamental fish also help import and export business and foreign exchange. Additionally, various ornamental fish are grown in Europe in nations like the Czech Republic, Spain, Israel, Belgium, and Holland. Additionally, fish production close to consumer centres is becoming more viable due to cheap shipping costs.
Europe Region Ornamental Fish Market Share in 2022 - 37.25%
www.thebrainyinsights.com
Check the geographical analysis of this market by requesting a free sample
Product Segment Analysis
The product segment is divided into temperate, tropical freshwater, and marine. The tropical freshwater segment dominated the market, with a market share of around 38.74% in 2022. These typical house pets are kept in ponds and aquariums around the world. Tropical freshwater ornamental fish exist in many species, each with unique characteristics and maintenance requirements. Some popular tropical freshwater ornamental fish species include tetras, guppies, mollies, bettas, and goldfish. New pet owners choose to keep tropical freshwater ornamental fish due to the simplicity of pet care and the variety of colours available for these fish.
Application Segment Analysis
The application segment is divided into commercial and household. The household segment dominated the market, with a market share of around 68.02% in 2022. As ornamental fish enhance the beauty of a domestic setting, their use in households is growing. The market for ornamental fish is also significantly influenced by the rise in household income driven by economic growth, notably in the developing nations of Brazil, China, and India. Additionally, the growth of aquarium enthusiasts is being supported by smart technology improvements, which have encouraged more household consumers to purchase ornamental fish.
Some of the Key Market Players:
AlgaeBarn LLC
Imperial Tropicals
Oasis Fish Farm
Qian Hu Corporation Limited
Tropical Fish International Pte Ltd.
Aqua-Nautic Specialist Pte Ltd.
LiveAquaria
Sunbeam Aquarium Pte Ltd.
bioAquatiX
Sanyo Aquarium (Pte) Ltd.
Report Description:
| Attribute | Description |
| --- | --- |
| Market Size | Revenue (USD Billion) |
| Market size value in 2022 | USD 6.27 Billion |
| Market size value in 2032 | USD 16.63 Billion |
| CAGR (2023 to 2032) | 10.25% |
| Historical data | 2019-2021 |
| Base Year | 2022 |
| Forecast | 2023-2032 |
| Region | The regions analyzed for the market are Asia Pacific, Europe, South America, North America, and Middle East & Africa. Furthermore, the regions are further analyzed at the country level. |
| Segments | Product, Application |
Frequesntly Asked Questions
1. Introduction
1.1. Objective of the Study
1.2. Market Definition
1.3. Research Scope
1.4. Currency
1.5. Key Target Audience

2. Research Methodology and Assumptions

3. Executive Summary

4. Premium Insights
4.1. Porter's Five Forces Analysis
4.2. Value Chain Analysis
4.3. Top Investment Pockets
4.3.1. Market Attractiveness Analysis By Product
4.3.2. Market Attractiveness Analysis By Application
4.3.3. Market Attractiveness Analysis By Region
4.4. Industry Trends

5. Market Dynamics
5.1. Market Evaluation
5.2. Drivers
5.2.1. Growing interest in aquascaping and ornamental fish
5.3. Restraints
5.3.1. Fish mortality rates and stress from transport
5.4. Opportunities
5.4.1. Eco-friendly ornamental fish aquaculture and online platforms

6. Global Ornamental Fish Market Analysis and Forecast, By Product
6.1. Segment Overview
6.2. Temperate
6.3. Tropical Freshwater
6.4. Marine

7. Global Ornamental Fish Market Analysis and Forecast, By Application
7.1. Segment Overview
7.2. Commercial
7.3. Household

8. Global Ornamental Fish Market Analysis and Forecast, By Regional Analysis
8.1. Segment Overview
8.2. North America
8.2.1. U.S.
8.2.2. Canada
8.2.3. Mexico
8.3. Europe
8.3.1. Germany
8.3.2. France
8.3.3. U.K.
8.3.4. Italy
8.3.5. Spain
8.4. Asia-Pacific
8.4.1. Japan
8.4.2. China
8.4.3. India
8.5. South America
8.5.1. Brazil
8.6. Middle East and Africa
8.6.1. UAE
8.6.2. South Africa

9. Global Ornamental Fish Market-Competitive Landscape
9.1. Overview
9.2. Market Share of Key Players in the Ornamental Fish Market
9.2.1. Global Company Market Share
9.2.2. North America Company Market Share
9.2.3. Europe Company Market Share
9.2.4. APAC Company Market Share
9.3. Competitive Situations and Trends
9.3.1. Product Launches and Developments
9.3.2. Partnerships, Collaborations, and Agreements
9.3.3. Mergers & Acquisitions
9.3.4. Expansions

10. Company Profiles
10.1. AlgaeBarn LLC
10.1.1. Business Overview
10.1.2. Company Snapshot
10.1.3. Company Market Share Analysis
10.1.4. Company Product Portfolio
10.1.5. Recent Developments
10.1.6. SWOT Analysis
10.2. Imperial Tropicals
10.2.1. Business Overview
10.2.2. Company Snapshot
10.2.3. Company Market Share Analysis
10.2.4. Company Product Portfolio
10.2.5. Recent Developments
10.2.6. SWOT Analysis
10.3. Oasis Fish Farm
10.3.1. Business Overview
10.3.2. Company Snapshot
10.3.3. Company Market Share Analysis
10.3.4. Company Product Portfolio
10.3.5. Recent Developments
10.3.6. SWOT Analysis
10.4. Qian Hu Corporation Limited
10.4.1. Business Overview
10.4.2. Company Snapshot
10.4.3. Company Market Share Analysis
10.4.4. Company Product Portfolio
10.4.5. Recent Developments
10.4.6. SWOT Analysis
10.5. Tropical Fish International Pte Ltd.
10.5.1. Business Overview
10.5.2. Company Snapshot
10.5.3. Company Market Share Analysis
10.5.4. Company Product Portfolio
10.5.5. Recent Developments
10.5.6. SWOT Analysis
10.6. Aqua-Nautic Specialist Pte Ltd.
10.6.1. Business Overview
10.6.2. Company Snapshot
10.6.3. Company Market Share Analysis
10.6.4. Company Product Portfolio
10.6.5. Recent Developments
10.6.6. SWOT Analysis
10.7. LiveAquaria
10.7.1. Business Overview
10.7.2. Company Snapshot
10.7.3. Company Market Share Analysis
10.7.4. Company Product Portfolio
10.7.5. Recent Developments
10.7.6. SWOT Analysis
10.8. Sunbeam Aquarium Pte Ltd.
10.8.1. Business Overview
10.8.2. Company Snapshot
10.8.3. Company Market Share Analysis
10.8.4. Company Product Portfolio
10.8.5. Recent Developments
10.8.6. SWOT Analysis
10.9. bioAquatiX
10.9.1. Business Overview
10.9.2. Company Snapshot
10.9.3. Company Market Share Analysis
10.9.4. Company Product Portfolio
10.9.5. Recent Developments
10.9.6. SWOT Analysis
10.10. Sanyo Aquarium (Pte) Ltd.
10.10.1. Business Overview
10.10.2. Company Snapshot
10.10.3. Company Market Share Analysis
10.10.4. Company Product Portfolio
10.10.5. Recent Developments
10.10.6. SWOT Analysis

List of Table
1. Global Ornamental Fish Market, By Product, 2019-2032 (USD Billion)
2. Global Temperate, Ornamental Fish Market, By Region, 2019-2032 (USD Billion)
3. Global Tropical Freshwater, Ornamental Fish Market, By Region, 2019-2032 (USD Billion)
4. Global Marine, Ornamental Fish Market, By Region, 2019-2032 (USD Billion)
5. Global Ornamental Fish Market, By Application, 2019-2032 (USD Billion)
6. Global Commercial, Ornamental Fish Market, By Region, 2019-2032 (USD Billion)
7. Global Household, Ornamental Fish Market, By Region, 2019-2032 (USD Billion)
8. Global Ornamental Fish Market, By Region, 2019-2032 (USD Billion)
9. North America Ornamental Fish Market, By Product, 2019-2032 (USD Billion)
10. North America Ornamental Fish Market, By Application, 2019-2032 (USD Billion)
11. U.S. Ornamental Fish Market, By Product, 2019-2032 (USD Billion)
12. U.S. Ornamental Fish Market, By Application, 2019-2032 (USD Billion)
13. Canada Ornamental Fish Market, By Product, 2019-2032 (USD Billion)
14. Canada Ornamental Fish Market, By Application, 2019-2032 (USD Billion)
15. Mexico Ornamental Fish Market, By Product, 2019-2032 (USD Billion)
16. Mexico Ornamental Fish Market, By Application, 2019-2032 (USD Billion)
17. Europe Ornamental Fish Market, By Product, 2019-2032 (USD Billion)
18. Europe Ornamental Fish Market, By Application, 2019-2032 (USD Billion)
19. Germany Ornamental Fish Market, By Product, 2019-2032 (USD Billion)
20. Germany Ornamental Fish Market, By Application, 2019-2032 (USD Billion)
21. France Ornamental Fish Market, By Product, 2019-2032 (USD Billion)
22. France Ornamental Fish Market, By Application, 2019-2032 (USD Billion)
23. U.K. Ornamental Fish Market, By Product, 2019-2032 (USD Billion)
24. U.K. Ornamental Fish Market, By Application, 2019-2032 (USD Billion)
25. Italy Ornamental Fish Market, By Product, 2019-2032 (USD Billion)
26. Italy Ornamental Fish Market, By Application, 2019-2032 (USD Billion)
27. Spain Ornamental Fish Market, By Product, 2019-2032 (USD Billion)
28. Spain Ornamental Fish Market, By Application, 2019-2032 (USD Billion)
29. Asia Pacific Ornamental Fish Market, By Product, 2019-2032 (USD Billion)
30. Asia Pacific Ornamental Fish Market, By Application, 2019-2032 (USD Billion)
31. Japan Ornamental Fish Market, By Product, 2019-2032 (USD Billion)
32. Japan Ornamental Fish Market, By Application, 2019-2032 (USD Billion)
33. China Ornamental Fish Market, By Product, 2019-2032 (USD Billion)
34. China Ornamental Fish Market, By Application, 2019-2032 (USD Billion)
35. India Ornamental Fish Market, By Product, 2019-2032 (USD Billion)
36. India Ornamental Fish Market, By Application, 2019-2032 (USD Billion)
37. South America Ornamental Fish Market, By Product, 2019-2032 (USD Billion)
38. South America Ornamental Fish Market, By Application, 2019-2032 (USD Billion)
39. Brazil Ornamental Fish Market, By Product, 2019-2032 (USD Billion)
40. Brazil Ornamental Fish Market, By Application, 2019-2032 (USD Billion)
41. Middle East and Africa Ornamental Fish Market, By Product, 2019-2032 (USD Billion)
42. Middle East and Africa Ornamental Fish Market, By Application, 2019-2032 (USD Billion)
43. UAE Ornamental Fish Market, By Product, 2019-2032 (USD Billion)
44. UAE Ornamental Fish Market, By Application, 2019-2032 (USD Billion)
45. South Africa Ornamental Fish Market, By Product, 2019-2032 (USD Billion)
46. South Africa Ornamental Fish Market, By Application, 2019-2032 (USD Billion)
List of Figures
1. Global Ornamental Fish Market Segmentation
2. Ornamental Fish Market: Research Methodology
3. Market Size Estimation Methodology: Bottom-Up Approach
4. Market Size Estimation Methodology: Top-Down Approach
5. Data Triangulation
6. Porter's Five Forces Analysis
7. Value Chain Analysis
8. Global Ornamental Fish Market Attractiveness Analysis By Product
9. Global Ornamental Fish Market Attractiveness Analysis By Application
10. Global Ornamental Fish Market Attractiveness Analysis By Region
11. Global Ornamental Fish Market: Dynamics
12. Global Ornamental Fish Market Share by Product (2023 & 2032)
13. Global Ornamental Fish Market Share by Application (2023 & 2032)
14. Global Ornamental Fish Market Share by Regions (2023 & 2032)
15. Global Ornamental Fish Market Share by Company (2022)