The organobromine market was estimated at around USD 1.6 billion in 2021, growing at a CAGR of nearly 5% during 2022-2030. The market is projected to reach approximately USD 2.5 billion by 2030.
Organobromine Market: Overview
Bromine and the carbon atom are chemically bound together to form organic molecules known as organobromine compounds. The naturally occurring bromomethane is likewise thought to be widely dispersed. The utilization of polybrominated diphenyl ethers, which are frequently employed as flame retardants, is another one of the principal applications. There are also several small organobromine compounds found in nature. For the production of colors and in the pharmaceutical sector, organobromine is a crucial component. The expansion of these end-user industries is the main driver of organobromine demand. The current state of the world demonstrates how quickly organobromine is being used in the pharmaceutical sector. The global market for organobromine is anticipated to increase as a result in the upcoming years.
The market's expansion can be attributed to the stringent environmental regulations that support the use of bromine mostly in coal-fired power plants. Utilization in power plants can easily reduce mercury-containing effluents. The positive laws established by the government agencies have also been acknowledged as one of the major market drivers. Bromine is increasingly being used, primarily in mercury reducing agents, which is likely to expand market potential. The majority of power plants utilize these lowering chemicals.
Pharmaceuticals like nicergoline and brotizolam as well as the anticancer drug pipobroman are made using organobromines as intermediates. In water treatment applications, bromoform and dibromodimethylhydantoin organobromine are used to stop the development of bacteria, algae, and other microorganisms as well as to stop the smelly smell that results from these organisms. The market for organobromine is anticipated to be driven by the expanding textile, plastic, electronics & telecommunications, and construction sectors.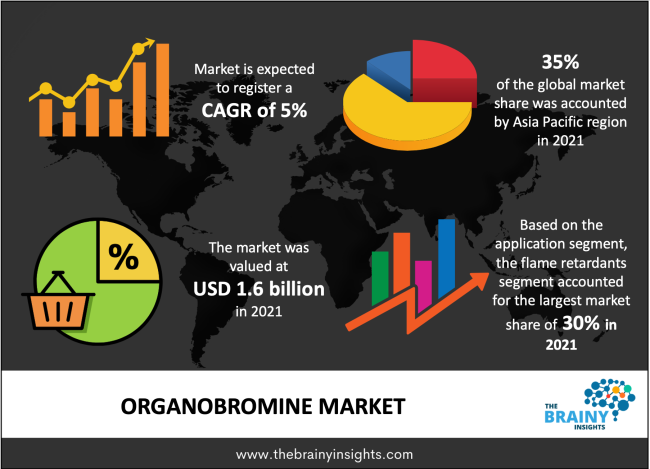 Get an overview of this study by requesting a free sample
Organobromine Market: COVID – 19 Impact Analysis
Worldwide lockdowns brought on by the COVID-19 epidemic impacted various industrial sectors, including building and construction, electronics production, and oil and gas drilling operations, which in turn decreased demand for bromine derivatives. Nevertheless, things started to get better in 2021 as the majority of the construction, oil & gas drilling, and electronics industries recovered, which is predicted to accelerate market growth throughout the course of the forecast period. Demand will be further increased by expanding the use of bromine derivatives for industrial cooling water treatment and water disinfection. Pharmaceutical companies employ bromine derivatives as sedatives, hypnotics, anticonvulsants, and antiseptics. As the pharmaceutical and water treatment sectors expand, there will likely be a greater demand for bromine derivatives.
Organobromine Market: Growth Drivers
The need for flame retardants to accelerate the market's growth
Each year, fire-related accidents cause the destruction of property worth billions of dollars all over the world. Insurance firms must use a significant portion of their revenues to pay claims for the destruction of property, infrastructure, and human life in fire disasters. Flame retardants and anti-inflammatory drugs, for instance, are essential because they reduce the risk of fire for practically every manufactured good. Flame retardants create a layer of free radicals that delays the combustion process and thereby puts out fires. They either release carbon dioxide or generate free radicals that interact with oxygen molecules to inhibit oxidation. The demand for materials with fire-retarding qualities has increased due to the rising frequency of fire accidents worldwide. The National Fire Protection Association (NFPA) estimates that 481,500 structure fires were reported in the United States in 2019, resulting in $12.3 billion in property damages. Due to their extensive use in flame retardants and their strong fire resistance, bromine compounds will continue to be a major factor in the report's assessment period's growth of bromine sales.
Rising oil & gas activities
The market is primarily being driven by the expansion of the oil and gas sector. The expansion of the global bromine and bromine derivatives market will be aided by the rise in oil and gas exploration activities in the US, Brazil, Mexico, Saudi Arabia, China, Russia, Norway, and other oil and gas-rich nations, as well as by the widespread use of bromine as a drilling fluid for the extraction of petroleum products. Additionally, the consumption of bromine and bromine derivatives will increase during the projection period because to the growing acceptance of horizontal drilling and hydraulic fracturing procedures. The US EIA reports that 69% of all oil and natural gas wells drilled in the nation in 2018 were hydraulically fractured wells, which produce oil. Additionally, horizontal wells that have been hydraulically fractured are more frequently employed to develop natural gas and crude oil.
Organobromine Market: Segmentation Analysis
The organobromine market is segmented into application, and region. Based on application, the market for flame retardants segment is estimated to lead the market during the forecast period. In order to slow down the rate of burning of other chemicals, bromine-containing compounds are mixed to create brominated flame retardants (BFRs). These are mostly employed in a variety of end-use sectors, including textile, building & construction, automotive, electronics, and consumer goods. It is also a crucial component of the halogen chemical family. Many commercial and consumer products have it added to them in order to prevent burning when they come into contact with heat or a smoldering cigarette. As brominated flame retardants, HBCD and tetrabromobisphenol-A (TBBPA) are frequently utilized. They support either the progressive slowing down of the chemical reaction or the prevention of the process from beginning.
Report Scope
| Attribute | Description |
| --- | --- |
| Base Year | 2021 |
| Forecast period | 2022-2030 |
| Report Coverage | Revenue estimation and forecast, company profile, competitive landscape, growth factors, and recent trends |
| Regional scope | North America, Europe, Asia Pacific, Middle East & Africa, and Latin America |
| Market Size(unit) | USD Billion |
| CAGR (2022 to 2030) | 5% |
| Segments Covered | By Application |
Recent Development
March 2020: At its manufacturing site in Sudbury, UK, LANXESS boosted production capacity to improve the manufacture of its Vikron sanitizer. The company added more shifts to the factory schedule.
July 2019: In place of hexabromocyclododecane, Lanxess Corporation began extruding polystyrene and employing Emerald Innovation 3000 as a flame retardant. The drug hexabromocyclododecane is now prohibited. Hexabromocyclododecane usage was decreased with the aid of this product.
Regional Landscape
Asia-Pacific is anticipated to dominant the overall market during the projection period. The rising demand for brominated flame retardants and their greater use in developing nations like India, China, and Japan are to blame for this. Particularly in this sector, China and Japan have seen remarkable progress and expansion. Growing healthcare spending and coverage, a stable regulatory environment, and continued infrastructure development have all contributed to China's strong and ongoing growth.
North America is expected to grow during the time of the forecast. Given that the region is a significant importer of bromine and its related chemicals, it is anticipated that demand for organobromine would increase during the projection period.
List of the prominent players in the Global Organobromine market:
ICL
LANXESS
Tata Chemicals Ltd.
Gulf Resources, Inc.
Honeywell International Inc.
Jordan Bromine Company
Hindustan Salts Limited
Sanofi
Satyesh Brinechem
AquaChina Chemical (Wuhan) Co.,Ltd.
The global Organobromine market is segmented as follows:
By Application
Flame Retardants
Oil & Gas Drilling
PTA Synthesis
Water Treatment
Others
By Region/Geography
France
The UK
Spain
Germany
Italy
Rest of Europe
China
Japan
India
Australia
South Korea
Rest of Asia Pacific
Saudi Arabia
UAE
South Africa
Egypt
Kuwait
Rest of the Middle East & Africa
Brazil
Argentina
Rest of Latin America
1. Introduction
1.1. Objectives of the Study
1.2. Market Definition
1.3. Research Scope

2. Research Methodology and Assumptions

3. Executive Summary

4. Premium Insights
4.1. Porter's Five Forces Analysis
4.2. Value Chain Analysis
4.3. Top Investment Pockets
4.3.1. Market Attractiveness Analysis By Application
4.4. Industry Trends

5. Market Dynamics
5.1. Market Evaluation
5.2. Drivers
5.2.1. I The need for flame retardants to accelerate the market's growth
5.2.2. Rising oil & gas activities
5.3. Restrains
5.3.1. Environmental issues would hamper the market
5.4. Opportunities
5.4.1. Expansion

6. Global Organobromine Market Analysis and Forecast, By Application
6.1. Segment Overview
6.2. Flame Retardants
6.3. Oil & Gas Drilling
6.4. PTA Synthesis
6.5. Water Treatment
6.6. Others

7. Global Organobromine Market Analysis and Forecast, By Regional Analysis
7.1. Segment Overview
7.2. North America
7.2.1. U.S.
7.2.2. Canada
7.2.3. Mexico
7.3. Europe
7.3.1. Germany
7.3.2. France
7.3.3. U.K.
7.3.4. Italy
7.3.5. Spain
7.3.6. Rest of Europe
7.4. Asia-Pacific
7.4.1. Japan
7.4.2. China
7.4.3. India
7.4.4. Australia
7.4.5. South Korea
7.4.6. Rest of Asia-Pacific
7.5. South America
7.5.1. Brazil
7.5.2. Argentina
7.5.3. Rest of South America
7.6. Middle East and Africa
7.6.1. UAE
7.6.2. South Africa
7.6.3. Egypt
7.6.4. Kuwait
7.6.5. Saudi Arabia
7.6.6. Rest of Middle East & Africa

8. Global Organobromine Market-Competitive Landscape
8.1. Overview
8.2. Market Share of Key Players in the Organobromine market
8.2.1. Global Company Market Share
8.2.2. North America Company Market Share
8.2.3. Europe Company Market Share
8.2.4. APAC Company Market Share
8.3. Competitive Situations and Trends
8.3.1. Application Launches and Developments
8.3.2. Partnerships, Collaborations, and Agreements
8.3.3. Mergers & Acquisitions
8.3.4. Expansions

9. Company Profiles
9.1. ICL
9.1.1. Business Overview
9.1.2. Company Snapshot
9.1.3. Company Market Share Analysis
9.1.4. Company End Use Portfolio
9.1.5. Recent Developments
9.1.6. SWOT Analysis
9.2. LANXESS
9.2.1. Business Overview
9.2.2. Company Snapshot
9.2.3. Company Market Share Analysis
9.2.4. Company End Use Portfolio
9.2.5. Recent Developments
9.2.6. SWOT Analysis
9.3. Tata Chemicals Ltd.
9.3.1. Business Overview
9.3.2. Company Snapshot
9.3.3. Company Market Share Analysis
9.3.4. Company End Use Portfolio
9.3.5. Recent Developments
9.3.6. SWOT Analysis
9.4. Gulf Resources, Inc.
9.4.1. Business Overview
9.4.2. Company Snapshot
9.4.3. Company Market Share Analysis
9.4.4. Company End Use Portfolio
9.4.5. Recent Developments
9.4.6. SWOT Analysis
9.5. Honeywell International Inc.
9.5.1. Business Overview
9.5.2. Company Snapshot
9.5.3. Company Market Share Analysis
9.5.4. Company End Use Portfolio
9.5.5. Recent Developments
9.5.6. SWOT Analysis
9.6. Jordan Bromine Company
9.6.1. Business Overview
9.6.2. Company Snapshot
9.6.3. Company Market Share Analysis
9.6.4. Company End Use Portfolio
9.6.5. Recent Developments
9.6.6. SWOT Analysis
9.7. Hindustan Salts Limited
9.7.1. Business Overview
9.7.2. Company Snapshot
9.7.3. Company Market Share Analysis
9.7.4. Company End Use Portfolio
9.7.5. Recent Developments
9.7.6. SWOT Analysis
9.8. Sanofi
9.8.1. Business Overview
9.8.2. Company Snapshot
9.8.3. Company Market Share Analysis
9.8.4. Company End Use Portfolio
9.8.5. Recent Developments
9.8.6. SWOT Analysis
9.9. Satyesh Brinechem
9.9.1. Business Overview
9.9.2. Company Snapshot
9.9.3. Company Market Share Analysis
9.9.4. Company End Use Portfolio
9.9.5. Recent Developments
9.9.6. SWOT Analysis
9.10. AquaChina Chemical (Wuhan) Co.,Ltd.
9.10.1. Business Overview
9.10.2. Company Snapshot
9.10.3. Company Market Share Analysis
9.10.4. Company End Use Portfolio
9.10.5. Recent Developments
9.10.6. SWOT Analysis
List of Table
1. Global Organobromine Market, By Application, 2022-2030(USD Billion)
2. Global Flame Retardants Organobromine Market, By Region, 2022-2030(USD Billion)
3. Global Oil & Gas Drilling Organobromine Market, By Region, 2022-2030(USD Billion)
4. Global PTA Synthesis Organobromine Market, By Region, 2022-2030(USD Billion)
5. Global Water Treatment Organobromine Market, By Region, 2022-2030(USD Billion)
6. Global Others Organobromine Market, By Region, 2022-2030(USD Billion)
7. Global Organobromine Market, By Region, 2022-2030(USD Billion)
8. Global Organobromine Market, By North America, 2022-2030(USD Billion)
9. North America Organobromine Market, By Application, 2022-2030(USD Billion)
10. U.S. Organobromine Market, By Application, 2022-2030(USD Billion)
11. Canada Organobromine Market, By Application, 2022-2030(USD Billion)
12. Mexico Organobromine Market, By Application, 2022-2030(USD Billion)
13. Europe Organobromine Market, By Application, 2022-2030(USD Billion)
14. Germany Organobromine Market, By Application, 2022-2030(USD Billion)
15. France Organobromine Market, By Application, 2022-2030(USD Billion)
16. U.K. Organobromine Market, By Application, 2022-2030(USD Billion)
17. Italy Organobromine Market, By Application, 2022-2030(USD Billion)
18. Spain Organobromine Market, By Application, 2022-2030(USD Billion)
19. Rest of Europe Organobromine Market, By Application, 2022-2030(USD Billion)
20. Asia Pacific Organobromine Market, By Application, 2022-2030(USD Billion)
21. Japan Organobromine Market, By Application, 2022-2030(USD Billion)
22. China Organobromine Market, By Application, 2022-2030(USD Billion)
23. India Organobromine Market, By Application, 2022-2030(USD Billion)
24. Australia Organobromine Market, By Application, 2022-2030(USD Billion)
25. South Korea Organobromine Market, By Application, 2022-2030(USD Billion)
26. Rest of Asia-Pacific Organobromine Market, By Application, 2022-2030(USD Billion)
27. South America Organobromine Market, By Application, 2022-2030(USD Billion)
28. Brazil Organobromine Market, By Application, 2022-2030(USD Billion)
29. Argentina Organobromine Market, By Application, 2022-2030(USD Billion)
30. Rest of Latin America Organobromine Market, By Application, 2022-2030(USD Billion)
31. Middle East and Africa Organobromine Market, By Application, 2022-2030(USD Billion)
32. UAE Organobromine Market, By Application, 2022-2030(USD Billion)
33. South Africa Organobromine Market, By Application, 2022-2030(USD Billion)
34. Egypt Organobromine Market, By Application, 2022-2030(USD Billion)
35. Kuwait Organobromine Market, By Application, 2022-2030(USD Billion)
36. Saudi Arabia Organobromine Market, By Application, 2022-2030(USD Billion)
37. Rest of Middle East Organobromine Market, By Application, 2022-2030(USD Billion)
List of Figures
1. Global Organobromine Market Segmentation
2. Organobromine Market: Research Methodology
3. Market Size Estimation Methodology: Bottom-Up Approach
4. Market Size Estimation Methodology: Top-Down Approach
5. Data Triangulation
6. Porter's Five Forces Analysis
7. Value Chain Analysis
8. Global Organobromine Market Attractiveness Analysis By Application
9. Global Organobromine Market Attractiveness Analysis By Region
10. Global Organobromine Market: Dynamics
11. Global Organobromine Market Share By Application(2022 & 2030)
12. Global Organobromine Market Share by Regions (2022 & 2030)
13. Global Organobromine Market Share by Company (2021)