The global odor control system market was valued at USD 6.53 billion in 2022, which is anticipated to grow at a CAGR of 6.48% from 2023 to 2032. The primary driver of market expansion is a growing need to eliminate odors across various end-use industries. Additionally, odors are created via various production processes, including the synthesis of chemical compounds, oil refining, microbial breakdown of organic compounds, and processing of agricultural products. As a result, end-use industries are very concerned with odor removal due to its adverse environmental effects, further boosting the market growth. Improving air quality is the main reason odor control systems are used in end-use manufacturing facilities.
Market Introduction:
Agents used to reduce and eliminate unwanted odors from industrial waste are called the odor control system. To remove the unpleasant physical, biological, and chemical odors caused by the microbial breakdown of organic molecules, systems contain chemical scrubbers, bio-trickling filters, and carbon adsorbers. They are usually built in factories close to residential and commercial areas to reduce exposure to dangerous gases, vapours, and odors. As a result, these systems have many uses in various industries, including those that deal with chemicals and petrochemicals, metals and mining, energy and power, oil refineries, wastewater treatment, and food and beverage. One of the main factors propelling the market's expansion is the world's rapid industrialization. The general public's growing environmental concern is also accelerating market expansion. Odor control systems are increasingly used in industrial settings because they help to improve the air quality generated from manufacturing plants during the processing of agricultural goods, synthesis of chemical compounds, oil refining, and material treatment. Additionally, these systems are installed in public restrooms, bus and train stations, hospitals, shopping centres, and other locations to reduce unpleasant odors and maintain public hygiene. Odor control systems are more affordable, easier to use, and environmentally friendly than the active carbon and chemical treatments typically utilized. Aside from these aspects, further growth-promoting technological developments include creating hybrid odor control systems. These cutting-edge systems, available in a combination of chemical and biological adsorption, filter the air through several stages to remove odors. It is projected that additional factors, such as the establishment of supportive government regulations and significant research and development efforts, will fuel the market. When the olfactory sensory system is stimulated, an odor is a sensation that results from this process. It occurs when one or more chemical components that are readily identifiable and are generally present in low concentrations become volatile. A smell or scent can also be used to describe an odor. It could be an excellent or uncomfortable experience. For the betterment of the environment and the comfort of the neighbourhood, odor control is essential. Sewage treatment and industrial waste are two activities that cause unpleasant odors. Oil and gas refineries, manufacturing facilities, wastewater treatment facilities, and others create odors that impact the environment, workplace productivity, and community well-being. For many industrial and manufacturing sites, controlling odors and maintaining air quality standards is becoming increasingly challenging. An odor control system is a technique for eliminating or reducing unpleasant odors caused by various industrial pollutants and industrial processes. Air quality improvement is the objective of setting up an odor control system. Mercaptans, hydrogen sulphide, amines, ammonia, and volatile organic compounds are among the odors the system helps to eliminate. End-use industries use odor control systems for air filtration, source treatment, and odor neutralization since manufacturing operations release foul odors into the atmosphere, worsening the air quality.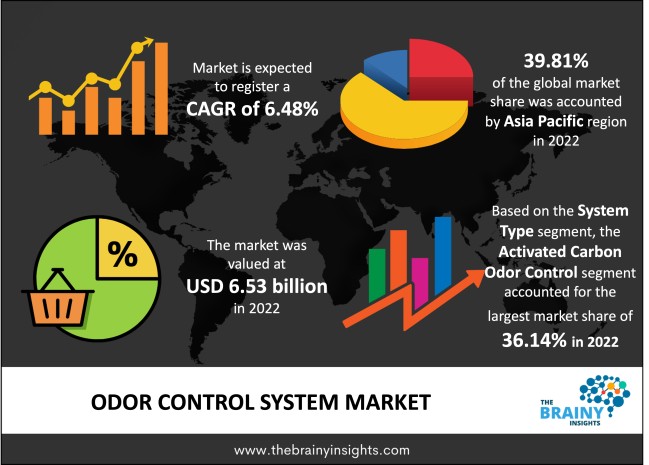 Get an overview of this study by requesting a free sample
Recent Development
For businesses to operate pest-free and avoid any brand backlash, Rentokil introduced GENIE Max in July 2022. This unique odor management technology was created to eliminate troublesome back-of-house smells. Garbage chutes, product storage spaces, and other familiar back-of-the-house places can leave odors in indoor spaces. These unpleasant odors attract unwanted pests and may harm customers and brand values.
Ecosorb, a leader in industrial odor elimination, introduced EcoLink in November 2022. This web-based interface allows remote monitoring and management of industrial odor neutralization systems. Using any device that can run a web browser, such as a smartphone, tablet, or PC, consumers can manage their equipment from anywhere in the world.
Environmental Integrated Solutions Limited was fully acquired in June 2022 by CECO Environmental Corp., a well-known global fluid handling and air quality solutions provider. EIS develops air-cleaning products employing various technologies, including VOC reduction, odor reduction, and other approaches to managing air pollution. This acquisition advances CECO's mission to address the sustainability issues raised by market development.
The Dürr Group strengthened its presence in the automation industry by acquiring a majority ownership stake in Teamtechnik Maschinen und Anlagen GmbH in December 2020.
Market Dynamics:
Drivers
Government rules and regulations with strict requirements for odor control management- Because of the growing demand to reduce undesirable odors in industrial and wastewater treatment facilities, the global market for the odor control system is anticipated to grow significantly over the projected time frame. Production facilities that process food and beverages, manufacture chemicals, pesticides, and pharmaceuticals, as well as those in industrial and municipal settings, release a bad smell that lowers output and quality of life. Employees, homeowners, commuters, and business owners living close to manufacturing sites frequently struggle with irritating and uncomfortable odors. Unpleasant smells can threaten people's safety and productivity and serve as a warning sign for potential health risks. Several businesses are installing odor control systems to eliminate unpleasant odors. Thus, this market is expected to expand considerably in the coming years, increasing the use of odor control systems in various industries. Furthermore, the market is anticipated to be fueled by strict government laws and policies imposed on end-use industries for odor control management throughout the projected period. Several governments in developing nations have devised and implemented stringent rules on petrol emissions into the atmosphere. As a result, industrial facilities are required to carry out their processes under the laws enforced by the government. This led to the market's expansion during the projected period. The fast industrialization of many developing and developed nations has also significantly contributed to environmental degradation. As a result, uncontrolled emissions of gases and chemicals into the atmosphere have been caused by the growth in manufacturing facilities. This mixture of gases and chemicals releases a foul smell into the environment. But as end-use industries become more aware of odor control systems, new market growth potentials are opening up.
Restraints:
High costs- The development of industrial odor and control limits the growth of the global odor control system market over the anticipated period due to the high price and maintenance costs.
Opportunities:
Innovative technologies- During the anticipated period, the market expansion will be fueled by the development of new and improved technologies. The demand for innovative and economical products is rising as the industrial sector gets more mechanized. Manufacturers are, therefore, under increased pressure to offer specialized and complex technologies, which raises the need for cutting-edge odor control solutions. The development of unique technologies that enable businesses to differentiate their products from the competition is also supported by significant investment and rising R&D spending, opening up new potential for market expansion in the years to come. Completely automated monitoring systems that can offer constant oversight and enhanced odor control system performance are becoming increasingly important to manufacturers of odor control systems. With new technology and multi-featured solutions, it is anticipated that the need for odor control systems will increase.
Regional segmentation analysis:
The regions analyzed for the market include North America, Europe, South America, Asia Pacific, the Middle East, and Africa. Asia-Pacific emerged as the largest global odor control system market, with a 39.81% market revenue share in 2022.
This can be attributed to fast industrialization and rising demand for energy and power. Moreover, the region has experienced a considerable need for odor control systems due to the increased discharge of harmful pollutants and exhaust gases. Furthermore, strict government laws for the emission of harmful air pollutants in nations like India and Japan are creating further possibilities for market expansion.
Asia-Pacific Region Odor Control System Market Share in 2022 - 39.81%
www.thebrainyinsights.com
Check the geographical analysis of this market by requesting a free sample
System Type Segment Analysis
The system type segment is divided into activated carbon odor control system, chemical odor control system, and biological odor control system. The activated carbon odor control system segment dominated the market, with a market share of around 36.14% in 2022. High odor elimination effectiveness and minimal power consumption are responsible for the high share. In addition, the activated carbon odor control system offers excellent efficiency. It eliminates gas-phase pollutants such as hydrogen sulphide, mercury, HCl, and other gaseous pollutants that cause a foul odor.
End-use Segment Analysis
The end-use segment is divided into chemical & petrochemical, power & energy, cement, mining & metal, and others. The power & energy segment dominated the market, with a market share of around 23.07% in 2022. By burning fossil fuels and biomass, power and energy facilities produce a variety of dangerous gases. Carbon Dioxide (CO2), Sulphur Dioxide (SO2), and Nitrogen Oxide (NOx) are among the gases produced as a result of the combustion of these fuels. As a result of the mixture of these gases, an unpleasant odor is produced in the nearby region, which increases the need for odor control systems in the power and energy sectors.
Some of the Key Market Players:
Bulbeck Enviro Pty Ltd.
Durr Systems Inc.
Evoqua Water Technologies LLC
Olfasense UK Ltd.
Tholander Ablufttechnik GmbH
AER Control Systems LLC
Environmental Integrated Solutions Limited
Romtec Utilities Inc.
Kch Services Inc.
Catalytic Products International Inc.
Report Description:
| Attribute | Description |
| --- | --- |
| Market Size | Revenue (USD Billion) |
| Market size value in 2022 | USD 6.53 Billion |
| Market size value in 2032 | USD 12.23 Billion |
| CAGR (2023 to 2032) | 6.48% |
| Historical data | 2019-2021 |
| Base Year | 2022 |
| Forecast | 2023-2032 |
| Regional Segments | The regions analyzed for the market are Asia Pacific, Europe, South America, North America, and Middle East & Africa. Furthermore, the regions are further analyzed at the country level. |
| Segments | System Type, End-use |
Frequesntly Asked Questions
1. Introduction
1.1. Objective of the Study
1.2. Market Definition
1.3. Research Scope
1.4. Currency
1.5. Key Target Audience

2. Research Methodology and Assumptions

3. Executive Summary

4. Premium Insights
4.1. Porter's Five Forces Analysis
4.2. Value Chain Analysis
4.3. Top Investment Pockets
4.3.1. Market Attractiveness Analysis By System Type
4.3.2. Market Attractiveness Analysis By End-use
4.3.3. Market Attractiveness Analysis By Region
4.4. Industry Trends

5. Market Dynamics
5.1. Market Evaluation
5.2. Drivers
5.2.1. Government rules and regulations with strict requirements for odor control management
5.3. Restraints
5.3.1. High costs
5.4. Opportunities
5.4.1. Innovative technologies

6. Global Odor Control System Market Analysis and Forecast, By System Type
6.1. Segment Overview
6.2. Activated Carbon Odor Control System
6.3. Chemical Odor Control System
6.4. Biological Odor Control System

7. Global Odor Control System Market Analysis and Forecast, By End-use
7.1. Segment Overview
7.2. Chemical & Petrochemical
7.3. Power & Energy
7.4. Cement
7.5. Mining & Metal
7.6. Others

8. Global Odor Control System Market Analysis and Forecast, By Regional Analysis
8.1. Segment Overview
8.2. North America
8.2.1. U.S.
8.2.2. Canada
8.2.3. Mexico
8.3. Europe
8.3.1. Germany
8.3.2. France
8.3.3. U.K.
8.3.4. Italy
8.3.5. Spain
8.4. Asia-Pacific
8.4.1. Japan
8.4.2. China
8.4.3. India
8.5. South America
8.5.1. Brazil
8.6. Middle East and Africa
8.6.1. UAE
8.6.2. South Africa

9. Global Odor Control System Market-Competitive Landscape
9.1. Overview
9.2. Market Share of Key Players in the Odor Control System Market
9.2.1. Global Company Market Share
9.2.2. North America Company Market Share
9.2.3. Europe Company Market Share
9.2.4. APAC Company Market Share
9.3. Competitive Situations and Trends
9.3.1. Product Launches and Developments
9.3.2. Partnerships, Collaborations, and Agreements
9.3.3. Mergers & Acquisitions
9.3.4. Expansions

10. Company Profiles
10.1. Bulbeck Enviro Pty Ltd.
10.1.1. Business Overview
10.1.2. Company Snapshot
10.1.3. Company Market Share Analysis
10.1.4. Company Product Portfolio
10.1.5. Recent Developments
10.1.6. SWOT Analysis
10.2. Durr Systems Inc.
10.2.1. Business Overview
10.2.2. Company Snapshot
10.2.3. Company Market Share Analysis
10.2.4. Company Product Portfolio
10.2.5. Recent Developments
10.2.6. SWOT Analysis
10.3. Evoqua Water Technologies LLC
10.3.1. Business Overview
10.3.2. Company Snapshot
10.3.3. Company Market Share Analysis
10.3.4. Company Product Portfolio
10.3.5. Recent Developments
10.3.6. SWOT Analysis
10.4. Olfasense UK Ltd.
10.4.1. Business Overview
10.4.2. Company Snapshot
10.4.3. Company Market Share Analysis
10.4.4. Company Product Portfolio
10.4.5. Recent Developments
10.4.6. SWOT Analysis
10.5. Tholander Ablufttechnik GmbH
10.5.1. Business Overview
10.5.2. Company Snapshot
10.5.3. Company Market Share Analysis
10.5.4. Company Product Portfolio
10.5.5. Recent Developments
10.5.6. SWOT Analysis
10.6. AER Control Systems LLC
10.6.1. Business Overview
10.6.2. Company Snapshot
10.6.3. Company Market Share Analysis
10.6.4. Company Product Portfolio
10.6.5. Recent Developments
10.6.6. SWOT Analysis
10.7. Environmental Integrated Solutions Limited
10.7.1. Business Overview
10.7.2. Company Snapshot
10.7.3. Company Market Share Analysis
10.7.4. Company Product Portfolio
10.7.5. Recent Developments
10.7.6. SWOT Analysis
10.8. Romtec Utilities Inc.
10.8.1. Business Overview
10.8.2. Company Snapshot
10.8.3. Company Market Share Analysis
10.8.4. Company Product Portfolio
10.8.5. Recent Developments
10.8.6. SWOT Analysis
10.9. Kch Services Inc.
10.9.1. Business Overview
10.9.2. Company Snapshot
10.9.3. Company Market Share Analysis
10.9.4. Company Product Portfolio
10.9.5. Recent Developments
10.9.6. SWOT Analysis
10.10. Catalytic Products International Inc.
10.10.1. Business Overview
10.10.2. Company Snapshot
10.10.3. Company Market Share Analysis
10.10.4. Company Product Portfolio
10.10.5. Recent Developments
10.10.6. SWOT Analysis

List of Table
1. Global Odor Control System Market, By System Type, 2019-2032 (USD Billion)
2. Global Activated Carbon Odor Control System, Odor Control System Market, By Region, 2019-2032 (USD Billion)
3. Global Chemical Odor Control System, Odor Control System Market, By Region, 2019-2032 (USD Billion)
4. Global Biological Odor Control System, Odor Control System Market, By Region, 2019-2032 (USD Billion)
5. Global Odor Control System Market, By End-use, 2019-2032 (USD Billion)
6. Global Chemical & Petrochemical, Odor Control System Market, By Region, 2019-2032 (USD Billion)
7. Global Power & Energy, Odor Control System Market, By Region, 2019-2032 (USD Billion)
8. Global Cement, Odor Control System Market, By Region, 2019-2032 (USD Billion)
9. Global Mining & Metal, Odor Control System Market, By Region, 2019-2032 (USD Billion)
10. Global Others, Odor Control System Market, By Region, 2019-2032 (USD Billion)
11. Global Odor Control System Market, By Region, 2019-2032 (USD Billion)
12. North America Odor Control System Market, By System Type, 2019-2032 (USD Billion)
13. North America Odor Control System Market, By End-use, 2019-2032 (USD Billion)
14. U.S. Odor Control System Market, By System Type, 2019-2032 (USD Billion)
15. U.S. Odor Control System Market, By End-use, 2019-2032 (USD Billion)
16. Canada Odor Control System Market, By System Type, 2019-2032 (USD Billion)
17. Canada Odor Control System Market, By End-use, 2019-2032 (USD Billion)
18. Mexico Odor Control System Market, By System Type, 2019-2032 (USD Billion)
19. Mexico Odor Control System Market, By End-use, 2019-2032 (USD Billion)
20. Europe Odor Control System Market, By System Type, 2019-2032 (USD Billion)
21. Europe Odor Control System Market, By End-use, 2019-2032 (USD Billion)
22. Germany Odor Control System Market, By System Type, 2019-2032 (USD Billion)
23. Germany Odor Control System Market, By End-use, 2019-2032 (USD Billion)
24. France Odor Control System Market, By System Type, 2019-2032 (USD Billion)
25. France Odor Control System Market, By End-use, 2019-2032 (USD Billion)
26. U.K. Odor Control System Market, By System Type, 2019-2032 (USD Billion)
27. U.K. Odor Control System Market, By End-use, 2019-2032 (USD Billion)
28. Italy Odor Control System Market, By System Type, 2019-2032 (USD Billion)
29. Italy Odor Control System Market, By End-use, 2019-2032 (USD Billion)
30. Spain Odor Control System Market, By System Type, 2019-2032 (USD Billion)
31. Spain Odor Control System Market, By End-use, 2019-2032 (USD Billion)
32. Asia Pacific Odor Control System Market, By System Type, 2019-2032 (USD Billion)
33. Asia Pacific Odor Control System Market, By End-use, 2019-2032 (USD Billion)
34. Japan Odor Control System Market, By System Type, 2019-2032 (USD Billion)
35. Japan Odor Control System Market, By End-use, 2019-2032 (USD Billion)
36. China Odor Control System Market, By System Type, 2019-2032 (USD Billion)
37. China Odor Control System Market, By End-use, 2019-2032 (USD Billion)
38. India Odor Control System Market, By System Type, 2019-2032 (USD Billion)
39. India Odor Control System Market, By End-use, 2019-2032 (USD Billion)
40. South America Odor Control System Market, By System Type, 2019-2032 (USD Billion)
41. South America Odor Control System Market, By End-use, 2019-2032 (USD Billion)
42. Brazil Odor Control System Market, By System Type, 2019-2032 (USD Billion)
43. Brazil Odor Control System Market, By End-use, 2019-2032 (USD Billion)
44. Middle East and Africa Odor Control System Market, By System Type, 2019-2032 (USD Billion)
45. Middle East and Africa Odor Control System Market, By End-use, 2019-2032 (USD Billion)
46. UAE Odor Control System Market, By System Type, 2019-2032 (USD Billion)
47. UAE Odor Control System Market, By End-use, 2019-2032 (USD Billion)
48. South Africa Odor Control System Market, By System Type, 2019-2032 (USD Billion)
49. South Africa Odor Control System Market, By End-use, 2019-2032 (USD Billion)
List of Figures
1. Global Odor Control System Market Segmentation
2. Odor Control System Market: Research Methodology
3. Market Size Estimation Methodology: Bottom-Up Approach
4. Market Size Estimation Methodology: Top-Down Approach
5. Data Triangulation
6. Porter's Five Forces Analysis
7. Value Chain Analysis
8. Global Odor Control System Market Attractiveness Analysis By System Type
9. Global Odor Control System Market Attractiveness Analysis By End-use
10. Global Odor Control System Market Attractiveness Analysis By Region
11. Global Odor Control System Market: Dynamics
12. Global Odor Control System Market Share by System Type (2023 & 2032)
13. Global Odor Control System Market Share by End-use (2023 & 2032)
14. Global Odor Control System Market Share by Regions (2023 & 2032)
15. Global Odor Control System Market Share by Company (2022)