The global nitric acid market was valued at USD 25 billion in 2022 and grew at a CAGR of 3% from 2023 to 2032. The market is expected to reach USD 33.59 billion by 2032. The increasing demand for fertilizers will drive the growth of the global nitric acid market.
Market Introduction:
Nitric acid is an inorganic substance. Its chemical formula is HNO3. It is a mineral acid that is corrosive and colourless. Nitric acid is a powerful oxidant and a good conductor of electricity. The colour of nitric acid can range from bright yellow to a deeper brown. The majority of nitric acid that is sold commercially has a 68% concentration in water. Nitric acid has several industrial applications. The advantages of NO have largely been attained in synthesising the salt ammonium nitrate, NH4NO3, which is used in producing fertilizers and explosives, is the most significant industrial usage of nitric acid. Nitric acid is also used in metal-refining and soda production industries. It is a typical laboratory reagent as well. It serves as an oxidizer in liquid-fuelled rockets. Nitric acid is also used to produce adhesives that are essential in the packaging industry. Nitric acid can be used to treat boils and warts. Diluted nitric acid can be sued to cure indigestion. Nitric acid and alcohol can be used to engrave patterns into various metals, including copper, bronze, and brass, contributing to its demand from the décor industry. Nitric acid is also used to identify drugs in spot tests. The main ingredient in furniture varnish is nitric acid. It is then frequently utilized as a lacquer.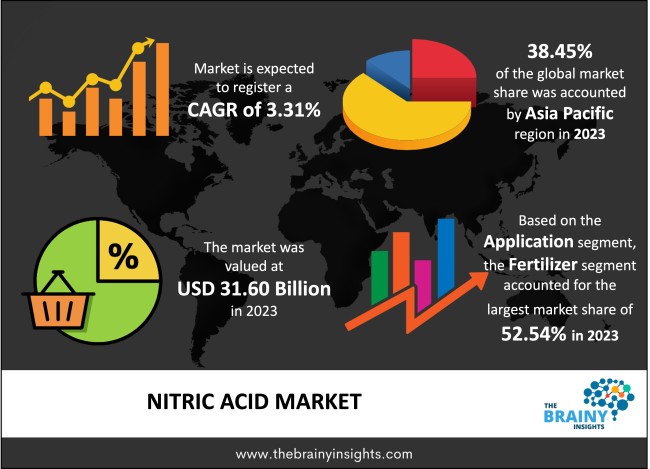 Get an overview of this study by requesting a free sample
Recent Development
November 2022 - In an agreement to supply nitric acid worth Rs 8,000 crore, Deepak Fertilisers and Aarti Industries collaborated. After the two businesses signed a 20-year agreement to deliver nitric acid worth Rs 8,000 crore, shares of Deepak Fertilisers and Aarti Industries increased. The largest producer of nitric acid in South-East Asia is Deepak Fertilisers and the top consumer of nitric acid in India is Aarti Industries.
January 2023 - The contractor KAZAZOT chose to create a new ammonium, urea, nitric acid, and ammonium nitrate complex, Técnicas Reunidas. The factory will be built in Aktau, Mangistau Oblast, in southwest Kazakhstan, with an estimated $1 billion in total investment. Under a FEED OBE contract, Técnicas Reunidas will initially complete the engineering design. Then, using an EPC contract, they will complete the plant's engineering, procurement, and construction.
Market Dynamics:
Drivers
The increasing demand for fertilizers – the global food shortages brought on by the covid-19 pandemic-induced restrictions and the Russia-Ukraine war highlighted the importance of self-sufficiency in food. Furthermore, the climate change crisis and, changing monsoon patterns, extreme weather conditions have increased the risks of crop damage, making food a national interest. Therefore, introducing fertiliser subsidies will benefit the global nitric acid market. Furthermore, the rising focus on improving fertilisers' production capacity to meet the agricultural industry's needs will also augment the market's growth.
January 2023 - To double its current capacity, Grupa Azoty opened a new facility for manufacturing concentrated nitric acid with a design output of 40 000 tpy. This is Tarnów's second production unit for nitric acid, with a concentration above 98%. The project is essential to securing raw materials for producing fine chemicals because Grupa Azoty is the sole Polish manufacturer of concentrated nitric acid. The associated capital outlay totalled PLN 57.1 million. The group's strong position as a significant provider of intermediate chemical feedstocks, particularly mixed acids, is further strengthened by the new plant to manufacture concentrated nitric acid. More than 30 customers in 20 different European countries are now receiving deliveries of their products.
Restraints:
The shift towards organic farming – the excess and exploitative use of chemical fertilizers, pesticides and genetically modified seeds has negatively affected soil and overall food quality. The growing awareness about these effects has increased the demand for organic produce devoid of such chemicals and healthier. The increasing demand for organic produce has contributed to the growing adoption of organic farming, which relies on organic fertilizers like manure, seaweed, and straws. The shift towards organic farming will significantly impact the demand for nitric acid, which will impede the market's growth.
August 2023 - The Kooragang Island Decarbonisation Project between ThyssenKrupp Uhde and Orica in Newcastle, Australia, has been completed with the commissioning of Thyssenkrupp Uhde's EnviNOx technology to cut greenhouse gas emissions at Orica's three on-site nitric acid units. Thyssenkrupp Uhde provided this project's specialized machinery, including the reactor vessels and the catalysts. The decrease in greenhouse gas emissions equals 48% of the site's overall emissions and 11% of all emissions from Australia's chemical industry.
Opportunities:
The growing applications of nitric acid – the growing agricultural yields are attributed to healthy amounts of fertilizers with the correct NPK ratio being used to improve soil health. This has contributed positively towards the growth of the nitric acid market. Similarly, the growth of the textile, defence, construction and packaging industry will bode well for nitric acid. The introduction of favourable schemes and increased funding for the growth of the textile industry by governments of developing nations is a case in point. Similarly, the increasing infrastructural spending of the government and private players will boost the building and construction market. The positive growth in these segments will augment the global nitric acid market's growth and development in the forecast period.
Regional segmentation analysis:
The regions analyzed for the market include North America, Europe, South America, Asia Pacific, the Middle East, and Africa. Asia Pacific emerged as the most significant global nitric acid market, with a 39% market revenue share in 2022.
India and China are among the top wheat, rice, cotton and sugarcane producers. These crops use more fertilizers than other grains, cereals and cash crops. Furthermore, the South and East Asian economies of Vietnam, Laos, and Thailand are significant rice producers. The extensive and thriving agriculture sector contributes to the regional nitric acid market's growth. Additionally, India, China, Bangladesh and Vietnam are dominant textiles producers, furthering the regional nitric acid market's development.
Asia Pacific Region Nitric Acid Market Share in 2022 - 39%
www.thebrainyinsights.com
Check the geographical analysis of this market by requesting a free sample
August 2023 - Nitric acid production at a brownfield site in Dahej, Gujarat, has been expanded by Deepak Fertilisers and Petrochemicals Corporation Limited, a major manufacturer of industrial chemicals, as part of its strategic growth plan. The Board of Directors has approved the construction of two concentrated nitric acid (CNA) plants with a combined capacity of 150 KT PA and a weak nitric acid (WNA) plant with a capacity of 300 KT PA. The company plans to utilise its market leadership in the CNA area by increasing its CNA manufacturing capacity by 150 KT PA in response to rising demand.
Application Segment Analysis
The application segment is divided into fertilizers, adipic acid, nitrobenzene, toluene Di-isocyanate, and others. The fertilizer segment dominated, with a market share of around 53% in 2022. fertilizers include nitrogen, potassium, and phosphorus, crucial elements plants need. Nitrogen constitutes the majority of proportion in fertilizers, given plants' high demand for nitrogen for their growth and nutrition. By giving the soil the proper mix of nutrients, fertilizers increase output and ensure healthy food. Without fertilizers, the soil would become impoverished, making it particularly challenging to grow plants. Fertilizers provide nutrients that the soil lacks, replenish the nutrients lost during harvest and improve the quality and nutrient content of the plants. They offer better yield results, reducing production costs and retail costs of food production. The food crisis worldwide has highlighted the importance of a self-sufficient nation in producing and feeding its population, contributing to the rising initiatives at improving agriculture, thereby augmenting the fertilizer segment's growth.
May 2023 - An arrangement between Casale and Agropolychim will eventually increase its ability to produce nitrogen-based fertilizers by up to 1.5 million tpy. Casale will engineer and licence a brand-new, cutting-edge dual-pressure nitric acid plant to increase local green energy generation. The plant is anticipated to be operational before the end of 2027. It is a significant milestone in Agropolychim's investment strategy, totalling more than €250 million over the next five years. This will help the company maintain its leadership position globally as one of the few carbon-neutral fertilizer producers. It will take it one step closer to setting the green/blue fertilizer and ammonia platform standard in south-eastern Europe.
Some of the Key Market Players:
BASF SE
CF Industry Holdings, Inc
Deepak Fertilisers and Petrochemicals Corporation Ltd (DFPCL)
Dyno Nobel
Enaex S.A.
IXOM Ltd.
LSB Industries
Nutrien Ltd.
Omnia Holding Limited
Sasol
Report Description:
| Attribute | Description |
| --- | --- |
| Market Size | Revenue (USD Billion) |
| Market size value in 2022 | USD 25 Billion |
| Market size value in 2032 | USD 33.59 Billion |
| CAGR (2023 to 2032) | 3% |
| Historical data | 2019-2021 |
| Base Year | 2022 |
| Forecast | 2023-2032 |
| Region | The regions analyzed for the market are Asia Pacific, Europe, South America, North America, and Middle East & Africa. Furthermore, the regions are further analyzed at the country level. |
| Segments | Application |
Frequesntly Asked Questions
1. Introduction
1.1. Objectives of the Study
1.2. Market Definition
1.3. Research Scope
1.4. Currency
1.5. Key Target Audience

2. Research Methodology and Assumptions

3. Executive Summary

4. Premium Insights
4.1. Porter's Five Forces Analysis
4.2. Value Chain Analysis
4.3. Top Investment Pockets
4.3.1. Market Attractiveness Analysis By Application
4.3.2. Market Attractiveness Analysis By Region
4.4. Industry Trends

5. Market Dynamics
5.1. Market Evaluation
5.2. Drivers
5.2.1. The increasing demand for fertilizers
5.3. Restraints
5.3.1. The shift towards organic farming
5.4. Opportunities
5.4.1. The growing applications of nitric acid
5.5. Challenges
5.5.1. Haphazard policy decisions

6. Global Nitric Acid Market Analysis and Forecast, By Application
6.1. Segment Overview
6.2. Fertilizers
6.3. Adipic Acid
6.4. Nitrobenzene
6.5. Toluene Di-Isocyanate
6.6. Others

7. Global Nitric Acid Market Analysis and Forecast, By Regional Analysis
7.1. Segment Overview
7.2. North America
7.2.1. U.S.
7.2.2. Canada
7.2.3. Mexico
7.3. Europe
7.3.1. Germany
7.3.2. France
7.3.3. U.K.
7.3.4. Italy
7.3.5. Spain
7.4. Asia-Pacific
7.4.1. Japan
7.4.2. China
7.4.3. India
7.5. South America
7.5.1. Brazil
7.6. Middle East and Africa
7.6.1. UAE
7.6.2. South Africa

8. Global Nitric Acid Market-Competitive Landscape
8.1. Overview
8.2. Market Share of Key Players in the Nitric Acid Market
8.2.1. Global Company Market Share
8.2.2. North America Company Market Share
8.2.3. Europe Company Market Share
8.2.4. APAC Company Market Share
8.3. Competitive Situations and Trends
8.3.1. Product Launches and Developments
8.3.2. Partnerships, Collaborations, and Agreements
8.3.3. Mergers & Acquisitions
8.3.4. Expansions

9. Company Profiles
9.1. BASF SE
9.1.1. Business Overview
9.1.2. Company Snapshot
9.1.3. Company Market Share Analysis
9.1.4. Company Product Portfolio
9.1.5. Recent Developments
9.1.6. SWOT Analysis
9.2. CF Industry Holdings, Inc
9.2.1. Business Overview
9.2.2. Company Snapshot
9.2.3. Company Market Share Analysis
9.2.4. Company Product Portfolio
9.2.5. Recent Developments
9.2.6. SWOT Analysis
9.3. Deepak Fertilisers and Petrochemicals Corporation Ltd (DFPCL)
9.3.1. Business Overview
9.3.2. Company Snapshot
9.3.3. Company Market Share Analysis
9.3.4. Company Product Portfolio
9.3.5. Recent Developments
9.3.6. SWOT Analysis
9.4. Dyno Nobel
9.4.1. Business Overview
9.4.2. Company Snapshot
9.4.3. Company Market Share Analysis
9.4.4. Company Product Portfolio
9.4.5. Recent Developments
9.4.6. SWOT Analysis
9.5. Enaex S.A.
9.5.1. Business Overview
9.5.2. Company Snapshot
9.5.3. Company Market Share Analysis
9.5.4. Company Product Portfolio
9.5.5. Recent Developments
9.5.6. SWOT Analysis
9.6. IXOM Ltd.
9.6.1. Business Overview
9.6.2. Company Snapshot
9.6.3. Company Market Share Analysis
9.6.4. Company Product Portfolio
9.6.5. Recent Developments
9.6.6. SWOT Analysis
9.7. LSB Industries
9.7.1. Business Overview
9.7.2. Company Snapshot
9.7.3. Company Market Share Analysis
9.7.4. Company Product Portfolio
9.7.5. Recent Developments
9.7.6. SWOT Analysis
9.8. Nutrien Ltd.
9.8.1. Business Overview
9.8.2. Company Snapshot
9.8.3. Company Market Share Analysis
9.8.4. Company Product Portfolio
9.8.5. Recent Developments
9.8.6. SWOT Analysis
9.9. Omnia Holding Limited
9.9.1. Business Overview
9.9.2. Company Snapshot
9.9.3. Company Market Share Analysis
9.9.4. Company Product Portfolio
9.9.5. Recent Developments
9.9.6. SWOT Analysis
9.10. Sasol
9.10.1. Business Overview
9.10.2. Company Snapshot
9.10.3. Company Market Share Analysis
9.10.4. Company Component Portfolio
9.10.5. Recent Developments
9.10.6. SWOT Analysis
List of Table
1. Global Nitric Acid Market, By Application, 2019-2030 (USD Billion)
2. Global Fertilizers Nitric Acid Market, By Region, 2019-2030 (USD Billion)
3. Global Adipic Acid Nitric Acid Market, By Region, 2019-2030 (USD Billion)
4. Global Nitrobenzene Nitric Acid Market, By Region, 2019-2030 (USD Billion)
5. Global Toluene Di-Isocyanate Nitric Acid Market, By Region, 2019-2030 (USD Billion)
6. Global Others Nitric Acid Market, By Region, 2019-2030 (USD Billion)
7. Global Nitric Acid Market, By Region, 2019-2030 (USD Billion)
8. North America Nitric Acid Market, By Application, 2019-2030 (USD Billion)
9. U.S. Nitric Acid Market, By Application, 2019-2030 (USD Billion)
10. Canada Nitric Acid Market, By Application, 2019-2030 (USD Billion)
11. Mexico Nitric Acid Market, By Application, 2019-2030 (USD Billion)
12. Europe Nitric Acid Market, By Application, 2019-2030 (USD Billion)
13. Germany Nitric Acid Market, By Application, 2019-2030 (USD Billion)
14. France Nitric Acid Market, By Application, 2019-2030 (USD Billion)
15. U.K. Nitric Acid Market, By Application, 2019-2030 (USD Billion)
16. Italy Nitric Acid Market, By Application, 2019-2030 (USD Billion)
17. Spain Nitric Acid Market, By Application, 2019-2030 (USD Billion)
18. Asia Pacific Nitric Acid Market, By Application, 2019-2030 (USD Billion)
19. Japan Nitric Acid Market, By Application, 2019-2030 (USD Billion)
20. China Nitric Acid Market, By Application, 2019-2030 (USD Billion)
21. India Nitric Acid Market, By Application, 2019-2030 (USD Billion)
22. South America Nitric Acid Market, By Application, 2019-2030 (USD Billion)
23. Brazil Nitric Acid Market, By Application, 2019-2030 (USD Billion)
24. Middle East and Africa Nitric Acid Market, By Application, 2019-2030 (USD Billion)
25. UAE Nitric Acid Market, By Application, 2019-2030 (USD Billion)
26. South Africa Nitric Acid Market, By Application, 2019-2030 (USD Billion)
List of Figures
1. Global Nitric Acid Market Segmentation
2. Nitric Acid Market: Research Methodology
3. Market Size Estimation Methodology: Bottom-Up Approach
4. Market Size Estimation Methodology: Top-Down Approach
5. Data Triangulation
6. Porter's Five Forces Analysis
7. Value Chain Analysis
8. Global Nitric Acid Market Attractiveness Analysis By Application
9. Global Nitric Acid Market Attractiveness Analysis By Region
10. Global Nitric Acid Market: Dynamics
11. Global Nitric Acid Market Share by Application (2022 & 2030)
12. Global Nitric Acid Market Share by Regions (2022 & 2030)
13. Global Nitric Acid Market Share by Company (2021)