The global monochloroacetic acid market is expected to reach USD 1,269.84 million by 2032, at a CAGR of 3.6% during the forecast period 2023 to 2032. North America is expected to grow the fastest during the forecast period.
Market Overview:
A carboxylic acid, monochloroacetic acid, originates from acetic acid's chlorination and trichloroethylene's hydrolysis. It has a pungent smell, is colourless and crystalline, and is highly soluble in organic solvents and water. In addition to pesticides, drugs, dyes, and thickening agents like carboxymethyl starch and carboxymethyl cellulose, it is also used to synthesize various other derivatives, including surfactants, plastic stabilizers, drilling fluids, herbicides, and pharmaceuticals. The personal care and cosmetic industry rely heavily on mono-chloroacetic acid (MCA), as it makes betaines, which are amphoteric surfactants. Because of its foaming properties, MCA is used in hair shampoos. There are a variety of treatments that use mono-chloroacetic acid to treat skin lesions, verrucae, and atherosclerosis. MCAAs are also precursors to adrenaline, a stress hormone known as a treatment. Monochloroacetic acid market growth is also influenced by rapid industrialization, a surge in investments, and the use of agrochemicals such as insecticides, pesticides, herbicides, and fungicides. In addition, the growing population and the rising purchasing power parity of the market will provide profitable opportunities to market players in the forecast period. Furthermore, the fluctuation in the raw material prices of acetic acid is expected to hinder the market's development. At the same time, concerns regarding the harmful effects of MCA exposure could challenge the monochloroacetic acid (MCA) market in the future.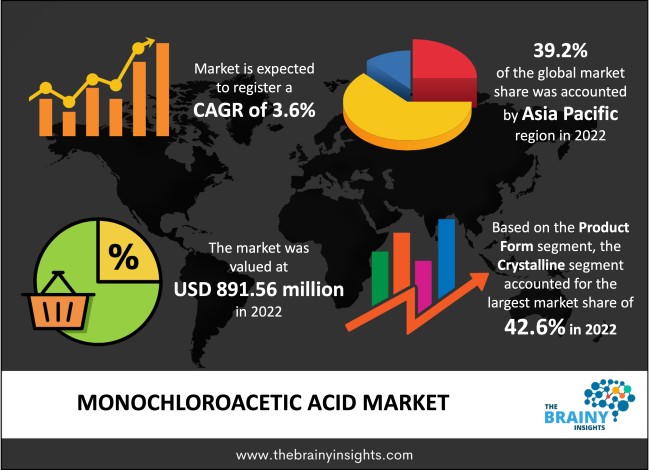 Get an overview of this study by requesting a free sample
Recent Development
On September 22, 2021, Archit Organosys' Board of Directors approved a proposal to increase its Bhavnagar production capacity by 12,000 tpa. With an investment of Rs five crore financed by internal accruals, the project will cost Rs five crore. According to the company, demand for Monochloroacetic Acid (MCA) has increased domestically and internationally.
Market Dynamics:
Drivers
Changing fashion trends- There has been a surge in demand for clothing and textiles in emerging nations due to the growing population and evolving fashion sense. The textile industry uses monochloroacetic acid as an intermediate in the fusion of indigo dyes, which is expected to positively affect the overall mono-chloroacetic acid industry.
Restraints:
Availability of alternatives in the market- There are several alternatives for monochloroacetic acid, which reduces the sale of original products, thus restraining the market's growth. Price fluctuations and volatile raw material supplies also hinder the market growth.
Opportunities:
Increased demand for agrochemicals- In the agricultural industry, technological advancements, limited arable land availability, environmental concerns, and improvements in plant breeding and management expertise have led to increased use of agrochemicals worldwide. Almost $40 billion is lost to U.S. plants and forest crop production each year to pests and pathogens, according to a finding in Proceedings of the National Academy of Sciences (PNAS).
Challenges:
High operation and maintenance cost- The high maintenance and operational costs involved with the MCA route are challenging for factories operating by that route because of the MCA's corrosive nature. As a result, the production of synthesis by this route represents a significant challenge for producers of monochloroacetic acid globally.
Regional segmentation analysis:
The regions analyzed for the market include North America, Europe, South America, Asia Pacific, the Middle East, and Africa. Asia Pacific emerged as the most significant global monochloroacetic acid market, with a 39.2% market revenue share in 2022.
Asia Pacific dominates the monochloroacetic acid market with a 39.2% market revenue share in 2022. Due to increasing demand from various end-user industries such as personal care and pharmaceuticals, agrochemicals, and others, the Asia-Pacific region dominated the global market share. Due to increased concerns about hygiene and cleanliness, the demand for detergents, personal care products, and washing soaps has increased, leading to a rise in MCA demand since it is needed to produce these products.
North America is expected to witness the fastest growth during the forecast period due to the growing agriculture spending in Mexico, the U.S. and Canada. Furthermore, people's worries about hygiene and cleanliness have grown, and so has the demand for personal care products, detergents, and washing soaps. As MCA is required to produce various personal care items, demand for it is expected to rise.
Asia Pacific Region Monochloroacetic Acid Market Share in 2022 - 39.2%
www.thebrainyinsights.com
Check the geographical analysis of this market by requesting a free sample
Product Form Analysis:
The product form segment is divided into flakes, crystalline and liquid. The crystalline segment dominated the market, with a share of around 42.6% in 2022. As a result of its ease of production process and low cost, the crystalline product form segment held the largest market share during the forecasted period. On the other hand, liquid segments are expected to grow significantly due to their easy miscibility as easy and effective processes.
Application Analysis:
The application segment is divided into agrochemicals, thioglycolic acid, carboxymethylcellulose, surfactants and others. The carboxymethylcellulose segment dominated the market, with a market share of around 29.6% in 2022. Due to its widespread use in various end-use businesses like oil and gas, material, paints and coatings, food, and drink, carboxymethylcellulose (CMC) is the largest consumer of monochloroacetic acid. Increasing demand for surfactants in detergents, frothing specialists, emulsifiers, wetting specialists, and dispersants, which are used for individual consideration items, will drive the market.
List of Key Market Players:
IOL Chemicals And Pharmaceuticals
Shijiazhuang Banglong Chemical
CABB
Chongqing Seayo Chemical Industry
Dow
Shri Chlochem
Luzhou Hepu Chemical
Daicel
Gold Power
Yichang Jinxin Chemical
Meridian
China Pingmei Shenma Group
PCC SE
Report Description:
| Attribute | Description |
| --- | --- |
| Market Size | Revenue (USD Billion) |
| Market size value in 2022 | USD 891.56 million |
| Market size value in 2032 | USD 1,269.84 million |
| CAGR (2023 to 2032) | 3.6% |
| Historical data | 2019-2021 |
| Base Year | 2022 |
| Forecast | 2023-2032 |
| Regional Segments | North America, Asia Pacific, Europe, Latin America, Middle East and Africa |
| Segments | Product Form, Application |
Frequesntly Asked Questions
As per The Brainy Insights, the size of the monochloroacetic acid market was valued at USD 891.56 million in 2022 to USD 1,269.84 million by 2032.
The global monochloroacetic acid market is growing at a CAGR of 3.6% during the forecast period 2023-2032.
Asia Pacific emerged as the largest monochloroacetic acid market.
1. Introduction
1.1. Objectives of the Study
1.2. Market Definition
1.3. Research Scope
1.4. Currency
1.5. Key Target Audience

2. Research Methodology and Assumptions

3. Executive Summary

4. Premium Insights
4.1. Porter's Five Forces Analysis
4.2. Value Chain Analysis
4.3. Top Investment Pockets
4.3.1. Market Attractiveness Analysis by Product Form
4.3.2. Market Attractiveness Analysis by Application
4.3.3. Market Attractiveness Analysis by Region
4.4. Industry Trends

5. Market Dynamics
5.1. Market Evaluation
5.2. Drivers
5.2.1. Changing fashion trends
5.3. Restraints
5.3.1. Availability of alternatives in the market
5.4. Opportunities
5.4.1. Increased demand for agrochemicals
5.5. Challenges
5.5.1. High operation and maintenance cost

6. Global Monochloroacetic Acid Market Analysis and Forecast, By Product Form
6.1. Segment Overview
6.2. Flakes
6.3. Crystalline
6.4. Liquid

7. Global Monochloroacetic Acid Market Analysis and Forecast, By Application
7.1. Segment Overview
7.2. Agrochemicals
7.3. Thioglycolic Acid
7.4. Carboxymethylcellulose
7.5. Surfactants
7.6. Others

8. Global Monochloroacetic Acid Market Analysis and Forecast, By Regional Analysis
8.1. Segment Overview
8.2. North America
8.2.1. U.S.
8.2.2. Canada
8.2.3. Mexico
8.3. Europe
8.3.1. Germany
8.3.2. France
8.3.3. U.K.
8.3.4. Italy
8.3.5. Spain
8.4. Asia-Pacific
8.4.1. Japan
8.4.2. China
8.4.3. India
8.5. South America
8.5.1. Brazil
8.6. Middle East and Africa
8.6.1. UAE
8.6.2. South Africa

9. Global Monochloroacetic Acid Market-Competitive Landscape
9.1. Overview
9.2. Market Share of Key Players in Global Monochloroacetic Acid Market
9.2.1. Global Company Market Share
9.2.2. North America Company Market Share
9.2.3. Europe Company Market Share
9.2.4. APAC Company Market Share
9.3. Competitive Situations and Trends
9.3.1. Product Launches and Developments
9.3.2. Partnerships, Collaborations, and Agreements
9.3.3. Mergers & Acquisitions
9.3.4. Expansions

10. Company Profiles
10.1. IOL Chemicals And Pharmaceuticals
10.1.1. Business Overview
10.1.2. Company Snapshot
10.1.3. Company Market Share Analysis
10.1.4. Company Product Portfolio
10.1.5. Recent Developments
10.1.6. SWOT Analysis
10.2. Shijiazhuang Banglong Chemical
10.2.1. Business Overview
10.2.2. Company Snapshot
10.2.3. Company Market Share Analysis
10.2.4. Company Product Portfolio
10.2.5. Recent Developments
10.2.6. SWOT Analysis
10.3. CABB
10.3.1. Business Overview
10.3.2. Company Snapshot
10.3.3. Company Market Share Analysis
10.3.4. Company Product Portfolio
10.3.5. Recent Developments
10.3.6. SWOT Analysis
10.4. Chongqing Seayo Chemical Industry
10.4.1. Business Overview
10.4.2. Company Snapshot
10.4.3. Company Market Share Analysis
10.4.4. Company Product Portfolio
10.4.5. Recent Developments
10.4.6. SWOT Analysis
10.5. Dow
10.5.1. Business Overview
10.5.2. Company Snapshot
10.5.3. Company Market Share Analysis
10.5.4. Company Product Portfolio
10.5.5. Recent Developments
10.5.6. SWOT Analysis
10.6. Shri Chlochem
10.6.1. Business Overview
10.6.2. Company Snapshot
10.6.3. Company Market Share Analysis
10.6.4. Company Product Portfolio
10.6.5. Recent Developments
10.6.6. SWOT Analysis
10.7. Luzhou Hepu Chemical
10.7.1. Business Overview
10.7.2. Company Snapshot
10.7.3. Company Market Share Analysis
10.7.4. Company Product Portfolio
10.7.5. Recent Developments
10.7.6. SWOT Analysis
10.8. Daicel
10.8.1. Business Overview
10.8.2. Company Snapshot
10.8.3. Company Market Share Analysis
10.8.4. Company Product Portfolio
10.8.5. Recent Developments
10.8.6. SWOT Analysis
10.9. Gold Power
10.9.1. Business Overview
10.9.2. Company Snapshot
10.9.3. Company Market Share Analysis
10.9.4. Company Product Portfolio
10.9.5. Recent Developments
10.9.6. SWOT Analysis
10.10. Yichang Jinxin Chemical
10.10.1. Business Overview
10.10.2. Company Snapshot
10.10.3. Company Market Share Analysis
10.10.4. Company Product Portfolio
10.10.5. Recent Developments
10.10.6. SWOT Analysis
10.11. Meridian
10.11.1. Business Overview
10.11.2. Company Snapshot
10.11.3. Company Market Share Analysis
10.11.4. Company Product Portfolio
10.11.5. Recent Developments
10.11.6. SWOT Analysis
10.12. China Pingmei Shenma Group
10.12.1. Business Overview
10.12.2. Company Snapshot
10.12.3. Company Market Share Analysis
10.12.4. Company Product Portfolio
10.12.5. Recent Developments
10.12.6. SWOT Analysis
10.13. PCC SE
10.13.1. Business Overview
10.13.2. Company Snapshot
10.13.3. Company Market Share Analysis
10.13.4. Company Product Portfolio
10.13.5. Recent Developments
10.13.6. SWOT Analysis

List of Table
1. Global Monochloroacetic Acid Market, By Product Form, 2019-2032 (USD Million)
2. Global Flakes, Monochloroacetic Acid Market, By Region, 2019-2032 (USD Million)
3. Global Crystalline, Monochloroacetic Acid Market, By Region, 2019-2032 (USD Million)
4. Global Liquid, Monochloroacetic Acid Market, By Region, 2019-2032 (USD Million)
5. Global Monochloroacetic Acid Market, By Application, 2019-2032 (USD Million)
6. Global Agrochemicals, Monochloroacetic Acid Market, By Region, 2019-2032 (USD Million)
7. Global Thioglycolic Acid, Monochloroacetic Acid Market, By Region, 2019-2032 (USD Million)
8. Global Carboxymethylcellulose, Monochloroacetic Acid Market, By Region, 2019-2032 (USD Million)
9. Global Surfactants, Monochloroacetic Acid Market, By Region, 2019-2032 (USD Million)
10. Global Others, Monochloroacetic Acid Market, By Region, 2019-2032 (USD Million)
11. North America Monochloroacetic Acid Market, By Product Form, 2019-2032 (USD Million)
12. North America Monochloroacetic Acid Market, By Application, 2019-2032 (USD Million)
13. U.S. Monochloroacetic Acid Market, By Product Form, 2019-2032 (USD Million)
14. U.S. Monochloroacetic Acid Market, By Application, 2019-2032 (USD Million)
15. Canada Monochloroacetic Acid Market, By Product Form, 2019-2032 (USD Million)
16. Canada Monochloroacetic Acid Market, By Application, 2019-2032 (USD Million)
17. Mexico Monochloroacetic Acid Market, By Product Form, 2019-2032 (USD Million)
18. Mexico Monochloroacetic Acid Market, By Application, 2019-2032 (USD Million)
19. Europe Monochloroacetic Acid Market, By Product Form, 2019-2032 (USD Million)
20. Europe Monochloroacetic Acid Market, By Application, 2019-2032 (USD Million)
21. Germany Monochloroacetic Acid Market, By Product Form, 2019-2032 (USD Million)
22. Germany Monochloroacetic Acid Market, By Application, 2019-2032 (USD Million)
23. France Monochloroacetic Acid Market, By Product Form, 2019-2032 (USD Million)
24. France Monochloroacetic Acid Market, By Application, 2019-2032 (USD Million)
25. U.K. Monochloroacetic Acid Market, By Product Form, 2019-2032 (USD Million)
26. U.K. Monochloroacetic Acid Market, By Application, 2019-2032 (USD Million)
27. Italy Monochloroacetic Acid Market, By Product Form, 2019-2032 (USD Million)
28. Italy Monochloroacetic Acid Market, By Application, 2019-2032 (USD Million)
29. Spain Monochloroacetic Acid Market, By Product Form, 2019-2032 (USD Million)
30. Spain Monochloroacetic Acid Market, By Application, 2019-2032 (USD Million)
31. Asia Pacific Monochloroacetic Acid Market, By Product Form, 2019-2032 (USD Million)
32. Asia Pacific Monochloroacetic Acid Market, By Application, 2019-2032 (USD Million)
33. Japan Monochloroacetic Acid Market, By Product Form, 2019-2032 (USD Million)
34. Japan Monochloroacetic Acid Market, By Application, 2019-2032 (USD Million)
35. China Monochloroacetic Acid Market, By Product Form, 2019-2032 (USD Million)
36. China Monochloroacetic Acid Market, By Application, 2019-2032 (USD Million)
37. India Monochloroacetic Acid Market, By Product Form, 2019-2032 (USD Million)
38. India Monochloroacetic Acid Market, By Application, 2019-2032 (USD Million)
39. South America Monochloroacetic Acid Market, By Product Form, 2019-2032 (USD Million)
40. South America Monochloroacetic Acid Market, By Application, 2019-2032 (USD Million)
41. Brazil Monochloroacetic Acid Market, By Product Form, 2019-2032 (USD Million)
42. Brazil Monochloroacetic Acid Market, By Application, 2019-2032 (USD Million)
43. Middle East and Africa Monochloroacetic Acid Market, By Product Form, 2019-2032 (USD Million)
44. Middle East and Africa Monochloroacetic Acid Market, By Application, 2019-2032 (USD Million)
45. UAE Monochloroacetic Acid Market, By Product Form, 2019-2032 (USD Million)
46. UAE Monochloroacetic Acid Market, By Application, 2019-2032 (USD Million)
47. South Africa Monochloroacetic Acid Market, By Product Form, 2019-2032 (USD Million)
48. South Africa Monochloroacetic Acid Market, By Application, 2019-2032 (USD Million)
List of Figures
1. Global Monochloroacetic Acid Market Segmentation
2. Global Monochloroacetic Acid Market: Research Methodology
3. Market Size Estimation Methodology: Bottom-Up Approach
4. Market Size Estimation Methodology: Top-Down Approach
5. Data Triangulation
6. Porter's Five Forces Analysis
7. Value Chain Analysis
8. Global Monochloroacetic Acid Market Attractiveness Analysis by Product Form
9. Global Monochloroacetic Acid Market Attractiveness Analysis by Application
10. Global Monochloroacetic Acid Market Attractiveness Analysis by Region
11. Global Monochloroacetic Acid Market: Dynamics
12. Global Monochloroacetic Acid Market Share by Product Form (2023 & 2032)
13. Global Monochloroacetic Acid Market Share by Application (2023 & 2032)
14. Global Monochloroacetic Acid Market Share by Regions (2023 & 2032)
15. Global Monochloroacetic Acid Market Share by Company (2022)