The global men formal shoe market was valued at USD 1.2 billion in 2022, growing at a CAGR of 6.7% from 2023 to 2032. The market is expected to reach USD 2.2 billion by 2032. One of the primary factors propelling the market's expansion is the increasing disposable income. Furthermore, the increasing social pressure among people of the new generation for latest trends is also driving the market's growth.
Market Introduction:
A certain category of shoes worn at social events and offices is referred to as formal shoes. These shoes, often brown or black, are worn to give the entire outfit a formal appearance. Most men's formal shoes are constructed of cowhide, while other types of leather, like grained and fake leather, are also utilized. Even in casual styles, formal shoes are meant to be incredibly comfy on the feet and have a respectable level of creative expression. They are worn for various events, including special occasions, dress-coded parties, dance floors, and formal meetings. Men's formal shoes have several advantages over their casual counterparts, such as a more distinctive look, better workmanship, and increased longevity. The market is experiencing profitable growth prospects due to the increasing demand for formal shoes from new and established brands due to rapid urbanization, especially in emerging markets.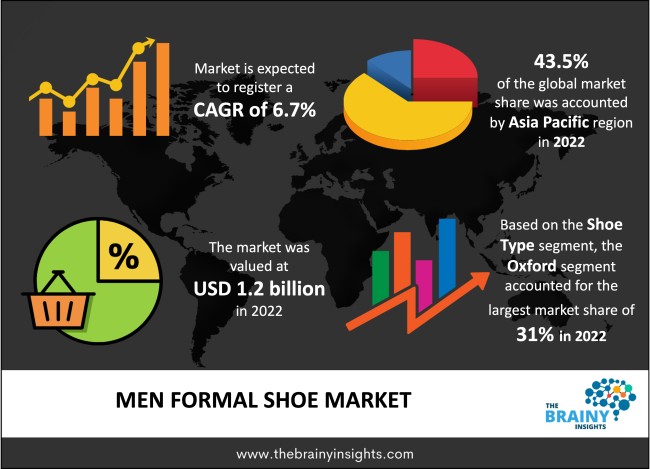 Get an overview of this study by requesting a free sample
Recent Development
In November 2020, A substantial investment was made in Clark International (Clarks) by LionRock Capital (Hong Kong). The acquisition of Clarks by LionRock facilitated the company's ongoing global expansion, especially into the Asia-Pacific area.
Market Dynamics:
Drivers
Innovations in design and features- Formal or professional shoes for men are high-end items that hold a substantial market share in the worldwide footwear industry. The expansion of the men's formal shoe market is also driven by increased commercialization and the need for branded footwear, which leads to innovations that produce a distinctive appearance, superior finish, and durability. People are embracing new shoe trends that are driving the market for both new and well-known companies. These trends include shoe types, styles, grain, and cuts. Furthermore, increasing innovation such as waterproofing, new materials, and fresh designs adds impetus to the market's growth.
Restraints:
Fluctuating price of raw material- One of the primary factors in determining the cost of a completed product is the cost of raw materials and their availability in the market. The main factor impeding the expansion of the men's formal shoe market is the fluctuating cost of raw materials. As a result, changes in the price of raw materials are restricting the market's ability to grow.
Opportunities:
Increasing disposable income- Growing urbanization and rapid growth have produced a large number of consumers who are willing to spend more money on products and have a thirst for cutting-edge fashion. Thus, the rising disposable income among people from all sections and classes of society is expected to provide growth opportunities for the market during the forecast period.
Regional segmentation analysis:
The regions analyzed for the market include North America, Europe, South America, Asia Pacific, the Middle East, and Africa. Asia Pacific emerged as the largest global men formal shoe market, with a 43.5% market revenue share in 2022.
Due to their increased disposable income and the growing westernization and globalization of the Asia-Pacific region, men are becoming more conscious of wearing sophisticated outfit combinations. Along with China, India, Malaysia, and Singapore are becoming the main markets for production and consumption. According to current estimates, consumers spend between 5 and 6 per cent of their income on clothing on average worldwide; however, in emerging nations, this percentage is much greater.
Asia Pacific Region Men Formal Shoe Market Share in 2022 - 43.5%
www.thebrainyinsights.com
Check the geographical analysis of this market by requesting a free sample
Shoe Type Segment Analysis
The shoe type segment is divided into boots, derby, oxfords, and loafers. The oxford segment dominated the market, with a market share of around 31% in 2022. Oxfords are traditional and timeless formal shoes distinguished by their sleek design and closed lacing system. They are regarded by many as the pinnacle of formal footwear for men, propelling the segment's growth.
Leather Type Segment Analysis
The leather type segment is divided into suede leather, pebble & full grain, top grain, and patent leather. The patent leather segment dominated the market, with a market share of around 29.4% in 2022. Coated leather with a high sheen known as patent leather. A synthetic coating is applied over imitation leather to create the majority of patent leather used today. That is plastic, which is driving the growth of the market.
Some of the Key Market Players:
Guccio Gucci S.P.A
Dolce & Gabbana
Burberry Group Inc
Cole Haan
Calvin Klein, Inc
Louis Vuitton
Prada S.P.A
Hugo Boss AG
Alden shoe company
C & J. Clark international ltd
Report Description:
| Attribute | Description |
| --- | --- |
| Market Size | Revenue (USD Billion) |
| Market size value in 2022 | USD 1.2 Billion |
| Market size value in 2032 | USD 2.2 Billion |
| CAGR (2023 to 2032) | 6.7% |
| Historical data | 2019-2021 |
| Base Year | 2022 |
| Forecast | 2023-2032 |
| Region | The regions analyzed for the market are Asia Pacific, Europe, South America, North America, and Middle East & Africa. Furthermore, the regions are further analyzed at the country level. |
| Segments | Shoe Type, Leather Type |