The global mammography market was valued at USD 3.5 billion in 2022, growing at a CAGR of 10.5% from 2023 to 2032. The market is expected to reach USD 9.49 billion by 2032. The increased prevalence of breast cancer and increasing patient desire for early-stage diagnosis are two significant factors expected to drive demand for breast cancer diagnostic technologies such as mammography throughout the forecast period.
Market Introduction:
Mammography is a non-invasive medical imaging and diagnostic method that uses low-dose X-rays to search for malignant tumour cells in breast tissues. A mammography exam, often known as a mammogram, highlights tiny tumours, cysts, and other breast anomalies using analogue, digital, computer-aided detection, and tomosynthesis methods. Screening mammography is used to look for abnormalities in the absence of symptoms, which can help with the early detection and treatment of a dangerous medical disease. A diagnostic mammography is frequently performed to examine any abnormal clinical findings. As a result, it's widely used in hospitals, specialist clinics, and diagnostic and ambulatory surgery centres. One of the primary factors driving the market's growth is the rising global prevalence of breast cancer.
Furthermore, increased public knowledge of various treatment options and the benefits of screening and early detection of breast cancer is propelling market expansion. Other growth-inducing aspects include technology developments such as creating new 3-dimensional, non-ionizing, and ionizing imaging technologies. Full-field digital mammography (FFDM) and Digital Breast Tomosynthesis (DBT) systems, for example, collect numerous images of the breast from various angles and integrate them into a 3D image set to generate results with more precision.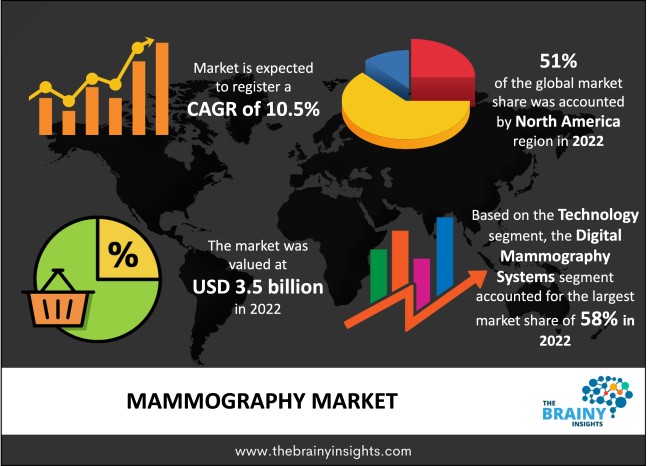 Get an overview of this study by requesting a free sample
Recent Development
A deep learning-based programme called Genius AI Detection was FDA-approved in December 2020 by Hologic Inc., a company that develops, manufactures, and distributes high-quality diagnostics and clinical imaging equipment. Its goal is to assist radiologists in identifying common expected diseases in breast tomosynthesis images.
In November 2020, Hologic Inc. and RadNet announced a relationship to concentrate on advancing artificial intelligence arrangements in breast wellness. The agreement will include information exchange, inventive work, and the transformation of RadNet's fleet of Hologic mammography devices to cutting-edge imaging innovation.
In September 2020, GE Healthcare and Candelis Inc. announced a collaboration to expand mammography work processes, image executives, and capacity capabilities for the Senographe Pristina Mammography System.
In May 2022, At the SBI/ACR Breast Imaging Symposium 2022, Volpara Health unveiled updated solutions for its integrated platform for delivering personalized breast care. Volpara's artificial intelligence-powered breast software solutions offer mammography quality and reporting, volumetric breast density assessments, and cancer risk assessments.
In January 2022, ScreenPoint Medical increased its presence in the United States and 30 countries worldwide by launching Transpara, an AI Breast Care solution.
Market Dynamics:
Drivers
Rising Cases of Breast Cancer- The increased prevalence of breast cancer and expanding patient desire in early-stage detection are two significant factors projected to fuel interest in breast cancer demonstrative devices over the forecast period. Expanded access to breast cancer screening systems and expanding government initiatives to aid clinical understanding are two critical variables likely to promote market development. For example, the Health Resources and Services Administration (HRSA) has acquainted a medical services programme with increasing the screening methods in medically underserved areas.
Restraints:
Radiation- The hazards of radiation exposure and the creation of misleading positive or negative results are predicted to stymie market growth.
Opportunities:
Breast Cancer- The increasing prevalence of breast cancer worldwide is one of the primary factors driving the growth of the mammography market. According to WHO, over 627,000 women died worldwide in 2018 due to breast cancer, and it is also estimated that the rate of breast malignant development is higher among women in developed districts when contrasted with developing locations. Furthermore, according to Cancer Organisation India, breast and oral cavity disease accounted for 25.0% of malignant growth in women in 2018. Furthermore, according to the Susan G. Komen Breast Cancer Foundation, Inc., 41,760 women are expected to die from breast cancer in 2019.
Regional segmentation analysis:
The regions analyzed for the market include North America, Europe, South America, Asia Pacific, the Middle East, and Africa. North America emerged as the largest market for the global mammography market, with a 51% market revenue share in 2022.
North America is observed to hold a considerable proportion of the mammography market, and this trend is predicted to continue without notable fluctuations over the forecast period. The increased prevalence of breast cancer and the region's improved healthcare infrastructure will likely fuel market expansion over the forecast period.
According to the Breast Cancer Research Foundation in the United States, hospitals and institutions in most places are better prepared and safer now than in the early days of the COVID-19 pandemic. As a result, it has encouraged women to have their planned scans performed so that diagnosis is not delayed. According to the American Cancer Society, an estimated 276,480 new cases of invasive breast cancer among women will be detected in 2020. Furthermore, 48,530 women have been diagnosed with in situ breast carcinoma, and the number of breast cancer cases will likely rise in the coming years. Moreover, numerous corporations have launched programmes to support breast cancer examinations. For example, Hologic Inc. reported introducing the Back to Screen campaign in August 2020, which may motivate women to schedule their postponed mammograms due to the COVID-19 pandemic.
Launching and increasing usage of improved mammography machines with innovative technologies fuel growth. For example, FUJIFILM Canada Inc. got a Health Canada medical device licence for their ASPIRE Cristalle digital mammography solution in October 2021. It also expanded its cooperation with Christie Innomed to make the product available in all provinces across Canada.​
North America Region Mammography Market Share in 2022 - 51%
www.thebrainyinsights.com
Check the geographical analysis of this market by requesting a free sample
Technology Segment Analysis
The technology segment is divided into analog mammography systems and digital mammography systems. The digital mammography systems segment dominated the market, with a market share of around 58% in 2022. Digital mammography is a specialized and advanced form of mammography that uses digital sensors and computers rather than X-ray films to evaluate breast tissue for the presence of malignancies. Most countries' screening programmes have relied on traditional screen-film mammography (SFM) with good spatial resolution. With the emergence of digital mammography, however, a growing number of countries are migrating towards these newer systems, owing to their superior depiction of low-contrast objects, broader dynamic change, and improved diagnostic quality of images, especially when examining denser breasts.
Product Segment Analysis
The product segment is divided into film screen systems, digital systems, analog systems, biopsy systems, 3D systems, and others. The 3D systems segment dominated the market, with a market share of around 36% in 2022. Due to various advantages, hospitals and diagnostic clinics are transitioning to 3D systems since 2D systems are frequently unsuccessful in identifying every indication of cancer, raising the need for additional screenings and, as a result, increasing the entire diagnostic cost. Furthermore, the broad adoption of 3D systems is due to technological advantages such as better breast cancer detection rates, management of larger operation volumes, and a more favourable reimbursement scenario.
Some of the Key Market Players:
Hologic
Fujifilm
Siemens Healthcare
Phillips Healthcare
Toshiba Medical Systems
GE Healthcare
Metaltronica
I.M.S. Srl
Koninklijke Philips NV
Gamma Medica, Inc.
Konica Minolta
Business Solutions India Private Limited
Carestream Health
BMI Biomedical International SRL
Canon Inc
MetaltronicaSp
PLANNED OY
GENERAL MEDICAL ITALIA
Villa Systems Medical SpA
Report Description:
| Attribute | Description |
| --- | --- |
| Market Size | Revenue (USD Billion) |
| Market size value in 2022 | USD 3.5 Billion |
| Market size value in 2032 | USD 9.49 Billion |
| CAGR (2023 to 2032) | 10.5% |
| Historical data | 2019-2021 |
| Base Year | 2022 |
| Forecast | 2023-2032 |
| Region | The regions analyzed for the market are Asia Pacific, Europe, South America, North America, and Middle East & Africa. Furthermore, the regions are further analyzed at the country level. |
| Segments | Technology, Product |
Frequesntly Asked Questions
As per The Brainy Insights, the size of the mammography market was valued at USD 3.5 billion in 2022 to USD 9.49 billion by 2032.
The global mammography market is growing at a CAGR of 10.5% during the forecast period 2023-2032.
North America emerged as the largest mammography market.
1. Introduction
1.1. Objectives of the Study
1.2. Market Definition
1.3. Research Scope
1.4. Currency
1.5. Key Target Audience

2. Research Methodology and Assumptions

3. Executive Summary

4. Premium Insights
4.1. Porter's Five Forces Analysis
4.2. Value Chain Analysis
4.3. Top Investment Pockets
4.3.1. Market Attractiveness Analysis by Technology
4.3.2. Market Attractiveness Analysis by Product
4.3.3. Market Attractiveness Analysis by Region
4.4. Industry Trends

5. Market Dynamics
5.1. Market Evaluation
5.2. Drivers
5.2.1. Rising cases of breast cancer
5.3. Restraints
5.3.1. Radiation
5.4. Opportunities
5.4.1. Breast cancer
5.5. Challenges
5.5.1. High cost

6. Global Mammography Market Analysis and Forecast, By Technology
6.1. Segment Overview
6.2. Analog Mammography Systems
6.3. Digital Mammography Systems

7. Global Mammography Market Analysis and Forecast, By Product
7.1. Segment Overview
7.2. Film Screen Systems
7.3. Digital Systems
7.4. Analog Systems
7.5. Biopsy Systems
7.6. 3D Systems
7.7. Others

8. Global Mammography Market Analysis and Forecast, By Regional Analysis
8.1. Segment Overview
8.2. North America
8.2.1. U.S.
8.2.2. Canada
8.2.3. Mexico
8.3. Europe
8.3.1. Germany
8.3.2. France
8.3.3. U.K.
8.3.4. Italy
8.3.5. Spain
8.4. Asia-Pacific
8.4.1. Japan
8.4.2. China
8.4.3. India
8.5. South America
8.5.1. Brazil
8.6. Middle East and Africa
8.6.1. UAE
8.6.2. South Africa

9. Global Mammography Market-Competitive Landscape
9.1. Overview
9.2. Market Share of Key Players in Global Mammography Market
9.2.1. Global Company Market Share
9.2.2. North America Company Market Share
9.2.3. Europe Company Market Share
9.2.4. APAC Company Market Share
9.3. Competitive Situations and Trends
9.3.1. Product Launches and Developments
9.3.2. Partnerships, Collaborations, and Agreements
9.3.3. Mergers & Acquisitions
9.3.4. Expansions

10. Company Profiles
10.1. Hologic
10.1.1. Business Overview
10.1.2. Company Snapshot
10.1.3. Company Market Share Analysis
10.1.4. Company Product Portfolio
10.1.5. Recent Developments
10.1.6. SWOT Analysis
10.2. Fujifilm
10.2.1. Business Overview
10.2.2. Company Snapshot
10.2.3. Company Market Share Analysis
10.2.4. Company Product Portfolio
10.2.5. Recent Developments
10.2.6. SWOT Analysis
10.3. Siemens Healthcare
10.3.1. Business Overview
10.3.2. Company Snapshot
10.3.3. Company Market Share Analysis
10.3.4. Company Product Portfolio
10.3.5. Recent Developments
10.3.6. SWOT Analysis
10.4. Phillips Healthcare
10.4.1. Business Overview
10.4.2. Company Snapshot
10.4.3. Company Market Share Analysis
10.4.4. Company Product Portfolio
10.4.5. Recent Developments
10.4.6. SWOT Analysis
10.5. Toshiba Medical Systems
10.5.1. Business Overview
10.5.2. Company Snapshot
10.5.3. Company Market Share Analysis
10.5.4. Company Product Portfolio
10.5.5. Recent Developments
10.5.6. SWOT Analysis
10.6. GE Healthcare
10.6.1. Business Overview
10.6.2. Company Snapshot
10.6.3. Company Market Share Analysis
10.6.4. Company Product Portfolio
10.6.5. Recent Developments
10.6.6. SWOT Analysis
10.7. Metaltronica
10.7.1. Business Overview
10.7.2. Company Snapshot
10.7.3. Company Market Share Analysis
10.7.4. Company Product Portfolio
10.7.5. Recent Developments
10.7.6. SWOT Analysis
10.8. I.M.S. Srl
10.8.1. Business Overview
10.8.2. Company Snapshot
10.8.3. Company Market Share Analysis
10.8.4. Company Product Portfolio
10.8.5. Recent Developments
10.8.6. SWOT Analysis
10.9. Koninklijke Philips NV
10.9.1. Business Overview
10.9.2. Company Snapshot
10.9.3. Company Market Share Analysis
10.9.4. Company Product Portfolio
10.9.5. Recent Developments
10.9.6. SWOT Analysis
10.10. Gamma Medica, Inc.
10.10.1. Business Overview
10.10.2. Company Snapshot
10.10.3. Company Market Share Analysis
10.10.4. Company Product Portfolio
10.10.5. Recent Developments
10.10.6. SWOT Analysis
10.11. Konica Minolta
10.11.1. Business Overview
10.11.2. Company Snapshot
10.11.3. Company Market Share Analysis
10.11.4. Company Product Portfolio
10.11.5. Recent Developments
10.11.6. SWOT Analysis
10.12. Business Solutions India Private Limited
10.12.1. Business Overview
10.12.2. Company Snapshot
10.12.3. Company Market Share Analysis
10.12.4. Company Product Portfolio
10.12.5. Recent Developments
10.12.6. SWOT Analysis
10.13. Carestream Health
10.13.1. Business Overview
10.13.2. Company Snapshot
10.13.3. Company Market Share Analysis
10.13.4. Company Product Portfolio
10.13.5. Recent Developments
10.13.6. SWOT Analysis
10.14. BMI Biomedical International SRL
10.14.1. Business Overview
10.14.2. Company Snapshot
10.14.3. Company Market Share Analysis
10.14.4. Company Product Portfolio
10.14.5. Recent Developments
10.14.6. SWOT Analysis
10.15. Canon Inc
10.15.1. Business Overview
10.15.2. Company Snapshot
10.15.3. Company Market Share Analysis
10.15.4. Company Product Portfolio
10.15.5. Recent Developments
10.15.6. SWOT Analysis
10.16. MetaltronicaSpA
10.16.1. Business Overview
10.16.2. Company Snapshot
10.16.3. Company Market Share Analysis
10.16.4. Company Product Portfolio
10.16.5. Recent Developments
10.16.6. SWOT Analysis
10.17. PLANNED OY
10.17.1. Business Overview
10.17.2. Company Snapshot
10.17.3. Company Market Share Analysis
10.17.4. Company Product Portfolio
10.17.5. Recent Developments
10.17.6. SWOT Analysis
10.18. GENERAL MEDICAL ITALIA
10.18.1. Business Overview
10.18.2. Company Snapshot
10.18.3. Company Market Share Analysis
10.18.4. Company Product Portfolio
10.18.5. Recent Developments
10.18.6. SWOT Analysis
10.19. Villa Systems Medical SpA
10.19.1. Business Overview
10.19.2. Company Snapshot
10.19.3. Company Market Share Analysis
10.19.4. Company Product Portfolio
10.19.5. Recent Developments
10.19.6. SWOT Analysis

List of Table
1. Global Mammography Market, By Technology, 2019-2032 (USD Billion)
2. Global Analog Mammography Systems, Mammography Market, By Region, 2019-2032 (USD Billion)
3. Global Digital Mammography Systems, Mammography Market, By Region, 2019-2032 (USD Billion)
4. Global Mammography Market, By Product, 2019-2032 (USD Billion)
5. Global Film Screen Systems, Mammography Market, By Region, 2019-2032 (USD Billion)
6. Global Digital Systems, Mammography Market, By Region, 2019-2032 (USD Billion)
7. Global Analog Systems, Mammography Market, By Region, 2019-2032 (USD Billion)
8. Global Biopsy Systems, Mammography Market, By Region, 2019-2032 (USD Billion)
9. Global 3D Systems, Mammography Market, By Region, 2019-2032 (USD Billion)
10. Global Others, Mammography Market, By Region, 2019-2032 (USD Billion)
11. North America Mammography Market, By Technology, 2019-2032 (USD Billion)
12. North America Mammography Market, By Product, 2019-2032 (USD Billion)
13. U.S. Mammography Market, By Technology, 2019-2032 (USD Billion)
14. U.S. Mammography Market, By Product, 2019-2032 (USD Billion)
15. Canada Mammography Market, By Technology, 2019-2032 (USD Billion)
16. Canada Mammography Market, By Product, 2019-2032 (USD Billion)
17. Mexico Mammography Market, By Technology, 2019-2032 (USD Billion)
18. Mexico Mammography Market, By Product, 2019-2032 (USD Billion)
19. Europe Mammography Market, By Technology, 2019-2032 (USD Billion)
20. Europe Mammography Market, By Product, 2019-2032 (USD Billion)
21. Germany Mammography Market, By Technology, 2019-2032 (USD Billion)
22. Germany Mammography Market, By Product, 2019-2032 (USD Billion)
23. France Mammography Market, By Technology, 2019-2032 (USD Billion)
24. France Mammography Market, By Product, 2019-2032 (USD Billion)
25. U.K. Mammography Market, By Technology, 2019-2032 (USD Billion)
26. U.K. Mammography Market, By Product, 2019-2032 (USD Billion)
27. Italy Mammography Market, By Technology, 2019-2032 (USD Billion)
28. Italy Mammography Market, By Product, 2019-2032 (USD Billion)
29. Spain Mammography Market, By Technology, 2019-2032 (USD Billion)
30. Spain Mammography Market, By Product, 2019-2032 (USD Billion)
31. Asia Pacific Mammography Market, By Technology, 2019-2032 (USD Billion)
32. Asia Pacific Mammography Market, By Product, 2019-2032 (USD Billion)
33. Japan Mammography Market, By Technology, 2019-2032 (USD Billion)
34. Japan Mammography Market, By Product, 2019-2032 (USD Billion)
35. China Mammography Market, By Technology, 2019-2032 (USD Billion)
36. China Mammography Market, By Product, 2019-2032 (USD Billion)
37. India Mammography Market, By Technology, 2019-2032 (USD Billion)
38. India Mammography Market, By Product, 2019-2032 (USD Billion)
39. South America Mammography Market, By Technology, 2019-2032 (USD Billion)
40. South America Mammography Market, By Product, 2019-2032 (USD Billion)
41. Brazil Mammography Market, By Technology, 2019-2032 (USD Billion)
42. Brazil Mammography Market, By Product, 2019-2032 (USD Billion)
43. Middle East and Africa Mammography Market, By Technology, 2019-2032 (USD Billion)
44. Middle East and Africa Mammography Market, By Product, 2019-2032 (USD Billion)
45. UAE Mammography Market, By Technology, 2019-2032 (USD Billion)
46. UAE Mammography Market, By Product, 2019-2032 (USD Billion)
47. South Africa Mammography Market, By Technology, 2019-2032 (USD Billion)
48. South Africa Mammography Market, By Product, 2019-2032 (USD Billion)
List of Figures
1. Global Mammography Market Segmentation
2. Global Mammography Market: Research Methodology
3. Market Size Estimation Methodology: Bottom-Up Approach
4. Market Size Estimation Methodology: Top-Down Approach
5. Data Triangulation
6. Porter's Five Forces Analysis
7. Value Chain Analysis
8. Global Mammography Market Attractiveness Analysis by Technology
9. Global Mammography Market Attractiveness Analysis by Product
10. Global Mammography Market Attractiveness Analysis by Region
11. Global Mammography Market: Dynamics
12. Global Mammography Market Share by Technology (2023 & 2032)
13. Global Mammography Market Share by Product (2023 & 2032)
14. Global Mammography Market Share by Regions (2023 & 2032)
15. Global Mammography Market Share by Company (2022)