The global low-voltage cables market is expected to grow from USD 155.31 billion in 2022 to USD 256.45 billion by 2030, at a CAGR of 6.47% during the forecast period 2022-2030. The increasing energy demands globally, given the rapid urbanization, will propel the market's growth in the forecast period.
Market Introduction:
Everything runs on power or electricity in the increasingly digitized and automated world. The electronic gadgets used in everyday life include laptops, computers, mobile phones, cameras, microwaves, bulbs and fans. All smart connected devices need the power to function. Power generation, transmission and distribution are national security concerns and enable the economy to thrive. They are incredibly vital for the seamless functioning of any economy. The electronic gadgets or other elements that require power to function get it from electric grinds and power stations through wires and cables. Every device has a different need, and the amount of energy an element demand differs. Therefore, various forms of transmission are used. For instance, high-voltage cables are utilized to power machines, equipment or gadgets that demand greater energy. These wires are costly. Low-voltage cables, on the other hand, are more affordable and carry less energy. They power smartphones, laptops, computers and other elements with low energy needs. The most significantly visible use of low-voltage technology is powering the internet infrastructure of economies. Smart homes, sensors, security cameras, alarms, monitors, remote controls, motion sensors, thermostats and other gadgets all use low-voltage cables. They are customizable according to the infrastructural needs of the economies. They are scalable as homeowners can use them, small firms or large MNCs. They are safer than high-voltage cables as they carry less energy. They have an easy application and greater safety.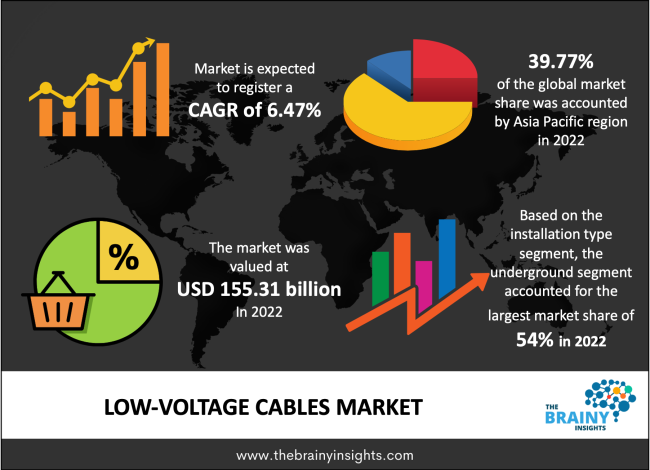 Get an overview of this study by requesting a free sample
Recent Development
July 2022 - The new ActivateTM series of PowerPipeTM Distribution Cables has been introduced by Remee Wire & Cable. They are a top producer of electrical wires and cables. Remee now provides a new family of copper multipair and hybrid copper/fibre cables that are more resilient and cost-effective Class 4 fault-managed power solutions for distributed electronics requiring long-distance runs. They will assist in advancing digital power technologies necessary for smart buildings and various other applications. PowerPipeTM cables enable regulated power distribution that satisfies the requirements of Class 4 fault-managed power systems while being safe, less expensive, and quicker to install. The ActivateTM PowerPipeTM cables from Remee combine low-voltage cables' ease of use and safety with traditional AC distribution power and range capabilities. It utilizes low-voltage wiring techniques and channels to supply roughly 20 times the power of PoE over distances of hundreds of metres. Additionally, just with PoE, the single cable structure needs one cable pull during installation, saving both money and time.
October 2022 - A joint-venture medium and low voltage cable facility in South Africa will be upgraded as part of additional investments approved by Taihan Cable & Solution, a power cable and grid infrastructure firm in South Korea. They will be nurtured as a forward base for boosting exports to nearby nations. By 2023, the investment will be finished. According to Taihan Cable, the "M-TEC" factory in South Africa will enhance the facilities used to produce medium and low-voltage cables. The enhancement is enabled by installing a new CCV for insulation and strengthening a production line used to prepare conductor surfaces. About 90% of the underground power cable market in South Africa is made up of medium- and low-voltage cables. According to Taihan Cable, the increased investment will aid M-TEC in increasing production effectiveness and maintaining pricing competitiveness.
Market Dynamics:
Drivers:
The increasing demand for energy – With rapid urbanization and industrialization, the modern world runs on electricity or energy in other forms. Electricity forms the basis of the seamless functioning of all economic infrastructure, from residential to commercial spaces. For instance, the healthcare and education sector are getting automated and digitized, and the new smart TVs, digital healthcare and electronic equipment driving the automation run on electricity. An uninterrupted electric or energy supply is vital for these sectors to thrive. The growing energy demands with smart technology in homes, offices and industrial units will also drive the demand for low-voltage cables. The increasing internet of things, integration of AI and computerization of most economic activities are driving the need for an uninterrupted energy supply. Therefore, the growing demand for energy from every sector of the economy globally will drive the low-voltage cables market.
Restraints:
The shift towards inducting low-voltage cables into existing energy systems can be complex and costly – Transmission and distribution systems in developed nations are antiquated and incompatible with modern, more dependable, long-lasting, and effective components like low-voltage cables. Several tweaks, repairs, and replacements need to be done before low-voltage cables are installed in the existing energy grids and authorized for functioning to avoid any mishaps later on. The new components include low-voltage cables, advanced transformers, lines and wires that reduce power loss, offer faster transmission, and are safe and affordable. The development of the market is constrained because these cutting-edge components are occasionally incompatible with the current transmission and distribution systems, or their integration is costly and time-consuming. Old transmission and distribution facilities need to be upgraded to incorporate new technology. However, doing so would involve substantial capital investments that are out of reach for private participants and might limit the market's expansion.
Opportunities:
The technological advancements aimed towards incorporating smart electric grids – Players in the market are developing new goods and gadgets that promote energy conservation in order to lessen the power loss during transmission and distribution. There will be many opportunities in the low-voltage cables market due to increased investments in the research and development of equipment with superconducting technology, which will reduce emissions. There is now a pressing need to significantly reduce carbon emissions due to the accelerated rate of climate change. Government efforts to build smart power networks and renewable energy sources have changed. The government's subsidies and incentives will also open up profitable opportunities for the low voltage cables by promoting the creation and integration of smart electric grids, renewable energy sources and advanced transmission and distribution systems.
Challenges:
Delayed government authorization – Adequate safety precautions are necessary for energy generation, transmission and distribution. As a result, the authorization for the production, use and distribution of new products is governed by strict protective guidelines, rules, laws, and standards set by governments and regulatory organizations. End-user safety is ensured by the laws and regulations, which also guard against the exploitation of stakeholders' interests by powerful market players. Such strict regulations might make it difficult for the low-voltage cables business to expand.
Segmentation Analysis:
Regional segmentation analysis:
The regions analyzed for the market include North America, Europe, South America, Asia Pacific, the Middle East, and Africa. The Asia Pacific region emerged as the largest global low-voltage cables market, with a 39.77% market revenue share in 2022. The rapid urbanization of the region combined with the industrialization in the developing economies is driving the low-voltage cables market. The urbanized population is driving the demand for consumer durables, smart homes, office spaces and public utilities. The increasing disposable income of consumers allows them to access such energy-driven amenities. These smart homes, office spaces, and consumer durables run on energy. Furthermore, the increasing demand for residential and commercial spaces drives the building and construction sector, contributing to the rising demand for low-voltage cables as they power these infrastructures. The region's developing economies are financing initiatives aimed at last-mile delivery of energy to improve human growth and development with better healthcare, education and housing. The increased fiscal expenditure to develop a smart grid and ensure energy security will also aid the regional low-voltage cables market. The fast-paced industrialization with thriving manufacturing, industrial and commercial spaces in the region will also aid the market's growth.
Asia Pacific Region Low-Voltage Cables Market Share in 2022 - 39.77%
www.thebrainyinsights.com
Check the geographical analysis of this market by requesting a free sample
Application segment analysis
The application segment is divided into residential, commercial, transportation, renewables, industrial and others. The commercial segment dominated the market with a revenue share of around 39% in 2022. The growing number of office spaces in the booming information and technology sector mainly drives the commercial segment. Low-voltage cables are highly resilient and customizable according to the needs of the commercial space. The automation and digitization of business with smart connected devices, a staple in the office landscape with laptops, computers, printers, and other smart office elements, will drive the use of low-voltage cables in the said segment.
Installation type segment analysis
The installation type segment is divided into overhead and underground. The underground segment dominated the market with a market share of around 54% in 2022. The underground cables are placed just underneath the earth's surface. They are ideal for carrying low voltage power over short distances and can be placed in an urban setting such as towns or cities. The increasing urbanization will bode well for the segment's growth. They can be amended and customized according to the needs of the cities. They are scalable, affordable, and resilient systems that offer seamless energy for sprawling economic activities. The underground segment is also dominant, given that they prevent power outages brought on by weather conditions. Underground transmission lines are less susceptible to changes in temperature, wind, and other environmental factors. They also don't detract from the aesthetics of the surrounding area. They are ideal for communication systems.
Some of the Key Market Players:
ABB
Bahra Cables Company
BRUGG Cables
Encore Wire Corporation
Finolex Cables
General Cable Corporation
Nexans
NKT Cables
Polycab India
Prysmian Group
Report Description:
| Attribute | Description |
| --- | --- |
| Market Size | Revenue (USD Billion) |
| Market size value in 2022 | USD 155.31 Billion |
| Market size value in 2030 | USD 256.45 Billion |
| CAGR (2022 to 2030) | 6.47% |
| Historical data | 2019-2020 |
| Base Year | 2021 |
| Forecast | 2022-2030 |
| Segments | The research segment is based on application and installation type. |
| Regional Segments | The regions examined for the market are Europe, Asia Pacific, North America, South America, and Middle East & Africa. |
Frequesntly Asked Questions
1. Introduction
1.1. Objectives of the Study
1.2. Market Definition
1.3. Research Scope
1.4. Currency
1.5. Key Target Audience

2. Research Methodology and Assumptions

3. Executive Summary

4. Premium Insights
4.1. Porter's Five Forces Analysis
4.2. Value Chain Analysis
4.3. Top Investment Pockets
4.3.1. Market Attractiveness Analysis By Application
4.3.2. Market Attractiveness Analysis By Installation Type
4.3.3. Market Attractiveness Analysis By Region
4.4. Industry Trends

5. Market Dynamics
5.1. Market Evaluation
5.2. Drivers
5.2.1. The increasing demand for energy
5.3. Restraints
5.3.1. The shift towards inducting low-voltage cables into existing energy systems can be complex and costly
5.4. Opportunities
5.4.1. The technological advancements aimed towards incorporating smart electric grids
5.5. Challenges
5.5.1. Delayed government authorization

6. Global Low-Voltage Cables Market Analysis and Forecast, By Application
6.1. Segment Overview
6.2. Residential
6.3. Commercial
6.4. Transportation
6.5. Renewables
6.6. Industrial
6.7. Others

7. Global Low-Voltage Cables Market Analysis and Forecast, By Installation Type
7.1. Segment Overview
7.2. Overhead
7.3. Underground

8. Global Low-Voltage Cables Market Analysis and Forecast, By Regional Analysis
8.1. Segment Overview
8.2. North America
8.2.1. U.S.
8.2.2. Canada
8.2.3. Mexico
8.3. Europe
8.3.1. Germany
8.3.2. France
8.3.3. U.K.
8.3.4. Italy
8.3.5. Spain
8.4. Asia-Pacific
8.4.1. Japan
8.4.2. China
8.4.3. India
8.5. South America
8.5.1. Brazil
8.6. Middle East and Africa
8.6.1. UAE
8.6.2. South Africa

9. Global Low-Voltage Cables Market-Competitive Landscape
9.1. Overview
9.2. Market Share of Key Players in the Low-Voltage Cables Market
9.2.1. Global Company Market Share
9.2.2. North America Company Market Share
9.2.3. Europe Company Market Share
9.2.4. APAC Company Market Share
9.3. Competitive Situations and Trends
9.3.1. Product Launches and Developments
9.3.2. Partnerships, Collaborations, and Agreements
9.3.3. Mergers & Acquisitions
9.3.4. Expansions

10. Company Profiles
10.1. ABB
10.1.1. Business Overview
10.1.2. Company Snapshot
10.1.3. Company Market Share Analysis
10.1.4. Company Product Portfolio
10.1.5. Recent Developments
10.1.6. SWOT Analysis
10.2. Bahra Cables Company
10.2.1. Business Overview
10.2.2. Company Snapshot
10.2.3. Company Market Share Analysis
10.2.4. Company Product Portfolio
10.2.5. Recent Developments
10.2.6. SWOT Analysis
10.3. BRUGG Cables
10.3.1. Business Overview
10.3.2. Company Snapshot
10.3.3. Company Market Share Analysis
10.3.4. Company Product Portfolio
10.3.5. Recent Developments
10.3.6. SWOT Analysis
10.4. Encore Wire Corporation
10.4.1. Business Overview
10.4.2. Company Snapshot
10.4.3. Company Market Share Analysis
10.4.4. Company Product Portfolio
10.4.5. Recent Developments
10.4.6. SWOT Analysis
10.5. Finolex Cables
10.5.1. Business Overview
10.5.2. Company Snapshot
10.5.3. Company Market Share Analysis
10.5.4. Company Product Portfolio
10.5.5. Recent Developments
10.5.6. SWOT Analysis
10.6. General Cable Corporation
10.6.1. Business Overview
10.6.2. Company Snapshot
10.6.3. Company Market Share Analysis
10.6.4. Company Product Portfolio
10.6.5. Recent Developments
10.6.6. SWOT Analysis
10.7. Nexans
10.7.1. Business Overview
10.7.2. Company Snapshot
10.7.3. Company Market Share Analysis
10.7.4. Company Product Portfolio
10.7.5. Recent Developments
10.7.6. SWOT Analysis
10.8. NKT Cables
10.8.1. Business Overview
10.8.2. Company Snapshot
10.8.3. Company Market Share Analysis
10.8.4. Company Product Portfolio
10.8.5. Recent Developments
10.8.6. SWOT Analysis
10.9. Polycab India
10.9.1. Business Overview
10.9.2. Company Snapshot
10.9.3. Company Market Share Analysis
10.9.4. Company Product Portfolio
10.9.5. Recent Developments
10.9.6. SWOT Analysis
10.10. Prysmian Group
10.10.1. Business Overview
10.10.2. Company Snapshot
10.10.3. Company Market Share Analysis
10.10.4. Company Component Portfolio
10.10.5. Recent Developments
10.10.6. SWOT Analysis

List of Table
1. Global Low-Voltage Cables Market, By Application, 2019-2030 (USD Billion)
2. Global Residential Low-Voltage Cables Market, By Region, 2019-2030 (USD Billion)
3. Global Commercial Low-Voltage Cables Market, By Region, 2019-2030 (USD Billion)
4. Global Transportation Low-Voltage Cables Market, By Region, 2019-2030 (USD Billion)
5. Global Renewables Low-Voltage Cables Market, By Region, 2019-2030 (USD Billion)
6. Global Industrial Low-Voltage Cables Market, By Region, 2019-2030 (USD Billion)
7. Global Others Low-Voltage Cables Market, By Region, 2019-2030 (USD Billion)
8. Global Low-Voltage Cables Market, By Installation Type, 2019-2030 (USD Billion)
9. Global Overhead Low-Voltage Cables Market, By Region, 2019-2030 (USD Billion)
10. Global Underground Low-Voltage Cables Market, By Region, 2019-2030 (USD Billion)
11. Global Low-Voltage Cables Market, By Region, 2019-2030 (USD Billion)
12. North America Low-Voltage Cables Market, By Application, 2019-2030 (USD Billion)
13. North America Low-Voltage Cables Market, By Installation Type, 2019-2030 (USD Billion)
14. U.S. Low-Voltage Cables Market, By Application, 2019-2030 (USD Billion)
15. U.S. Low-Voltage Cables Market, By Installation Type, 2019-2030 (USD Billion)
16. Canada Low-Voltage Cables Market, By Application, 2019-2030 (USD Billion)
17. Canada Low-Voltage Cables Market, By Installation Type, 2019-2030 (USD Billion)
18. Mexico Low-Voltage Cables Market, By Application, 2019-2030 (USD Billion)
19. Mexico Low-Voltage Cables Market, By Installation Type, 2019-2030 (USD Billion)
20. Europe Low-Voltage Cables Market, By Application, 2019-2030 (USD Billion)
21. Europe Low-Voltage Cables Market, By Installation Type, 2019-2030 (USD Billion)
22. Germany Low-Voltage Cables Market, By Application, 2019-2030 (USD Billion)
23. Germany Low-Voltage Cables Market, By Installation Type, 2019-2030 (USD Billion)
24. France Low-Voltage Cables Market, By Application, 2019-2030 (USD Billion)
25. France Low-Voltage Cables Market, By Installation Type, 2019-2030 (USD Billion)
26. U.K. Low-Voltage Cables Market, By Application, 2019-2030 (USD Billion)
27. U.K. Low-Voltage Cables Market, By Installation Type, 2019-2030 (USD Billion)
28. Italy Low-Voltage Cables Market, By Application, 2019-2030 (USD Billion)
29. Italy Low-Voltage Cables Market, By Installation Type, 2019-2030 (USD Billion)
30. Spain Low-Voltage Cables Market, By Application, 2019-2030 (USD Billion)
31. Spain Low-Voltage Cables Market, By Installation Type, 2019-2030 (USD Billion)
32. Asia Pacific Low-Voltage Cables Market, By Application, 2019-2030 (USD Billion)
33. Asia Pacific Low-Voltage Cables Market, By Installation Type, 2019-2030 (USD Billion)
34. Japan Low-Voltage Cables Market, By Application, 2019-2030 (USD Billion)
35. Japan Low-Voltage Cables Market, By Installation Type, 2019-2030 (USD Billion)
36. China Low-Voltage Cables Market, By Application, 2019-2030 (USD Billion)
37. China Low-Voltage Cables Market, By Installation Type, 2019-2030 (USD Billion)
38. India Low-Voltage Cables Market, By Application, 2019-2030 (USD Billion)
39. India Low-Voltage Cables Market, By Installation Type, 2019-2030 (USD Billion)
40. South America Low-Voltage Cables Market, By Application, 2019-2030 (USD Billion)
41. South America Low-Voltage Cables Market, By Installation Type, 2019-2030 (USD Billion)
42. Brazil Low-Voltage Cables Market, By Application, 2019-2030 (USD Billion)
43. Brazil Low-Voltage Cables Market, By Installation Type, 2019-2030 (USD Billion)
44. Middle East and Africa Low-Voltage Cables Market, By Application, 2019-2030 (USD Billion)
45. Middle East and Africa Low-Voltage Cables Market, By Installation Type, 2019-2030 (USD Billion)
46. UAE Low-Voltage Cables Market, By Application, 2019-2030 (USD Billion)
47. UAE Low-Voltage Cables Market, By Installation Type, 2019-2030 (USD Billion)
48. South Africa Low-Voltage Cables Market, By Application, 2019-2030 (USD Billion)
49. South Africa Low-Voltage Cables Market, By Installation Type, 2019-2030 (USD Billion)
List of Figures
1. Global Low-Voltage Cables Market Segmentation
2. Low-Voltage Cables Market: Research Methodology
3. Market Size Estimation Methodology: Bottom-Up Approach
4. Market Size Estimation Methodology: Top-Down Approach
5. Data Triangulation
6. Porter's Five Forces Analysis
7. Value Chain Analysis
8. Global Low-Voltage Cables Market Attractiveness Analysis By Application
9. Global Low-Voltage Cables Market Attractiveness Analysis By Installation Type
10. Global Low-Voltage Cables Market Attractiveness Analysis By Region
11. Global Low-Voltage Cables Market: Dynamics
12. Global Low-Voltage Cables Market Share by Application (2022 & 2030)
13. Global Low-Voltage Cables Market Share by Installation Type (2022 & 2030)
14. Global Low-Voltage Cables Market Share by Regions (2022 & 2030)
15. Global Low-Voltage Cables Market Share by Company (2021