The global lithium-ion battery market is expected to grow from USD 45.67 billion in 2022 to USD 200.73 billion by 2030, at a CAGR of 20.33% during the forecast period 2022-2030. The increasing demand for electric vehicles will propel the market's growth in the forecast period.
Market Introduction:
Everything surrounding humans is powered by energy. The energy is derived in several forms, like heat, sound, light or chemicals. The energy in the universe is neither created nor destroyed and is only transferred from one form to another. The conversion of chemical energy to electrical energy is conducted through batteries. Batteries have active chemicals within them which then work to provide electrical energy through an electrochemical redox reaction. Lithium-ion batteries are rechargeable and use a reversible reduction process to store energy. Tt has free lithium ions, which conduct power. The active chemicals used in a lithium-ion battery are cobalt, iron, nickel and manganese among others. Their ability to store energy and rechargeable nature has made them an ideal element used in portable batteries, which are extensively used in consumer electronics. Lithium-ion batteries have a high energy and power density making them highly efficient in consumer electronics or automobile applications. They have a longer life cycle and quick discharge properties. They are used in toys, wireless headphones, several home appliances, electric energy storage systems and power tools, to name a few applications. The increasing demand for consumer electronics, renewable energy systems and electric vehicles is anticipated to augment the global lithium-ion battery market's growth.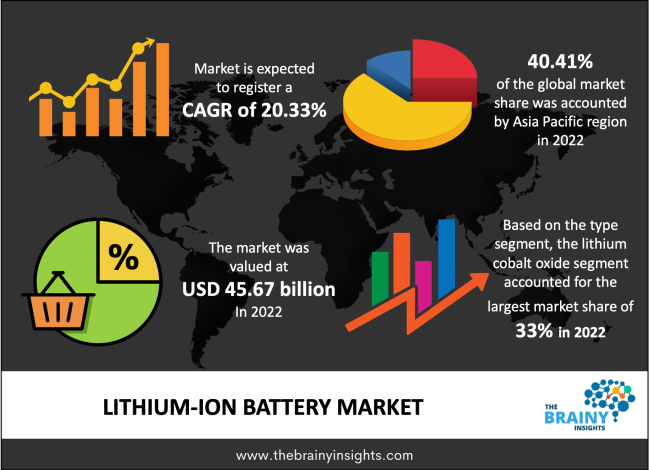 Get an overview of this study by requesting a free sample
Recent Development
November 2022 - The lithium-ion battery production process has been made simpler by 24M Technologies with a novel design that uses fewer materials and fewer stages to produce each cell. This lowers the cost of producing lithium-ion cells. The company claims that the "SemiSolid" design lowers production costs by up to 40%. The strategy also increases battery safety, recyclability, and energy density. Setting up massive production facilities is just the first stage of 24M's ambition. Its battery design's ability to function with a variety of lithium-ion chemistries is another major selling point. As a result, partners of 24M can eventually incorporate higher-performing materials without significantly altering production techniques. The adoption of batteries across economic units might be significantly impacted by the kind of fast, large-scale production that 24M intends to enable, from the price and performance of electric automobiles to the potential for renewable energy to displace fossil fuels.
October 2022 - Lithium-ion batteries will be added to China's conventional submarines as part of a power move that might greatly improve its fleet's combat and survivability capability. As a result of technological advancements in China's electric vehicle (EV) industry, which is presently the largest in the world, the country's conventional submarine fleet may soon be powered by lithium-ion batteries. China produces 75% of the world's EV batteries, giving it a technological advantage. According to researchers from the Naval Submarine Academy, Qingdao, in the Chinese journal Marine Electric and Electronic Engineering, lithium-ion batteries can more than double a submarine's underwater endurance and significantly improve its acceleration for high-speed operations. With an estimated 60 to 70 boats, China is thought to have the world's largest conventional submarine force fleet.
Market Dynamics:
Drivers:
The increasing demand for electric vehicles – The increasing disposable income of the population has contributed to the rising demand for automobiles over the past few decades. Low-cost manufacturing and rapid urbanization have also resulted in scores of vehicles on roads. Fossil fuel-based conventional vehicles have a predominant share in the global automobile market. However, they pollute nature as they emit toxic fumes or greenhouse gases. These gases significantly contribute to global warming, resulting in a climate change crisis. The pollution caused by these vehicles is also undesirable for public health. Electric vehicles are a close alternative to conventional vehicles. The rising consumer consciousness about climate change has increased the demand for electric vehicles in the past few years. Similarly, government initiatives encouraging the production and consumption of electric vehicles via subsidies and incentives are also expanding their market. The technological advancements and lucrative opportunities offered by the global electric vehicles market have prompted several market players to enter this market, thereby driving down costs and expanding consumer choices. Lithium-ion batteries are a staple in electric vehicles to power engines and other accessories. Therefore, the increasing demand for electric vehicles will drive the global lithium-ion battery market.
Restraints:
The increasing instances of battery fires – Lithium-ion batteries are intricately designed and assembled pieces of equipment. They are vulnerable to catching fire when they are overworked or overheat. They are also at an increased risk of catching fire when their manufacturing process is not performed with the utmost care, and this might lead to manufacturing anomalies, which is dangerous. Lithium-ion batteries cannot handle high temperatures and must be kept dry and placed in the shade. Such precautionary measures are sometimes overlooked due to negligence and cause fires. The lithium-ion batteries catching fire has become a regular occurrence on news channels. Such bad media coverage harms the product's reputation and lowers its adoption rate. Therefore, the increasing instances of lithium-ion batteries catching fire will limit the market's growth.
Opportunities:
The global shift towards renewable energy sources – Industrialization and urbanization were powered by fossil fuels in the 19th- 20th century. The irresponsible exploitation of fossil fuels has led to a scarcity of these resources, given their limited and non-renewable nature. The overuse and extensive application of fossil fuels in every industry, from agriculture to manufacturing to services, has led to global warming. The effects of global warming or climate change are witnessed globally in flash floods, heatwaves and frequent storms. A global cooperation mechanism is functioning to mitigate the climate change crisis by encouraging a shift towards renewable energy sources. National governments worldwide are increasing their focus towards green development and offering extensive funding to manufacture renewable energy sources. Lithium-ion batteries are used to power wind energy, solar energy and other renewable energy source equipment. Therefore, a global shift towards renewable energy sources will offer lucrative opportunities for the lithium-ion battery market.
Challenges:
Environmental concerns – Lithium-ion batteries are various chemicals or acids used to manufacture or assemble them. The batteries no longer in use need to be disposed of properly to avoid human or environmental damage. They contain cobalt, nickel and manganese, which are undesirable to the environment. The irresponsible disposal of batteries can also lead to these substances catching fire, thereby, at times, leading to loss of property or life. The fumes are harmful to human health causing respiratory problems. The negative environmental effects of these batteries have increased their scrutiny and monitoring, which will challenge the market's growth.
Segmentation Analysis:
Regional segmentation analysis:
The regions analyzed for the market include North America, Europe, South America, Asia Pacific, the Middle East, and Africa. The Asia Pacific region emerged as the largest global lithium-ion battery market, with a 40.41% market revenue share in 2022. China dominates the Asia Pacific lithium-ion battery market. Japan is also a significant player in the regional market. Chinese and Japanese companies' highly advanced tech or electronics are dominant in the global market. Their advanced features and affordable pricing are driving their demand in the global market, contributing to the region's lithium-ion battery market. China is the highest producer and consumer of electric vehicles, which explains the region's dominance in the market. China and India are among the top polluters globally and are responsible for combating climate change by reducing their carbon emissions. The government initiatives that encourage the production and consumer demand for electric vehicles with subsidies and incentives are augmenting well for the regional market. Similarly, the growing push towards developing renewable energy infrastructure will also drive the regional lithium-ion battery market. The region's vast population and the developing nature of the economies offer a potential consumer market for electronics and electric vehicles. The technological advancement in the Japanese and Chinese markets is driving the regional lithium-ion battery market.
Asia Pacific Region Lithium-Ion Battery Market Share in 2022 - 40.41%
www.thebrainyinsights.com
Check the geographical analysis of this market by requesting a free sample
Application segment analysis
The application segment is divided into consumer electronics, energy storage systems, medical devices, automobile, industrial, telecommunications, aerospace, marine and others. The consumer electronics segment dominated the market with a revenue share of around 39% in 2022. Consumer electronics and modern-day electronic gadgets like LED, laptops, smartphones, cameras and portable batteries. The demand for consumer electronics has increased exponentially in the past few years. The telecom boom and the increasing internet affordability, coverage and penetration are some contributing factors. The growing digitization and automation are also augmenting the growth of consumer electronics. The consumer electronics market is also rising, given its increasing accessibility and affordability. The presence of multiple consumer electronics manufacturers and electronics retailers and the increasing disposable income of consumers have driven the accessibility and affordability of consumer electronics.
Type segment analysis
The type segment is divided into lithium cobalt oxide, lithium manganese oxide, lithium titanate oxide, lithium iron phosphate, lithium nickel cobalt aluminium oxide, lithium nickel manganese cobalt oxide, and others. The lithium cobalt oxide segment dominated the market with a market share of around 33% in 2022. The lithium cobalt oxide compound is usually a blue, grey or blue-black powder in appearance. Lithium cobalt oxide batteries have a high specific energy and high voltage output. They are utilized in modern-day electronics. They are used in mobiles, smartphones, laptops, computers, cameras and other electronic gadgets. The extensive use of these gadgets in the contemporary world, expanding over various aspects of everyday life, will augment the segment's growth. Furthermore, the increasing presence of several market players in the electronics market has made these products advanced and affordable, which will also contribute to the segment's growth in the future.
Some of the Key Market Players:
Automotive Energy Supply Corporation
BAK Power
BYD Company Ltd.
Clarios
Contemporary Amperex Technology Co. Ltd.
Hitachi
LG Chem
Panasonic Corporation
Samsung SDI Co. Ltd.
Toshiba Corporation
Report Description:
| Attribute | Description |
| --- | --- |
| Market Size | Revenue (USD Billion) |
| Market size value in 2022 | USD 45.67 Billion |
| Market size value in 2030 | USD 200.73 Billion |
| CAGR (2022 to 2030) | 20.33% |
| Historical data | 2019-2020 |
| Base Year | 2021 |
| Forecast | 2022-2030 |
| Segments | The research segment is based on application and type. |
| Regional Segments | The regions examined for the market are Europe, Asia Pacific, North America, South America, and Middle East & Africa. |
Frequesntly Asked Questions
1. Introduction
1.1. Objectives of the Study
1.2. Market Definition
1.3. Research Scope
1.4. Currency
1.5. Key Target Audience

2. Research Methodology and Assumptions

3. Executive Summary

4. Premium Insights
4.1. Porter's Five Forces Analysis
4.2. Value Chain Analysis
4.3. Top Investment Pockets
4.3.1. Market Attractiveness Analysis By Application
4.3.2. Market Attractiveness Analysis By Type
4.3.3. Market Attractiveness Analysis By Region
4.4. Industry Trends

5. Market Dynamics
5.1. Market Evaluation
5.2. Drivers
5.2.1. The increasing demand for electric vehicles
5.3. Restraints
5.3.1. The increasing instances of battery fires
5.4. Opportunities
5.4.1. The global shift towards renewable energy sources
5.5. Challenges
5.5.1. Environmental concerns

6. Global Lithium-Ion Battery Market Analysis and Forecast, By Application
6.1. Segment Overview
6.2. Consumer Electronics
6.3. Energy Storage Systems
6.4. Medical Devices
6.5. Automobile
6.6. Industrial
6.7. Telecommunications
6.8. Aerospace
6.9. Marine
6.10. Others

7. Global Lithium-Ion Battery Market Analysis and Forecast, By Type
7.1. Segment Overview
7.2. Lithium Cobalt Oxide
7.3. Lithium Manganese Oxide
7.4. Lithium Titanate Oxide
7.5. Lithium Iron Phosphate
7.6. Lithium Nickel Cobalt Aluminium Oxide
7.7. Lithium Nickel Manganese Cobalt Oxide
7.8. Others

8. Global Lithium-Ion Battery Market Analysis and Forecast, By Regional Analysis
8.1. Segment Overview
8.2. North America
8.2.1. U.S.
8.2.2. Canada
8.2.3. Mexico
8.3. Europe
8.3.1. Germany
8.3.2. France
8.3.3. U.K.
8.3.4. Italy
8.3.5. Spain
8.4. Asia-Pacific
8.4.1. Japan
8.4.2. China
8.4.3. India
8.5. South America
8.5.1. Brazil
8.6. Middle East and Africa
8.6.1. UAE
8.6.2. South Africa

9. Global Lithium-Ion Battery Market-Competitive Landscape
9.1. Overview
9.2. Market Share of Key Players in the Lithium-Ion Battery Market
9.2.1. Global Company Market Share
9.2.2. North America Company Market Share
9.2.3. Europe Company Market Share
9.2.4. APAC Company Market Share
9.3. Competitive Situations and Trends
9.3.1. Product Launches and Developments
9.3.2. Partnerships, Collaborations, and Agreements
9.3.3. Mergers & Acquisitions
9.3.4. Expansions

10. Company Profiles
10.1. Automotive Energy Supply Corporation
10.1.1. Business Overview
10.1.2. Company Snapshot
10.1.3. Company Market Share Analysis
10.1.4. Company Product Portfolio
10.1.5. Recent Developments
10.1.6. SWOT Analysis
10.2. BAK Power
10.2.1. Business Overview
10.2.2. Company Snapshot
10.2.3. Company Market Share Analysis
10.2.4. Company Product Portfolio
10.2.5. Recent Developments
10.2.6. SWOT Analysis
10.3. BYD Company Ltd.
10.3.1. Business Overview
10.3.2. Company Snapshot
10.3.3. Company Market Share Analysis
10.3.4. Company Product Portfolio
10.3.5. Recent Developments
10.3.6. SWOT Analysis
10.4. Clarios
10.4.1. Business Overview
10.4.2. Company Snapshot
10.4.3. Company Market Share Analysis
10.4.4. Company Product Portfolio
10.4.5. Recent Developments
10.4.6. SWOT Analysis
10.5. Contemporary Amperex Technology Co. Ltd.
10.5.1. Business Overview
10.5.2. Company Snapshot
10.5.3. Company Market Share Analysis
10.5.4. Company Product Portfolio
10.5.5. Recent Developments
10.5.6. SWOT Analysis
10.6. Hitachi
10.6.1. Business Overview
10.6.2. Company Snapshot
10.6.3. Company Market Share Analysis
10.6.4. Company Product Portfolio
10.6.5. Recent Developments
10.6.6. SWOT Analysis
10.7. LG Chem
10.7.1. Business Overview
10.7.2. Company Snapshot
10.7.3. Company Market Share Analysis
10.7.4. Company Product Portfolio
10.7.5. Recent Developments
10.7.6. SWOT Analysis
10.8. Panasonic Corporation
10.8.1. Business Overview
10.8.2. Company Snapshot
10.8.3. Company Market Share Analysis
10.8.4. Company Product Portfolio
10.8.5. Recent Developments
10.8.6. SWOT Analysis
10.9. Samsung SDI Co. Ltd.
10.9.1. Business Overview
10.9.2. Company Snapshot
10.9.3. Company Market Share Analysis
10.9.4. Company Product Portfolio
10.9.5. Recent Developments
10.9.6. SWOT Analysis
10.10. Toshiba Corporation
10.10.1. Business Overview
10.10.2. Company Snapshot
10.10.3. Company Market Share Analysis
10.10.4. Company Component Portfolio
10.10.5. Recent Developments
10.10.6. SWOT Analysis
List of Table
1. Global Lithium-Ion Battery Market, By Application, 2019-2030 (USD Billion)
2. Global Consumer Electronics Lithium-Ion Battery Market, By Region, 2019-2030 (USD Billion)
3. Global Energy Storage Systems Lithium-Ion Battery Market, By Region, 2019-2030 (USD Billion)
4. Global Medical Devices Lithium-Ion Battery Market, By Region, 2019-2030 (USD Billion)
5. Global Automobile Lithium-Ion Battery Market, By Region, 2019-2030 (USD Billion)
6. Global Industrial Lithium-Ion Battery Market, By Region, 2019-2030 (USD Billion)
7. Global Telecommunications Lithium-Ion Battery Market, By Region, 2019-2030 (USD Billion)
8. Global Aerospace Lithium-Ion Battery Market, By Region, 2019-2030 (USD Billion)
9. Global Marine Lithium-Ion Battery Market, By Region, 2019-2030 (USD Billion)
10. Global Others Lithium-Ion Battery Market, By Region, 2019-2030 (USD Billion)
11. Global Lithium-Ion Battery Market, By Type, 2019-2030 (USD Billion)
12. Global Lithium Cobalt Oxide Lithium-Ion Battery Market, By Region, 2019-2030 (USD Billion)
13. Global Lithium Manganese Oxide Lithium-Ion Battery Market, By Region, 2019-2030 (USD Billion)
14. Global Lithium Titanate Oxide Lithium-Ion Battery Market, By Region, 2019-2030 (USD Billion)
15. Global Lithium Iron Phosphate Lithium-Ion Battery Market, By Region, 2019-2030 (USD Billion)
16. Global Lithium Nickel Cobalt Aluminium Oxide Lithium-Ion Battery Market, By Region, 2019-2030 (USD Billion)
17. Global Lithium Nickel Manganese Cobalt Oxide Lithium-Ion Battery Market, By Region, 2019-2030 (USD Billion)
18. Global Others Lithium-Ion Battery Market, By Region, 2019-2030 (USD Billion)
19. Global Lithium-Ion Battery Market, By Region, 2019-2030 (USD Billion)
20. North America Lithium-Ion Battery Market, By Application, 2019-2030 (USD Billion)
21. North America Lithium-Ion Battery Market, By Type, 2019-2030 (USD Billion)
22. U.S. Lithium-Ion Battery Market, By Application, 2019-2030 (USD Billion)
23. U.S. Lithium-Ion Battery Market, By Type, 2019-2030 (USD Billion)
24. Canada Lithium-Ion Battery Market, By Application, 2019-2030 (USD Billion)
25. Canada Lithium-Ion Battery Market, By Type, 2019-2030 (USD Billion)
26. Mexico Lithium-Ion Battery Market, By Application, 2019-2030 (USD Billion)
27. Mexico Lithium-Ion Battery Market, By Type, 2019-2030 (USD Billion)
28. Europe Lithium-Ion Battery Market, By Application, 2019-2030 (USD Billion)
29. Europe Lithium-Ion Battery Market, By Type, 2019-2030 (USD Billion)
30. Germany Lithium-Ion Battery Market, By Application, 2019-2030 (USD Billion)
31. Germany Lithium-Ion Battery Market, By Type, 2019-2030 (USD Billion)
32. France Lithium-Ion Battery Market, By Application, 2019-2030 (USD Billion)
33. France Lithium-Ion Battery Market, By Type, 2019-2030 (USD Billion)
34. U.K. Lithium-Ion Battery Market, By Application, 2019-2030 (USD Billion)
35. U.K. Lithium-Ion Battery Market, By Type, 2019-2030 (USD Billion)
36. Italy Lithium-Ion Battery Market, By Application, 2019-2030 (USD Billion)
37. Italy Lithium-Ion Battery Market, By Type, 2019-2030 (USD Billion)
38. Spain Lithium-Ion Battery Market, By Application, 2019-2030 (USD Billion)
39. Spain Lithium-Ion Battery Market, By Type, 2019-2030 (USD Billion)
40. Asia Pacific Lithium-Ion Battery Market, By Application, 2019-2030 (USD Billion)
41. Asia Pacific Lithium-Ion Battery Market, By Type, 2019-2030 (USD Billion)
42. Japan Lithium-Ion Battery Market, By Application, 2019-2030 (USD Billion)
43. Japan Lithium-Ion Battery Market, By Type, 2019-2030 (USD Billion)
44. China Lithium-Ion Battery Market, By Application, 2019-2030 (USD Billion)
45. China Lithium-Ion Battery Market, By Type, 2019-2030 (USD Billion)
46. India Lithium-Ion Battery Market, By Application, 2019-2030 (USD Billion)
47. India Lithium-Ion Battery Market, By Type, 2019-2030 (USD Billion)
48. South America Lithium-Ion Battery Market, By Application, 2019-2030 (USD Billion)
49. South America Lithium-Ion Battery Market, By Type, 2019-2030 (USD Billion)
50. Brazil Lithium-Ion Battery Market, By Application, 2019-2030 (USD Billion)
51. Brazil Lithium-Ion Battery Market, By Type, 2019-2030 (USD Billion)
52. Middle East and Africa Lithium-Ion Battery Market, By Application, 2019-2030 (USD Billion)
53. Middle East and Africa Lithium-Ion Battery Market, By Type, 2019-2030 (USD Billion)
54. UAE Lithium-Ion Battery Market, By Application, 2019-2030 (USD Billion)
55. UAE Lithium-Ion Battery Market, By Type, 2019-2030 (USD Billion)
56. South Africa Lithium-Ion Battery Market, By Application, 2019-2030 (USD Billion)
57. South Africa Lithium-Ion Battery Market, By Type, 2019-2030 (USD Billion)
List of Figures
1. Global Lithium-Ion Battery Market Segmentation
2. Lithium-Ion Battery Market: Research Methodology
3. Market Size Estimation Methodology: Bottom-Up Approach
4. Market Size Estimation Methodology: Top-Down Approach
5. Data Triangulation
6. Porter's Five Forces Analysis
7. Value Chain Analysis
8. Global Lithium-Ion Battery Market Attractiveness Analysis By Application
9. Global Lithium-Ion Battery Market Attractiveness Analysis By Type
10. Global Lithium-Ion Battery Market Attractiveness Analysis By Region
11. Global Lithium-Ion Battery Market: Dynamics
12. Global Lithium-Ion Battery Market Share by Application (2022 & 2030)
13. Global Lithium-Ion Battery Market Share by Type (2022 & 2030)
14. Global Lithium-Ion Battery Market Share by Regions (2022 & 2030)
15. Global Lithium-Ion Battery Market Share by Company (2021)