The global lab-grown diamonds market was valued at USD 10.8 billion in 2022, growing at a CAGR of 6.7% from 2023 to 2032. The market is expected to reach USD 20.6 billion by 2032. A wide range of lab-grown diamond businesses are experiencing a surge in demand due to the growing acceptance of lab-grown diamonds in the fashion and jewellery sectors and their growing use in the industrial sector.
Market Introduction:
Laboratories and factories produce lab-grown diamonds. These diamonds are like real diamonds in terms of substance and look. Techniques like chemical vapour deposition (CVD) and high pressure and high temperature (HPHT) produce lab-grown diamonds. Lab-created diamonds are often of a higher grade than natural diamonds because they are created in controlled settings under continuous observation and quality control. High pressure, high temperature (HPHT), and chemical vapour deposition (CVD) are two methods used to create lab-grown diamonds. Their look and composition are the same as those of genuine diamonds. These stones are also known as synthetic and cultivated stones. The market will rise, provided the fashion and jewellery industries accept lab-grown diamonds more widely. The demand for jewellery made of lab-grown diamonds will rise as these diamonds are used more often in the industrial sector. Lab-grown diamonds can be adapted and customized to fulfil individual needs and be extremely economical, environmentally benign, and sustainable. Additionally, they are superior to traditional diamonds due to their exceptional purity.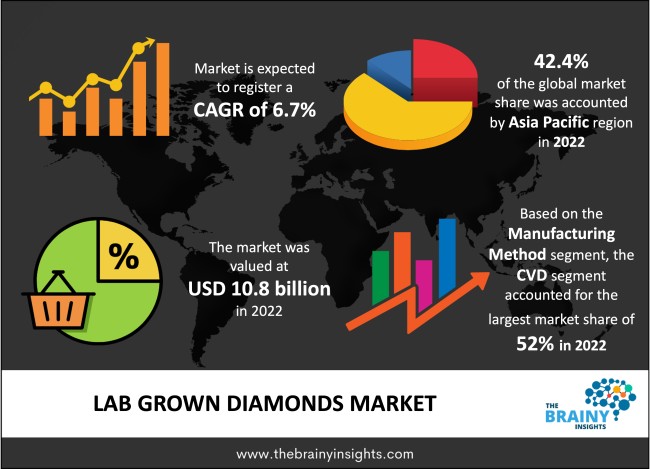 Get an overview of this study by requesting a free sample
Recent Development
In June 2021, Acquiring an 88% share in EcoFriendly Diamonds LLP (EDL) was disclosed by Goldiam. EDL was involved in the CVD method of lab-created diamond fabrication. Goldiam made the acquisition in an effort to get a foothold in the Asia Pacific region's rapidly expanding lab-grown diamond sector.
In January 2021, A contract was struck by SP3 Diamond Technologies and MAPAL for the delivery of diamond coatings. The first coating that SP3 Diamond Technologies successfully supplied to the company was the OptiMill- Composite- Speed- Plus coating.
In December 2020, Element Six created Diamfilm 2020, a thermally isotropic diamond film, as their new CVD diamond-based product. The film is a perfect material for sophisticated thermal management components because of its excellent heat sink properties, dielectric permittivity, optical clarity, excellent electrical insulation, low density, and chemical inertness.
Market Dynamics:
Drivers
Increasing demand from end-user industries- The rapid urbanization, the decline in lab-grown diamond prices, the growing demand from end-user industries, the rapidly expanding jewellery market, the increased demand for lab-grown diamonds among millennials, and other factors have all contributed to the growth of the worldwide lab-grown diamond market in recent years. The demand for lab-grown diamonds, which are used for cutting, grinding, shaping, polishing, drilling, and hard coatings for industrial equipment like wire-drawing dies, quarrying saws, grinding wheels, machine tools, and mining drills, among other end-user industries like construction, semiconductors, electronics, mining, oil and gas, precision machining, etc., is positively increasing due to the growth of manufacturing activities and the fast developing emerging economies.
Restraints:
Complex manufacturing process- The manufacturing process of lab-grown diamonds is complex and takes a lot of time in manufacturing, which is expected to hinder the market's growth over the forecast period. Furthermore, growing competition from naturally mined diamonds will hinder the market's growth. Natural mined diamonds are more in demand than lab-grown diamonds, created in large quantities with no restrictions on their uniqueness or supply. Natural mined diamonds are considered distinctive, uncommon, one-of-a-kind, and unique.
Opportunities:
Changing lifestyle of working women- In addition to joining the workforce, more and more women are launching their businesses and becoming independent. Working women are an important consumer group that has a major impact on the growth of the lab-grown diamond market. The changing lifestyle of working women is expected to provide growth opportunities for the lab-grown diamonds market during the forecast period.
Regional segmentation analysis:
The regions analyzed for the market include North America, Europe, South America, Asia Pacific, the Middle East, and Africa. Asia Pacific emerged as the largest global lab-grown diamonds market, with a 42.4% market revenue share in 2022.
Asia-Pacific is one of the largest producers of lab-grown diamonds in the world. India is positioned to emerge as a significant global hub for lab-grown diamonds, with China leading the world in producing and exporting these gems. Because of the increased disposable income and rising living standards in the Asia-Pacific region, consumers are adopting more opulent lifestyles, which in turn is fueling the demand for jewellery in the area.
Asia Pacific Region Lab Grown Diamonds Market Share in 2022 - 42.4%
www.thebrainyinsights.com
Check the geographical analysis of this market by requesting a free sample
Manufacturing Method Segment Analysis
The manufacturing method segment is divided into CVD and HPHT. The CVD segment dominated the market, with a market share of around 52% in 2022. The diamond-making process known as CVD was developed in the 1980s, and subsequent advancements in this field allowed the development of methods for producing larger diamonds that weighed ten carats or more. This process of diamond manufacturing is widely used these days, propelling the segment's growth.
Size Segment Analysis
The size segment is divided into 2-4 carat, below 2 carat, and above 4 carat. The below 2-carat segment dominated the market, with a market share of around 44% in 2022. Most lab-grown diamonds sold for use in making jewellery and industrial instruments are less than two carats in size. The most common are melee diamonds, which weigh less than 0.15 carats.
Nature Segment Analysis
The nature segment is divided into colored and colorless. The colorless segment dominated the market, with a market share of around 55% in 2022. Lab-grown, colorless diamonds, including wedding and engagement rings, are quite popular in jewellery. They are also frequently utilized in creating jewellery, including pendants, nose pins, bracelets, and necklaces. These diamonds can also be embedded into belts, watches, tiaras, phone cases, and other accessories.
Application Segment Analysis
The application segment is divided into industrial and fashion. The fashion segment dominated the market, with a market share of around 60% in 2022. The fashion industry uses lab-grown diamonds extensively to create various one-of-a-kind jewellery items and sets.
Some of the Key Market Players:
Diamond Foundry Inc.
Henan Huanghe Whirlwind CO., Ltd.
New Diamond Technology LLC
ABD Diamonds Pvt. Ltd.
Mittal Diamonds
Diam Concept
De Beers Group
WD Lab Grown Diamonds
Swarovski AG
Clean Origin LLC.
Report Description:
| Attribute | Description |
| --- | --- |
| Market Size | Revenue (USD Billion) |
| Market size value in 2022 | USD 10.8 Billion |
| Market size value in 2032 | USD 20.6 Billion |
| CAGR (2023 to 2032) | 6.7% |
| Historical data | 2019-2021 |
| Base Year | 2022 |
| Forecast | 2023-2032 |
| Region | The regions analyzed for the market are Asia Pacific, Europe, South America, North America, and Middle East & Africa. Furthermore, the regions are further analyzed at the country level. |
| Segments | Manufacturing Method, Size, Nature, Application |