The global insurtech market was valued at USD 6.5 billion in 2022, growing at a CAGR of 28.9% from 2023 to 2032. The market is expected to reach USD 82.3 billion by 2032. One of the primary factors driving market expansion is the rising number of insurance claims worldwide.
Market Introduction:
A sub-sector of the insurance industry known as insurtech, or insurance technology, uses technology to disrupt and improve the existing insurance paradigm. It uses cutting-edge technologies such as artificial intelligence, data analytics, and cloud computing to improve efficiency, personalize services, and expedite customer interactions. These organizations use digital interfaces, automation, and advanced algorithms to give faster quotes, more accurate risk assessments, and a streamlined claim procedure. It focuses on multiple aspects of insurance, like underwriting, claims management, and client engagement, to develop personalized solutions that match the needs of each individual. The global industry is being pushed primarily by growing awareness of the need for personalized and effective insurance solutions. In line with this, the large increase in mobile and internet usage, which enables quicker access to insurance products, is a significant growth-inducing driver for the market. Furthermore, the growing number of startups focused on new insurance solutions results in a greater selection of services and products. Establishing regulatory measures encouraging technological innovation in insurance drives the market even further. Aside from that, the increased customer expectation for streamlined and automated insurance operations provides attractive prospects in the market.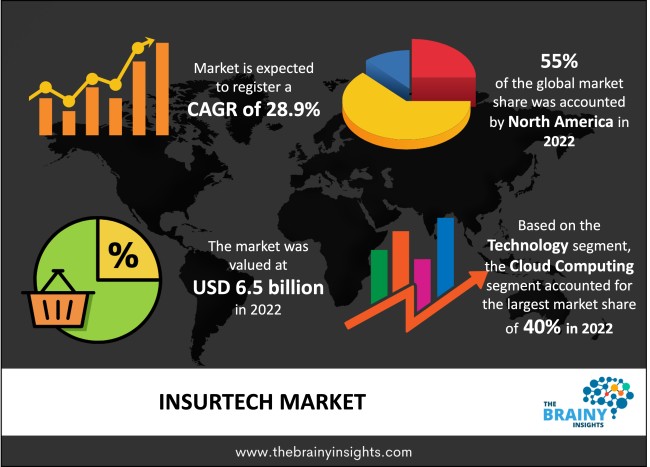 Get an overview of this study by requesting a free sample
Recent Development
In December 2020, Damco Group partnered with Omnius, an Artificial Intelligence as a Service (AIaaS) provider, to accelerate insurers' adoption of data-driven cognitive claims management. Damco would use Omnius to help insurers swiftly integrate AI into their claim lifecycle, streamlining interactions between insurers and insured parties.
In August 2023, DXC Technology Company announced a new multi-year arrangement to offer AT&T end-to-end support for a portion of its IT infrastructure operations. DXC will manage AT&T's midrange IT infrastructure, which includes enterprise compute, storage, backup, and recovery environments. DXC will also manage the systems, databases, and storage, as well as the hardware architecture and maintenance in these environments.
Market Dynamics:
Drivers
Rising Number of Connected Devices- The growing number of connected devices in the financial industry has resulted in large amounts of data creation. Insurance firms have realized they can utilize data to reduce costs, provide better services, and increase income. They've seen opportunities to alter business models. Traditional insurance systems, for example, entailed large expenses due to the physical dispersion of data.
Restraints:
Need Specialized Training- Selling insurance products utilizing cutting-edge technology is novel and challenging for insurance companies. Employees of insurance companies must have extensive specialized training in the usage of new technology. Retraining is essential to thoroughly comprehend insurance products so that insurance business workers can offer policies that meet the needs of their clients.
Opportunities:
Rising Investments- Investors increasingly want to work with InsurTech enterprises or technology-first insurance startups. For example, nearly 1,500 investors, entrepreneurs, and insurance executives from around the world attended the Global InsurTech Summit 2021, held entirely online due to the current COVID-19 pandemic. The agenda called for a discussion of the impact of technology on insurance business operations. The application of technology has altered the entire insurance value chain.
Regional segmentation analysis:
The regions analyzed for the market include North America, Europe, South America, Asia Pacific, the Middle East, and Africa. North America emerged as the largest market for the global insurtech market, with a 55% market revenue share in 2022.
Due to growing client expenditure on insurance-related products, the region is seeing a surge in adopting insurance solutions. Furthermore, these solutions provide customizable and adaptable property and health insurance options. The growing number of insurtech startups in the region also propels market expansion.
Heritage Insurance Holdings Inc., a property and casualty insurance provider, established a relationship with Slide, an insurtech P&C carrier, in November 2021. The former company would use Slide's skills to improve underwriting and rating judgements as part of this collaboration.
North America Region Insurtech Market Share in 2022 - 55%
www.thebrainyinsights.com
Check the geographical analysis of this market by requesting a free sample
Type Segment Analysis
The type segment is divided into auto, business, health, home, specialty, travel, and others. The health segment dominated the market, with a market share of around 35% in 2022. The rising demand for digital platforms that connect health insurance exchanges, brokers, providers, and carriers is expected to drive demand for the health segment. Advanced analytics are being used by life and health insurers to serve better and understand their consumers. Several health insurance firms are implementing insurtech solutions to streamline claims processing operations. Insurers aim to merge their health insurance services with mobility features for increased convenience.
Technology Segment Analysis
The technology segment is divided into blockchain, cloud computing, IoT, machine learning, robo advisory, and others. The cloud computing segment dominated the market, with a market share of around 40% in 2022. Cloud computing has revolutionized the insurance sector with its resourcefulness, ease of deployment, and flexibility. The widespread acceptance of Bring Your Device (BYOD) rules, combined with the increasing amount of data collected by insurance firms, will likely boost growth. Insurance businesses are adopting cloud computing solutions due to benefits such as rapid deployment, cost-effectiveness, and scalability.
Some of the Key Market Players:
Damco Group
DXC Technology Company
Insurance Technology Services
Majesco
Oscar Insurance
Quantemplate
Shift Technology
Wipro Limited
ZhongAn Insurance
Report Description:
| Attribute | Description |
| --- | --- |
| Market Size | Revenue (USD Billion) |
| Market size value in 2022 | USD 6.5 Billion |
| Market size value in 2032 | USD 82.3 Billion |
| CAGR (2023 to 2032) | 28.9% |
| Historical data | 2019-2021 |
| Base Year | 2022 |
| Forecast | 2023-2032 |
| Region | The regions analyzed for the market are Asia Pacific, Europe, South America, North America, and Middle East & Africa. Furthermore, the regions are further analyzed at the country level. |
| Segments | Type, Technology |
Frequesntly Asked Questions
1. Introduction
1.1. Objectives of the Study
1.2. Market Definition
1.3. Research Scope
1.4. Currency
1.5. Key Target Audience

2. Research Methodology and Assumptions

3. Executive Summary

4. Premium Insights
4.1. Porter's Five Forces Analysis
4.2. Value Chain Analysis
4.3. Top Investment Pockets
4.3.1. Market Attractiveness Analysis by Type
4.3.2. Market Attractiveness Analysis by Technology
4.3.3. Market Attractiveness Analysis by Region
4.4. Industry Trends

5. Market Dynamics
5.1. Market Evaluation
5.2. Drivers
5.2.1. Rising number of connected devices
5.3. Restraints
5.3.1. Need specialised training
5.4. Opportunities
5.4.1. Rising investments
5.5. Challenges
5.5.1. Limitation

6. Global Insurtech Market Analysis and Forecast, By Type
6.1. Segment Overview
6.2. Auto
6.3. Business
6.4. Health
6.5. Home
6.6. Specialty
6.7. Travel
6.8. Others

7. Global Insurtech Market Analysis and Forecast, By Technology
7.1. Segment Overview
7.2. Blockchain
7.3. Cloud Computing
7.4. IoT
7.5. Machine Learning
7.6. Robo Advisory
7.7. Others

8. Global Insurtech Market Analysis and Forecast, By Regional Analysis
8.1. Segment Overview
8.2. North America
8.2.1. U.S.
8.2.2. Canada
8.2.3. Mexico
8.3. Europe
8.3.1. Germany
8.3.2. France
8.3.3. U.K.
8.3.4. Italy
8.3.5. Spain
8.4. Asia-Pacific
8.4.1. Japan
8.4.2. China
8.4.3. India
8.5. South America
8.5.1. Brazil
8.6. Middle East and Africa
8.6.1. UAE
8.6.2. South Africa

9. Global Insurtech Market-Competitive Landscape
9.1. Overview
9.2. Market Share of Key Players in Global Insurtech Market
9.2.1. Global Company Market Share
9.2.2. North America Company Market Share
9.2.3. Europe Company Market Share
9.2.4. APAC Company Market Share
9.3. Competitive Situations and Trends
9.3.1. Product Launches and Developments
9.3.2. Partnerships, Collaborations, and Agreements
9.3.3. Mergers & Acquisitions
9.3.4. Expansions

10. Company Profiles
10.1. Damco Group
10.1.1. Business Overview
10.1.2. Company Snapshot
10.1.3. Company Market Share Analysis
10.1.4. Company Product Portfolio
10.1.5. Recent Developments
10.1.6. SWOT Analysis
10.2. DXC Technology Company
10.2.1. Business Overview
10.2.2. Company Snapshot
10.2.3. Company Market Share Analysis
10.2.4. Company Product Portfolio
10.2.5. Recent Developments
10.2.6. SWOT Analysis
10.3. Insurance Technology Services
10.3.1. Business Overview
10.3.2. Company Snapshot
10.3.3. Company Market Share Analysis
10.3.4. Company Product Portfolio
10.3.5. Recent Developments
10.3.6. SWOT Analysis
10.4. Majesco
10.4.1. Business Overview
10.4.2. Company Snapshot
10.4.3. Company Market Share Analysis
10.4.4. Company Product Portfolio
10.4.5. Recent Developments
10.4.6. SWOT Analysis
10.5. Oscar Insurance
10.5.1. Business Overview
10.5.2. Company Snapshot
10.5.3. Company Market Share Analysis
10.5.4. Company Product Portfolio
10.5.5. Recent Developments
10.5.6. SWOT Analysis
10.6. Quantemplate
10.6.1. Business Overview
10.6.2. Company Snapshot
10.6.3. Company Market Share Analysis
10.6.4. Company Product Portfolio
10.6.5. Recent Developments
10.6.6. SWOT Analysis
10.7. Shift Technology
10.7.1. Business Overview
10.7.2. Company Snapshot
10.7.3. Company Market Share Analysis
10.7.4. Company Product Portfolio
10.7.5. Recent Developments
10.7.6. SWOT Analysis
10.8. Wipro Limited
10.8.1. Business Overview
10.8.2. Company Snapshot
10.8.3. Company Market Share Analysis
10.8.4. Company Product Portfolio
10.8.5. Recent Developments
10.8.6. SWOT Analysis
10.9. ZhongAn Insurance
10.9.1. Business Overview
10.9.2. Company Snapshot
10.9.3. Company Market Share Analysis
10.9.4. Company Product Portfolio
10.9.5. Recent Developments
10.9.6. SWOT Analysis

List of Table
1. Global Insurtech Market, By Type, 2019-2032 (USD Billion)
2. Global Auto, Insurtech Market, By Region, 2019-2032 (USD Billion)
3. Global Business, Insurtech Market, By Region, 2019-2032 (USD Billion)
4. Global Health, Insurtech Market, By Region, 2019-2032 (USD Billion)
5. Global Home, Insurtech Market, By Region, 2019-2032 (USD Billion)
6. Global Specialty, Insurtech Market, By Region, 2019-2032 (USD Billion)
7. Global Travel, Insurtech Market, By Region, 2019-2032 (USD Billion)
8. Global Others, Insurtech Market, By Region, 2019-2032 (USD Billion)
9. Global Insurtech Market, By Technology, 2019-2032 (USD Billion)
10. Global Blockchain, Insurtech Market, By Region, 2019-2032 (USD Billion)
11. Global Cloud Computing, Insurtech Market, By Region, 2019-2032 (USD Billion)
12. Global IoT, Insurtech Market, By Region, 2019-2032 (USD Billion)
13. Global Machine Learning, Insurtech Market, By Region, 2019-2032 (USD Billion)
14. Global Robo Advisory, Insurtech Market, By Region, 2019-2032 (USD Billion)
15. Global Others, Insurtech Market, By Region, 2019-2032 (USD Billion)
16. North America Insurtech Market, By Type, 2019-2032 (USD Billion)
17. North America Insurtech Market, By Technology, 2019-2032 (USD Billion)
18. U.S. Insurtech Market, By Type, 2019-2032 (USD Billion)
19. U.S. Insurtech Market, By Technology, 2019-2032 (USD Billion)
20. Canada Insurtech Market, By Type, 2019-2032 (USD Billion)
21. Canada Insurtech Market, By Technology, 2019-2032 (USD Billion)
22. Mexico Insurtech Market, By Type, 2019-2032 (USD Billion)
23. Mexico Insurtech Market, By Technology, 2019-2032 (USD Billion)
24. Europe Insurtech Market, By Type, 2019-2032 (USD Billion)
25. Europe Insurtech Market, By Technology, 2019-2032 (USD Billion)
26. Germany Insurtech Market, By Type, 2019-2032 (USD Billion)
27. Germany Insurtech Market, By Technology, 2019-2032 (USD Billion)
28. France Insurtech Market, By Type, 2019-2032 (USD Billion)
29. France Insurtech Market, By Technology, 2019-2032 (USD Billion)
30. U.K. Insurtech Market, By Type, 2019-2032 (USD Billion)
31. U.K. Insurtech Market, By Technology, 2019-2032 (USD Billion)
32. Italy Insurtech Market, By Type, 2019-2032 (USD Billion)
33. Italy Insurtech Market, By Technology, 2019-2032 (USD Billion)
34. Spain Insurtech Market, By Type, 2019-2032 (USD Billion)
35. Spain Insurtech Market, By Technology, 2019-2032 (USD Billion)
36. Asia Pacific Insurtech Market, By Type, 2019-2032 (USD Billion)
37. Asia Pacific Insurtech Market, By Technology, 2019-2032 (USD Billion)
38. Japan Insurtech Market, By Type, 2019-2032 (USD Billion)
39. Japan Insurtech Market, By Technology, 2019-2032 (USD Billion)
40. China Insurtech Market, By Type, 2019-2032 (USD Billion)
41. China Insurtech Market, By Technology, 2019-2032 (USD Billion)
42. India Insurtech Market, By Type, 2019-2032 (USD Billion)
43. India Insurtech Market, By Technology, 2019-2032 (USD Billion)
44. South America Insurtech Market, By Type, 2019-2032 (USD Billion)
45. South America Insurtech Market, By Technology, 2019-2032 (USD Billion)
46. Brazil Insurtech Market, By Type, 2019-2032 (USD Billion)
47. Brazil Insurtech Market, By Technology, 2019-2032 (USD Billion)
48. Middle East and Africa Insurtech Market, By Type, 2019-2032 (USD Billion)
49. Middle East and Africa Insurtech Market, By Technology, 2019-2032 (USD Billion)
50. UAE Insurtech Market, By Type, 2019-2032 (USD Billion)
51. UAE Insurtech Market, By Technology, 2019-2032 (USD Billion)
52. South Africa Insurtech Market, By Type, 2019-2032 (USD Billion)
53. South Africa Insurtech Market, By Technology, 2019-2032 (USD Billion)
List of Figures
1. Global Insurtech Market Segmentation
2. Global Insurtech Market: Research Methodology
3. Market Size Estimation Methodology: Bottom-Up Approach
4. Market Size Estimation Methodology: Top-Down Approach
5. Data Triangulation
6. Porter's Five Forces Analysis
7. Value Chain Analysis
8. Global Insurtech Market Attractiveness Analysis by Type
9. Global Insurtech Market Attractiveness Analysis by Technology
10. Global Insurtech Market Attractiveness Analysis by Region
11. Global Insurtech Market: Dynamics
12. Global Insurtech Market Share by Type (2023 & 2032)
13. Global Insurtech Market Share by Technology (2023 & 2032)
14. Global Insurtech Market Share by Regions (2023 & 2032)
15. Global Insurtech Market Share by Company (2022)