The global infant phototherapy devices market was valued at USD 97.85 Million in 2022 and is anticipated to grow at a CAGR of 4.2% from 2023 to 2032. Infant phototherapy devices are essential in the early stage because these devices help treat neonatal jaundice, a periodic disease affecting infants. The condition is caused by excess bilirubin in the blood, causing the eyes and skin to turn yellow. Although jaundice is common in infants, some cases can have serious health effects. Phototherapy is a popular treatment that utilizes light's healing qualities to lower an infant's bilirubin blood level. With the ability to safely and effectively manage neonatal jaundice, infant phototherapy devices have had a tremendous impact on the quality of neonatal care. Their historical progression from sunlight-based therapy to contemporary, specialized technologies demonstrates the dedication of medical practitioners to enhancing neonatal health. Future developments in neonatal care should bring even more effective and patient-centered methods.
Market Introduction:
The concept of phototherapy dates back to the early 1900s, after it was discovered that exposure to natural sunlight might improve chronic skin disorders. When the idea of bilirubin phototherapy was introduced, it was the first time artificial light was used to treat infant jaundice. At that time, the technology used fluorescent lights to start the bilirubin breakdown in neonates, a critical first step in treating babies. This revolutionary discovery made the invention of contemporary infant phototherapy equipment/device, which has since evolved to incorporate new technological and medical advancements.
Neonatal phototherapy units, often called infant phototherapy devices, are medical devices especially used to cure neonatal jaundice. These devices irradiate a newborn's skin using specialized light sources to break down excess bilirubin in the bloodstream. The intention is to get bilirubin levels to a safe range to avoid severe jaundice, which may cause brain damage or other problems. Many types of phototherapy equipment exist, ranging from small LED-based systems to traditional optical lamps. All of them operate on the same basic principle, which is to induce the conversion of unconjugated bilirubin into water-soluble isomers that the body may excrete through urine and faeces by exposing the infant's skin to particular light wavelengths, mainly in the blue-green range. Over time, these devices have experienced substantial development that has improved efficiency and safety.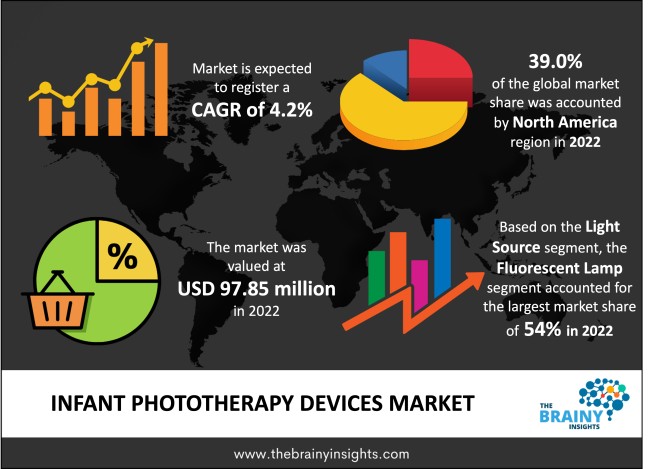 Get an overview of this study by requesting a free sample
Recent Development
In June 2020: Avalon CL Foetal and Maternal Pod and Patch, a remote monitoring device that enables continuous monitoring of maternal and foetal heart rate, was recently launched by Koninklijke Philips N.V., a technology company based in the Netherlands that develops and produces consumer electronics products and medical systems. Lessening the need for in-person interactions between patients and doctors, crucial during the pandemic, can be employed in high-risk pregnancies.
In July 2020: A portable newborn continuous positive airway pressure therapy (CPAP) system was developed in partnership with physicians from the Consortium of Affordable Medical Technologies (CAMTech) in the United States by Coeo Labs Pvt Ltd, an Indian medical equipment manufacturer. During transit, newborns with respiratory distress syndrome (RDS) are supposed to receive breathing support via the portable CPAP.
Market Dynamics:
Drivers
Rising Prevalence of Neonatal Jaundice - The rising incidence of neonatal jaundice across developed and developing countries is the primary factor escalating the demand for infant phototherapy devices. Neonatal jaundice is a common condition that affects a higher percentage of pregnant infants and around 55% of full-term neonates. A periodic disease affecting babies is called neonatal jaundice, characterized by yellowish eye and skin colour. It is caused by storing bilirubin. Several conditions, including prеtеrm, exclusive bleeding, and maternal-fetal blood type incompatibility, can cause jaundicе. The demand for phototherapy devices increases as healthcare systems & infrastructure improve, and more infants receive more effective treatment, improving jaundice detection and management. Early diagnosis and therapy greatly reduce the risk of severe jaundice and related problems. As a result, there is a more significant need for infant phototherapy devices due to the rising incidence of neonatal jaundice. This primary factor is boosting the market growth and development.
Restraints:
High Initial Costs - The cost and affordability of these devices is the primary factor restraining the market growth for the global infant phototherapy devices market. Phototherapy units can be costly to purchase and operate, especially the more advanced and sophisticated LED-based devices/models. This aspect raises difficulties, particularly for low-income and under-developed countries with low per capita income and limited resources. Healthcare organizations often struggle to secure funds to buy infant phototherapy devices, particularly in these nations. As a result, the quality of treatment and prognosis for infants with jaundice may not work effectively in these scenarios due to the limited availability of phototherapy devices and treatment options. The treatment costs at healthcare establishments can burden families. Even in cases where medical facilities offer treatment, the cost of prolonged hospital stays can be expensive. Homecare settings might be a more cost-effective solution, but many families may initially find it expensive to purchase a home phototherapy device/equipment.
Opportunities:
Technological Advancements - The infant phototherapy devices market has expanded significantly due to technological advancements. Technological advancements, followed by product innovations, are anticipated to provide lucrative growth opportunities in the upcoming years. The development of infant phototherapy devices has progressed remarkably in the current situation, emphasizing and improving treatment effectively, reducing energy consumption, and enabling user-friendliness. One of the most prominent developments is utilizing light-emitting diode (LED) technology in infant phototherapy devices. LED-based infant phototherapy devices offer various advantages and benefits compared to traditional ones. These lamps emit a more focused light spectrum that accurately targets bilirubin molecules. LED phototherapy uses less energy, meaning less heat is produced, and less electricity is used. This aspect is especially crucial for keeping the newborn's surroundings secure. Additionally, maintenance expenses are determined by the longer life span and less frequent bulb replacement of LED-based systems.
Regional segmentation analysis:
The regions analyzed for the market include North America, Europe, South America, Asia Pacific, the Middle East, and Africa. North America region emerged as the most prominent global Infant phototherapy devices market, with a 39.0% market revenue share in 2022. North America has been a pioneering region, boosting the infant phototherapy devices market because of its early adoption and advanced healthcare infrastructure. Neonatal jaundice is becoming more common in North America, partly because of a rise in prenatal births and blood type incompatibilities between mothers and fetuses. This technique drives the model for baby phototherapy equipment. More babies are receiving care as healthcare systems advance, which improves jaundice detection and treatment. The region has set regulations/standards and procedures for treating neonatal jaundice and prioritizes newborn care. North American healthcare providers are well aware of and proficient in phototherapy devices due to their access to the most recent research findings and therapeutic standards. The regional market players also engage in various market strategies such as product innovation, product differentiation, mergers, acquisitions, partnerships, and strategic alliances to maintain their competitive edge.
North America Region Infant Phototherapy Devices Market Share in 2022 - 39.0%
www.thebrainyinsights.com
Check the geographical analysis of this market by requesting a free sample
In November 2021: By acquiring Phoenix Technology Group, a Leader in the Ocular Screening Industry, NeoLight expands its global newborn care business portfolio.
Light Source Segment Analysis
The light source segment includes fluorescent lamp, light-emitting diode (LED), quartz halogen lamp, and gas discharge tube. The fluorescent lamp segment accounted for the largest market share of around 54% in 2022. Fluorescent lamps have significantly influenced the infant phototherapy device market. Phosphor-coated tubes that reflect ultraviolet (UV) light when powered on distinguish these lamps from others. For many years, fluorescent bulbs have been the cornerstone of phototherapy procedures. Numerous healthcare professionals opt for fluorescent lamps because of their dependability and effectiveness in lowering neonatal bilirubin levels. The continued utilization of fluorescent lamps has proven effective in phototherapy treatments. Fluorescent lights are widely available. Healthcare facilities can easily obtain fluorescent lamps due to their widespread production by the manufacturing companies across the globe.
Configuration Segment Analysis
The configuration segment is bifurcated into mobile device and fixed device. The mobile device segment dominated, with a market share of around 59% in 2022. In recent years, mobile newborn phototherapy devices have become increasingly popular worldwide. Because of the mobility and adaptability of these devices, caregivers can treat neonates with phototherapy in various clinical settings. When it comes to newborn care, mobile devices offer unmatched flexibility. They make it possible to treat newborns in rooms or units within a hospital or healthcare facility because they are portable. This adaptability is especially helpful when handling capacity limitations or providing neonatal care in various clinical settings. Many people consider mobile devices an affordable option, particularly for home-based therapy. Their initial cost might be less than that of fixed devices. This aspect makes mobile devices an affordable option for home-based therapies.
End-user Segment Analysis
The end-user segment is divided into hospitals and neonatal clinics. The hospitals segment dominated the market, with a market share of around 68% in 2022. Hospitals are all-inclusive medical centers offering various services, including newborn care. The hospitals possess the most advanced neonatal intensive care units that are well-suited to assist phototherapy to neonates with various medical demands. High-quality newborn care is offered by hospitals, which have a multidisciplinary team of medical experts and healthcare professionals. Professionalism and teamwork ensure the safe and effective treatment of newborn jaundice within the hospital. Patient safety is a top priority in hospitals, including putting infants under extra precaution and care. Extra safety and care is provided by medical personnel to the infant. This is the primary factor for the segment growth.
Some of the Key Market Players:
Atom Medical Corporation
Weyer GmbH
AVI Healthcare Pvt. Ltd
Novos Medical Devices
GE Healthcare
D-Rev
Natus Medical Incorporated
Ibis Medical Equipment & Systems Pvt. Ltd
Ningbo David Medical Device Co. Ltd
Zhengzhou Dison Instrument and Meter Co. Ltd
Report Description:
| Attribute | Description |
| --- | --- |
| Market Size | Revenue (USD Million) |
| Market size value in 2022 | USD 97.85 Million |
| Market size value in 2032 | USD 147.65 Million |
| CAGR (2023 to 2032) | 4.2% |
| Historical data | 2019-2021 |
| Base Year | 2022 |
| Forecast | 2023-2032 |
| Region | The regions analyzed for the market are Asia Pacific, Europe, South America, North America, and Middle East & Africa. Furthermore, the regions are further analyzed at the country level. |
| Segments | Configuration, Light Source, and End-user |