The global household induction cooktops market was valued at USD 12.10 billion in 2022 and is anticipated to grow at a CAGR of 5.6% from 2023 to 2032. In the world of cooking appliances, household induction cooktops have become a breakthrough technological advance. These slick, sensitive, and energy-efficient cooking appliances have revolutionized our home cooking practices. Induction cooktops use electric flames rather than conventional gas or electric stovetops to heat food directly, which results in faster, safer, and more energy-efficient cooking. Induction heating and cooking are the basis of operation for the household induction cooktops, commonly referred to as induction hobs. These are among the most innovative technology developments in the culinary arts. Typically, induction cooktops feature a sturdy, heat-resistant cooking surface made of glass or ceramic. In addition to offering users health and safety benefits, this cooking style has high energy efficiency. The rated power of an induction cooktop is between 1500 and 3000 watts, much higher than most other home appliances. Cooking times decrease with increasing wattage as heating occurs more quickly.
Market Introduction:
One kind of kitchen device meant to make cooking and heating easier is the household induction cooktop. The devices use a very distinct heating mechanism based on electromechanical induction, unlike traditional gas and electric stoves. These cooktops are distinguished by their smooth, light surface and absence of heating devices or open flames. Rather, they employ electromagnetic fields to directly heat cookware, offering a highly efficient and safe cooking experience. The electromechanical induction principle is the foundation of domestic induction cooktops. Under the cooktop's glass or ceramic surface is a coil of copper wire. A fast-alternating magnetic field is produced when this coil is subjected to an electric current. This magnetic foil is what cooks' induction cooking's special heating method. The magnetic field interacts with appropriate cookware, which is usually constructed of ferromagnetic materials like steel or iron when it is placed on the cooktop.
The suitable temperature control offered by induction cooktops for homes is one of their distinguishing qualities. With induction cookers, you may instantly increase or reduce the heat output, unlike with standard stovetops where temporary modifications may take some time to appear. This quick reaction to change еnablеs practiced control over cooking techniques, facilitating the execution of intricate recipes and techniques that call for accuracy. Cookware compatibility is a crucial feature of using induction cooktops in homes. Not every pot or pan can be used with an induction cook, depending on the cookware's interaction with the magnetic foil. The cookware needs a magnetic base, usually made of stainless steel or cast iron, to function properly. Copper and aluminum cookware, which are non-magnetic, are incompatible with induction cooktops.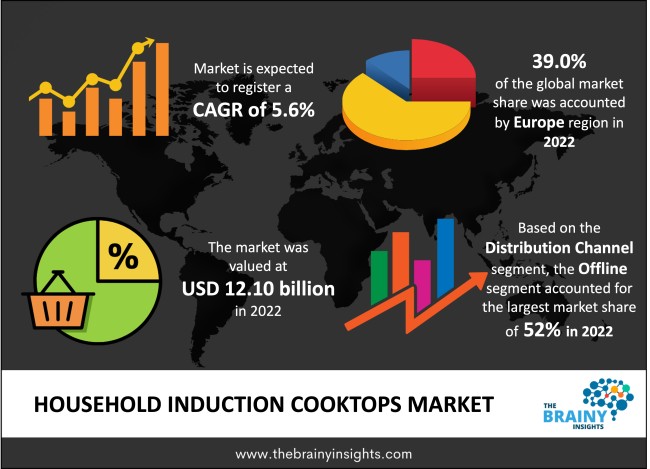 Get an overview of this study by requesting a free sample
Recent Development
In August 2022: With its headquarters in India, Kent RO Systems Ltd. introduced the 2000-watt-capable Kent Jewel induction cooktop. Eight preset menus include fry, curry, keep warm, roti, water, soup, rice, and boiling milk.
In January 2023: Prestige Iris 2.0 Induction Cooktop 2023 is a new product that Preethi launched. Regarding features like auto-off settings, different preset menus, ease of use, safety, appearance, and changeable time settings, this Prestige Iris device ranks in the best overall category.
Market Dynamics:
Drivers
Growing Awareness of Energy Efficiency - An important factor contributing to the worldwide market for induction cooktops in homes is people's growing consciousness and care about energy conservation. As environmental responsibility and sustainability gain importance, people seek applications that can lower their energy usage. This is where household induction cooktops come in handy because of their exceptional energy efficiency. Induction cooktops minimize waste by producing heat directly in the cookware, unlike typical gas stoves that release heat and energy into the kitchen. Due to their efficiency, induction cooktops are a popular long-term investment for consumers who care about the environment and save money on energy costs. This is the primary factor for the market growth and development.
Restraints:
High Installation & Infrastructural Costs - Installing induction cooktops in homes can pose infrastructure-related difficulties. Induction cooktops frequently require particular electrical appliances, unlike conventional stoves, which can function with existing gas lines or electrical connections. For example, certain models could require certain electrical circuits, which in older homes might mean rewiring and electrical adjustments. This installation's complexity may turn off potential purchasers unwilling to invest in infrastructural modifications. Another potential barrier to entry for the global household induction cooktops market is their accessibility. Due to constrained distribution networks or a lack of market awareness, some applications might not be easily accessible in some areas. Some of the population may also find it difficult to purchase induction cooktops due to financial constraints. In locations where customers might be interested in adopting the technology, market growth is hindered by its restricted accessibility and availability.
Opportunities:
Rise in Demand for Affordable Induction Cooktops - The market for induction cooktops for homes has grown internationally due to producers and companies distributing their goods in different areas. The manufacturers are now more competitive due to this expansion, which encourages innovation and better product offerings. Customers now have more options, which has increased the popularity of induction cooktops. Economies of scale are at play as the number of induction cooktops produced for homes has increased. Because of the lower production costs, a wider spectrum of consumers may now buy induction cooktops. These applications are becoming more widely used in both developed and emerging economies due to their cost. Kitchen application bundles are a popular choice among consumers remodeling or updating their kitchens. Cooktops, ovens, dishwashers, and refrigerators are frequently included in these bundles. Including induction cooktops has fueled these bundles' popularity, as buyers recognize the value of a complete collection of advanced kitchen appliances. This factor is anticipated to provide lucrative growth opportunities in near future.
Regional segmentation analysis:
The regions analyzed for the market include North America, Europe, South America, Asia Pacific, the Middle East, and Africa. Europe region emerged as the most prominent global household induction cooktops market, with a 39.0% market revenue share in 2022. Europe commands a substantial portion of the global market, with the UK, Germany and other European countries contributing to the market growth. The regional market has grown significantly because of the region's commitment towards energy efficiency and sustainability. The consumers within the region are well aware of the environmental sustainability laws and regulations. Consequentially, induction cooktops—known for their low emissions and energy efficiency—have grown in favor. This factor supports the region's focus on promoting sustainable living and lower carbon footprints. The aesthetics and design of kitchens are highly valued in Europe. The sleek and contemporary look of induction cooktops appeals to design-conscious customers in the area. One of the main factors influencing induction cooktops' market share in Europe has been their aesthetic appeal. The regional market players also engage in various market strategies such as product innovation, product differentiation, mergers, acquisitions, partnerships, and strategic alliances to maintain their competitive edge.
Europe Region Household induction cooktops Market Share in 2022 - 39.0%
www.thebrainyinsights.com
Check the geographical analysis of this market by requesting a free sample
In September 2021: The Novy Easy Pro, an 80cm vented induction burner from Belgian manufacturer Novy, has a quiet central matrix extractor that adjusts the extraction speed once cooking has started.
Type Segment Analysis
The device type segment includes built-in and portable. The built-in segment dominated, with a market share of around 65% in 2022. The global market for induction cooktops has seen a significant increase in the prevalence of built-in models, especially in areas where aesthetics and kitchen design are highly prized. The segment of built-in induction cooktops has grown steadily, mostly due to consumer demand for seamless integration of cooking appliances into kitchen countertops. This type of product has gained popularity in both home and business environments. Customers who value a unique and modern kitchen design like built-in induction cooktops. The need for a tidy and uncluttered kitchen look aligns with these cooktops' capacity to be easily integrated into surfaces. The popularity of built-in induction cooktops is increased by their seamless integration into kitchen cabins.
Distribution Channel Segment Analysis
The end-user segment is bifurcated into online sales and offline sales. The offline segment dominated, with a market share of around 52% in 2022. Traditional retail stores and showrooms are considered offline sales channels still significant in the global market for domestic induction cooktops. Even though sales online have been introduced, customers who want more hands-on shopping experience and individualized assistance still go toward offline stores. Customers can contact educated salespeople in physical stores who can answer inquiries, display product features, and offer professional advice. Information seekers and those looking for insurance appreciate this individualized communication. Customers who prefer the in-store experience of going to actual stores, handling and viewing the merchandise, and getting one-on-one assistance from sales representatives are catered to by offline sales. This inclination is frequently linked to older people and those who shop online more cautiously.
Some of the Key Market Players:
AB Electrolux
Daewoo Electronics Corporation
Whirlpool Corporation
Haier Group
LG Electronics
Panasonic Corporation
Philips Electronics
Videocon Industries Limited
Robert Bosch Gmbh
Fisher & Paykel Appliances Holdings Ltd.
Stoves Appliance Company (Glen Dimplex Home Appliances Ltd.)
Miele & Cie. Kg.
Report Description:
| Attribute | Description |
| --- | --- |
| Market Size | Revenue (USD Billion) |
| Market size value in 2022 | USD 12.10 Billion |
| Market size value in 2032 | USD 20.87 Billion |
| CAGR (2023 to 2032) | 5.6% |
| Historical data | 2019-2021 |
| Base Year | 2022 |
| Forecast | 2023-2032 |
| Region | The regions analyzed for the market are Asia Pacific, Europe, South America, North America, and Middle East & Africa. Furthermore, the regions are further analyzed at the country level. |
| Segments | Type, Distribution Channel |