The global home infusion therapy market was valued at USD 35.0 billion in 2022, growing at a CAGR of 8.5% from 2023 to 2032. The market is expected to reach USD 79.1 billion by 2032. Chronic diseases such as cancer, autoimmune disorders, and infectious diseases necessitate long-term drug treatment, frequently delivered via home infusion therapy. The rising prevalence of these disorders is increasing the demand for home infusion therapy. Home infusion therapy is becoming more accessible and efficient for patients and healthcare providers as technology advances, such as the creation of portable infusion pumps and electronic health records.
Market Introduction:
Home infusion therapy is a specialized medical treatment that involves administering medication, such as antivirals or immunological globin, fluids, or nutrients intravenously to patients in their homes using various equipment such as pumps, catheters, and vials. It is advised for individuals who require long-term or frequent infusion therapy due to infections, malignancies, or chronic illnesses such as multiple sclerosis (MS) or rheumatoid arthritis. Home infusion therapy provides comfort and convenience while improving quality of life and lowering the risk of hospital-acquired infections. Furthermore, it allows patients to preserve their independence and control over their treatment while obtaining essential medical care. Home infusion therapy is extremely effective in chemotherapy and hydration, enteral, inotropic, anti-infective, nutritional, and pain management therapies, mostly used to treat diabetes and other gastrointestinal and oncological problems.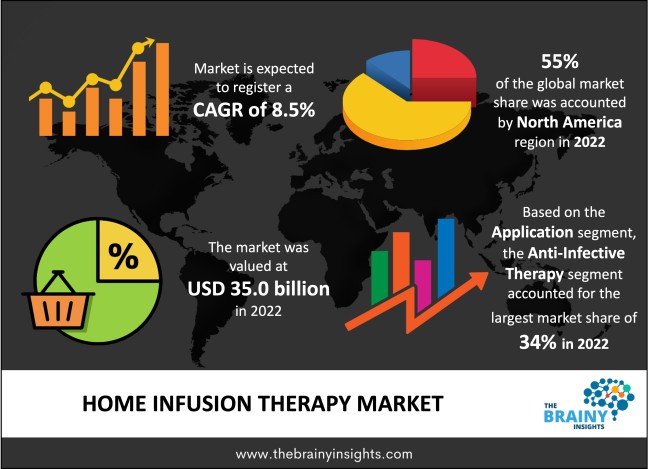 Get an overview of this study by requesting a free sample
Recent Development
In June 2021, The United States Food and Drug Administration (FDA) granted Aducanumab (Aduhelm) expedited approval as a therapy for Alzheimer's disease. This is the first infusion therapy approved by the FDA to address the underlying biology of Alzheimer's disease.
In January 2021, Amedisys partnered with Option Care Health to provide COVID-19 infusion therapy to the Vulnerable population.
In June 2023, Baxter International, an American healthcare business, will introduce the Progressa+ Next Gen ICU bed to fulfil patients' essential needs at home. This technology makes it easy for nurses to care for patients while assisting with home rehabilitation.
In May 2023, Fresenius Kabi, a global healthcare firm, began negotiations with Premier, Inc., an American healthcare corporation, resulting in pricing and term benefits for the Ivenix Infusion System. This technology is intended to improve infusion pumps' dependability and ease of use.
In May 2023, Option Care Health, a healthcare service provider, and Amedisys Inc., a renowned provider of home health services, will launch an independent platform for home care services.
Market Dynamics:
Drivers
Rising Prevalence of Chronic Diseases- One of the primary factors driving market expansion is the increase in the number of people suffering from chronic diseases such as cancer, osteoarthritis, human immunodeficiency viruses (HIV), and diabetes. Concurrently, the growing geriatric population, susceptible to life-threatening disorders and requiring regular medical attention, such as infusion therapy, is positively boosting market growth. Furthermore, the introduction of various government programmes, favourable reimbursement policies, and the rising expenses of extended hospital stays are driving patients to choose home infusion therapy, fueling market expansion. Aside from that, the shifting demand for home healthcare services due to their convenience and cost-effectiveness, as well as the expanding requirement for hospital space and beds, are driving market growth.
Restraints:
Medical Overdose- Medication overdosage may result in hazardous situations, a shortage of qualified nurses in developing and underdeveloped regions, irregularities in the operation of infusion devices, and incorrect usage of infusion devices, all of which may impede the growth of this market.
Opportunities:
Increase Prevalence of Hospital-Acquired Infections- The increased prevalence of hospital-acquired infections (HAIs) due to prolonged exposure to contaminated equipment, bed linens, and air droplets is boosting market growth. Furthermore, creative technical breakthroughs, such as creating lightweight, portable, and simple-to-use infusion pumps outfitted with advanced drip systems for precise and real-time monitoring of IV treatments, are creating lucrative opportunities for the market.
Regional segmentation analysis:
The regions analyzed for the market include North America, Europe, South America, Asia Pacific, the Middle East, and Africa. North America emerged as the largest global home infusion therapy market, with a 55% market revenue share in 2022.
North America is a prominent home infusion therapy market region, owing to rising chronic disease incidence, treatment costs, technical advances, and product launches, which are projected to drive regional expansion. According to the Canadian Cancer Society, an estimated 225,800 new cancer cases will be diagnosed in 2020, with an expected 83,300 cancer fatalities in Canada.
Furthermore, according to American Cancer Society statistics from 2021, around 1.8 million new cancer cases were recorded in the United States alone in 2020. The most common cancers in the United States include breast, lung, prostate, colorectal, bladder, and skin cancers. Furthermore, due to lower costs and increased patient mobility, there is a rising shift from acute care to home care settings, expected to drive further growth. Improvements in the healthcare business and the usage of increasingly sophisticated medical equipment are also driving up demand for regional goods.
North America Region Home Infusion Therapy Market Share in 2022 - 55%
www.thebrainyinsights.com
Check the geographical analysis of this market by requesting a free sample
Product Segment Analysis
The product segment is divided into infusion pumps, intravenous sets, IV cannulas, and needleless connectors. The infusion pumps segment dominated the market, with a market share of around 40% in 2022. Infusion pumps control the delivery of fluids, drugs, or nutrients into a patient's bloodstream. Intravenous sets are sterile devices that connect an infusion pump to a vein in the patient. IV cannulas are thin tubes placed into a vein to allow medication or fluids to be administered. Needleless connectors attach IV tubing to IV cannulas without needing a needle. These devices are critical for safe and successful home infusion therapy and drive market expansion.
Application Segment Analysis
The application segment is divided into total parenteral nutrition, anti-infective therapy, enteral nutrition, hydration therapy, chemotherapy, IVIg/specialty pharmaceuticals, and others. The anti-infective therapy segment dominated the market, with a market share of around 34% in 2022. The anti-infective therapy segment will likely dominate the global home infusion therapy market throughout the forecast period. One of the most commonly prescribed home infusion therapies is anti-infective therapy. However, minimal hazards in such therapy can be mitigated by a team approach combined with appropriate patient selection criteria, an organized follow-up process, and a focus on patient education. Rising awareness initiatives by various government and non-profit organizations, rising prevalence of infectious diseases, rising financing, and rising research and development activities are the primary drivers driving the growth of the infectious disease drugs market.
Some of the Key Market Players:
CVS/Coram
Option Care Health
BriovaRx/Diplomat (UnitedHealth Optum)
PharMerica
Fresenius Kabi
ICU Medical, Inc.
B. Braun Melsungen AG
Baxter
BD
Caesarea Medical Electronics
Smiths Medical
Terumo Corporation
JMS Co. Ltd.
Report Description:
| Attribute | Description |
| --- | --- |
| Market Size | Revenue (USD Billion) |
| Market size value in 2022 | USD 35.0 Billion |
| Market size value in 2032 | USD 79.1 Billion |
| CAGR (2023 to 2032) | 8.5% |
| Historical data | 2019-2021 |
| Base Year | 2022 |
| Forecast | 2023-2032 |
| Region | The regions analyzed for the market are Asia Pacific, Europe, South America, North America, and Middle East & Africa. Furthermore, the regions are further analyzed at the country level. |
| Segments | Product, Application |
Frequesntly Asked Questions
As per The Brainy Insights, the size of the home infusion therapy market was valued at USD 35.0 billion in 2022 to USD 79.1 billion by 2032.
The global home infusion therapy market is growing at a CAGR of 8.5% during the forecast period 2023-2032.
North America emerged as the largest home infusion therapy market.
1. Introduction
1.1. Objectives of the Study
1.2. Market Definition
1.3. Research Scope
1.4. Currency
1.5. Key Target Audience

2. Research Methodology and Assumptions

3. Executive Summary

4. Premium Insights
4.1. Porter's Five Forces Analysis
4.2. Value Chain Analysis
4.3. Top Investment Pockets
4.3.1. Market Attractiveness Analysis by Product
4.3.2. Market Attractiveness Analysis by Application
4.3.3. Market Attractiveness Analysis by Region
4.4. Industry Trends

5. Market Dynamics
5.1. Market Evaluation
5.2. Drivers
5.2.1. Rising prevalence of chronic diseases
5.3. Restraints
5.3.1. Medical overdose
5.4. Opportunities
5.4.1. Increase prevalence of hospital-acquired infections
5.5. Challenges
5.5.1. High cost

6. Global Home Infusion Therapy Market Analysis and Forecast, By Product
6.1. Segment Overview
6.2. Infusion Pumps
6.3. Intravenous Sets
6.4. IV Cannulas
6.5. Needleless Connectors

7. Global Home Infusion Therapy Market Analysis and Forecast, By Application
7.1. Segment Overview
7.2. Total Parenteral Nutrition
7.3. Anti-infective Therapy
7.4. Enteral Nutrition
7.5. Hydration Therapy
7.6. Chemotherapy
7.7. IVIg/Specialty Pharmaceuticals
7.8. Others

8. Global Home Infusion Therapy Market Analysis and Forecast, By Regional Analysis
8.1. Segment Overview
8.2. North America
8.2.1. U.S.
8.2.2. Canada
8.2.3. Mexico
8.3. Europe
8.3.1. Germany
8.3.2. France
8.3.3. U.K.
8.3.4. Italy
8.3.5. Spain
8.4. Asia-Pacific
8.4.1. Japan
8.4.2. China
8.4.3. India
8.5. South America
8.5.1. Brazil
8.6. Middle East and Africa
8.6.1. UAE
8.6.2. South Africa

9. Global Home Infusion Therapy Market-Competitive Landscape
9.1. Overview
9.2. Market Share of Key Players in Global Home Infusion Therapy Market
9.2.1. Global Company Market Share
9.2.2. North America Company Market Share
9.2.3. Europe Company Market Share
9.2.4. APAC Company Market Share
9.3. Competitive Situations and Trends
9.3.1. Product Launches and Developments
9.3.2. Partnerships, Collaborations, and Agreements
9.3.3. Mergers & Acquisitions
9.3.4. Expansions

10. Company Profiles
10.1. CVS/Coram
10.1.1. Business Overview
10.1.2. Company Snapshot
10.1.3. Company Market Share Analysis
10.1.4. Company Product Portfolio
10.1.5. Recent Developments
10.1.6. SWOT Analysis
10.2. Option Care Health
10.2.1. Business Overview
10.2.2. Company Snapshot
10.2.3. Company Market Share Analysis
10.2.4. Company Product Portfolio
10.2.5. Recent Developments
10.2.6. SWOT Analysis
10.3. BriovaRx/Diplomat (UnitedHealth Optum)
10.3.1. Business Overview
10.3.2. Company Snapshot
10.3.3. Company Market Share Analysis
10.3.4. Company Product Portfolio
10.3.5. Recent Developments
10.3.6. SWOT Analysis
10.4. PharMerica
10.4.1. Business Overview
10.4.2. Company Snapshot
10.4.3. Company Market Share Analysis
10.4.4. Company Product Portfolio
10.4.5. Recent Developments
10.4.6. SWOT Analysis
10.5. Fresenius Kabi
10.5.1. Business Overview
10.5.2. Company Snapshot
10.5.3. Company Market Share Analysis
10.5.4. Company Product Portfolio
10.5.5. Recent Developments
10.5.6. SWOT Analysis
10.6. ICU Medical, Inc.
10.6.1. Business Overview
10.6.2. Company Snapshot
10.6.3. Company Market Share Analysis
10.6.4. Company Product Portfolio
10.6.5. Recent Developments
10.6.6. SWOT Analysis
10.7. B. Braun Melsungen AG
10.7.1. Business Overview
10.7.2. Company Snapshot
10.7.3. Company Market Share Analysis
10.7.4. Company Product Portfolio
10.7.5. Recent Developments
10.7.6. SWOT Analysis
10.8. Baxter
10.8.1. Business Overview
10.8.2. Company Snapshot
10.8.3. Company Market Share Analysis
10.8.4. Company Product Portfolio
10.8.5. Recent Developments
10.8.6. SWOT Analysis
10.9. BD
10.9.1. Business Overview
10.9.2. Company Snapshot
10.9.3. Company Market Share Analysis
10.9.4. Company Product Portfolio
10.9.5. Recent Developments
10.9.6. SWOT Analysis
10.10. Caesarea Medical Electronics
10.10.1. Business Overview
10.10.2. Company Snapshot
10.10.3. Company Market Share Analysis
10.10.4. Company Product Portfolio
10.10.5. Recent Developments
10.10.6. SWOT Analysis
10.11. Smiths Medical
10.11.1. Business Overview
10.11.2. Company Snapshot
10.11.3. Company Market Share Analysis
10.11.4. Company Product Portfolio
10.11.5. Recent Developments
10.11.6. SWOT Analysis
10.12. Terumo Corporation
10.12.1. Business Overview
10.12.2. Company Snapshot
10.12.3. Company Market Share Analysis
10.12.4. Company Product Portfolio
10.12.5. Recent Developments
10.12.6. SWOT Analysis
10.13. JMS Co. Ltd.
10.13.1. Business Overview
10.13.2. Company Snapshot
10.13.3. Company Market Share Analysis
10.13.4. Company Product Portfolio
10.13.5. Recent Developments
10.13.6. SWOT Analysis
List of Table
1. Global Home Infusion Therapy Market, By Product, 2019-2032 (USD Billion)
2. Global Infusion Pumps, Home Infusion Therapy Market, By Region, 2019-2032 (USD Billion)
3. Global Intravenous Sets, Home Infusion Therapy Market, By Region, 2019-2032 (USD Billion)
4. Global IV Cannulas, Home Infusion Therapy Market, By Region, 2019-2032 (USD Billion)
5. Global Needleless Connectors, Home Infusion Therapy Market, By Region, 2019-2032 (USD Billion)
6. Global Home Infusion Therapy Market, By Application, 2019-2032 (USD Billion)
7. Global Total Parenteral Nutrition, Home Infusion Therapy Market, By Region, 2019-2032 (USD Billion)
8. Global Anti-infective Therapy, Home Infusion Therapy Market, By Region, 2019-2032 (USD Billion)
9. Global Enteral Nutrition, Home Infusion Therapy Market, By Region, 2019-2032 (USD Billion)
10. Global Hydration Therapy, Home Infusion Therapy Market, By Region, 2019-2032 (USD Billion)
11. Global Chemotherapy, Home Infusion Therapy Market, By Region, 2019-2032 (USD Billion)
12. Global IVIg/Specialty Pharmaceuticals, Home Infusion Therapy Market, By Region, 2019-2032 (USD Billion)
13. Global Others, Home Infusion Therapy Market, By Region, 2019-2032 (USD Billion)
14. North America Home Infusion Therapy Market, By Product, 2019-2032 (USD Billion)
15. North America Home Infusion Therapy Market, By Application, 2019-2032 (USD Billion)
16. U.S. Home Infusion Therapy Market, By Product, 2019-2032 (USD Billion)
17. U.S. Home Infusion Therapy Market, By Application, 2019-2032 (USD Billion)
18. Canada Home Infusion Therapy Market, By Product, 2019-2032 (USD Billion)
19. Canada Home Infusion Therapy Market, By Application, 2019-2032 (USD Billion)
20. Mexico Home Infusion Therapy Market, By Product, 2019-2032 (USD Billion)
21. Mexico Home Infusion Therapy Market, By Application, 2019-2032 (USD Billion)
22. Europe Home Infusion Therapy Market, By Product, 2019-2032 (USD Billion)
23. Europe Home Infusion Therapy Market, By Application, 2019-2032 (USD Billion)
24. Germany Home Infusion Therapy Market, By Product, 2019-2032 (USD Billion)
25. Germany Home Infusion Therapy Market, By Application, 2019-2032 (USD Billion)
26. France Home Infusion Therapy Market, By Product, 2019-2032 (USD Billion)
27. France Home Infusion Therapy Market, By Application, 2019-2032 (USD Billion)
28. U.K. Home Infusion Therapy Market, By Product, 2019-2032 (USD Billion)
29. U.K. Home Infusion Therapy Market, By Application, 2019-2032 (USD Billion)
30. Italy Home Infusion Therapy Market, By Product, 2019-2032 (USD Billion)
31. Italy Home Infusion Therapy Market, By Application, 2019-2032 (USD Billion)
32. Spain Home Infusion Therapy Market, By Product, 2019-2032 (USD Billion)
33. Spain Home Infusion Therapy Market, By Application, 2019-2032 (USD Billion)
34. Asia Pacific Home Infusion Therapy Market, By Product, 2019-2032 (USD Billion)
35. Asia Pacific Home Infusion Therapy Market, By Application, 2019-2032 (USD Billion)
36. Japan Home Infusion Therapy Market, By Product, 2019-2032 (USD Billion)
37. Japan Home Infusion Therapy Market, By Application, 2019-2032 (USD Billion)
38. China Home Infusion Therapy Market, By Product, 2019-2032 (USD Billion)
39. China Home Infusion Therapy Market, By Application, 2019-2032 (USD Billion)
40. India Home Infusion Therapy Market, By Product, 2019-2032 (USD Billion)
41. India Home Infusion Therapy Market, By Application, 2019-2032 (USD Billion)
42. South America Home Infusion Therapy Market, By Product, 2019-2032 (USD Billion)
43. South America Home Infusion Therapy Market, By Application, 2019-2032 (USD Billion)
44. Brazil Home Infusion Therapy Market, By Product, 2019-2032 (USD Billion)
45. Brazil Home Infusion Therapy Market, By Application, 2019-2032 (USD Billion)
46. Middle East and Africa Home Infusion Therapy Market, By Product, 2019-2032 (USD Billion)
47. Middle East and Africa Home Infusion Therapy Market, By Application, 2019-2032 (USD Billion)
48. UAE Home Infusion Therapy Market, By Product, 2019-2032 (USD Billion)
49. UAE Home Infusion Therapy Market, By Application, 2019-2032 (USD Billion)
50. South Africa Home Infusion Therapy Market, By Product, 2019-2032 (USD Billion)
51. South Africa Home Infusion Therapy Market, By Application, 2019-2032 (USD Billion)
List of Figures
1. Global Home Infusion Therapy Market Segmentation
2. Global Home Infusion Therapy Market: Research Methodology
3. Market Size Estimation Methodology: Bottom-Up Approach
4. Market Size Estimation Methodology: Top-Down Approach
5. Data Triangulation
6. Porter's Five Forces Analysis
7. Value Chain Analysis
8. Global Home Infusion Therapy Market Attractiveness Analysis by Product
9. Global Home Infusion Therapy Market Attractiveness Analysis by Application
10. Global Home Infusion Therapy Market Attractiveness Analysis by Region
11. Global Home Infusion Therapy Market: Dynamics
12. Global Home Infusion Therapy Market Share by Product (2023 & 2032)
13. Global Home Infusion Therapy Market Share by Application (2023 & 2032)
14. Global Home Infusion Therapy Market Share by Regions (2023 & 2032)
15. Global Home Infusion Therapy Market Share by Company (2022)