The global hemp environmental control system market is expected to reach USD 14.58 billion by 2030, at a CAGR of 15.62% from 2022 to 2030. The hemp environmental control system market would be driven by the rising demand for hemp in the textile, automotive, paper, food and beverages, construction, and personal care industry. Favorable government regulations encouraging hemp cultivation/production to reduce the carbon dioxide in the atmosphere and avert climate crisis will also positively influence the growth of the hemp environmental control system market.
Market Overview:
Hemp belongs to the botanical class of cannabis Sativa cultivars. In layman's language, it is a part of the same family as that cannabis, which is popularly known worldwide for its medicinal and psychotic properties. However, hemp only has 0.3% or less of THS. THS is tetrahydrocannabinol, the principal psychoactive constituent of cannabis. The hemp plant anatomy consists of its seeds, buds, flowers, leaves, and stems. The seeds are used in automotive, paper, textile, personal care, and food and beverages. Similarly, plant matter such as leaves and stems of the hemp plant are in the textile, paper, packaging, and construction industry. Hemp is also well known for its medicinal properties, especially the benefits of hemp in improving heart health. The increasing awareness about the medicinal properties of hemp has increased its demand in the pharmaceutical sector. One of the significant factors driving the hemp plantation worldwide is its environmental benefits. It is called nature's purifier, as it sequesters amounts of carbon dioxide from the atmosphere. A hemp environmental control system provides the management of temperature, air, ventilation, humidity, and nutrient levels for healthy hemp cultivation. The control system allows the cultivators/farmers to monitor, control and regulate the growth environment of the hemp plants, which enables them to achieve a consistent yield and increased revenues. The high sensitivity of hemp plants towards environmental changes can reduce crop yield and quantity; therefore, the importance of environmental control systems has increased globally.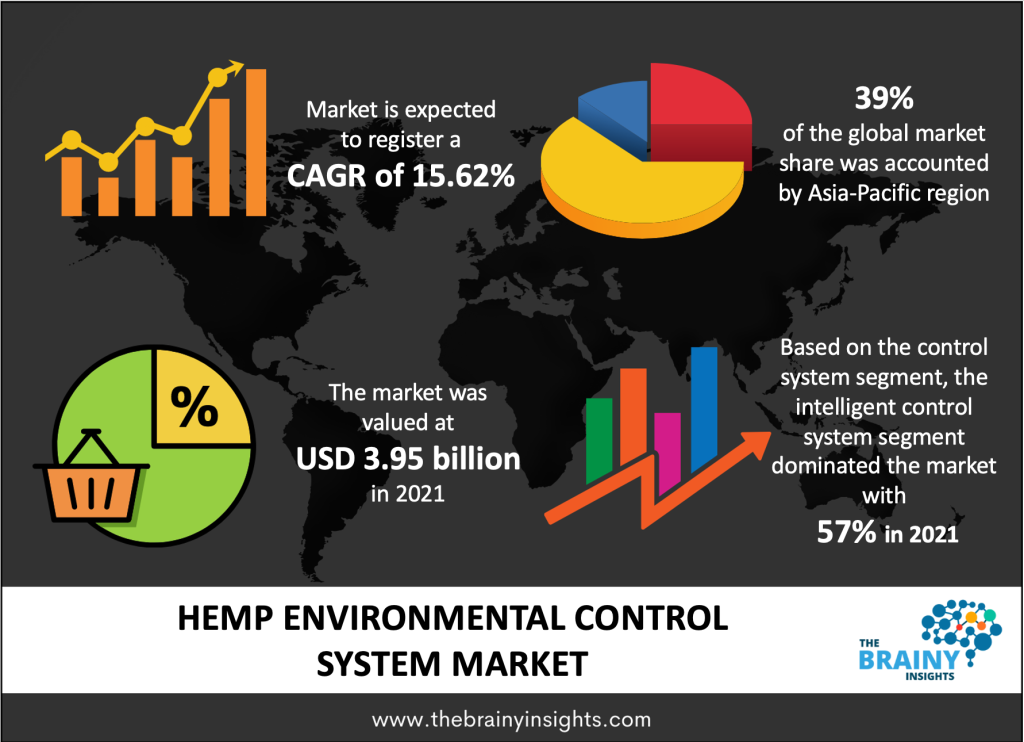 Get an overview of this study by requesting a free sample
Market Dynamics:
Drivers:
Increasing demand for hemp across industries
Hemp is also known as nature's purifier. A hemp plant takes out a significant amount of carbon dioxide from the atmosphere. Given the rising awareness about climate change, environmental degradation & its severe consequences on humankind, hemp cultivation is being encouraged by governments globally. Furthermore, hemp has several uses spanning across industries. Hemp is used in food & beverages, automotive, furniture, construction, textile, paper, and personal care. It is used in the construction industry in oil paints, printing inks, solvents, coatings, acrylics, and fiberglass substitutes. Similarly, it is used in the textile industries in clothing, shoes, denim, and handbags. The growing use of hemp in numerous industries will drive the hemp environmental control system market.
Restraints:
Capital intensive nature of hemp environmental control systems
Hemp environmental control systems market growth would be hampered by the high costs of installation associated with it. Hemp environmental control systems are highly sophisticated devices equipped with features that monitor, control, and improve hemp plant growth. These systems use high-end technologies like artificial technology, high resolutions sensors, and plant tracking devices.
Opportunities:
Favorable government regulations
The rising concern about the climate crisis has encouraged governments globally to look for sustainable products. Hemp is a sustainable product with the added advantage of being a carbon dioxide absorber. Several governments, including the United States of America and India, have introduced hemp farming/cultivation bills in their respective countries to encourage hemp production. Several other nations are bound to follow the same path to curb the climate crisis, which will provide lucrative opportunities to the market players and other market stakeholders.
Challenges:
Lack of awareness about hemp environmental control systems
The use of hemp environmental control systems for producing a hemp crop is at a nascent stage in the developing world. Intelligent control systems integrating AI are still being tested, with innovations and advancements coming up regularly. The production of hemp is not new in the world; however, the use of environmental control systems is still a new concept unknown to hemp cultivators. The numerous regulations governing hemp cultivation are also hindering the market's growth. Similarly, stringent rules guide the use of hemp, which could prove challenging for the market players.
Segmentation Analysis:
The global hemp environmental control system market has been segmented based on control systems, end-use, and regions.
The control system segment is divided into intelligent control systems and non-intelligent control systems. The intelligent control system segment dominated the market, with a market share of around 57% in 2021. The intelligent control system uses AI or artificial intelligence to monitor, control, and improve the hemp yield. An intelligent control system utilizes sensors, automated monitoring systems, plant tracking devices, and other equipment to assist hemp farmers/producers ensure a consistent yield. Since hemp production is highly susceptible to damage if not produced in a meticulously controlled environment, farmers/producers of hemp are adopting an intelligent control system to check production errors and improve yield consistency, cost-efficiency, and profit margins. An intelligent control system gathers data on the plant's growth. It provides necessary tweaks to environmental conditions like humidity, light, temperature, and ventilation in line with the needs of the production. Increasing investment in developing better AI technologies and their growing integration/application across industries contributes to the growth of intelligent control systems in hemp production.
The end-user segment is divided into hemp plantation and hemp research centers. In 2021, the hemp plantation segment dominated the market, accounting for around 64% of global revenue. The rising awareness about the medicinal benefits of hemp, like reducing cholesterol, improving heart health, and regulating blood pressure, is increasing the demand for hemp by the pharmaceutical industries. The liberal laws enacted by various governments concerning the production, processing, packaging, distribution, and consumption of hemp are also driving the growth of hemp plantations worldwide. Hemp can be grown almost anywhere with less water, pesticides, and herbicides. It is a versatile crop and offers a high return on investment to production. Hemp is a sustainable biomaterial with a variety of medicinal benefits. It nourishes the soil, making it good for the environment as well. The numerous benefits economic, health, commercial, and environmental benefits of hemp plantation can be attributed to the growing dominance of the segment in the market.
Regional Segmentation Analysis:
The regions analyzed for the market include North America, Europe, South America, Asia Pacific, the Middle East, and Africa. Asia Pacific region emerged as the largest market for the global hemp environmental control system market, with a 39% share of the market revenue in 2021.
The Asia Pacific currently dominates the hemp environmental control system market due to the growing cultivation of hemp by the region's developing economies. Countries like China, India, South Korea, Australia, and New Zealand are leading industrial hemp production to be used in the textile, automotive, pharmaceutical, personal care, agriculture, construction, and paper industries, among many others. The Asia Pacific will continue its domination during the forecast period due to the increasing presence of major industrial, medical, and food production units which utilize industrial hemp in their products. Rising government initiatives aimed at sustainability will also contribute to the growth of the Asia Pacific hemp environmental control system market.
Asia Pacific Region Hemp Environmental Control System Market Share in 2021 - 39%
www.thebrainyinsights.com
Check the geographical analysis of this market by requesting a free sample
Competitive Analysis:
In September 2021, Green Rush Packaging released Grip' N Lock cannabis packaging. The customers can make these little and big boxes. The Grip' N Lock cannabis storage boxes have received approval under 16 CFR 1700. Gloss box finishes increase the material's water resistance and prevent printing from fading.
List of Key Market Players:
Argus Control Systems
Ceres Greenhouse Solutions
Climate Control Systems
Surna Cultivation Technologies
Delta T Solutions
Stuppy Inc.
GrowSpan Greenhouse Structures
Rimol Greenhouse Systems Inc.
Wadsworth Control Systems Inc.
Data Aire Inc.
Key Target Audience
Market Players
Investors
End-users
Government Authorities
Consulting And Research Firm
Venture capitalists
Third-party knowledge providers
Value-Added Resellers (VARs)
| Attribute | Description |
| --- | --- |
| Market Size | Revenue (USD Billion) |
| Market size value in 2021 | USD 3.95 billion |
| Market size value in 2030 | USD 14.58 billion |
| CAGR (2022 to 2030) | 15.62% |
| Historical data | 2019-2020 |
| Base Year | 2021 |
| Forecast | 2022-2030 |
| Segments | Control system , end-user, country |
| Regional Segments | The regions analyzed for the market are Europe, Asia Pacific, North America, South America, and Middle East & Africa. |
Frequesntly Asked Questions
1. Introduction
1.1. Objectives of the Study
1.2. Market Definition
1.3. Research Scope
1.4. Currency
1.5. Key Target Audience

2. Research Methodology and Assumptions

3. Executive Summary

4. Premium Insights
4.1. Porter's Five Forces Analysis
4.2. Value Chain Analysis
4.3. Top Investment Pockets
4.3.1. Market Attractiveness Analysis By Control System
4.3.2. Market Attractiveness Analysis By End Use
4.3.3. Market Attractiveness Analysis By Region
4.4. Industry Trends

5. Market Dynamics
5.1. Market Evaluation
5.2. Drivers
5.2.1. Increasing demand for hemp across industries
5.3. Restraints
5.3.1. Capital intensive nature of hemp environmental control systems
5.4. Opportunities
5.4.1. The growing consumer demand in developing economies
5.5. Challenges
5.5.1. Lack of awareness about hemp environmental control systems

6. Global Hemp Environmental Control System Market Analysis and Forecast, By Control System
6.1. Segment Overview
6.2. Intelligent Control System
6.3. Non-Intelligent Control System

7. Global Hemp Environmental Control System Market Analysis and Forecast, By End Use
7.1. Segment Overview
7.2. Hemp Plantation
7.3. Hemp Research Centers

8. Global Hemp Environmental Control System Market Analysis and Forecast, By Regional Analysis
8.1. Segment Overview
8.2. North America
8.2.1. U.S.
8.2.2. Canada
8.2.3. Mexico
8.3. Europe
8.3.1. Germany
8.3.2. France
8.3.3. U.K.
8.3.4. Italy
8.3.5. Spain
8.4. Asia-Pacific
8.4.1. Japan
8.4.2. China
8.4.3. India
8.5. South America
8.5.1. Brazil
8.6. Middle East and Africa
8.6.1. UAE
8.6.2. South Africa

9. Global Hemp Environmental Control System Market-Competitive Landscape
9.1. Overview
9.2. Market Share of Key Players in the Hemp Environmental Control System Market
9.2.1. Global Company Market Share
9.2.2. North America Company Market Share
9.2.3. Europe Company Market Share
9.2.4. APAC Company Market Share
9.3. Competitive Situations and Trends
9.3.1. Product Launches and Developments
9.3.2. Partnerships, Collaborations, and Agreements
9.3.3. Mergers & Acquisitions
9.3.4. Expansions

10. Company Profiles
10.1. Argus Control Systems
10.1.1. Business Overview
10.1.2. Company Snapshot
10.1.3. Company Market Share Analysis
10.1.4. Company Product Portfolio
10.1.5. Recent Developments
10.1.6. SWOT Analysis
10.2. Ceres Greenhouse Solutions
10.2.1. Business Overview
10.2.2. Company Snapshot
10.2.3. Company Market Share Analysis
10.2.4. Company Product Portfolio
10.2.5. Recent Developments
10.2.6. SWOT Analysis
10.3. Climate Control Systems
10.3.1. Business Overview
10.3.2. Company Snapshot
10.3.3. Company Market Share Analysis
10.3.4. Company Product Portfolio
10.3.5. Recent Developments
10.3.6. SWOT Analysis
10.4. Surna Cultivation Technologies
10.4.1. Business Overview
10.4.2. Company Snapshot
10.4.3. Company Market Share Analysis
10.4.4. Company Product Portfolio
10.4.5. Recent Developments
10.4.6. SWOT Analysis
10.5. Delta T Solutions
10.5.1. Business Overview
10.5.2. Company Snapshot
10.5.3. Company Market Share Analysis
10.5.4. Company Product Portfolio
10.5.5. Recent Developments
10.5.6. SWOT Analysis
10.6. Stuppy Inc.
10.6.1. Business Overview
10.6.2. Company Snapshot
10.6.3. Company Market Share Analysis
10.6.4. Company Product Portfolio
10.6.5. Recent Developments
10.6.6. SWOT Analysis
10.7. GrowSpan Greenhouse Structures
10.7.1. Business Overview
10.7.2. Company Snapshot
10.7.3. Company Market Share Analysis
10.7.4. Company Product Portfolio
10.7.5. Recent Developments
10.7.6. SWOT Analysis
10.8. Rimol Greenhouses Systems Inc.
10.8.1. Business Overview
10.8.2. Company Snapshot
10.8.3. Company Market Share Analysis
10.8.4. Company Product Portfolio
10.8.5. Recent Developments
10.8.6. SWOT Analysis
10.9. Wadsworth Control Systems Inc.
10.9.1. Business Overview
10.9.2. Company Snapshot
10.9.3. Company Market Share Analysis
10.9.4. Company Product Portfolio
10.9.5. Recent Developments
10.9.6. SWOT Analysis
10.10. Data Aire Inc.
10.10.1. Business Overview
10.10.2. Company Snapshot
10.10.3. Company Market Share Analysis
10.10.4. Company Component Portfolio
10.10.5. Recent Developments
10.10.6. SWOT Analysis

List of Table
1. Global Hemp Environmental Control System Market, By Control System, 2019-2030 (USD Billion)
2. Global Intelligent Hemp Environmental Control System Market, By Region, 2019-2030 (USD Billion)
3. Global Non-Intelligent Hemp Environmental Control System Market, By Region, 2019-2030 (USD Billion)
4. Global Hemp Environmental Control System Market, By End Use, 2019-2030 (USD Billion)
5. Global Hemp Plantation Hemp Environmental Control System Market, By Region, 2019-2030 (USD Billion)
6. Global Hemp Research Centers Hemp Environmental Control System Market, By Region, 2019-2030 (USD Billion)
7. Global Hemp Environmental Control System Market, By Region, 2019-2030 (USD Billion)
8. North America Hemp Environmental Control System Market, By Control System, 2019-2030 (USD Billion)
9. North America Hemp Environmental Control System Market, By End Use, 2019-2030 (USD Billion)
10. U.S. Hemp Environmental Control System Market, By Control System, 2019-2030 (USD Billion)
11. U.S. Hemp Environmental Control System Market, By End Use, 2019-2030 (USD Billion)
12. Canada Hemp Environmental Control System Market, By Control System, 2019-2030 (USD Billion)
13. Canada Hemp Environmental Control System Market, By End Use, 2019-2030 (USD Billion)
14. Mexico Hemp Environmental Control System Market, By Control System, 2019-2030 (USD Billion)
15. Mexico Hemp Environmental Control System Market, By End Use, 2019-2030 (USD Billion)
16. Europe Hemp Environmental Control System Market, By Control System, 2019-2030 (USD Billion)
17. Europe Hemp Environmental Control System Market, By End Use, 2019-2030 (USD Billion)
18. Germany Hemp Environmental Control System Market, By Control System, 2019-2030 (USD Billion)
19. Germany Hemp Environmental Control System Market, By End Use, 2019-2030 (USD Billion)
20. France Hemp Environmental Control System Market, By Control System, 2019-2030 (USD Billion)
21. France Hemp Environmental Control System Market, By End Use, 2019-2030 (USD Billion)
22. U.K. Hemp Environmental Control System Market, By Control System, 2019-2030 (USD Billion)
23. U.K. Hemp Environmental Control System Market, By End Use, 2019-2030 (USD Billion)
24. Italy Hemp Environmental Control System Market, By Control System, 2019-2030 (USD Billion)
25. Italy Hemp Environmental Control System Market, By End Use, 2019-2030 (USD Billion)
26. Spain Hemp Environmental Control System Market, By Control System, 2019-2030 (USD Billion)
27. Spain Hemp Environmental Control System Market, By End Use, 2019-2030 (USD Billion)
28. Asia Pacific Hemp Environmental Control System Market, By Control System, 2019-2030 (USD Billion)
29. Asia Pacific Hemp Environmental Control System Market, By End Use, 2019-2030 (USD Billion)
30. Japan Hemp Environmental Control System Market, By Control System, 2019-2030 (USD Billion)
31. Japan Hemp Environmental Control System Market, By End Use, 2019-2030 (USD Billion)
32. China Hemp Environmental Control System Market, By Control System, 2019-2030 (USD Billion)
33. China Hemp Environmental Control System Market, By End Use, 2019-2030 (USD Billion)
34. India Hemp Environmental Control System Market, By Control System, 2019-2030 (USD Billion)
35. India Hemp Environmental Control System Market, By End Use, 2019-2030 (USD Billion)
36. South America Hemp Environmental Control System Market, By Control System, 2019-2030 (USD Billion)
37. South America Hemp Environmental Control System Market, By End Use, 2019-2030 (USD Billion)
38. Brazil Hemp Environmental Control System Market, By Control System, 2019-2030 (USD Billion)
39. Brazil Hemp Environmental Control System Market, By End Use, 2019-2030 (USD Billion)
40. Middle East and Africa Hemp Environmental Control System Market, By Control System, 2019-2030 (USD Billion)
41. Middle East and Africa Hemp Environmental Control System Market, By End Use, 2019-2030 (USD Billion)
42. UAE Hemp Environmental Control System Market, By Control System, 2019-2030 (USD Billion)
43. UAE Hemp Environmental Control System Market, By End Use, 2019-2030 (USD Billion)
44. South Africa Hemp Environmental Control System Market, By Control System, 2019-2030 (USD Billion)
45. South Africa Hemp Environmental Control System Market, By End Use, 2019-2030 (USD Billion)
List of Figures
1. Global Hemp Environmental Control System Market Segmentation
2. Hemp Environmental Control System Market: Research Methodology
3. Market Size Estimation Methodology: Bottom-Up Approach
4. Market Size Estimation Methodology: Top-Down Approach
5. Data Triangulation
6. Porter's Five Forces Analysis
7. Value Chain Analysis
8. Global Hemp Environmental Control System Market Attractiveness Analysis By Control System
9. Global Hemp Environmental Control System Market Attractiveness Analysis By End Use
10. Global Hemp Environmental Control System Market Attractiveness Analysis By Region
11. Global Hemp Environmental Control System Market: Dynamics
12. Global Hemp Environmental Control System Market Share by Control System (2022 & 2030)
13. Global Hemp Environmental Control System Market Share by End Use (2022 & 2030)
14. Global Hemp Environmental Control System Market Share by Regions (2022 & 2030)
15. Global Hemp Environmental Control System Market Share by Company (2021)