The global heat exchangers market was valued at USD 19.68 billion in 2022 and growing at a CAGR of 6.53% from 2022 to 2030. The market is expected to reach USD 32.65 billion by 2030. Asia Pacific is expected to increase the fastest during the forecast period.
Market Introduction:
A heat exchanger is a piece of machinery used to transfer heat from one working fluid to another. Both cooling and heating processes frequently use heat exchangers. A solid wall keeps the liquids from one another to prevent mixing. They are extensively utilized for many different purposes, including heating homes, air conditioning, refrigeration, hydropower dams, waste management, the extraction of oil and gas, chemical and petrochemical industries, and many more. A heat exchanger is most frequently used in internal combustion engines, where coolant from the engine circulates through radiator coils. At the same time, air passes by, cooling the coolant and heating the incoming air.
The primary factor driving up demand for heat exchangers is maximizing thermal efficiency. The rapidly growing chemicals and hydrocarbon industries, as well as several prospective mega power projects, will all contribute to a significant rise in the need for heat exchangers. The demand for heat exchangers is projected to increase due to the rapidly expanding heating, ventilation, and air conditioning (HVAC) sector and brisk capacity expansions in the power and hydrocarbons sectors. The heat exchanger market is increasing due to the large number of players competing in this space. But one of the main things hindering the expansion of the heat exchanger market is the variation in the price of raw materials.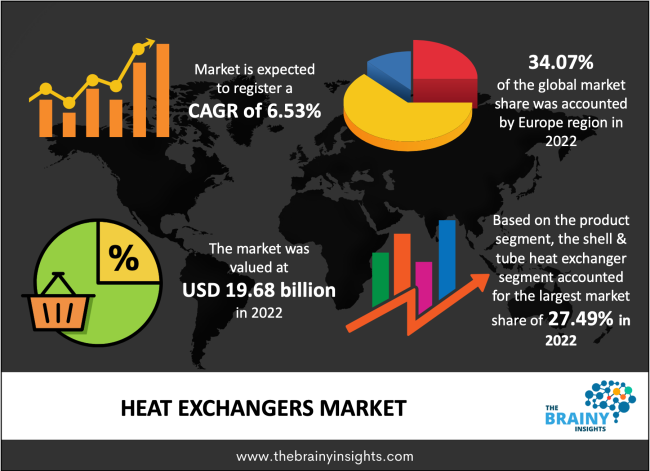 Get an overview of this study by requesting a free sample
Recent Development
SWEP, a division of Dover Corporation, unveiled the BX4T brazed plate heat exchanger (BPHE) in January 2021 as the newest model in the B4-sized lineup for the refrigeration industry. Given that it has a smaller design than earlier economizers, the BX4T is perfect for variable refrigerant flow (VRF), heat pumps, and condensing units.
The construction of a new factory by ALFA LAVAL in San Bonifacio, Italy, to produce brazed heat exchangers (BHE) was seen in 2021. Given the growing customer demand for heat exchangers, the new factory will be better able to meet it. A cutting-edge research lab for refrigerant investigations and training facilities are also available. While establishing strong customer ties, the company seeks to boost its manufacturing capacity.
BOYD Corporation established a new manufacturing facility in Juarez, Mexico, in 2021 to expand its business operations in North America. The company will use renewable energy to automate various thermal systems and tailored materials production. For the 40,000-square-metre facility, a quality management system will be recognized. As part of the growth plan, more complex liquid cooling systems, liquid cold plates, and advanced rotary dies will be produced to meet North American demand.
Market Dynamics:
Drivers:
Increasing demand in cross-domain applications- For many different applications, heat exchangers are deployed in many sectors. For instance, they are used in the oil, gas, and power industries for heat recovery and pasteurizing food and beverage items. These are mainly used as cooling equipment in the industrial sector, in addition to the application mentioned above. Coolants that control the system's operating temperature are used to cool these heat exchangers. The application scope is expanding along with the growth of all the industries mentioned above due to increased energy demands and power consumption. Due to all the stated causes, it is anticipated that there will be an increase in the need for this exchanger globally throughout the projection period. Globally, every sector produces waste heat that can be collected and applied to utilize high temperatures and energies. Because they are equipped with the functionality to carry out the same tasks, equipment like waste heat boilers and heat recovery steam generators are quite popular across all industry verticals. Their use ultimately generates income for the owner because it increases heat utilization and decreases energy expenses per unit. The growth of application industries, such as food and beverage and power plants, promotes investments in such exchangers.
Opportunities:
Increasing energy consumption- Rapid urbanization in developing countries, together with increased investment in manufacturing, commercial, and industrial developments, has contributed to the overall expansion of the heat exchangers market. This growth can be attributable to increased market penetration in various end-use industries, including food and beverage, HVAC & refrigeration, petrochemicals, power generation, and chemicals. Many developing economies are substituting industrialized countries as heat exchangers' primary customers. The expansion of the petrochemical sector has been influenced by several variables, including escalating environmental requirements, vast industrial dispersion, stringent government regulation, and the rising significance of specialized chemicals. Increasing energy consumption opens up the lucrative potential for heat exchanger market advancement. The heat exchanger market will have many possibilities as nuclear power plants continue to be built. Heat exchangers strongly impact the total efficiency and power output of a nuclear power plant. The expansion of heat exchangers used in atomic reactors, improvements to existing nuclear power plants, and new nuclear power plant proposals are key growth prospects for the market for heat exchangers. Coal will be used in several projects to produce electricity. Heat exchangers are used in all coal-fired power plants. Hence a significant increase in demand is anticipated for this product. With 443 nuclear reactors running in 32 countries worldwide as of 2020 and more than 60 reactors currently under development, there will be opportunities for the market for heat exchangers in the future.
Segmentation analysis:
Regional segmentation analysis:
The regions analyzed for the market include North America, Europe, South America, Asia Pacific, the Middle East, and Africa. Europe emerged as the most significant global heat exchangers market, with a 34.07% market revenue share in 2022.
Europe, which accounted for 34.07% of the total revenue in the global heat exchangers market in 2022, led the market revenue share. The demand for heat exchangers in the HVAC & refrigeration industry is expected to increase as public and private infrastructure investments. Additionally, demand for heat exchangers that offer increased durability, improved efficiency, and less fouling from several end-use industries has benefited the market's expansion.
However, along with Europe, the demand for heat exchangers in North America is anticipated to be driven by increasing oil & gas development operations in the United States and Canada. Additionally, rising energy consumption across a range of industrial and commercial sectors is anticipated to enhance the power and energy industries, which would have a favourable effect on the heat exchanger market.
Europe Region Heat Exchangers Market Share in 2022 - 34.07%
www.thebrainyinsights.com
Check the geographical analysis of this market by requesting a free sample
Product Segment Analysis
The product segment is divided into shell & tube heat exchangers, plate & frame heat exchangers, air-cooled heat exchangers, and others. The shell & tube heat exchanger segment dominated the market, with a market share of around 27.49% in 2022. Shell & tubes are constructed by inserting a collection into a cylindrical shell, with the tube axis running parallel to the shell's axis. Floating-head type, U-tube design, and fixed tube sheet design are the three most popular forms of shell & tube products. Applications that call for transfer between two liquids, between liquids & gases, or between two gases, as well as a wide range of temperature and pressure, use shell & tube products. These exchangers are the best for transferring heat from steam to water because of their straightforward design. However, they need big spaces, which is expected to limit segment expansion during the projected period.
End-Use Segment Analysis
The end-use segment is divided into oil & gas, power generation, pulp & paper, chemical & petrochemical, food & beverage, HVAC & refrigeration, and others. In 2022, the chemical & petrochemical segment dominated the market, accounting for around 19.47% of global revenue. Because of their qualities, including design flexibility and strong corrosion resistance, heat exchangers are employed in the chemical processing industry (CPI). They can manage fluids with varied quantities of solids due to their characteristics. The petrochemical is expected to expand due to the increased need for clothes, plastics, digital devices, medical equipment, and packaging. In addition, it is projected that the industry will expand due to the widespread use of petrochemical products in current energy systems, including wind turbine blades, solar panels, and electric car parts. Therefore, it is anticipated that the abovementioned factors will increase demand for these products in the chemical and petrochemical sector.
Some of the Key Market Players:
Kelvion Holding GmbH
API Heat Transfer
HRS Heat Exchangers
Koch Heat Transfer Company
Heatmaster BV
Southwest Thermal Technology
Alfa Laval
Xylem Inc.
SAACKE GmbH
Danfoss
GEA Heat Exchangers
Hisaka Works, Ltd.
Report Description:
| Attribute | Description |
| --- | --- |
| Market Size | Revenue (USD Billion) |
| Market size value in 2022 | USD 19.68 Billion |
| Market size value in 2030 | USD 32.65 Billion |
| CAGR (2022 to 2030) | 6.53% |
| Historical data | 2019-2020 |
| Base Year | 2021 |
| Forecast | 2022-2030 |
| Segments | Product, End-Use |
| Regional Segments | The regions analyzed for the market are Europe, Asia Pacific, North America, South America, and Middle East & Africa. |
Frequesntly Asked Questions
1. Introduction
1.1. Objective of the Study
1.2. Market Definition
1.3. Research Scope
1.4. Currency
1.5. Key Target Audience

2. Research Methodology and Assumptions

3. Executive Summary

4. Premium Insights
4.1. Porter's Five Forces Analysis
4.2. Value Chain Analysis
4.3. Top Investment Pockets
4.3.1. Market Attractiveness Analysis By Product
4.3.2. Market Attractiveness Analysis By End-Use
4.3.3. Market Attractiveness Analysis By Region
4.4. Industry Trends

5. Market Dynamics
5.1. Market Evaluation
5.2. Drivers
5.2.1. Increasing demand in the cross-domain applications
5.3. Opportunities
5.3.1. Increasing energy consumption

6. Global Heat Exchangers Market Analysis and Forecast, By Product
6.1. Segment Overview
6.2. Shell & Tube Heat Exchanger
6.3. Plate & Frame Heat Exchanger
6.4. Air-Cooled Heat Exchanger
6.5. Others

7. Global Heat Exchangers Market Analysis and Forecast, By End-Use
7.1. Segment Overview
7.2. Oil & Gas
7.3. Power Generation
7.4. Pulp & Paper
7.5. Chemical & Petrochemical
7.6. Food & Beverage
7.7. HVAC & Refrigeration
7.8. Others

8. Global Heat Exchangers Market Analysis and Forecast, By Regional Analysis
8.1. Segment Overview
8.2. North America
8.2.1. U.S.
8.2.2. Canada
8.2.3. Mexico
8.3. Europe
8.3.1. Germany
8.3.2. France
8.3.3. U.K.
8.3.4. Italy
8.3.5. Spain
8.4. Asia-Pacific
8.4.1. Japan
8.4.2. China
8.4.3. India
8.5. South America
8.5.1. Brazil
8.6. Middle East and Africa
8.6.1. UAE
8.6.2. South Africa

9. Global Heat Exchangers Market-Competitive Landscape
9.1. Overview
9.2. Market Share of Key Players in the Heat Exchangers Market
9.2.1. Global Company Market Share
9.2.2. North America Company Market Share
9.2.3. Europe Company Market Share
9.2.4. APAC Company Market Share
9.3. Competitive Situations and Trends
9.3.1. Product Launches and Developments
9.3.2. Partnerships, Collaborations, and Agreements
9.3.3. Mergers & Acquisitions
9.3.4. Expansions

10. Company Profiles
10.1. Kelvion Holding GmbH
10.1.1. Business Overview
10.1.2. Company Snapshot
10.1.3. Company Market Share Analysis
10.1.4. Company Product Portfolio
10.1.5. Recent Developments
10.1.6. SWOT Analysis
10.2. API Heat Transfer
10.2.1. Business Overview
10.2.2. Company Snapshot
10.2.3. Company Market Share Analysis
10.2.4. Company Product Portfolio
10.2.5. Recent Developments
10.2.6. SWOT Analysis
10.3. HRS Heat Exchangers
10.3.1. Business Overview
10.3.2. Company Snapshot
10.3.3. Company Market Share Analysis
10.3.4. Company Product Portfolio
10.3.5. Recent Developments
10.3.6. SWOT Analysis
10.4. Koch Heat Transfer Company
10.4.1. Business Overview
10.4.2. Company Snapshot
10.4.3. Company Market Share Analysis
10.4.4. Company Product Portfolio
10.4.5. Recent Developments
10.4.6. SWOT Analysis
10.5. Heatmaster BV
10.5.1. Business Overview
10.5.2. Company Snapshot
10.5.3. Company Market Share Analysis
10.5.4. Company Product Portfolio
10.5.5. Recent Developments
10.5.6. SWOT Analysis
10.6. Southwest Thermal Technology
10.6.1. Business Overview
10.6.2. Company Snapshot
10.6.3. Company Market Share Analysis
10.6.4. Company Product Portfolio
10.6.5. Recent Developments
10.6.6. SWOT Analysis
10.7. Alfa Laval
10.7.1. Business Overview
10.7.2. Company Snapshot
10.7.3. Company Market Share Analysis
10.7.4. Company Product Portfolio
10.7.5. Recent Developments
10.7.6. SWOT Analysis
10.8. Xylem Inc.
10.8.1. Business Overview
10.8.2. Company Snapshot
10.8.3. Company Market Share Analysis
10.8.4. Company Product Portfolio
10.8.5. Recent Developments
10.8.6. SWOT Analysis
10.9. SAACKE GmbH
10.9.1. Business Overview
10.9.2. Company Snapshot
10.9.3. Company Market Share Analysis
10.9.4. Company Product Portfolio
10.9.5. Recent Developments
10.9.6. SWOT Analysis
10.10. Danfoss
10.10.1. Business Overview
10.10.2. Company Snapshot
10.10.3. Company Market Share Analysis
10.10.4. Company Product Portfolio
10.10.5. Recent Developments
10.10.6. SWOT Analysis
10.11. GEA Heat Exchangers
10.11.1. Business Overview
10.11.2. Company Snapshot
10.11.3. Company Market Share Analysis
10.11.4. Company Product Portfolio
10.11.5. Recent Developments
10.11.6. SWOT Analysis
10.12. Hisaka Works, Ltd.
10.12.1. Business Overview
10.12.2. Company Snapshot
10.12.3. Company Market Share Analysis
10.12.4. Company Product Portfolio
10.12.5. Recent Developments
10.12.6. SWOT Analysis
List of Table
1. Global Heat Exchangers Market, By Product, 2019-2030 (USD Billion)
2. Global Shell & Tube Heat Exchanger, Heat Exchangers Market, By Region, 2019-2030 (USD Billion)
3. Global Plate & Frame Heat Exchanger, Heat Exchangers Market, By Region, 2019-2030 (USD Billion)
4. Global Air-Cooled Heat Exchanger, Heat Exchangers Market, By Region, 2019-2030 (USD Billion)
5. Global Others, Heat Exchangers Market, By Region, 2019-2030 (USD Billion)
6. Global Heat Exchangers Market, By End-Use, 2019-2030 (USD Billion)
7. Global Oil & Gas, Heat Exchangers Market, By Region, 2019-2030 (USD Billion)
8. Global Power Generation, Heat Exchangers Market, By Region, 2019-2030 (USD Billion)
9. Global Pulp & Paper, Heat Exchangers Market, By Region, 2019-2030 (USD Billion)
10. Global Chemical & Petrochemical, Heat Exchangers Market, By Region, 2019-2030 (USD Billion)
11. Global Food & Beverage, Heat Exchangers Market, By Region, 2019-2030 (USD Billion)
12. Global HVAC & Refrigeration, Heat Exchangers Market, By Region, 2019-2030 (USD Billion)
13. Global Others, Heat Exchangers Market, By Region, 2019-2030 (USD Billion)
14. Global Heat Exchangers Market, By Region, 2019-2030 (USD Billion)
15. North America Heat Exchangers Market, By Product, 2019-2030 (USD Billion)
16. North America Heat Exchangers Market, By End-Use, 2019-2030 (USD Billion)
17. U.S. Heat Exchangers Market, By Product, 2019-2030 (USD Billion)
18. U.S. Heat Exchangers Market, By End-Use, 2019-2030 (USD Billion)
19. Canada Heat Exchangers Market, By Product, 2019-2030 (USD Billion)
20. Canada Heat Exchangers Market, By End-Use, 2019-2030 (USD Billion)
21. Mexico Heat Exchangers Market, By Product, 2019-2030 (USD Billion)
22. Mexico Heat Exchangers Market, By End-Use, 2019-2030 (USD Billion)
23. Europe Heat Exchangers Market, By Product, 2019-2030 (USD Billion)
24. Europe Heat Exchangers Market, By End-Use, 2019-2030 (USD Billion)
25. Germany Heat Exchangers Market, By Product, 2019-2030 (USD Billion)
26. Germany Heat Exchangers Market, By End-Use, 2019-2030 (USD Billion)
27. France Heat Exchangers Market, By Product, 2019-2030 (USD Billion)
28. France Heat Exchangers Market, By End-Use, 2019-2030 (USD Billion)
29. U.K. Heat Exchangers Market, By Product, 2019-2030 (USD Billion)
30. U.K. Heat Exchangers Market, By End-Use, 2019-2030 (USD Billion)
31. Italy Heat Exchangers Market, By Product, 2019-2030 (USD Billion)
32. Italy Heat Exchangers Market, By End-Use, 2019-2030 (USD Billion)
33. Spain Heat Exchangers Market, By Product, 2019-2030 (USD Billion)
34. Spain Heat Exchangers Market, By End-Use, 2019-2030 (USD Billion)
35. Asia Pacific Heat Exchangers Market, By Product, 2019-2030 (USD Billion)
36. Asia Pacific Heat Exchangers Market, By End-Use, 2019-2030 (USD Billion)
37. Japan Heat Exchangers Market, By Product, 2019-2030 (USD Billion)
38. Japan Heat Exchangers Market, By End-Use, 2019-2030 (USD Billion)
39. China Heat Exchangers Market, By Product, 2019-2030 (USD Billion)
40. China Heat Exchangers Market, By End-Use, 2019-2030 (USD Billion)
41. India Heat Exchangers Market, By Product, 2019-2030 (USD Billion)
42. India Heat Exchangers Market, By End-Use, 2019-2030 (USD Billion)
43. South America Heat Exchangers Market, By Product, 2019-2030 (USD Billion)
44. South America Heat Exchangers Market, By End-Use, 2019-2030 (USD Billion)
45. Brazil Heat Exchangers Market, By Product, 2019-2030 (USD Billion)
46. Brazil Heat Exchangers Market, By End-Use, 2019-2030 (USD Billion)
47. Middle East and Africa Heat Exchangers Market, By Product, 2019-2030 (USD Billion)
48. Middle East and Africa Heat Exchangers Market, By End-Use, 2019-2030 (USD Billion)
49. UAE Heat Exchangers Market, By Product, 2019-2030 (USD Billion)
50. UAE Heat Exchangers Market, By End-Use, 2019-2030 (USD Billion)
51. South Africa Heat Exchangers Market, By Product, 2019-2030 (USD Billion)
52. South Africa Heat Exchangers Market, By End-Use, 2019-2030 (USD Billion)
List of Figures
1. Global Heat Exchangers Market Segmentation
2. Heat Exchangers Market: Research Methodology
3. Market Size Estimation Methodology: Bottom-Up Approach
4. Market Size Estimation Methodology: Top-Down Approach
5. Data Triangulation
6. Porter's Five Forces Analysis
7. Value Chain Analysis
8. Global Heat Exchangers Market Attractiveness Analysis By Product
9. Global Heat Exchangers Market Attractiveness Analysis By End-Use
10. Global Heat Exchangers Market Attractiveness Analysis By Region
11. Global Heat Exchangers Market: Dynamics
12. Global Heat Exchangers Market Share by Product (2022 & 2030)
13. Global Heat Exchangers Market Share by End-Use (2022 & 2030)
14. Global Heat Exchangers Market Share by Regions (2022 & 2030)
15. Global Heat Exchangers Market Share by Company (2021)