The hangover cure products market was valued at USD 1.83 billion in 2021 and is expected to expand at a CAGR of 14.7% over the forecast period from 2022 to 2030. The increasing consumption of alcoholic drinks is driving the growth of hangover cure products such as rehydration supplements, drinks, and powders. Moreover, increasing consumer focus on maintaining health even after the consumption of alcoholic drinks is likely to propel the growth.
Alcohol consumption can result in several conditions, such as dehydration, inflammation, sleep disturbance, hormonal imbalance, and direct toxin effects. With rising awareness of harmful side effects of alcohol consumption, such as dehydration and inflammation, consumers are focusing on adopting alcohol detox products, including hangover cure products, to avoid the deteriorating side effects of excess alcohol consumption.
The COVID‑19 pandemic has impacted the patterns and places of alcohol consumption. Many individuals started engaging in harmful drinking to cope with the rising stress. During the pandemic, people have shifted their places of drinking from bars and restaurants to home. Overall, most consumers did not change their drinking quantity, among those who did, a higher percentage of people consumed more.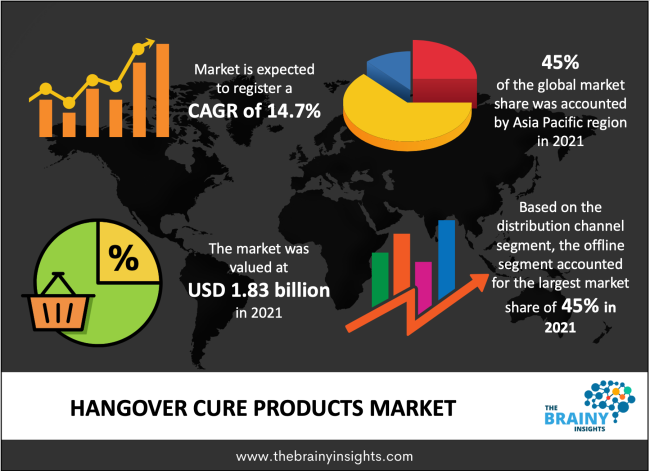 Get an overview of this study by requesting a free sample
The growing awareness about the hangover cure products through social media platforms like YouTube and Instagram in countries the US, the UK, South Korea, and Australia, is likely to drive market growth during the forecast period. Moreover, the increasing availability and focus of companies to include herbal extracts, such as aloe vera, green tea extract, and Gotu kola, in their product offerings owing to the growing demand for herbal ingredients is anticipated to boost the demand for herbal hangover solutions.
In November 2020, BIOTAKE GmbH (ALCOVIT), a Germany-based company, launched hangover cure products in the US. The supplement is made from a mixture of vitamins, minerals, and antioxidants, which are designed to minimize the effects of a hangover. Thus, the increasing availability of products is expected to boost the demand for the products over the upcoming years.
Product Insights
Drinks/Solutions held the largest market share of more than 35% in 2021. Hangover cure solutions are gaining impetus owing to the robust demand from health-conscious consumers for premium hydration products to combat hangovers. Market players such as More Labs, and Morning Fresh have introduced hangover solutions in a range of flavors.
The increasing number of product launches to fulfill consumer demand is expected to boost the demand for this segment. For instance, in November 2020, Dong-A Pharmaceutical reinvigorated its hangover drink 'Morning Care' in versions S, H, and D for consumers to choose from. The company's design has reflected customers' needs, allowing customers to choose drinks depending on their specific needs.
Patches are expected to register the fastest CAGR during the forecast period. The demand for rehydration patches will prevail in the coming years as a majority of consumers seek innovative options when it comes to hangover cure products. These patches are applied on the skin before alcohol consumption, which allows active ingredients to diffuse through the pores of the skin, thereby maintaining nutrient levels during and after alcohol consumption.
Players like RallyPatch, LLC, and Party Patch are extending their product offerings in the natural hangover patches segment, which is expected to have a positive impact on the market growth. RallyPatch, LLC offers natural hangover patches infused with green tea, milk thistle, and globe artichoke extract. This highly effective combination has been attracting consumers.
Distribution Channel Insights
Offline held the largest market share of more than 45% in 2021. The high-profit margin from hangover cure products has prompted retailers to dedicate certain shelf space for these products and expand their locations. For instance, Vitamin Cottage Natural Grocers, a US-based health and food company engaged in the manufacturing of hangover supplements expanded its presence by launching four specialty stores in the US in April 2021. This move was designed to help the company reach maximum consumers and increase its brand awareness.
The online distribution channel is anticipated to register the fastest CAGR during the forecast period. Owing to the growing popularity of this distribution channel, several market players are launching hangover cure products through online platforms. For instance, in December 2020, IVUSION Beverage Company, LLC launched a hangover hydration drink on its official store website. The hangover hydration drink is formulated with electrolytes, vitamins, and essential minerals to offer multipurpose hydration benefits to consumers. Consumers can shop for the product on the company website and other third-party websites such as Amazon and Alibaba.
Regional Insights
Asia Pacific accounted for the highest share of more than 45% in 2021. The increasing awareness in countries such as India, Australia, Thailand, Indonesia, Singapore, and Malaysia about hangover cure products is expected to boost regional growth. Moreover, product launches are also supporting market growth. For instance, In October 2020, Singapore startup DrinkAid launched an anti-hangover capsule to reduce 'Asian Flush' by using pyroglutamic acid that increases liver recovery rate and intoxication, which is driving the consumption.
Europe is expected to witness the fastest growth from 2022-2030. According to a research study by The Lancet in 2019, the European region has the highest prevalence of alcohol drinkers and one of the highest rates of alcohol consumption per capita in the world. This scenario is likely to create huge opportunities for the hangover cure products market in this region. High product visibility and increasing product launches are the major factors driving the demand for hangover cure products in the region. For instance, in 2019, Glasgow biochemists, Dhruv Trivedi and Vandana Pillai introduced an after-alcohol drink, "Bounce Back" in the UK. The product claims to ensure that party-goers feel replenished after a good sleep.
Key Players
The key players in the market have been implementing various strategies to increase market penetration such as partnerships with retailers, and pharmacy stores, and focusing on building online distribution channels.
Bayer AG
More Labs
Flyby
Rally Labs LLC
Himalaya Wellness
DOTSHOT
DONG-A SOCIO HOLDINGS
GLAMI.COM
NoDaysWasted
HK inno.N Corp
DrinkAde
Party Patch
HANDOK
Cheers Health Inc.
Segments Covered in the Report
Product

Drinks/Solutions
Powder
Tablets & Capsules
Patches
Others

Distribution Channel
Regional

North America
US
Canada
Europe
UK
Germany
France
Italy
Spain
Asia Pacific
China
Japan
India
Australia
South Korea
Singapore
Malaysia
Central and South America
Brazil
Middle East and Africa
UAE
1. Introduction
1.1. Objectives of the Study
1.2. Market Definition
1.3. Research Scope
1.4. Currency
1.5. Key Target Audience

2. Research Methodology and Assumptions

3. Executive Summary

4. Premium Insights
4.1. Porter's Five Forces Analysis
4.2. Value Chain Analysis
4.3. Top Investment Pockets
4.3.1. Market Attractiveness Analysis by Product
4.3.2. Market Attractiveness Analysis by Distribution Channel
4.3.3. Market Attractiveness Analysis by Region
4.4. Industry Trends

5. Market Dynamics
5.1. Market Evaluation
5.2. Drivers
5.2.1. Increasing consumption of alcohol
5.3. Restraints
5.3.1. Lack of product awareness
5.4. Opportunities
5.4.1. Adoption from Millennials and Generation Z
5.5. Challenges
5.5.1. Stringent regulation policies by FDA

6. Global Hangover Cure Products Market Analysis and Forecast, By Product
6.1. Segment Overview
6.2. Drinks/Solutions
6.3. Powder
6.4. Tablets & Capsules
6.5. Patches
6.6. Others

7. Global Hangover Cure Products Market Analysis and Forecast, By Distribution Channel
7.1. Segment Overview
7.2. Online
7.3. Offline

8. Global Hangover Cure Products Market Analysis and Forecast, By Regional Analysis
8.1. Segment Overview
8.2. North America
8.2.1. U.S.
8.2.2. Canada
8.2.3. Mexico
8.3. Europe
8.3.1. Germany
8.3.2. France
8.3.3. U.K.
8.3.4. Italy
8.3.5. Spain
8.4. Asia-Pacific
8.4.1. Japan
8.4.2. China
8.4.3. India
8.5. South America
8.5.1. Brazil
8.6. Middle East and Africa
8.6.1. UAE
8.6.2. South Africa

9. Global Hangover Cure Products Market-Competitive Landscape
9.1. Overview
9.2. Market Share of Key Players in the Hangover Cure Products Market
9.2.1. Global Company Market Share
9.2.2. North America Company Market Share
9.2.3. Europe Company Market Share
9.2.4. APAC Company Market Share
9.3. Competitive Situations and Trends
9.3.1. Product Launches and Developments
9.3.2. Partnerships, Collaborations, and Agreements
9.3.3. Mergers & Acquisitions
9.3.4. Expansions

10. Company Profiles
10.1. Bayer AG
10.1.1. Business Overview
10.1.2. Company Snapshot
10.1.3. Company Market Share Analysis
10.1.4. Company Product Portfolio
10.1.5. Recent Developments
10.1.6. SWOT Analysis
10.2. More Labs
10.2.1. Business Overview
10.2.2. Company Snapshot
10.2.3. Company Market Share Analysis
10.2.4. Company Product Portfolio
10.2.5. Recent Developments
10.2.6. SWOT Analysis
10.3. Flyby
10.3.1. Business Overview
10.3.2. Company Snapshot
10.3.3. Company Market Share Analysis
10.3.4. Company Product Portfolio
10.3.5. Recent Developments
10.3.6. SWOT Analysis
10.4. Rally Labs LLC
10.4.1. Business Overview
10.4.2. Company Snapshot
10.4.3. Company Market Share Analysis
10.4.4. Company Product Portfolio
10.4.5. Recent Developments
10.4.6. SWOT Analysis
10.5. Himalaya Wellness
10.5.1. Business Overview
10.5.2. Company Snapshot
10.5.3. Company Market Share Analysis
10.5.4. Company Product Portfolio
10.5.5. Recent Developments
10.5.6. SWOT Analysis
10.6. DOTSHOT
10.6.1. Business Overview
10.6.2. Company Snapshot
10.6.3. Company Market Share Analysis
10.6.4. Company Product Portfolio
10.6.5. Recent Developments
10.6.6. SWOT Analysis
10.7. DONG-A SOCIO HOLDINGS
10.7.1. Business Overview
10.7.2. Company Snapshot
10.7.3. Company Market Share Analysis
10.7.4. Company Product Portfolio
10.7.5. Recent Developments
10.7.6. SWOT Analysis
10.8. GLAMI.COM
10.8.1. Business Overview
10.8.2. Company Snapshot
10.8.3. Company Market Share Analysis
10.8.4. Company Product Portfolio
10.8.5. Recent Developments
10.8.6. SWOT Analysis
10.9. NoDaysWasted
10.9.1. Business Overview
10.9.2. Company Snapshot
10.9.3. Company Market Share Analysis
10.9.4. Company Product Portfolio
10.9.5. Recent Developments
10.9.6. SWOT Analysis
10.10. HK inno.N Corp
10.10.1. Business Overview
10.10.2. Company Snapshot
10.10.3. Company Market Share Analysis
10.10.4. Company Product Portfolio
10.10.5. Recent Developments
10.10.6. SWOT Analysis
10.11. DrinkAde
10.11.1. Business Overview
10.11.2. Company Snapshot
10.11.3. Company Market Share Analysis
10.11.4. Company Product Portfolio
10.11.5. Recent Developments
10.11.6. SWOT Analysis
10.12. Party Patch
10.12.1. Business Overview
10.12.2. Company Snapshot
10.12.3. Company Market Share Analysis
10.12.4. Company Product Portfolio
10.12.5. Recent Developments
10.12.6. SWOT Analysis
10.13. HANDOK
10.13.1. Business Overview
10.13.2. Company Snapshot
10.13.3. Company Market Share Analysis
10.13.4. Company Product Portfolio
10.13.5. Recent Developments
10.13.6. SWOT Analysis
10.14. Cheers Health Inc.
10.14.1. Business Overview
10.14.2. Company Snapshot
10.14.3. Company Market Share Analysis
10.14.4. Company Product Portfolio
10.14.5. Recent Developments
10.14.6. SWOT Analysis
List of Table
1. Global Hangover Cure Products Market, By Product, 2019-2030 (USD Billion)
2. Global Drinks/Solutions Hangover Cure Products Market, By Region, 2019-2030 (USD Billion)
3. Global Powder Hangover Cure Products Market, By Region, 2019-2030 (USD Billion)
4. Global Tablets & Capsules Hangover Cure Products Market, By Region, 2019-2030 (USD Billion)
5. Global Patches Hangover Cure Products Market, By Region, 2019-2030 (USD Billion)
6. Global Others Hangover Cure Products Market, By Region, 2019-2030 (USD Billion)
7. Global Hangover Cure Products Market, By Distribution Channel, 2019-2030 (USD Billion)
8. Global Online Hangover Cure Products Market, By Region, 2019-2030 (USD Billion)
9. Global Offline Hangover Cure Products Market, By Region, 2019-2030 (USD Billion)
10. Global Hangover Cure Products Market, By Region, 2019-2030 (USD Billion)
11. North America Hangover Cure Products Market, By Product, 2019-2030 (USD Billion)
12. North America Hangover Cure Products Market, By Distribution Channel, 2019-2030 (USD Billion)
13. U.S. Hangover Cure Products Market, By Product, 2019-2030 (USD Billion)
14. U.S. Hangover Cure Products Market, By Distribution Channel, 2019-2030 (USD Billion)
15. Canada Hangover Cure Products Market, By Product, 2019-2030 (USD Billion)
16. Canada Hangover Cure Products Market, By Distribution Channel, 2019-2030 (USD Billion)
17. Mexico Hangover Cure Products Market, By Product, 2019-2030 (USD Billion)
18. Mexico Hangover Cure Products Market, By Distribution Channel, 2019-2030 (USD Billion)
19. Europe Hangover Cure Products Market, By Product, 2019-2030 (USD Billion)
20. Europe Hangover Cure Products Market, By Distribution Channel, 2019-2030 (USD Billion)
21. Germany Hangover Cure Products Market, By Product, 2019-2030 (USD Billion)
22. Germany Hangover Cure Products Market, By Distribution Channel, 2019-2030 (USD Billion)
23. France Hangover Cure Products Market, By Product, 2019-2030 (USD Billion)
24. France Hangover Cure Products Market, By Distribution Channel, 2019-2030 (USD Billion)
25. U.K. Hangover Cure Products Market, By Product, 2019-2030 (USD Billion)
26. U.K. Hangover Cure Products Market, By Distribution Channel, 2019-2030 (USD Billion)
27. Italy Hangover Cure Products Market, By Product, 2019-2030 (USD Billion)
28. Italy Hangover Cure Products Market, By Distribution Channel, 2019-2030 (USD Billion)
29. Spain Hangover Cure Products Market, By Product, 2019-2030 (USD Billion)
30. Spain Hangover Cure Products Market, By Distribution Channel, 2019-2030 (USD Billion)
31. Asia Pacific Hangover Cure Products Market, By Product, 2019-2030 (USD Billion)
32. Asia Pacific Hangover Cure Products Market, By Distribution Channel, 2019-2030 (USD Billion)
33. Japan Hangover Cure Products Market, By Product, 2019-2030 (USD Billion)
34. Japan Hangover Cure Products Market, By Distribution Channel, 2019-2030 (USD Billion)
35. China Hangover Cure Products Market, By Product, 2019-2030 (USD Billion)
36. China Hangover Cure Products Market, By Distribution Channel, 2019-2030 (USD Billion)
37. India Hangover Cure Products Market, By Product, 2019-2030 (USD Billion)
38. India Hangover Cure Products Market, By Distribution Channel, 2019-2030 (USD Billion)
39. South America Hangover Cure Products Market, By Product, 2019-2030 (USD Billion)
40. South America Hangover Cure Products Market, By Distribution Channel, 2019-2030 (USD Billion)
41. Brazil Hangover Cure Products Market, By Product, 2019-2030 (USD Billion)
42. Brazil Hangover Cure Products Market, By Distribution Channel, 2019-2030 (USD Billion)
43. Middle East and Africa Hangover Cure Products Market, By Product, 2019-2030 (USD Billion)
44. Middle East and Africa Hangover Cure Products Market, By Distribution Channel, 2019-2030 (USD Billion)
45. UAE Hangover Cure Products Market, By Product, 2019-2030 (USD Billion)
46. UAE Hangover Cure Products Market, By Distribution Channel, 2019-2030 (USD Billion)
47. South Africa Hangover Cure Products Market, By Product, 2019-2030 (USD Billion)
48. South Africa Hangover Cure Products Market, By Distribution Channel, 2019-2030 (USD Billion)
List of Figures
1. Global Hangover Cure Products Market Segmentation
2. Hangover Cure Products Market: Research Methodology
3. Market Size Estimation Methodology: Bottom-Up Approach
4. Market Size Estimation Methodology: Top-Down Approach
5. Data Triangulation
6. Porter's Five Forces Analysis
7. Value Chain Analysis
8. Global Hangover Cure Products Market Attractiveness Analysis by Product
9. Global Hangover Cure Products Market Attractiveness Analysis by Distribution Channel
10. Global Hangover Cure Products Market Attractiveness Analysis by Region
11. Global Hangover Cure Products Market: Dynamics
12. Global Hangover Cure Products Market Share by Product (2022 & 2030)
13. Global Hangover Cure Products Market Share by Distribution Channel (2022 & 2030)
14. Global Hangover Cure Products Market Share by Regions (2022 & 2030)
15. Global Hangover Cure Products Market Share by Company (2021)