The global fitness app market was valued at USD 8.5 billion in 2022, growing at a CAGR of 20.7% from 2023 to 2032. The market is expected to reach USD 55.7 billion by 2032. The growing number of working people that lead busy lives and have less time to focus on their fitness, along with the rising cases of stress, anxiety, and depression, are predicted to boost the fitness app market.
Market Introduction:
Small, niche apps made to keep users encouraged while they run, walk, cycle, or engage in any other physical activity are included in the fitness app market. Furthermore, most fitness apps are used for calorie counting; others keep statistical records of their activities or gather information on their walks, runs, and bike rides. Additionally, fitness apps allow users to connect with a personal trainer or nutritionist for assistance with areas of concern related to adopting a certain fitness regimen or working out. In addition, fitness appls offer a synchronized playlist of tunes with a consistent beat for activities like running and exercise classes. The growing importance of leading a healthy lifestyle and the rising usage of wearables, smartphones, and tablets have a favourable effect on the growth of the fitness app market. Additionally, a growing global market share for fitness apps is driven by the increased awareness of nutrition-related disorders. However, the expansion of the fitness app market is being restricted by factors including strict restrictions, high app purchase costs, technical challenges with apps, and worries about data security. Conversely, during the forecast period, the growing incidence of diseases, including obesity, hypertension, and heart problems, combined with technical breakthroughs in AI and machine learning, is anticipated to present lucrative prospects for the growth of the fitness app market.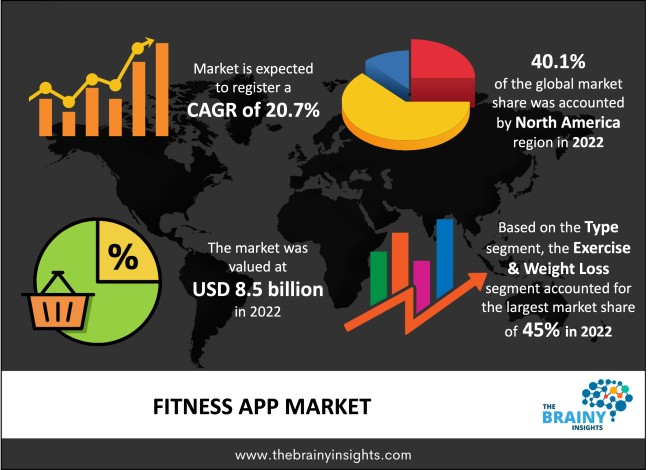 Get an overview of this study by requesting a free sample
Recent Development
In March 2021, Fitbit Inc. unveiled the Fitbit Ace 3TM, a Next Generation Activity and Sleep Tracker for Kids that makes working out enjoyable to promote a healthy lifestyle.
In April 2021, Luxe, a stylish fitness and wellness tracker made to support your holistic health, was unveiled by Fitbit Inc.
Market Dynamics:
Drivers
Increasing focus on leading a healthy lifestyle- Trends in consumer behaviour accelerated by pandemics have the power to change the healthcare system in several ways. Additionally, to live better lives within their hectic schedules, consumers began to take more responsibility for their health than ever before. Furthermore, the primary driver of the market's growth is the rising willingness of customers to discuss issues with their doctors and their increased use of tools and smart apps to research healthcare expenses and difficulties.
Restraints:
Increasing privacy breach- Protecting users' privacy and personal data is one of the main issues confronting businesses in the fitness app market. Because fitness applications use a data-driven interface, there is a risk tied to data. The data gathered by wearable devices is stored on servers hosted in the cloud, which are vulnerable to hacking. Because of this, a hacker may utilize a third party to launch phishing or social engineering attacks using the private information of individuals.
Opportunities:
Increasing use of smartphones- The rising use of smart and IoT gadgets, such as wearables, tablets, and smartphones, is driving up demand for fitness in developing countries. Furthermore, most fitness apps are used on smartphones since they are an affordable substitute for pricey gyms and fitness centres, which is a key element fueling the market's expansion. In addition, the market for fitness apps is seeing an increase in innovation and disruption due to the growing requirement for process and functional flexibility.
Regional segmentation analysis:
The regions analyzed for the market include North America, Europe, South America, Asia Pacific, the Middle East, and Africa. North America emerged as the largest global fitness app market, with a 40.1% market revenue share in 2022.
The adoption of fitness apps is being driven by several variables in North America, including the ongoing COVID-19 epidemic, the ageing population, rising chronic illness prevalence, and the quick expansion in smartphone usage. Globally, the United States leads the market for fitness applications. The widespread use of mHealth in North America is one of the main reasons driving the market's expansion. According to a Freeletics poll, 74.0% of Americans reported using at least one fitness app during the COVID-19-related shutdown, indicating that the use of fitness apps has increased during the pandemic. Furthermore, 60.0% of these customers intended to discontinue their gym subscriptions.
North America Region Fitness App Market Share in 2022 - 40.1%
www.thebrainyinsights.com
Check the geographical analysis of this market by requesting a free sample
Type Segment Analysis
The type segment is divided into diet & nutrition, activity tracking, and exercise & weight loss. The exercise & weight loss segment dominated the market, with a market share of around 45% in 2022. Diabetes, cancer, and cardiovascular disorders are just a few ailments brought on by obesity. These variables can be linked to the global increase in obesity cases. A 2017 Global Burden of Disease analysis found that obesity-related deaths accounted for 8% of all deaths worldwide.
Platform Segment Analysis
The platform segment is divided into iOS and Android. The iOS segment dominated the market, with a market share of around 62% in 2022. Featuring motivational and inspiring videos for fitness coaching, activity tracking, and streaming exercise classes, workouts, guided meditations, and stretching, the fitness app is made for iOS devices.
Some of the Key Market Players:
Appster
Azumio, Inc.
FitnessKeeper
Google
MyFitnessPal, Inc.
Polar Electro
Nike
Adidas
Asics America Corporation
Fitbit, Inc.
Fooducate
Kayla Itsines
Noom
Under Armour, Inc.
Willow Tree, Inc.
Report Description:
| Attribute | Description |
| --- | --- |
| Market Size | Revenue (USD Billion) |
| Market size value in 2022 | USD 8.5 Billion |
| Market size value in 2032 | USD 55.7 Billion |
| CAGR (2023 to 2032) | 20.7% |
| Historical data | 2019-2021 |
| Base Year | 2022 |
| Forecast | 2023-2032 |
| Region | The regions analyzed for the market are Asia Pacific, Europe, South America, North America, and Middle East & Africa. Furthermore, the regions are further analyzed at the country level. |
| Segments | Type, Platform |