The global fetal bovine serum market was valued at USD 1.7 billion in 2022, growing at a CAGR of 13.6% from 2023 to 2032. The market is expected to reach USD 6.0 billion by 2032. During the forecast period, it is anticipated that factors, including the growth of the biopharmaceutical sector in both developed and emerging nations, will increase demand for foetal bovine serum (FBS).
Market Introduction:
When pregnant cows are processed, the foetal blood of the foetuses from those cows is used to create foetal bovine serum (FBS), a nutrient-rich combination. It is a frequently used addition in cell culture media to promote the proliferation and viability of several cell types, such as primary cells, mammalian cells, and stem cells. Because of its superior growth qualities, FBS facilitates drug discovery, manufacture, and development. Cell attachment uses it as a buffer against external disturbances such as pH shifts and endotoxins. By including FBS in the freezing media, oxidative damage is avoided. Gene and cell therapies share many manufacturing techniques, which raises the risk of a potential conflict in the raw material supply chain with the production of recombinant vaccines. In addition to limited antibodies, trace elements, proteins, vitamins, growth factors, attachment factors, and hormones, it offers sheer protective power. Owing to the high concentration of elements that promote embryonic growth, foetal bovine serum is also utilized as an extra media supplement for cell culture. The serum is thought to be among the best growth promoters available for the majority of cell culture methods when compared to other animal-based serums.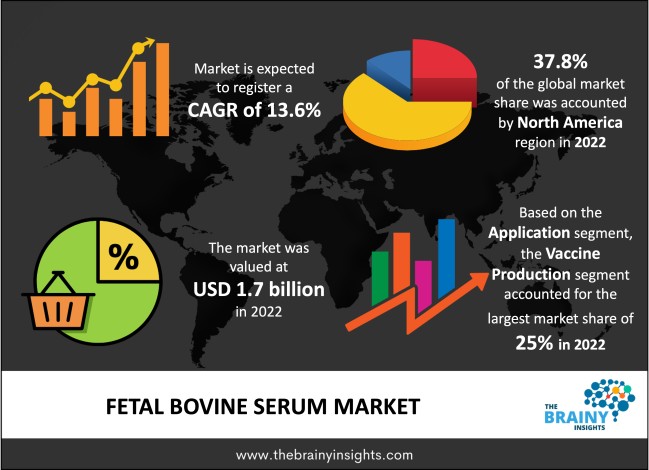 Get an overview of this study by requesting a free sample
Recent Development
In April 2021, A definitive deal between Thermo Fisher Scientific Inc. and PPD Inc. was announced, wherein Thermo Fisher will purchase PPD for a sum of USD 17.4 billion.
In March 2021, Merck KgAA declared that it will invest EUR 25 million to expand a production line for single-use assemblies at its Life Science Centre located in Molsheim, France.
Market Dynamics:
Drivers
Growing market participants' investments in the life science industry- The market for foetal bovine serum is being driven by a surge in research and development efforts within the life science sector. Regenerative medicine is a new area in the life science industry that deals with replacing, repairing, or growing damaged tissues or organs. In tissue engineering and cell-based therapy, two important fields of regenerative medicine research, foetal bovine serum is frequently employed. The need for FBS as a crucial component of these therapies rises as market participants invest more in regenerative medicine research and clinical trials. This drives the FBS market and increases venture capital investment, a strong workforce, the rapid expansion of the pharmaceutical industries, and government initiatives to support life science research.
Restraints:
Increasing price- It has been acknowledged that using cattle to produce Fetal Bovine Serum (FBS) has increased the price of FBS on the market. An increasing number of calves are being killed for making FBS, which is illegal in the according to PETA, and the producers face steep fines that drive down their marketable output. The significant spike in demand for FBS and the decline in production are the reasons for this price increase, which is hindering the market's growth.
Opportunities:
Increasing demand for FBS as a result of the shortage- Compared to other growth supplements, FBS is reasonably priced and easily obtainable from commercial vendors. Prices may rise if there is a greater demand for FBS than there is supply. FBS manufacturers and suppliers now have the chance to take advantage of the pricing difference and increase sales and earnings. To satisfy the rising demand and benefit from advantageous market conditions, producers are also investing in increasing their production capacity, which is expected to provide growth opportunities for the market during the forecast period.
Regional segmentation analysis:
The regions analyzed for the market include North America, Europe, South America, Asia Pacific, the Middle East, and Africa. North America emerged as the largest market for the global fetal bovine serum market, with a 37.8% market revenue share in 2022.
One of the main reasons for the market's expansion in the North American region is the rise in R&D spending by government organizations. The world's strongest R&D ecosystem is thought to exist in the United States. For example, a July 2022 news report states that the biotechnology sector increased its R&D spending by 94% between 2016 and 2021, reaching a total of USD 88.6 billion. The development of biopharmaceutical goods, the existence of well-established competitors in the region, and a robust healthcare infrastructure are further factors contributing to the market's growth in the region.
North America Region Fetal Bovine Serum Market Share in 2022 - 37.8%
www.thebrainyinsights.com
Check the geographical analysis of this market by requesting a free sample
Application Segment Analysis
The application segment is divided into vaccine production, drug discovery, in-vitro fertilization, cell-based research, diagnostics, toxicity testing, and cell therapy. The vaccine production segment dominated the market, with a market share of around 25% in 2022. Due to the increased manufacturing of the innovative vaccine, the segment has been expanding. FBS is a rich supply of nutrients, hormones, and growth factors that are necessary for cell growth and proliferation.
End-User Segment Analysis
The end-user segment is divided into pharmaceutical and biotechnology industries, diagnostic labs, research labs, IVF centres, and academic institutes. The pharmaceuticals and biotechnology industries segment dominated the market, with a market share of around 32% in 2022. A greater number of pharmaceutical and biotechnology companies have grown as a result of the rise in populations with diabetes and hypertension worldwide. These industries provide medications for the diseases mentioned above, which helps them earn the largest revenue share from foetal bovine serum and achieve maximum growth.
Some of the Key Market Players:
Thermo Fisher Scientific Inc.
Rocky Mountain Biologicals
Sartorius
Bio-Techne
Merck KGaA
Danaher
HiMedia Laboratories Pvt. Ltd
Sera Scandia
Atlas Biologicals
PAN-Biotech
Report Description:
| Attribute | Description |
| --- | --- |
| Market Size | Revenue (USD Billion) |
| Market size value in 2022 | USD 1.7 Billion |
| Market size value in 2032 | USD 6.0 Billion |
| CAGR (2023 to 2032) | 13.6% |
| Historical data | 2019-2021 |
| Base Year | 2022 |
| Forecast | 2023-2032 |
| Region | The regions analyzed for the market are Asia Pacific, Europe, South America, North America, and Middle East & Africa. Furthermore, the regions are further analyzed at the country level. |
| Segments | Application, End-User |