The global fertility services market was valued at USD 22 billion in 2022 and grew at a CAGR of 12% from 2023 to 2032. The market is expected to reach USD 68.32 billion by 2032. The increasing infertility rates will drive the growth of the global fertility services market.
Market Introduction:
The ability to become pregnant is known as fertility. The average number of children born in a person's lifetime is known as the fertility rate. On the other hand, infertility is the incapacity or difficulty of naturally reproducing. It depends on several variables, including age and health. For instance, a woman's fertility slowly decreases with age. Generally speaking, infertility is the inability to conceive after one year or more of unprotected intercourse. It can happen due to problems with ovulation, infections, low sperm counts, and specific drugs and therapies. Dietary changes, a healthy weight range, taking folate-containing multivitamin supplements, cutting back on caffeine, and abstaining from alcoholic beverages can help maintain healthy fertility. Consumers can use advanced medical interventions like IVF or other fertility-enhancing procedures if these lifestyle changes do not work. Egg, sperm, and embryo freezing are also a part of fertility services. Intrauterine Insemination (IUI) is another well-known procedure where During the ovulation period, a healthy sperm is extracted and placed straight into the uterus. Infertility management and fertility care services may be necessary for a wide range of people, including heterosexual couples, same-sex partners, older adults, single people, and people with specific medical conditions, such as HIV. Fertility services improve the Rate of successful Pregnancies, Assist in Overcoming Infertility in Men and Women and lower the risk of Miscarriage. Furthermore, it enables donations and allows timeline flexibility so that users can choose their ideal moment. It also Increases the Probability of Having a Healthy Offspring.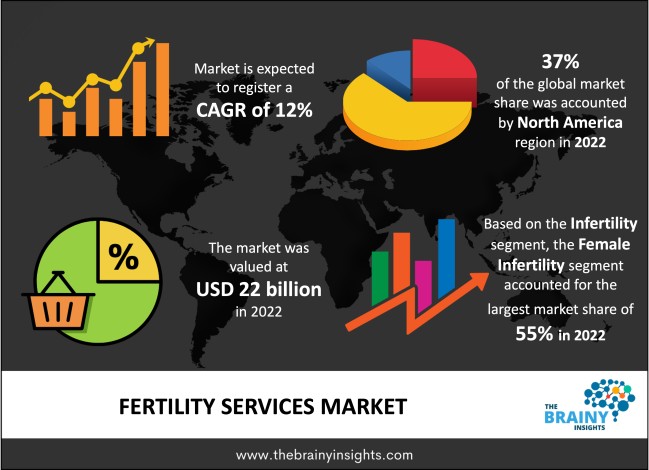 Get an overview of this study by requesting a free sample
Recent Development
At a valuation of around $1.1 billion, private equity fund BPEA EQT purchased 60% of Indira IVF Hospital Pvt. Ltd, the largest network of reproductive clinics in India, from TA Associates and the company's founders. Indira IVF is entering a new chapter of sustainable growth with its partnership with BPEA EQT. Indira IVF has expanded from a single clinic to become a national network with 116 locations in 20 Indian states. The organisation performs roughly 40,000 IVF cycles annually and provides assisted reproductive technology services in India.
Market Dynamics:
Drivers
The increasing infertility rates – various biological, lifestyle and environmental factors impact fertility. Biological factors may include structural changes in the reproductive systems that may lead to low egg or sperm count, obstructions in the travel path of eggs, low sperm motility, etc. These are again impacted by lifestyle habits, which include eating, diet, exercise, age, weight, drinking and others. For instance, the increasing prevalence of obesity contributes to low chances of conceiving babies naturally. Furthermore, the rising prevalence of alcohol, drug and cigarette consumption in both men and women leads to increasing infertility. The contemporary population is deciding to defer their family plans until their late thirties, and therefore, the risk of infertility increases, and women's fertility decreases with age. Also, governmental interventions in private family planning decisions like that in China have led to societal changes wherein couples do not want more than one child now, reducing fertility rates for many countries. All of these factors are contributing to increasing infertility, and therefore, the demand for fertility services is expected to rise in the forecast period.
Restraints:
The high cost of fertility services – the supply side is not equipped to handle the rising demand. There is a shortage of fertility clinics, given the high costs of setting up these establishments, the lack of qualified and trained staff and other restraints brought on by government rules and regulations. Furthermore, most of these providers are private and not public, leading to high fertility service costs. Additionally, most countries have no laws offering reimbursement or insurance coverage for these treatments. All these factors contribute to the high costs of fertility services, making them unaffordable for most of the population and thereby restricting the market's growth.
Opportunities:
The introduction of new and lenient laws for accessing fertility services – earlier, fertility services were accessible to married partners who could not conceive a child naturally. Single men and women were barred from accessing these services. Even homosexual couples were not allowed to access these services. Over time, laws have changed, and society is becoming more accepting towards the LGTBQ+ communities and the idea of single, unmarried women and men wanting to raise children independently. Therefore, the governments have amended the laws accordingly, which will benefit the market's growth.
Under the new legislation, couples with HIV will no longer be prohibited from using IVF to become parents. Same-sex couples with undetectable HIV—where the viral load is too low for transmission—will have access to fertility treatment, according to the Department of Health and Social Care (DHSC). Lesbian couples would no longer have to foot the bill for costly pre-IVF screening, it added, as efforts to amend "outdated" laws are underway. It is anticipated that the change will impact hundreds of UK parents-to-be. Some persons living with HIV who have, up until now, been denied the chance to become parents through fertility treatments will have their lives completely changed by this shift.
Regional segmentation analysis:
The regions analyzed for the market include North America, Europe, South America, Asia Pacific, the Middle East, and Africa. North America emerged as the most significant global fertility services market, with a 37% market revenue share in 2022.
The increasing infertility rates have increased the demand for fertility services in the region. The lifestyle changes associated with unhealthy lifestyles with bad diets and no exercise, alcohol consumption and smoking, along with drug abuse, can be attributed to the rising infertility in the region. Furthermore, the increasing number of LGBPTQ+ population has increased the demand for fertility services, enabling them to create their own family. The presence of several fertility clinics with state-of-the-art and the most advanced technologies, products and medical devices has augmented the market's growth in the forecast period.
North America Region Fertility Services Market Share in 2022 - 37%
www.thebrainyinsights.com
Check the geographical analysis of this market by requesting a free sample
According to findings from a recent study presented at the ASRM Scientific Congress & Expo, 68% of survey participants said that the United States' capacity for assisted reproductive technology (ART) needed to be expanded. A major worry raised by the majority of survey participants was the dearth of fertility services available in the United States. This project aimed to evaluate various suggested remedies and the perceived need for more fertility services to be available in the United States.
Infertility Segment Analysis
The infertility segment is male infertility and female infertility. The female infertility segment dominated the market, with a market share of around 55% in 2022. Female infertility can be defined as the inability to get pregnant naturally. Female infertility can occur due to a variety of reasons. About one-third of infertility cases are caused by female causes. Issues with hormones that stop ovulation or lead to irregular, prolonged or short menstruation cycles are common causes of female infertility. An unhealthy diet, lack of physical exercise leading to overweight issues, excessive alcohol consumption and smoking can also increase the risk of infertility. It can also occur due to structural abnormalities in the female reproductive system or medications. Furthermore, female infertility is more talked about and recorded than male fertility, given the social stigma around it, and therefore, it translates to a more recorded number of female infertilities. Medicines that control or induce ovulation, surgical interventions, and assisted reproduction, such as in vitro fertilisation (IVF) and intrauterine insemination (IUI), are recommended.
Couples who need reproductive support but are embarrassed about providing a semen sample to a clinic may put off receiving it. To overcome this problem, the reproductive clinic Bourn Hall provides a service where a sample generated at home is taken for quick analysis and a qualified fertility expert gives a personal explanation of the findings. A cutting-edge "at-home" semen analysis service, provided by Bourn Hall in collaboration with MOJO, allows men to provide a sample in the comfort of their homes, which is subsequently collected for examination. During a medical appointment, an AI-powered microscope analyses the semen, and the results are reviewed with a Bourn Hall fertility specialist.
End-user Segment Analysis
The end-user segment is divided into fertility clinics, hospitals, clinical research institutes, surgical centres and others. The fertility clinics segment dominated the market, with a market share of around 35% in 2022. The increasing infertility rates, given the lifestyle changes, demographic shifts and personal choices of individuals, have prompted government intervention to improve the fertility rates of their countries. Therefore, there has been an increase in funding for research, development and other infrastructure to build fertility clinics to assist citizens by offering affordable and accessible fertility services if they choose to opt for it. Furthermore, the normalization of talks about infertility and, thereby, the openness or acceptance of treatments has created a positive environment for the growth of fertility clinics globally. They offer specialised services in one place, which improves the users' convenience and comfort and enables doctors' functionality and efficiency.
The largest virtual clinic for women's and family health in the world, Maven Clinic, recently announced that it has teamed with Amazon to bring its family-building assistance programme to 50 nations outside the US and Canada. This programme is open to full-time, part-time, and hourly employees. Maven and Amazon have partnered to provide free access to board-certified reproductive endocrinologists (fertility physicians), obstetricians, gynaecologists, nutritionists, mental health professionals, adoption counsellors, and other healthcare providers via Maven for Amazon employees and their partners. Through Maven, Amazon staff members can get free local support through a Care Advocate who will guide them through becoming pregnant and starting a family, direct them to reputable clinics or agencies, and offer advice on family-building customs specific to their area. Doctors can be contacted via video or message chat to provide virtual care.
Procedure Segment Analysis
The procedure segment is divided into artificial insemination, in-vitro fertilization, surrogacy and others. The in-vitro fertilization segment dominated the market, with a market share of around 36% in 2022. IVF is recommended when all other medications fail, as it offers successful results. Mature eggs are removed from ovaries and fertilised in a lab by sperm during in vitro fertilisation. Subsequently, an embryo is created by implanting one or more fertilised eggs into the uterus. IVF also allows Donated sperm and eggs. It improves your chances of conception, lowers your chances of miscarriage, and increases your chances of having a healthy baby. IVF allows flexibility as it offers a choice to the couples or singles to decide the timing and the donors. The laws governing IVF have improved accessibility and affordability in the past few years. Fertility clinics offering IVF have also augmented the segment's growth. The laws have enabled access to homosexual couples and other members of the LGBTQ+ community, thereby driving the segment's development.
The world's premier network of fertility clinics and provider of benefits to businesses that foster family growth, Kindbody, has announced the establishment of a brand-new, cutting-edge IVF lab and fertility clinic in Milwaukee, WI. After five years of providing patients with excellent reproductive and family-building care throughout Wisconsin, the centrally located Kindbody clinic and lab has opened. Employers in the area and society are putting increasing pressure on Milwaukee to provide easily accessible, excellent reproductive care. The complete range of reproductive health is covered by Kindbody's clinically managed programme, which includes genetic testing, donor and surrogacy services, fertility preservation, education and assessments for both male and female fertility, and in vitro fertilisation (IVF).
Some of the Key Market Players:
Virtus Health
CooperSurgical, Inc.
Vitrolife
CARE Fertility
INVO Bioscience
Monash IVF
Fertility Focus Limited
Carolinas Fertility Institute
Apollo Hospitals Enterprise Ltd.
Merck KGaA
Report Description:
| Attribute | Description |
| --- | --- |
| Market Size | Revenue (USD Billion) |
| Market size value in 2022 | |
| Market size value in 2032 | |
| CAGR (2023 to 2032) | |
| Historical data | 2019-2021 |
| Base Year | 2022 |
| Forecast | 2023-2032 |
| Region | |
| Segments | |