The global facial implants market is expected to grow from USD 3.28 billion in 2022 to USD 6.71 billion by 2030, at a CAGR of 9.36% from 2022-2030. The North American facial implants market is expected to maintain its dominance during the forecast period.
Market Introduction:
The rising emphasis on physical appearance, given the rise of social media, has increased the demand for cosmetic surgeries. The importance of physical appearance, especially the face, is preserved in the real world. It influences an individual's chance of getting several employment opportunities or personal relationships. Face forms the first and last impression. The populace resorts to several methods, including yoga, exercising, facials, skincare, and massages, to improve their appearance. With the increasing disposable income of the population and the rise in healthcare institutions offering advanced surgical procedures, there is a growing demand for cosmetic surgeries. These surgeries enhance the facial appearance by tightening the facial muscles, offering it definition, structure, and contour, making it look younger, healthy, and glowing. Facial implants are utilized to perform these cosmetic surgeries. These facial implants are made of several materials, namely, ceramic, metal, polymer, and biologics. They are easy to inject, and they do not degrade over time. Facial implants are a more permanent option, unlike other skin care solutions. Facial implants are used in eyelid surgery, rhinoplasty, facelift, chin augmentation, cheekbone surgery, forehead surgery, and paranasal procedures. As much as they are in demand for aesthetic purposes, they can also improve the quality of life for individuals. For instance, several surgeries involving the nose can open up the nasal cavity, enabling the patient to breathe better.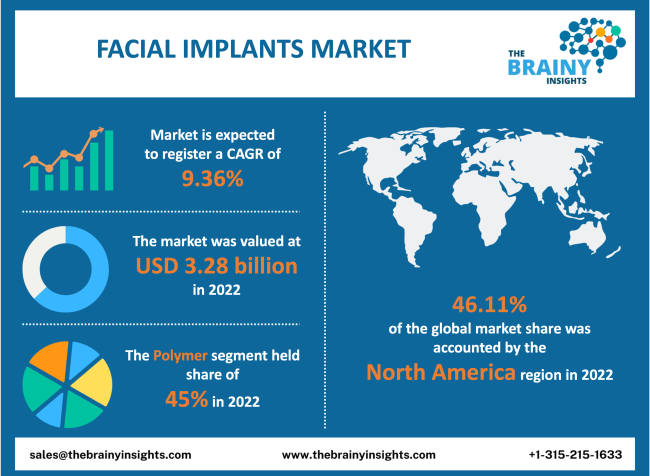 Get an overview of this study by requesting a free sample
Recent Development
June 2022 - A young male patient's facial abnormalities were effectively corrected through a series of procedures by doctors in Dubai using 3D-printed titanium implants. Many benign tumours had seriously injured the patient's facial bones, and the surgery entirely rebuilt them, according to the medical team, who claimed it was a unique occurrence worldwide. Professor Dr. Jehad Al Sukhun, an expert maxillofacial surgeon at the Emirates Hospital, who oversaw the procedure, told Periodical Today: "We have for the first time used 3D printing technology to manufacture 3D titanium face implants to rebuild the deficiency of the facial bones".
March 2022 - Zoriox Innovation Labs is a medical device company with a young and energetic team founded by Dr. Karthik Balaji, Krishna Chaitanya Gurijala, and Krishna Vaka Reddy. The group has been working with ground-breaking technology in Patient-Specific Implants (PSI). They are working with facial surgeons to reconstruct a complete solution to facial reconstruction and its needs; Zoriox has a team of surgeons, dentists, mechanical engineers, biomedical engineers, software engineers, graphic designers, prosthetists, and anatomists.
Market Dynamics:
Drivers
The rising demand for cosmetic surgeries – The contemporary world is living in the age of social media. Social media surround everything. There has been a significant rise in the number of users of Instagram, Facebook, TikTok, and other social media apps. These apps emphasize photographs and videos, basically visual representations of the users. Furthermore, the emphasis on aesthetics and an excellent physical appearance has gained popularity in the real world, besides the virtual one globally. The need to look a certain way has garnered pace in the younger population. Several celebrities with large followings have opted for cosmetic surgeries, including facial implants, to enhance their appearance. These actions of famous figures influence their followers to get the same procedures.
Furthermore, getting cosmetic surgeries is a norm in several countries to increase chances of employment, entering the entertainment business, or finding a partner. The increase in the population's disposable income and the rising awareness about the presence of facial implants as an option to enhance facial features have contributed to the market's growth. Establishing several institutions offering these services has also facilitated the market's growth. The increasing advertisement expenditure has also expanded the market scope. Technological advancements have made facial implants a quicker, cheaper, and high-end product in the global market, propelling its growth for the foreseeable future.
Restraints:
The complications associated with cosmetic surgeries – Any surgery has its own set of complications that may occur during or post-op. Despite having a relatively positive patient outcome, cosmetic surgeries with facial implants pose difficulties. The complications may respond to certain environmental factors, medications, or the body's immune system. The complications may lead to infections, blood loss, or permanent disfiguring of the face. The facial implants may rupture, the likelihood of which is very low, months after surgery. Several celebrities have botched cosmetic surgeries, and their experience discourages many from undertaking the procedure. Therefore, the complications associated with cosmetic surgeries that use facial implants will restrict the market's growth.
Opportunities:
Increasing accidents and trauma cases – The rise in accidents and trauma cases will increase the demand for cosmetic surgeries to fix facial disfigurement. Furthermore, congenital facial deformities are on the rise globally, which will also contribute to a greater need for cosmetic surgeries. The increase in accidents can be attributed to improper infrastructure, inadequate staff to overlook safety, intoxicated drivers, and negligence. Trauma cases can range from accidental injuries to the face, cooking, and sports injuries. The increasing healthcare expenditure will improve the medical infrastructure and offer better care to patients. Technological advancements would reduce costs and enhance cosmetic surgeries' efficiency, patient outcome, recovery, and effectiveness. All the factors combined would offer lucrative opportunities in the global facial implants market.
Challenges:
Lack of qualified and skilled medical professionals – There is a chronic shortage of medical professionals in the global market, especially in low-and-middle-income countries. Furthermore, there have been multiple reports of cosmetic surgeries that could have been performed better which were performed by qualified personnel. There are instances of cosmetic surgeries performed illegally to save money, and these individuals are not duly registered, licensed, or qualified to perform the surgeries. The lack of qualified and skilled medical professionals will challenge the market's growth.
Regional segmentation analysis:
The regions analyzed for the market include North America, Europe, South America, Asia Pacific, the Middle East, and Africa. The North American region emerged as the most significant global facial implants market, with a 46.11% market revenue share in 2022. Hollywood culture has a substantial following in the North American market. Celebrities, singers, and pop stars are followed closely by the media, paparazzi, and average individuals. There is a significant emphasis on appearance in the entertainment business, and many celebrities resort to injectable and cosmetic surgeries to maintain a younger appearance. Their choices of opting for cosmetic surgery influence millions to make similar choices. Several individuals opt for cosmetic surgeries to look like their favourite celebrities. The younger population is drawn towards cosmetic surgeries to enhance their physical appearance, which is greatly important given the rise of social media.
Furthermore, cosmetic surgeries are also chosen as a viable option to treat sports injuries or genetic medical conditions that may have impacted the individual's appearance. The well-established healthcare infrastructure of the region offers these surgeries to the populace on demand. Insurance coverage or several payment methods and processes provide the patient with payment flexibility. Technological advancements have improved the materials, procedures, and patient outcomes of cosmetic surgeries over the past years, encouraging more individuals to opt for the same. The minimally invasive, safe, and efficient surgical procedures instil confidence in patients, thereby contributing to the region's growth.
North America region Facial Implants Market Share in 2022 - 46.11%
www.thebrainyinsights.com
Check the geographical analysis of this market by requesting a free sample
Product type segment analysis
The product type segment is divided into the chin and mandibular, nasal, cheek, injectables and others. The chin and mandibular segment dominated the market with a market share of around 36% in 2022. The lower part of our mouth is movable. The jaw is referred to as the mandible. The end tip, where the two halves of the mandible meet, is referred to as the chin. Chin and mandible implants offer lower face structure, contour, and definition. They tighten the lower face muscles and enhance the facial appearance by improving jawline appearance. Several celebrities and influencers have a much defined jawline and chin, making them attractive. They influence millions of followers who try to get similar definitions through various means like facial yoga, face massage, or facial implants for those who can afford it. Chin and mandible are combined with other popular cosmetic surgeries, namely, double chin surgery, rhinoplasty, facelift, facial reconstruction surgery, and genioplasty. The aging population is not concerned with their receding chin and often opts for facial implants as a painless and quick solution. Therefore, the rising demand for chin and mandible reconstruction surgeries explains its dominance in the market.
Material type segment analysis
The material type segment is divided into metal, polymer, ceramic and biologics. The polymer segment dominated the market with a market share of around 45% in 2022. The polymer has several beneficial properties that are ideal for use as medical biomaterials, including facial implants, thereby explaining its dominance in the market. Firstly, the polymer is easy to manufacture. Its flexibility enables it to be reshaped and sized according to any requirements. They are excellent tensile strength along with being biocompatible or biodegradable, which is a positive for environmental conservation. Their thermal, electrical, and chemical stability and resistance contribute to their rising popularity and adoption. They have a broad scope of applications and can be used to manufacture cheek, chin, mandibular and nasal implants.
Procedure segment analysis
The procedure segment is divided into eyelid surgery, rhinoplasty, facelift, chin augmentation, cheek bone surgery, forehead surgery, paranasal procedures and others. The eyelid surgery segment dominated the market with a market share of around 37% in 2022. Eyelid surgery is also called blepharoplasty. Eyelid surgery aims to remove excess skin or fat from the eyelids. The eyes open up as a result and become a significant figure of the face. It aesthetically enhances the physical appearance of the person and instils confidence in them. Eyelid surgeries offer functional benefits besides the obvious aesthetic ones. It improves the vision of the field. It improves peripheral vision while it makes one look younger. The growing geriatric population is a significant consumer market. The minimal to no scarring increase the popularity and adoption of this procedure. It is relatively safe and a quicker option to improve vision or aesthetics.
Some of the Key Market Players:
Anthony Products Inc.
DePuy Synthes
Eurosurgical Limited
Hanson Medical Inc.
Integra Lifesciences
Johnson & Johnson
Kanghui Medical Innovation Co. Ltd.
Medartis AG
Stryker Corporation
Zimmer Biomet
Report Description:
| Attribute | Description |
| --- | --- |
| Market Size | Revenue (USD Billion) |
| Market size value in 2022 | USD 3.28 Billion |
| Market size value in 2030 | USD 6.71 Billion |
| CAGR (2022 to 2030) | 9.36% |
| Historical data | 2019-2020 |
| Base Year | 2021 |
| Forecast | 2022-2030 |
| Regional Segments | The regions examined for the market are Europe, Asia Pacific, North America, South America, and Middle East & Africa. |
| Segments | The research segment is based on product type, material type, and procedure. |
Frequesntly Asked Questions
1. Introduction
1.1. Objectives of the Study
1.2. Market Definition
1.3. Research Scope
1.4. Currency
1.5. Key Target Audience

2. Research Methodology and Assumptions

3. Executive Summary

4. Premium Insights
4.1. Porter's Five Forces Analysis
4.2. Value Chain Analysis
4.3. Top Investment Pockets
4.3.1. Market Attractiveness Analysis by Product Type
4.3.2. Market Attractiveness Analysis by Material Type
4.3.3. Market Attractiveness Analysis by Procedure
4.3.4. Market Attractiveness Analysis by Region
4.4. Industry Trends

5. Market Dynamics
5.1. Market Evaluation
5.2. Drivers
5.2.1. The rising demand for cosmetic surgeries
5.3. Restraints
5.3.1. The complications associated with cosmetic surgeries
5.4. Opportunities
5.4.1. Increasing accidents and trauma cases
5.5. Challenges
5.5.1. Lack of qualified and skilled medical professionals

6. Global Facial Implants Market Analysis and Forecast, By Product Type
6.1. Segment Overview
6.2. Chin and Mandibular
6.3. Nasal
6.4. Cheek
6.5. Injectables
6.6. Others

7. Global Facial Implants Market Analysis and Forecast, By Material Type
7.1. Segment Overview
7.2. Metal
7.3. Polymer
7.4. Ceramic
7.5. Biologics

8. Global Facial Implants Market Analysis and Forecast, By Procedure
8.1. Segment Overview
8.2. Eyelid Surgery
8.3. Rhinoplasty
8.4. Facelift
8.5. Chin Augmentation
8.6. Cheek Bone Surgery
8.7. Forehead Surgery
8.8. Paranasal Procedures
8.9. Others

9. Global Facial Implants Market Analysis and Forecast, By Regional Analysis
9.1. Segment Overview
9.2. North America
9.2.1. U.S.
9.2.2. Canada
9.2.3. Mexico
9.3. Europe
9.3.1. Germany
9.3.2. France
9.3.3. U.K.
9.3.4. Italy
9.3.5. Spain
9.4. Asia-Pacific
9.4.1. Japan
9.4.2. China
9.4.3. India
9.5. South America
9.5.1. Brazil
9.6. Middle East and Africa
9.6.1. UAE
9.6.2. South Africa

10. Global Facial Implants Market-Competitive Landscape
10.1. Overview
10.2. Market Share of Key Players in the Facial Implants Market
10.2.1. Global Company Market Share
10.2.2. North America Company Market Share
10.2.3. Europe Company Market Share
10.2.4. APAC Company Market Share
10.3. Competitive Situations and Trends
10.3.1. Product Launches and Developments
10.3.2. Partnerships, Collaborations, and Agreements
10.3.3. Mergers & Acquisitions
10.3.4. Expansions

11. Company Profiles
11.1. Anthony Products Inc.
11.1.1. Business Overview
11.1.2. Company Snapshot
11.1.3. Company Market Share Analysis
11.1.4. Company Product Portfolio
11.1.5. Recent Developments
11.1.6. SWOT Analysis
11.2. DePuy Synthes
11.2.1. Business Overview
11.2.2. Company Snapshot
11.2.3. Company Market Share Analysis
11.2.4. Company Product Portfolio
11.2.5. Recent Developments
11.2.6. SWOT Analysis
11.3. Eurosurgical Limited
11.3.1. Business Overview
11.3.2. Company Snapshot
11.3.3. Company Market Share Analysis
11.3.4. Company Product Portfolio
11.3.5. Recent Developments
11.3.6. SWOT Analysis
11.4. Hanson Medical Inc.
11.4.1. Business Overview
11.4.2. Company Snapshot
11.4.3. Company Market Share Analysis
11.4.4. Company Product Portfolio
11.4.5. Recent Developments
11.4.6. SWOT Analysis
11.5. Integra Lifesciences
11.5.1. Business Overview
11.5.2. Company Snapshot
11.5.3. Company Market Share Analysis
11.5.4. Company Product Portfolio
11.5.5. Recent Developments
11.5.6. SWOT Analysis
11.6. Johnson & Johnson
11.6.1. Business Overview
11.6.2. Company Snapshot
11.6.3. Company Market Share Analysis
11.6.4. Company Product Portfolio
11.6.5. Recent Developments
11.6.6. SWOT Analysis
11.7. Kanghui Medical Innovation Co. Ltd.
11.7.1. Business Overview
11.7.2. Company Snapshot
11.7.3. Company Market Share Analysis
11.7.4. Company Product Portfolio
11.7.5. Recent Developments
11.7.6. SWOT Analysis
11.8. Medartis AG
11.8.1. Business Overview
11.8.2. Company Snapshot
11.8.3. Company Market Share Analysis
11.8.4. Company Product Portfolio
11.8.5. Recent Developments
11.8.6. SWOT Analysis
11.9. Stryker Corporation
11.9.1. Business Overview
11.9.2. Company Snapshot
11.9.3. Company Market Share Analysis
11.9.4. Company Product Portfolio
11.9.5. Recent Developments
11.9.6. SWOT Analysis
11.10. Zimmer Biomet
11.10.1. Business Overview
11.10.2. Company Snapshot
11.10.3. Company Market Share Analysis
11.10.4. Company Product Portfolio
11.10.5. Recent Developments
11.10.6. SWOT Analysis
List of Table
1. Global Facial Implants Market, By Product Type, 2019-2030 (USD Billion)
2. Global Chin and Mandibular Facial Implants Market, By Region, 2019-2030 (USD Billion)
3. Global Nasal Facial Implants Market, By Region, 2019-2030 (USD Billion)
4. Global Cheek Facial Implants Market, By Region, 2019-2030 (USD Billion)
5. Global Injectables Facial Implants Market, By Region, 2019-2030 (USD Billion)
6. Global Others Facial Implants Market, By Region, 2019-2030 (USD Billion)
7. Global Facial Implants Market, By Material Type, 2019-2030 (USD Billion)
8. Global Metal Facial Implants Market, By Region, 2019-2030 (USD Billion)
9. Global Polymers Facial Implants Market, By Region, 2019-2030 (USD Billion)
10. Global Ceramic Facial Implants Market, By Region, 2019-2030 (USD Billion)
11. Global Biologics Facial Implants Market, By Region, 2019-2030 (USD Billion)
12. Global Facial Implants Market, By Procedure, 2019-2030 (USD Billion)
13. Global Eyelid Surgery Facial Implants Market, By Region, 2019-2030 (USD Billion)
14. Global Rhinoplasty Facial Implants Market, By Region, 2019-2030 (USD Billion)
15. Global Facelift Facial Implants Market, By Region, 2019-2030 (USD Billion)
16. Global Chin Augmentation Facial Implants Market, By Region, 2019-2030 (USD Billion)
17. Global Cheek Bone Surgery Facial Implants Market, By Region, 2019-2030 (USD Billion)
18. Global Forehead Surgery Facial Implants Market, By Region, 2019-2030 (USD Billion)
19. Global Paranasal Procedures Facial Implants Market, By Region, 2019-2030 (USD Billion)
20. Global Others Facial Implants Market, By Region, 2019-2030 (USD Billion)
21. Global Facial Implants Market, By Region, 2019-2030 (USD Billion)
22. North America Facial Implants Market, By Product Type, 2019-2030 (USD Billion)
23. North America Facial Implants Market, By Material Type, 2019-2030 (USD Billion)
24. North America Facial Implants Market, By Procedure, 2019-2030 (USD Billion)
25. U.S. Facial Implants Market, By Product Type, 2019-2030 (USD Billion)
26. U.S. Facial Implants Market, By Material Type, 2019-2030 (USD Billion)
27. U.S. Facial Implants Market, By Procedure, 2019-2030 (USD Billion)
28. Canada Facial Implants Market, By Product Type, 2019-2030 (USD Billion)
29. Canada Facial Implants Market, By Material Type, 2019-2030 (USD Billion)
30. Canada Facial Implants Market, By Procedure, 2019-2030 (USD Billion)
31. Mexico Facial Implants Market, By Product Type, 2019-2030 (USD Billion)
32. Mexico Facial Implants Market, By Material Type, 2019-2030 (USD Billion)
33. Mexico Facial Implants Market, By Procedure, 2019-2030 (USD Billion)
34. Europe Facial Implants Market, By Product Type, 2019-2030 (USD Billion)
35. Europe Facial Implants Market, By Material Type, 2019-2030 (USD Billion)
36. Europe Facial Implants Market, By Procedure, 2019-2030 (USD Billion)
37. Germany Facial Implants Market, By Product Type, 2019-2030 (USD Billion)
38. Germany Facial Implants Market, By Material Type, 2019-2030 (USD Billion)
39. Germany Facial Implants Market, By Procedure, 2019-2030 (USD Billion)
40. France Facial Implants Market, By Product Type, 2019-2030 (USD Billion)
41. France Facial Implants Market, By Material Type, 2019-2030 (USD Billion)
42. France Facial Implants Market, By Procedure, 2019-2030 (USD Billion)
43. U.K. Facial Implants Market, By Product Type, 2019-2030 (USD Billion)
44. U.K. Facial Implants Market, By Material Type, 2019-2030 (USD Billion)
45. U.K. Facial Implants Market, By Procedure, 2019-2030 (USD Billion)
46. Italy Facial Implants Market, By Product Type, 2019-2030 (USD Billion)
47. Italy Facial Implants Market, By Material Type, 2019-2030 (USD Billion)
48. Italy Facial Implants Market, By Procedure, 2019-2030 (USD Billion)
49. Spain Facial Implants Market, By Product Type, 2019-2030 (USD Billion)
50. Spain Facial Implants Market, By Material Type, 2019-2030 (USD Billion)
51. Spain Facial Implants Market, By Procedure, 2019-2030 (USD Billion)
52. Asia Pacific Facial Implants Market, By Product Type, 2019-2030 (USD Billion)
53. Asia Pacific Facial Implants Market, By Material Type, 2019-2030 (USD Billion)
54. Asia Pacific Facial Implants Market, By Procedure, 2019-2030 (USD Billion)
55. Japan Facial Implants Market, By Product Type, 2019-2030 (USD Billion)
56. Japan Facial Implants Market, By Material Type, 2019-2030 (USD Billion)
57. Japan Facial Implants Market, By Procedure, 2019-2030 (USD Billion)
58. China Facial Implants Market, By Product Type, 2019-2030 (USD Billion)
59. China Facial Implants Market, By Material Type, 2019-2030 (USD Billion)
60. China Facial Implants Market, By Procedure, 2019-2030 (USD Billion)
61. India Facial Implants Market, By Product Type, 2019-2030 (USD Billion)
62. India Facial Implants Market, By Material Type, 2019-2030 (USD Billion)
63. India Facial Implants Market, By Procedure, 2019-2030 (USD Billion)
64. South America Facial Implants Market, By Product Type, 2019-2030 (USD Billion)
65. South America Facial Implants Market, By Material Type, 2019-2030 (USD Billion)
66. South America Facial Implants Market, By Procedure, 2019-2030 (USD Billion)
67. Brazil Facial Implants Market, By Product Type, 2019-2030 (USD Billion)
68. Brazil Facial Implants Market, By Material Type, 2019-2030 (USD Billion)
69. Brazil Facial Implants Market, By Procedure, 2019-2030 (USD Billion)
70. Middle East and Africa Facial Implants Market, By Product Type, 2019-2030 (USD Billion)
71. Middle East and Africa Facial Implants Market, By Material Type, 2019-2030 (USD Billion)
72. Middle East and Africa Facial Implants Market, By Procedure, 2019-2030 (USD Billion)
73. UAE Facial Implants Market, By Product Type, 2019-2030 (USD Billion)
74. UAE Facial Implants Market, By Material Type, 2019-2030 (USD Billion)
75. UAE Facial Implants Market, By Procedure, 2019-2030 (USD Billion)
76. South Africa Facial Implants Market, By Product Type, 2019-2030 (USD Billion)
77. South Africa Facial Implants Market, By Material Type, 2019-2030 (USD Billion)
78. South Africa Facial Implants Market, By Procedure, 2019-2030 (USD Billion)
List of Figures
1. Global Facial Implants Market Segmentation
2. Facial Implants Market: Research Methodology
3. Market Size Estimation Methodology: Bottom-Up Approach
4. Market Size Estimation Methodology: Top-Down Approach
5. Data Triangulation
6. Porter's Five Forces Analysis
7. Value Chain Analysis
8. Global Facial Implants Market Attractiveness Analysis by Product Type
9. Global Facial Implants Market Attractiveness Analysis by Material Type
10. Global Facial Implants Market Attractiveness Analysis by Procedure
11. Global Facial Implants Market Attractiveness Analysis by Region
12. Global Facial Implants Market: Dynamics
13. Global Facial Implants Market Share by Product Type (2022 & 2030)
14. Global Facial Implants Market Share by Material Type (2022 & 2030)
15. Global Facial Implants Market Share by Procedure (2022 & 2030)
16. Global Facial Implants Market Share by Regions (2022 & 2030)
17. Global Facial Implants Market Share by Company (2021)