The global erectile dysfunction drugs market was valued at USD 3.0 billion in 2022, growing at a CAGR of 9% from 2023 to 2032. The market is expected to reach USD 7.1 billion by 2032. Patient awareness and knowledge are increasing, as is the ageing population. The rising prevalence of lifestyle diseases and the increasing adoption of sedentary lifestyles drive the growth of the erectile dysfunction drugs market.
Market Introduction:
Erectile dysfunction is the inability to acquire or maintain a hard enough erection for sexual contact. It's sometimes known as impotence. However, this phrase is becoming less popular. It is not unusual to experience rare erectile dysfunction. Many guys suffer from it when they are under stress. Regular erectile dysfunction might indicate underlying health issues that must be addressed. It may also signal emotional or relationship issues that require the assistance of a professional. Erectile dysfunction can occur due to problems at any stage of the erection procedure. An erection is caused by increased blood flow to the penis. Sexual ideas or a direct connection with the penis frequently cause blood flow. When a man feels sexually excited, his penile muscles relax, which boosts blood flow through the penile arteries, which serve two chambers inside the penis. The penis rigidly expands as the chambers fill with blood. An erection ends when the muscles contract, and the blood gathered can flow out through the penile veins. The doctor may recommend medication to assist you in managing your erectile dysfunction symptoms. They administer medication to patients after consulting with the doctor. There are various treatments on the market, but a doctor must prescribe them; one of the medications is Alprostadil, which treats erectile dysfunction. It comes in two forms: a penile suppository and a self-injection at the base or flank of the penis. If testosterone levels are low, the doctor may offer testosterone therapy (TRT), one of the drugs available on the market, based on the doctor's prescriptions.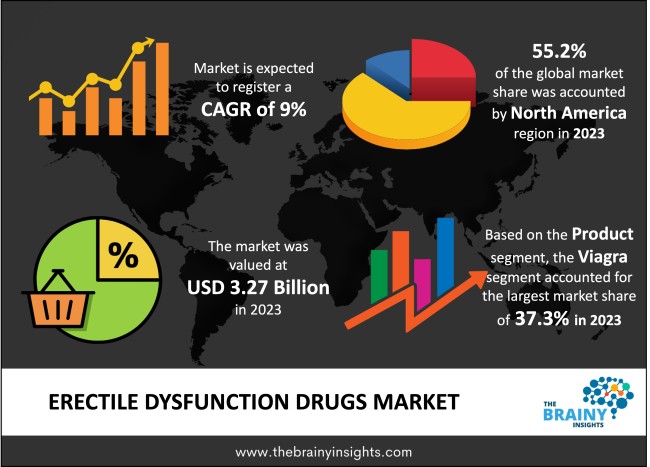 Get an overview of this study by requesting a free sample
Recent Development
In September 2021, iX Biopharma inked an agreement with CRPCG through its wholly-owned subsidiary for the licencing, supply, and sale of Wafesil, a sublingual sildenafil wafer for the treatment of male erectile dysfunction, in China.
Almus announced the release of Almus Erectile Dysfunction Relief 50mg Film-Coated Tablets to the UK pharmaceutical market in September 2021.
Launch Medical and GAINSWave announced the settlement of their lawsuit in June 2020. They began collaborating to commercialise The Phoenix, a new home-use acoustic wave gadget for treating erectile dysfunction.
Glenmark Pharma gained final approval from the US Food and Drug Administration for Tadalafil pills, used to treat erectile dysfunction and enlarged prostate, in December 2020.
Market Dynamics:
Drivers
Rising Popularity of Nicotine- The global demand for erectile dysfunction drugs is increasing due to an ageing population and a high prevalence of chronic conditions such as kidney failure, hormonal imbalance, diabetes, hypertension, and neurological problems. Furthermore, increased patient awareness of erectile dysfunction and the availability of treatment contribute considerably to the global growth of the erectile dysfunction drug market.
Restraints:
Patent Expiration- The global market is declining due to the patent expiration of significant blockbuster pharmaceuticals such as Viagra.
Opportunities:
Generic Manufacturers- The patent expiration of big brands presents a significant opportunity for generic manufacturers to enter the erectile dysfunction drugs market. Furthermore, players at various stages of the market are expected to generate significant opportunities for the global erectile dysfunction drugs market.
Regional segmentation analysis:
The regions analyzed for the market include North America, Europe, South America, Asia Pacific, the Middle East, and Africa. North America emerged as the largest market for the global erectile dysfunction drugs market, with a 55% market revenue share in 2022.
North America is predicted to lead the erectile dysfunction drugs market, owing to an ageing population, increased ED cases, and superior healthcare infrastructure. According to an MSD Manuals article published in September 2022, approximately 50% of males aged 40 to 70 are affected by ED, and the percentage rises with age. Furthermore, according to a National Institute of Diabetes and Digestive and Kidney Diseases report, ED will impact nearly 30 million men in the United States by 2021. Furthermore, the country has the highest rate of self-reported ED, which will drive market expansion during the forecast period.
Furthermore, studies and product launches to effectively treat ED fuel market expansion. Petros Pharmaceuticals, Inc., for example, launched two self-selection studies for its erectile dysfunction (ED) medicine, STENDRA (avanafil), in January 2022. Furthermore, Lupin Limited received FDA approval to market Sildenafil for oral suspension, 10 mg/mL, in September 2022. Such developments are propelling the market.
North America Region Erectile Dysfunction Drugs Market Share in 2022 - 55%
www.thebrainyinsights.com
Check the geographical analysis of this market by requesting a free sample
Product Segment Analysis
The product segment is divided into viagra, cialis, levitra/staxyn, stendra/spedra, zydena, vitaros, and others. The viagra segment dominated the market, with a market share of around 37% in 2022. Many businesses are pursuing numerous strategic initiatives such as research collaboration, collaborations, and agreements to increase their corporate presence. For example, Pfizer, Inc. and Digital Men's Clinic Roman entered a supply agreement in January 2020 to provide a generic form of Viagra to Roman members. This supply deal is likely to support the segment's growth.
Some of the Key Market Players:
Pfizer Inc.
Eli Lilly and Company
Teva Pharmaceutical Industries Ltd
Sanofi
Sun Pharmaceutical Industries Ltd
Bayer AG
Petros Pharmaceuticals, Inc.
VIVUS, Inc.
Auxilium Pharmaceuticals, Inc.
Adamed
Report Description:
| Attribute | Description |
| --- | --- |
| Market Size | Revenue (USD Billion) |
| Market size value in 2022 | USD 3.0 Billion |
| Market size value in 2032 | USD 7.1 Billion |
| CAGR (2023 to 2032) | 9% |
| Historical data | 2019-2021 |
| Base Year | 2022 |
| Forecast | 2023-2032 |
| Region | The regions analyzed for the market are Asia Pacific, Europe, South America, North America, and Middle East & Africa. Furthermore, the regions are further analyzed at the country level. |
| Segments | Product |
Frequesntly Asked Questions
As per The Brainy Insights, the size of the erectile dysfunction drugs market was valued at USD 3.0 billion in 2022 to USD 7.1 billion by 2032.
The global erectile dysfunction drugs market is growing at a CAGR of 9% during the forecast period 2023-2032.
North America emerged as the largest erectile dysfunction drugs market.
1. Introduction
1.1. Objectives of the Study
1.2. Market Definition
1.3. Research Scope
1.4. Currency
1.5. Key Target Audience

2. Research Methodology and Assumptions

3. Executive Summary

4. Premium Insights
4.1. Porter's Five Forces Analysis
4.2. Value Chain Analysis
4.3. Top Investment Pockets
4.3.1. Market Attractiveness Analysis by Product
4.3.2. Market Attractiveness Analysis by Region
4.4. Industry Trends

5. Market Dynamics
5.1. Market Evaluation
5.2. Drivers
5.2.1. Rising popularity of nicotine
5.3. Restraints
5.3.1. Patent expiration
5.4. Opportunities
5.4.1. Generic manufacturers
5.5. Challenges
5.5.1. Patient unwillingness

6. Global Erectile Dysfunction Drugs Market Analysis and Forecast, By Product
6.1. Segment Overview
6.2. Viagra
6.3. Cialis
6.4. Levitra/Staxyn
6.5. Stendra/Spedra
6.6. Zydena
6.7. Vitaros
6.8. Others

7. Global Erectile Dysfunction Drugs Market Analysis and Forecast, By Regional Analysis
7.1. Segment Overview
7.2. North America
7.2.1. U.S.
7.2.2. Canada
7.2.3. Mexico
7.3. Europe
7.3.1. Germany
7.3.2. France
7.3.3. U.K.
7.3.4. Italy
7.3.5. Spain
7.4. Asia-Pacific
7.4.1. Japan
7.4.2. China
7.4.3. India
7.5. South America
7.5.1. Brazil
7.6. Middle East and Africa
7.6.1. UAE
7.6.2. South Africa

8. Global Erectile Dysfunction Drugs Market-Competitive Landscape
8.1. Overview
8.2. Market Share of Key Players in Global Erectile Dysfunction Drugs Market
8.2.1. Global Company Market Share
8.2.2. North America Company Market Share
8.2.3. Europe Company Market Share
8.2.4. APAC Company Market Share
8.3. Competitive Situations and Trends
8.3.1. Product Launches and Developments
8.3.2. Partnerships, Collaborations, and Agreements
8.3.3. Mergers & Acquisitions
8.3.4. Expansions

9. Company Profiles
9.1. Pfizer Inc.
9.1.1. Business Overview
9.1.2. Company Snapshot
9.1.3. Company Market Share Analysis
9.1.4. Company Product Portfolio
9.1.5. Recent Developments
9.1.6. SWOT Analysis
9.2. Eli Lilly and Company
9.2.1. Business Overview
9.2.2. Company Snapshot
9.2.3. Company Market Share Analysis
9.2.4. Company Product Portfolio
9.2.5. Recent Developments
9.2.6. SWOT Analysis
9.3. Teva Pharmaceutical Industries Ltd
9.3.1. Business Overview
9.3.2. Company Snapshot
9.3.3. Company Market Share Analysis
9.3.4. Company Product Portfolio
9.3.5. Recent Developments
9.3.6. SWOT Analysis
9.4. Sanofi
9.4.1. Business Overview
9.4.2. Company Snapshot
9.4.3. Company Market Share Analysis
9.4.4. Company Product Portfolio
9.4.5. Recent Developments
9.4.6. SWOT Analysis
9.5. Sun Pharmaceutical Industries Ltd
9.5.1. Business Overview
9.5.2. Company Snapshot
9.5.3. Company Market Share Analysis
9.5.4. Company Product Portfolio
9.5.5. Recent Developments
9.5.6. SWOT Analysis
9.6. Bayer AG
9.6.1. Business Overview
9.6.2. Company Snapshot
9.6.3. Company Market Share Analysis
9.6.4. Company Product Portfolio
9.6.5. Recent Developments
9.6.6. SWOT Analysis
9.7. Petros Pharmaceuticals, Inc.
9.7.1. Business Overview
9.7.2. Company Snapshot
9.7.3. Company Market Share Analysis
9.7.4. Company Product Portfolio
9.7.5. Recent Developments
9.7.6. SWOT Analysis
9.8. VIVUS, Inc.
9.8.1. Business Overview
9.8.2. Company Snapshot
9.8.3. Company Market Share Analysis
9.8.4. Company Product Portfolio
9.8.5. Recent Developments
9.8.6. SWOT Analysis
9.9. Auxilium Pharmaceuticals, Inc.
9.9.1. Business Overview
9.9.2. Company Snapshot
9.9.3. Company Market Share Analysis
9.9.4. Company Product Portfolio
9.9.5. Recent Developments
9.9.6. SWOT Analysis
9.10. Adamed
9.10.1. Business Overview
9.10.2. Company Snapshot
9.10.3. Company Market Share Analysis
9.10.4. Company Product Portfolio
9.10.5. Recent Developments
9.10.6. SWOT Analysis

List of Table
1. Global Erectile Dysfunction Drugs Market, By Product, 2019-2032 (USD Billion)
2. Global Viagra, Erectile Dysfunction Drugs Market, By Region, 2019-2032 (USD Billion)
3. Global Cialis, Erectile Dysfunction Drugs Market, By Region, 2019-2032 (USD Billion)
4. Global Levitra/Staxyn, Erectile Dysfunction Drugs Market, By Region, 2019-2032 (USD Billion)
5. Global Stendra/Spedra, Erectile Dysfunction Drugs Market, By Region, 2019-2032 (USD Billion)
6. Global Zydena, Erectile Dysfunction Drugs Market, By Region, 2019-2032 (USD Billion)
7. Global Vitaros, Erectile Dysfunction Drugs Market, By Region, 2019-2032 (USD Billion)
8. Global Others, Erectile Dysfunction Drugs Market, By Region, 2019-2032 (USD Billion)
9. North America Erectile Dysfunction Drugs Market, By Product, 2019-2032 (USD Billion)
10. U.S. Erectile Dysfunction Drugs Market, By Product, 2019-2032 (USD Billion)
11. Canada Erectile Dysfunction Drugs Market, By Product, 2019-2032 (USD Billion)
12. Mexico Erectile Dysfunction Drugs Market, By Product, 2019-2032 (USD Billion)
13. Europe Erectile Dysfunction Drugs Market, By Product, 2019-2032 (USD Billion)
14. Germany Erectile Dysfunction Drugs Market, By Product, 2019-2032 (USD Billion)
15. France Erectile Dysfunction Drugs Market, By Product, 2019-2032 (USD Billion)
16. U.K. Erectile Dysfunction Drugs Market, By Product, 2019-2032 (USD Billion)
17. Italy Erectile Dysfunction Drugs Market, By Product, 2019-2032 (USD Billion)
18. Spain Erectile Dysfunction Drugs Market, By Product, 2019-2032 (USD Billion)
19. Asia Pacific Erectile Dysfunction Drugs Market, By Product, 2019-2032 (USD Billion)
20. Japan Erectile Dysfunction Drugs Market, By Product, 2019-2032 (USD Billion)
21. China Erectile Dysfunction Drugs Market, By Product, 2019-2032 (USD Billion)
22. India Erectile Dysfunction Drugs Market, By Product, 2019-2032 (USD Billion)
23. South America Erectile Dysfunction Drugs Market, By Product, 2019-2032 (USD Billion)
24. Brazil Erectile Dysfunction Drugs Market, By Product, 2019-2032 (USD Billion)
25. Middle East and Africa Erectile Dysfunction Drugs Market, By Product, 2019-2032 (USD Billion)
26. UAE Erectile Dysfunction Drugs Market, By Product, 2019-2032 (USD Billion)
27. South Africa Erectile Dysfunction Drugs Market, By Product, 2019-2032 (USD Billion)
List of Figures
1. Global Erectile Dysfunction Drugs Market Segmentation
2. Global Erectile Dysfunction Drugs Market: Research Methodology
3. Market Size Estimation Methodology: Bottom-Up Approach
4. Market Size Estimation Methodology: Top-Down Approach
5. Data Triangulation
6. Porter's Five Forces Analysis
7. Value Chain Analysis
8. Global Erectile Dysfunction Drugs Market Attractiveness Analysis by Product
9. Global Erectile Dysfunction Drugs Market Attractiveness Analysis by Region
10. Global Erectile Dysfunction Drugs Market: Dynamics
11. Global Erectile Dysfunction Drugs Market Share by Product (2023 & 2032)
12. Global Erectile Dysfunction Drugs Market Share by Regions (2023 & 2032)
13. Global Erectile Dysfunction Drugs Market Share by Company (2022)