The global energy balls market was valued at USD 336.72 Million in 2022 and growing at a CAGR of 6.37% from 2023 to 2032. The market is expected to reach USD 624.39 Million by 2032. North America is expected to increase the fastest during the forecast period.
Market Introduction:
Energy balls are a nutritious snack gaining popularity due to their delicious flavours and blend of protein, carbs, healthy fats, and fibre. With 100-250 calories per ball, they make a great on-the-go snack before or after exercise, providing energy without the guilt. Energy balls include dried fruit, nuts, seeds, and other ingredients, offering various flavours. The energy ball is a highly nutritious product that makes the claim, using scientific research, that it will improve physical performance during demanding physical activity and improve recovery thereafter. In this situation, energy balls are made specifically to provide the body with the required vitamins, minerals, and carbs. The market for sports food and beverages is developed for significant consumers, particularly millennials. To improve market penetration in the sports nutrition market, innovation is needed. As a result, producers are introducing alternatives like energy balls to broaden their attractiveness. Protein-rich energy snacks in the form of balls are known as energy balls. The demand for vegan energy balls has substantially increased in recent years and is still rising significantly. The need for ethnic and exotic flavourings has increased as demand for flavours like chocolate, coconut, nuts, mint, and lime has expanded considerably in developed countries. One of the primary tactics international producers use to capture consumers' attention in the more developed markets of North America and Europe is the addition of unique flavours to existing product lines. Also, the rising demand for energy-boosting foods, beverages, and gels has prompted the adoption of more appealing flavour combinations, fuelling the expansion of the global market for energy balls. Sports nutrition products have traditionally only been used by athletes and bodybuilders, but this has changed recently to accommodate everyday consumers. The demand for energy balls has significantly expanded as a result. Before this, the product was only sold at speciality stores. However, as demand for energy balls has grown, manufacturers are already putting their items on the shelves of other retail locations. Products containing energy balls became more visible as a result, both in physical stores and online retailers.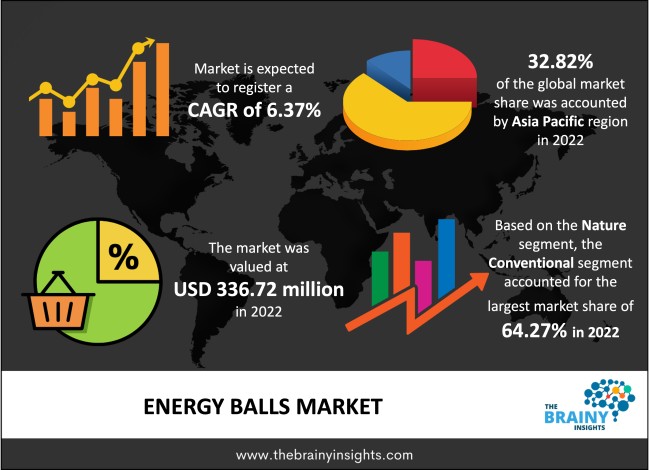 Get an overview of this study by requesting a free sample
Recent Development
In November 2020, Govinda inaugurated a brand-new organic store in Germany that sells various vegan and organic goods. The business increased revenue with the help of the new store.
Pro Fuel has partnered with various online merchants and media organizations to distribute and market its effective products, including Amazon, Black Friday Sale, RTL, and Euro Sport. The organization wants to improve sales performance through these partnerships and promote corporate expansion.
Just Wholefoods has obtained vegan and organic certifications, assuring customers that no animal components or byproducts were used in the production process. The company hopes to take advantage of the significant market for vegan and plant-based items by receiving this accreditation.
To help food manufacturers create plant-based foods, SIGA, a corporation of scientists, dietitians, and researchers, has partnered with Nuttree. The partnership enables the business to guarantee that all products are healthy and independent of ultra-transformation markers, the existence of which can compromise the potential health advantages of the food.
Market Dynamics:
Drivers
Rising consumer awareness regarding health and nutrition- In many developed nations worldwide, consumer awareness of the possible adverse effects of counterfeit pharmaceuticals is growing. The popularity of energy balls among people around the world has increased as health awareness has improved. Also, consumers are more knowledgeable about the varied nutritional qualities of nuts, cereals, and fruits and the advantages of a lifestyle-related diet, such as increased antioxidant levels and decreased risks of metabolic illnesses like obesity and diabetes. Moreover, vitamins and minerals like calcium, iron, zinc, and vitamins A, B, E, and B12 are added to energy balls.
Restraints:
Cost of production- The cost of producing energy balls is high since manufacturers have less output per unit of input and higher labour costs, and their profit margins are squeezed by growing competition. These reasons are anticipated to hinder the market for energy balls from developing.
Opportunities:
Increasing emphasis on naturally sourced ingredients- At present, producers are concentrating more on creating energy balls that are healthier and more nutritious. Manufacturers emphasize natural ingredients in their products without compromising the nutritional content. As a result, these products can be seen as more naturally sourced than their chemically generated counterparts.
Challenges:
Demand and supply gap- There is a lack of a proper balance between supply and demand since the information system and statistics available to producers are not as accurate and thorough as those of the food industry and general agriculture in nations with developed markets.
Regional segmentation analysis:
The regions analysed for the market include North America, Europe, South America, Asia Pacific, the Middle East, and Africa. Asia-Pacific emerged as the highest in the global energy balls market, with a share of 32.82% and valued at USD 110.51 Million in 2022. It results from increasing consumer preferences for nutrient-dense food products in nations like China and India, increased health consciousness among millennials, and rising per capita disposable income.
However, North America is anticipated to be the Energy Ball's primary market over the projected period. Due to the comparatively high consumption of products with a high protein concentration in the United States, the U.S. dominates North America. It is anticipated to provide the most revenue in the years to come.
Asia-Pacific Region Energy Balls Market Share in 2022 - 32.82%
www.thebrainyinsights.com
Check the geographical analysis of this market by requesting a free sample
Nature Segment Analysis
The nature segment is divided into conventional and organic. The conventional segment had the highest market share of 64.27% and was valued at USD 216.40 Million in 2022 in the energy balls market. And it is predicted to grow at the highest CAGR of 8.54% over the forecast period.
Flavour Segment Analysis
The flavour segment is divided into nut-based, chocolate-based, fruit-based, and others. The nut-based segment had the highest market share of 29.33% and was valued at USD 98.75 Million in 2022 in the energy balls market.
However, the chocolate-based segment is predicted to grow at the highest CAGR of 8.26% over the forecast period.
Some of the Key Market Players:
Bounce Foods ltd
Windmill Organics
Betty Lou's Inc.
Boostball
Made In Nature, Inc.
DELICIOUSLY ELLA LTD.
Nutri-Brex
Report Description:
| Attribute | Description |
| --- | --- |
| Market Size | Revenue (USD Million) |
| Market size value in 2022 | USD 336.72 Million |
| Market size value in 2032 | USD 624.39 Million |
| CAGR (2023 to 2032) | 6.37% |
| Historical data | 2019-2021 |
| Base Year | 2022 |
| Forecast | 2023-2032 |
| Regional Segments | The regions analyzed for the market are Europe, Asia Pacific, North America, South America, and Middle East & Africa. |
| Segments | Nature, Flavor |
Frequesntly Asked Questions
1. Introduction
1.1. Objective of the Study
1.2. Market Definition
1.3. Research Scope
1.4. Currency
1.5. Key Target Audience

2. Research Methodology and Assumptions

3. Executive Summary

4. Premium Insights
4.1. Porter's Five Forces Analysis
4.2. Value Chain Analysis
4.3. Top Investment Pockets
4.3.1. Market Attractiveness Analysis By Nature
4.3.2. Market Attractiveness Analysis By Flavour
4.3.3. Market Attractiveness Analysis By Region
4.4. Industry Trends

5. Market Dynamics
5.1. Market Evaluation
5.2. Drivers
5.2.1. Rising consumer awareness regarding health and nutrition
5.3. Restraints
5.3.1. Cost of production
5.4. Opportunities
5.4.1. Increasing emphasis on naturally sourced ingredients
5.5. Challenges
5.5.1. Demand and supply gap

6. Global Energy Balls Market Analysis and Forecast, By Nature
6.1. Segment Overview
6.2. Conventional
6.3. Organic

7. Global Energy Balls Market Analysis and Forecast, By Flavour
7.1. Segment Overview
7.2. Nut-based
7.3. Chocolate-based
7.4. Fruit-based
7.5. Others

8. Global Energy Balls Market Analysis and Forecast, By Regional Analysis
8.1. Segment Overview
8.2. North America
8.2.1. U.S.
8.2.2. Canada
8.2.3. Mexico
8.3. Europe
8.3.1. Germany
8.3.2. France
8.3.3. U.K.
8.3.4. Italy
8.3.5. Spain
8.4. Asia-Pacific
8.4.1. Japan
8.4.2. China
8.4.3. India
8.5. South America
8.5.1. Brazil
8.6. Middle East and Africa
8.6.1. UAE
8.6.2. South Africa

9. Global Energy Balls Market-Competitive Landscape
9.1. Overview
9.2. Market Share of Key Players in the Energy Balls Market
9.2.1. Global Company Market Share
9.2.2. North America Company Market Share
9.2.3. Europe Company Market Share
9.2.4. APAC Company Market Share
9.3. Competitive Situations and Trends
9.3.1. Product Launches and Developments
9.3.2. Partnerships, Collaborations, and Agreements
9.3.3. Mergers & Acquisitions
9.3.4. Expansions

10. Company Profiles
10.1. Bounce Foods ltd
10.1.1. Business Overview
10.1.2. Company Snapshot
10.1.3. Company Market Share Analysis
10.1.4. Company Product Portfolio
10.1.5. Recent Developments
10.1.6. SWOT Analysis
10.2. Windmill Organics
10.2.1. Business Overview
10.2.2. Company Snapshot
10.2.3. Company Market Share Analysis
10.2.4. Company Product Portfolio
10.2.5. Recent Developments
10.2.6. SWOT Analysis
10.3. Betty Lou's Inc.
10.3.1. Business Overview
10.3.2. Company Snapshot
10.3.3. Company Market Share Analysis
10.3.4. Company Product Portfolio
10.3.5. Recent Developments
10.3.6. SWOT Analysis
10.4. Boostball
10.4.1. Business Overview
10.4.2. Company Snapshot
10.4.3. Company Market Share Analysis
10.4.4. Company Product Portfolio
10.4.5. Recent Developments
10.4.6. SWOT Analysis
10.5. Made In Nature, Inc.
10.5.1. Business Overview
10.5.2. Company Snapshot
10.5.3. Company Market Share Analysis
10.5.4. Company Product Portfolio
10.5.5. Recent Developments
10.5.6. SWOT Analysis
10.6. DELICIOUSLY ELLA LTD.
10.6.1. Business Overview
10.6.2. Company Snapshot
10.6.3. Company Market Share Analysis
10.6.4. Company Product Portfolio
10.6.5. Recent Developments
10.6.6. SWOT Analysis
10.7. Nutri-Brex
10.7.1. Business Overview
10.7.2. Company Snapshot
10.7.3. Company Market Share Analysis
10.7.4. Company Product Portfolio
10.7.5. Recent Developments
10.7.6. SWOT Analysis
List of Table
1. Global Energy Balls Market, By Nature, 2019-2032 (USD Million)
2. Global Conventional, Energy Balls Market, By Region, 2019-2032 (USD Million)
3. Global Organic, Energy Balls Market, By Region, 2019-2032 (USD Million)
4. Global Energy Balls Market, By Flavour, 2019-2032 (USD Million)
5. Global Nut-based, Energy Balls Market, By Region, 2019-2032 (USD Million)
6. Global Chocolate-based, Energy Balls Market, By Region, 2019-2032 (USD Million)
7. Global Fruit-based, Energy Balls Market, By Region, 2019-2032 (USD Million)
8. Global Others, Energy Balls Market, By Region, 2019-2032 (USD Million)
9. Global Energy Balls Market, By Region, 2019-2032 (USD Million)
10. North America Energy Balls Market, By Nature, 2019-2032 (USD Million)
11. North America Energy Balls Market, By Flavour, 2019-2032 (USD Million)
12. U.S. Energy Balls Market, By Nature, 2019-2032 (USD Million)
13. U.S. Energy Balls Market, By Flavour, 2019-2032 (USD Million)
14. Canada Energy Balls Market, By Nature, 2019-2032 (USD Million)
15. Canada Energy Balls Market, By Flavour, 2019-2032 (USD Million)
16. Mexico Energy Balls Market, By Nature, 2019-2032 (USD Million)
17. Mexico Energy Balls Market, By Flavour, 2019-2032 (USD Million)
18. Europe Energy Balls Market, By Nature, 2019-2032 (USD Million)
19. Europe Energy Balls Market, By Flavour, 2019-2032 (USD Million)
20. Germany Energy Balls Market, By Nature, 2019-2032 (USD Million)
21. Germany Energy Balls Market, By Flavour, 2019-2032 (USD Million)
22. France Energy Balls Market, By Nature, 2019-2032 (USD Million)
23. France Energy Balls Market, By Flavour, 2019-2032 (USD Million)
24. U.K. Energy Balls Market, By Nature, 2019-2032 (USD Million)
25. U.K. Energy Balls Market, By Flavour, 2019-2032 (USD Million)
26. Italy Energy Balls Market, By Nature, 2019-2032 (USD Million)
27. Italy Energy Balls Market, By Flavour, 2019-2032 (USD Million)
28. Spain Energy Balls Market, By Nature, 2019-2032 (USD Million)
29. Spain Energy Balls Market, By Flavour, 2019-2032 (USD Million)
30. Asia Pacific Energy Balls Market, By Nature, 2019-2032 (USD Million)
31. Asia Pacific Energy Balls Market, By Flavour, 2019-2032 (USD Million)
32. Japan Energy Balls Market, By Nature, 2019-2032 (USD Million)
33. Japan Energy Balls Market, By Flavour, 2019-2032 (USD Million)
34. China Energy Balls Market, By Nature, 2019-2032 (USD Million)
35. China Energy Balls Market, By Flavour, 2019-2032 (USD Million)
36. India Energy Balls Market, By Nature, 2019-2032 (USD Million)
37. India Energy Balls Market, By Flavour, 2019-2032 (USD Million)
38. South America Energy Balls Market, By Nature, 2019-2032 (USD Million)
39. South America Energy Balls Market, By Flavour, 2019-2032 (USD Million)
40. Brazil Energy Balls Market, By Nature, 2019-2032 (USD Million)
41. Brazil Energy Balls Market, By Flavour, 2019-2032 (USD Million)
42. Middle East and Africa Energy Balls Market, By Nature, 2019-2032 (USD Million)
43. Middle East and Africa Energy Balls Market, By Flavour, 2019-2032 (USD Million)
44. UAE Energy Balls Market, By Nature, 2019-2032 (USD Million)
45. UAE Energy Balls Market, By Flavour, 2019-2032 (USD Million)
46. South Africa Energy Balls Market, By Nature, 2019-2032 (USD Million)
47. South Africa Energy Balls Market, By Flavour, 2019-2032 (USD Million)
List of Figures
1. Global Energy Balls Market Segmentation
2. Energy Balls Market: Research Methodology
3. Market Size Estimation Methodology: Bottom-Up Approach
4. Market Size Estimation Methodology: Top-Down Approach
5. Data Triangulation
6. Porter's Five Forces Analysis
7. Value Chain Analysis
8. Global Energy Balls Market Attractiveness Analysis By Nature
9. Global Energy Balls Market Attractiveness Analysis By Flavour
10. Global Energy Balls Market Attractiveness Analysis By Region
11. Global Energy Balls Market: Dynamics
12. Global Energy Balls Market Share by Nature (2023 & 2032)
13. Global Energy Balls Market Share by Flavour (2023 & 2032)
14. Global Energy Balls Market Share by Regions (2023 & 2032)
15. Global Energy Balls Market Share by Company (2022)