The global embolization coils market is expected to reach USD 1,772 million by 2030, at a CAGR of 5% during the forecast period 2022 to 2030. Asia Pacific is expected to grow the fastest during the forecast period.
Market Overview:
An aneurysm is a sac or bulge that forms in the artery due to a thinner arterial wall. Aneurysms in the brain can affect the surrounding nerves and brain tissue, causing headaches, neck pain, upper back pain, nausea, and other symptoms like nausea and vomiting. An improper connection between the arteries and veins, called an arteriovenous malformation, prevents oxygenated blood from flowing freely through the brain. Coil embolization, also known as embolization coils, is a minimally invasive procedure used to treat aneurysms, helping to stop the bleeding and close the sac. A steerable catheter is introduced into the bloodstream and directed to the brain during this endovascular surgery. Government programmes are significantly influencing the embolization coils market. Government entities in several nations are implementing programmes and policies to strengthen the healthcare system. This, in turn, will substantially affect the embolization coils market as it expands. The importance of peripheral embolization devices is being made known to neurosurgeons and other medical specialists. The number of embolization coils also rises in response to the demand for embolization devices. The embolization coils market will see more growth due to this factor. The revenue growth of the market participants for embolization coils depends on research and development activities.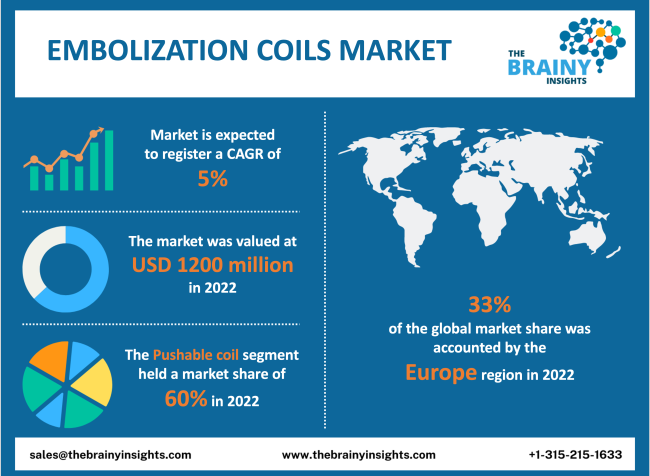 Get an overview of this study by requesting a free sample
Recent Development
In July 2021, The AZUR Vascular Plug, the first and only plug compatible with a microcatheter to occlude arteries up to 8mm in diameter, will be made available by Terumo Medical Corporation (TMC). The newest addition to Terumo's extensive embolization range is intended to slow down or stop blood flow in peripheral vascular arteries.
In April 2021, The Pipeline Flex Embolization Device with Shield Technology from Medtronic PLC, primarily suggested for brain aneurysms, was authorised by the US Food and Drug Administration (FDA). Shield Technology improves the flow diverter device by reducing the material's thrombogenicity.
Market Dynamics:
Drivers
Rise in Aneurysms- Aortic aneurysms and cerebral aneurysms are the two aneurysm kinds that affect people the most around the world. The most common type of aneurysm in people between the ages of 35 and 40 is a brain aneurysm, which is brought on by blood arteries that bulge or balloon. Smokers and individuals with high blood pressure, high cholesterol, arterial defect, and aortic dissection diseases have a higher prevalence of aneurysms. As a result of the rise in aneurysm occurrence, early disease identification and ongoing patient monitoring are crucial for diagnosing, treating, limiting, and controlling disease prevalence. Therefore, it is anticipated that the need for therapeutic devices, such as embolization coils that block blood flow and stop aneurysms from rupturing, will propel market expansion.
Restraints:
Coil- Coil migration, coil misplacement, coil retrieval issues, coil stretching, a constrained coil length range, and non-target embolization are all causes of embolization coil complications. Aneurysmal perforation and rupture, parent artery occlusion, cerebral embolism, coil migration, neurological impairments such as stroke and death, and puncture site hematoma are a few risks connected with the use of embolization coils. Other dangers of embolization coils include thromboembolic events, discomfort, vasospasm, infection, vascular thrombosis, clot formation, bleeding, and ischemia. Additionally, complications may result from catheter-based infection transmission brought on by repeated usage, reprocessing, or sterilisation of catheters, malfunctioning of the embolization coil due to mechanical issues, console flaws, and cross-contamination.
Opportunities:
Rise in Demand -The demand from end-users, including hospitals, ASCs, clinics, and diagnostic centres, may be satisfied with technological advancements and developments in the embolization coil. The development of 3D embolization coils, miniaturised coils, hydrocoils, and embolization coils with integrated deployment mechanisms has been made possible by technological advancements in the global embolization coil market. The conformable 3D shape of 3D embolization coils improves multi-planar deployment accuracy and speeds up thrombus development. Tiny coils are employed to fill the empty areas in aneurysms to achieve high packing densities with decreased patient retreatment rates. The mechanical occlusion offered by hydrocoils, which have a platinum core and are detachable coils, improves volume filling and occlusion efficacy while relying less on thrombus formation.
Challenges:
Lack of Skilled Professionals- The need for skilled workers, such as interventional neurologists and interventional oncologists, is predicted to impede market expansion. Interventional neurology has been added to the long-term shortage list by the New Zealand government.
Regional segmentation analysis:
The regions analyzed for the market include North America, Europe, South America, Asia Pacific, the Middle East, and Africa. Europe emerged as the largest market for the global embolization coils market, with a 33% share of the market revenue in 2022.
Europe currently dominates the embolization coils market with a 33% market revenue share in 2022. The British Heart Foundation reports that 5,000 fatalities in the UK are attributed to burst aortic aneurysms each year in Europe. These cause 1 in 75 fatalities of men in this age range and are more prevalent in those 65 years of age and older. The same pattern is seen in another part of the planet as well. Therefore, it is probable that the growth of embolization coils in the forecast period will likely increase due to the rise in the prevalence of cardiac aneurysms in the regions and various countries of the region.
Asia Pacific is expected to witness the fastest growth during the forecast period. According to research, coiling in brain aneurysms has a long-term success rate of over 85%. A paradigm shift from clipping to coiling has occurred due to an increase in the success rates of endovascular coiling for the treatment of aneurysms. Coiling is the favoured method of embolization due to the availability of coils in various shapes and sizes that allow for the best product selection for the embolization technique and inexpensive cost.
Europe Region Embolization Coils Market Share in 2022 - 33%
www.thebrainyinsights.com
Check the geographical analysis of this market by requesting a free sample
Type Segment
The type segment is divided into a detachable coil and a pushable coil. The pushable coil segment dominated the market, with a market share of around 60% in 2022. In interventional radiology, these coils are frequently utilised. However, the pushable coil segment is anticipated to be constrained during the forecast period due to drawbacks such as the inability to be moved and incompatibility with the catheter that might cause the coil to become irretrievably jammed in the catheter.
Application Analysis
The application segment is divided into neurology, urology, peripheral vascular disease, oncology, cardiology, and others. Over the forecast period, the neurology segment is expected to grow at the fastest CAGR of 5.8%. Embolization coils are typically utilised to treat arteriovenous malformations (AVMs) and brain aneurysms in neurology, propelling the segment's growth.
List of Key Market Players:
Terumo Corporation
Medtronic plc
KANEKA CORPORATION
Stryker Corporation
Boston Scientific Corporation
Cook Medical LLC
MicroPort Scientific Corporation
Penumbra, Inc
Shape Memory Medical INC,
Johnson & Johnson Services, Inc.
Report Description:
| Attribute | Description |
| --- | --- |
| Market Size | Revenue (USD million) |
| Market size value in 2022 | USD 1,200 million |
| Market size value in 2030 | USD 1,772 million |
| CAGR (2022 to 2030) | 5% |
| Historical data | 2019-2020 |
| Base Year | 2021 |
| Forecast | 2022-2030 |
| Segments | Type, Application |
| Regional Segments | North America, Asia Pacific, Europe, Latin America, Middle East and Africa |
Frequesntly Asked Questions
1. Introduction
1.1. Objectives of the Study
1.2. Market Definition
1.3. Research Scope
1.4. Currency
1.5. Key Target Audience

2. Research Methodology and Assumptions

3. Executive Summary

4. Premium Insights
4.1. Porter's Five Forces Analysis
4.2. Value Chain Analysis
4.3. Top Investment Pockets
4.3.1. Market Attractiveness Analysis By Type
4.3.2. Market Attractiveness Analysis By Application
4.3.3. Market Attractiveness Analysis By Region
4.4. Industry Trends

5. Market Dynamics
5.1. Market Evaluation
5.2. Drivers
5.2.1. Rise in Aneurysms
5.3. Restraints
5.3.1. Issues Related to Coil
5.4. Opportunities
5.4.1. Rise in Demand
5.5. Challenges
5.5.1. Lack of Skilled Professionals

6. Global Embolization Coils Market Analysis and Forecast, By Type
6.1. Segment Overview
6.2. Detachable Coil
6.3. Pushable Coil

7. Global Embolization Coils Market Analysis and Forecast, By Application
7.1. Segment Overview
7.2. Neurology
7.3. Urology
7.4. Peripheral Vascular Disease
7.5. Oncology
7.6. Cardiology
7.7. Other

8. Global Embolization Coils Market Analysis and Forecast, By Regional Analysis
8.1. Segment Overview
8.2. North America
8.2.1. U.S.
8.2.2. Canada
8.2.3. Mexico
8.3. Europe
8.3.1. Germany
8.3.2. France
8.3.3. U.K.
8.3.4. Italy
8.3.5. Spain
8.4. Asia-Pacific
8.4.1. Japan
8.4.2. China
8.4.3. India
8.5. South America
8.5.1. Brazil
8.6. Middle East and Africa
8.6.1. UAE
8.6.2. South Africa

9. Global Embolization Coils Market-Competitive Landscape
9.1. Overview
9.2. Market Share of Key Players in Global Embolization Coils Market
9.2.1. Global Company Market Share
9.2.2. North America Company Market Share
9.2.3. Europe Company Market Share
9.2.4. APAC Company Market Share
9.3. Competitive Situations and Trends
9.3.1. Product Launches and Developments
9.3.2. Partnerships, Collaborations, and Agreements
9.3.3. Mergers & Acquisitions
9.3.4. Expansions

10. Company Profiles
10.1. Terumo Corporation.
10.1.1. Business Overview
10.1.2. Company Snapshot
10.1.3. Company Market Share Analysis
10.1.4. Company Travel Days Portfolio
10.1.5. Recent Developments
10.1.6. SWOT Analysis
10.2. Medtronic plc
10.2.1. Business Overview
10.2.2. Company Snapshot
10.2.3. Company Market Share Analysis
10.2.4. Company Travel Days Portfolio
10.2.5. Recent Developments
10.2.6. SWOT Analysis
10.3. KANEKA CORPORATION
10.3.1. Business Overview
10.3.2. Company Snapshot
10.3.3. Company Market Share Analysis
10.3.4. Company Travel Days Portfolio
10.3.5. Recent Developments
10.3.6. SWOT Analysis
10.4. Stryker Corporation
10.4.1. Business Overview
10.4.2. Company Snapshot
10.4.3. Company Market Share Analysis
10.4.4. Company Travel Days Portfolio
10.4.5. Recent Developments
10.4.6. SWOT Analysis
10.5. Boston Scientific Corporation
10.5.1. Business Overview
10.5.2. Company Snapshot
10.5.3. Company Market Share Analysis
10.5.4. Company Travel Days Portfolio
10.5.5. Recent Developments
10.5.6. SWOT Analysis
10.6. Cook Medical LLC
10.6.1. Business Overview
10.6.2. Company Snapshot
10.6.3. Company Market Share Analysis
10.6.4. Company Travel Days Portfolio
10.6.5. Recent Developments
10.6.6. SWOT Analysis
10.7. MicroPort Scientific Corporation
10.7.1. Business Overview
10.7.2. Company Snapshot
10.7.3. Company Market Share Analysis
10.7.4. Company Travel Days Portfolio
10.7.5. Recent Developments
10.7.6. SWOT Analysis
10.8. Penumbra, Inc
10.8.1. Business Overview
10.8.2. Company Snapshot
10.8.3. Company Market Share Analysis
10.8.4. Company Travel Days Portfolio
10.8.5. Recent Developments
10.8.6. SWOT Analysis
10.9. Shape Memory Medical INC,
10.9.1. Business Overview
10.9.2. Company Snapshot
10.9.3. Company Market Share Analysis
10.9.4. Company Travel Days Portfolio
10.9.5. Recent Developments
10.9.6. SWOT Analysis
10.10. Johnson & Johnson Services, Inc.
10.10.1. Business Overview
10.10.2. Company Snapshot
10.10.3. Company Market Share Analysis
10.10.4. Company Travel Days Portfolio
10.10.5. Recent Developments
10.10.6. SWOT Analysis

List of Table
1. Global Embolization Coils Market, By Type, 2019-2030 (USD Million)
2. Global Detachable Coil, Embolization Coils Market, By Region, 2019-2030 (USD Million)
3. Global Pushable Coil, Embolization Coils Market, By Region, 2019-2030 (USD Million)
4. Global Embolization Coils Market, By Application, 2019-2030 (USD Million)
5. Global Neurology, Embolization Coils Market, By Region, 2019-2030 (USD Million)
6. Global Urology, Embolization Coils Market, By Region, 2019-2030 (USD Million)
7. Global Peripheral Vascular Disease, Embolization Coils Market, By Region, 2019-2030 (USD Million)
8. Global Oncology, Embolization Coils Market, By Region, 2019-2030 (USD Million)
9. Global Cardiology, Embolization Coils Market, By Region, 2019-2030 (USD Million)
10. Global Others, Embolization Coils Market, By Region, 2019-2030 (USD Million)
11. North America Embolization Coils Market, By Type, 2019-2030 (USD Million)
12. North America Embolization Coils Market, By Application, 2019-2030 (USD Million)
13. U.S. Embolization Coils Market, By Type, 2019-2030 (USD Million)
14. U.S. Embolization Coils Market, By Application, 2019-2030 (USD Million)
15. Canada Embolization Coils Market, By Type, 2019-2030 (USD Million)
16. Canada Embolization Coils Market, By Application, 2019-2030 (USD Million)
17. Mexico Embolization Coils Market, By Type, 2019-2030 (USD Million)
18. Mexico Embolization Coils Market, By Application, 2019-2030 (USD Million)
19. Europe Embolization Coils Market, By Type, 2019-2030 (USD Million)
20. Europe Embolization Coils Market, By Application, 2019-2030 (USD Million)
21. Germany Embolization Coils Market, By Type, 2019-2030 (USD Million)
22. Germany Embolization Coils Market, By Application, 2019-2030 (USD Million)
23. France Embolization Coils Market, By Type, 2019-2030 (USD Million)
24. France Embolization Coils Market, By Application, 2019-2030 (USD Million)
25. U.K. Embolization Coils Market, By Type, 2019-2030 (USD Million)
26. U.K. Embolization Coils Market, By Application, 2019-2030 (USD Million)
27. Italy Embolization Coils Market, By Type, 2019-2030 (USD Million)
28. Italy Embolization Coils Market, By Application, 2019-2030 (USD Million)
29. Spain Embolization Coils Market, By Type, 2019-2030 (USD Million)
30. Spain Embolization Coils Market, By Application, 2019-2030 (USD Million)
31. Asia Pacific Embolization Coils Market, By Type, 2019-2030 (USD Million)
32. Asia Pacific Embolization Coils Market, By Application, 2019-2030 (USD Million)
33. Japan Embolization Coils Market, By Type, 2019-2030 (USD Million)
34. Japan Embolization Coils Market, By Application, 2019-2030 (USD Million)
35. China Embolization Coils Market, By Type, 2019-2030 (USD Million)
36. China Embolization Coils Market, By Application, 2019-2030 (USD Million)
37. India Embolization Coils Market, By Type, 2019-2030 (USD Million)
38. India Embolization Coils Market, By Application, 2019-2030 (USD Million)
39. South America Embolization Coils Market, By Type, 2019-2030 (USD Million)
40. South America Embolization Coils Market, By Application, 2019-2030 (USD Million)
41. Brazil Embolization Coils Market, By Type, 2019-2030 (USD Million)
42. Brazil Embolization Coils Market, By Application, 2019-2030 (USD Million)
43. Middle East and Africa Embolization Coils Market, By Type, 2019-2030 (USD Million)
44. Middle East and Africa Embolization Coils Market, By Application, 2019-2030 (USD Million)
45. UAE Embolization Coils Market, By Type, 2019-2030 (USD Million)
46. UAE Embolization Coils Market, By Application, 2019-2030 (USD Million)
47. South Africa Embolization Coils Market, By Type, 2019-2030 (USD Million)
48. South Africa Embolization Coils Market, By Application, 2019-2030 (USD Million)
List of Figures
1. Global Embolization Coils Market Segmentation
2. Global Embolization Coils Market: Research Methodology
3. Market Size Estimation Methodology: Bottom-Up Approach
4. Market Size Estimation Methodology: Top-Down Approach
5. Data Triangulation
6. Porter's Five Forces Analysis
7. Value Chain Analysis
8. Global Embolization Coils Market Attractiveness Analysis By Type
9. Global Embolization Coils Market Attractiveness Analysis By Application
10. Global Embolization Coils Market Attractiveness Analysis By Region
11. Global Embolization Coils Market: Dynamics
12. Global Embolization Coils Market Share By Type (2022 & 2030)
13. Global Embolization Coils Market Share By Application (2022 & 2030)
14. Global Embolization Coils Market Share By Regions (2022 & 2030)
15. Global Embolization Coils Market Share By Company (2021)