The global dental implants and prosthetics market generated USD 12.85 billion revenue in 2022 and is projected to grow at a CAGR of 7.23% from 2023 to 2032. The market is expected to reach USD 25.83 billion by 2032. The global upsurge in dental issues such as dental caries and periodontal diseases is a significant driving force behind the growth of the dental implants and prosthetics market. Moreover, the escalating demand for cosmetic dentistry, appealing to both older individuals and the general populace, is poised to exert a further positive influence on expanding the dental implants and prosthetics market.
Market Introduction:
Dental implants and prosthetics are integral to modern dentistry, offering innovative solutions for patients suffering from missing teeth or various dental issues. They provide a means to restore the functionality of teeth and the aesthetics of a natural smile. Dental implants are unnatural tooth roots generally constructed of biocompatible materials like titanium. These dental implants are precisely placed within the jawbone through a surgical procedure, providing a stable and robust foundation for tooth replacement. Dental implants consist of the implant, an abutment that connects the implant to a prosthetic, and the visible crown or prosthetic tooth. Dental prosthetics are artificial components that replace missing teeth and encompassing tissues in the oral cavity. These prosthetics can be attached to dental implants or other structures within the mouth. Common types of dental prosthetics include dental crowns (caps for individual teeth), dentures (removable devices for multiple missing teeth or complete tooth loss), bridges (fixed devices that replace one or more teeth), implant-supported dentures (dentures attached to dental implants for increased stability), and innovative solutions like All-on-4 or All-on-6, which provide full arches of teeth supported by a minimal number of dental implants.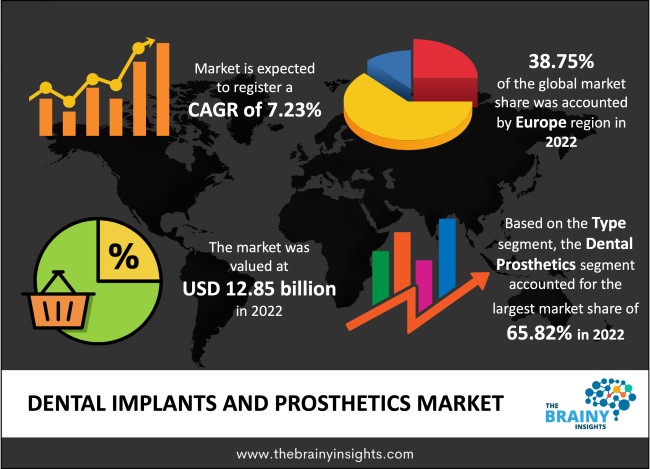 Get an overview of this study by requesting a free sample
Recent Development
In May 2023: Straumann Group has officially acquired GalvoSurge, a prominent Swiss medical device manufacturer specializing in dental implant solutions. This strategic acquisition bolsters Straumann's commitment to providing comprehensive care and maintenance solutions for dental implants, specifically focusing on innovative approaches to address peri-implantitis. GalvoSurge's flagship product, the GalvoSurge Dental Implant Cleaning System GS 1000, is equipped with the CE mark and was introduced to the market in 2020. Importantly, this cutting-edge system is compatible with many implant systems. This acquisition solidifies Straumann's global presence, ensuring that patients worldwide, irrespective of their implant system, can benefit from advanced peri-implantitis care. The GalvoSurge device is a groundbreaking solution that effectively eradicates biofilm matrices and decontaminates affected implant surfaces while safeguarding the integrity of healthy soft and hard tissues.
In May 2023, T-Plus officially launched its ST implant system for sale in the Chinese market after completing an 8-year registration process with the National Medical Products Administration (NMPA). The T-Plus implant system features a versatile design encompassing both bone- and tissue-level implants, catering to a broad spectrum of clinical indications and the preferences of healthcare professionals. This product upholds the stringent manufacturing and quality control standards established by Straumann, ensuring high product quality.
In January 2023, Nobel Biocare partnered strategically with Mimetis Biomaterials and introduced creos syntogain, a biomimetic bone graft substitute. This remarkable product, formerly known and well-received as MimetikOss in the Spanish market since 2016, is expertly designed to foster efficient bone regeneration. Creos syntogain represents the latest evolution in synthetic bone grafts, crafted by the adept team at Mimetis Biomaterials. With this collaboration, Nobel Biocare has expanded its regenerative solutions portfolio within the Creos brand. Adding creos syntogain to the lineup, alongside creos syntoprotect, creos xenoprotect, creos xenogain, and creos mucogain, solidifies Nobel Biocare as the preferred supplier for all organic or synthetic regeneration requirements.
Market Dynamics:
Drivers
Growing Ageing Population - The increasing number of elderly individuals, who often require dental restorations and implants, is a significant driver of this market. Age-related tooth loss and other dental issues increase demand for dental prosthetics.
Advancements in Dental Technology - Ongoing technological advancements, such as 3D printing, CAD/CAM systems, and digital dentistry, have improved the precision and effectiveness of dental implant procedures and prosthetic manufacturing.
Rising Awareness and Aesthetic Concerns - Increasing awareness about dental health and the importance of an aesthetically pleasing smile has driven demand for dental implants and prosthetics, especially among younger populations.
Restraints:
High Treatment Costs - The high cost of procedures is one of the main constraints in the dental implants and prosthetics market. Implants and prosthetic devices can be costly, limiting access for individuals who need adequate insurance coverage or financial resources.
Limited Insurance Coverage - Dental insurance often provides limited coverage for implant procedures, making it challenging for many patients to afford them. This lack of coverage can act as a barrier to market growth.
Opportunities:
Emerging Markets - Expanding into emerging markets, where healthcare infrastructure and disposable income are growing, provides a significant opportunity for market expansion. Emerging economies often have a rising middle class with increasing dental health awareness.
Minimally Invasive Procedures - Developing and adopting minimally invasive dental implant procedures can offer new opportunities, like quicker recovery, reduced pain, and improved patient satisfaction.
Dental Tourism - The rise of dental tourism, especially in countries like India, Croatia, Thailand, and others, provides an opportunity for international collaboration and the expansion of dental implant and prosthetic services because of the affordability of dental procedures.
Challenges:
Regulatory Hurdles - The dental implant and prosthetics market is subject to stringent regulatory oversight to ensure patient safety. Regulatory processes can be lengthy and complex, delaying the introduction of new products and technologies.
Lack of Skilled Professionals - The success of dental implant procedures depends heavily on dental professionals' skills. In some areas, there may be a need for more adequately trained implantologists, limiting patient access to these treatments.
Regional segmentation analysis:
The regions analyzed for the market include North America, Europe, South America, Asia Pacific, the Middle East, and Africa. Europe emerged as the most prominent global dental implants and prosthetics market, with a 38.75% market revenue share in 2022.
Europe boasts a well-developed and advanced healthcare infrastructure. Access to dental care is widespread, with many specialized dental clinics and professionals across the continent. This availability facilitates the growth of the dental implants and prosthetics market. In addition, European countries prioritize dental health and have a strong culture of oral hygiene and regular dental check-ups. This factor heightened dental health awareness and increased the demand for dental implants and prosthetics. Also, many European countries have high disposable income levels and strong purchasing power. This factor further allows a significant portion of the population to afford expensive dental implant procedures, thereby driving market growth. In several European nations, dental insurance coverage is more comprehensive and accessible, making dental implant procedures more affordable for a broader range of patients. This coverage encourages individuals to seek dental implant solutions. Besides, Europe invests significantly in dental implant and prosthetic research and development. This commitment results in the developing of cutting-edge products and treatment techniques, making the region a leader in dental innovations. The North American region accounted for the second-highest market revenue in 2022. North America, particularly the United States, is known for its substantial healthcare spending. This financial commitment contributes to developing and growing advanced dental implant and prosthetic solutions. Additionally, North America is at the forefront of dental technology and innovation. The region is a hub for research and development, resulting in the introduction of cutting-edge dental products and treatment techniques.
Europe Region Dental Implants and Prosthetics Market Share in 2022 - 38.75%
www.thebrainyinsights.com
Check the geographical analysis of this market by requesting a free sample
Type Segment Analysis
The type segment includes dental implants and dental prosthetics. The dental prosthetics segment dominated the market, with a share of 65.82% in 2022. The dental implants segment is further split into root form implant (endosteal implant), subperiosteal implant, plate form implant and transosteal implant. The dental prosthetics segment is sub-segmented into dental bridges, dental implants, abutment, dental crown, dentures, inlays and onlays, and others. Dental prosthetics cater to a broader patient base, as they are not limited to individuals who are candidates for dental implant surgery. Patients unsuitable for implant procedures due to health issues or personal preferences often opt for dental prosthetics. Dental prosthetics are generally less invasive than dental implant surgeries, making them a more attractive choice for patients who prefer non-surgical or minimally invasive treatment options. Additionally, dental prosthetics are often more affordable than dental implants, making them a practical choice for individuals needing more financial means to invest in implant procedures.
Material Segment Analysis
The material segment is classified into titanium, zirconium, metal, ceramic and others. The titanium segment dominated the market, with a share of around 36.29% in 2022. Titanium is highly biocompatible, which means it has a lower chance of causing allergic reactions or adverse tissue responses. This biocompatibility is crucial for dental implants as it ensures that the body readily accepts the material, reducing the chances of implant rejection. In addition, titanium has a unique property known as osseointegration, where the material fuses with the surrounding bone tissue. This characteristic provides a stable and long-lasting foundation for dental implants, ensuring they remain anchored in the jawbone. Furthermore, titanium is renowned for its exceptional strength and durability. These qualities make it an ideal material for dental implants, which must withstand the forces of chewing and biting over an extended period without wear or degradation.
End User Segment Analysis
The end-user segment is divided into dental hospitals & clinics, dental laboratories and others. The dental hospital & clinics segment dominated the market, with a share of around 62.93% in 2022. Dental hospitals and clinics are staffed with skilled dental professionals, including oral surgeons, prosthodontists, and implantologists, who are specialized in providing dental implant and prosthetic treatments. This expertise ensures the quality and safety of procedures. Furthermore, dental hospitals and clinics have state-of-the-art facilities and technologies, including digital imaging, CAD/CAM systems, and 3D printing, which enhance the precision and effectiveness of dental implant procedures and prosthetic manufacturing. These hospitals and clinics often have a strong reputation for quality care and patient trust. Patients feel more confident seeking dental implant and prosthetic solutions from reputable institutions with a track record of success. This factor further fueled the segment's growth.
Some of the Key Market Players:
3M Company
Avinent implant system s.l
Adin Dental Implant Systems
Bicon, LLC.
BEGO GmbH & Co. KG
Centrix Dental
Cortex Dental Implants Industries Ltd.
COLTENE
Dentsply Sirona Inc.
Dental Technologies
DIO Corporation
DMG Chemisch-Pharmazeutische Fabrik
Envista Holding Corporation
Great Lakes Orthodontics Ltd.
Henry Schein Inc.
Institut straumann AG
Ivoclar vivadent AG
Keystone Dental Inc.
Lancer Orthodontics, Inc.
Mitsui Chemicals Inc.
National Dentex Labs
Nobel Biocare (A subsidiary of Danaher Corporation)
Osstem Implant
Orthoband Company, Inc.
Orthogen Corporation
Patterson Companies
Rocky Mountain Orthodontics
Septodont Holding
Shofu Inc.
Straumann Group
Sirona Dental
Sinclair Dental
Southern Implants
SigmaGraft, Inc.
TBR Implants Group
Thommen Medical AG
T-Plus
Ultradent Products, Inc.
VOCO GmbH
ZimVie Inc.
Zimmer Biomet
Report Description:
| Attribute | Description |
| --- | --- |
| Market Size | Revenue (USD Billion) |
| Market size value in 2022 | USD 12.85 Billion |
| Market size value in 2032 | USD 25.83 Billion |
| CAGR (2023 to 2032) | 7.23% |
| Historical data | 2019-2021 |
| Base Year | 2022 |
| Forecast | 2023-2032 |
| Region | The regions analyzed for the market are Asia Pacific, Europe, South America, North America, and Middle East & Africa. Furthermore, the regions are further analyzed at the country level. |
| Segments | Type, Material, and End User |