The global costume jewelry market was valued at USD 41.78 Billion in 2022, which is anticipated to grow at a CAGR of 7.15% from 2023 to 2032. In addition, the market demand in recent times has been driven by the growing need for the product as a result of an increasing working population. Growing numbers of manufacturers have introduced many reasonably priced solutions, which has led to a rise in popularity among young people, business professionals, and working women. Over the past several years, this has increased demand for the product. The rising demand for the product has also been significantly influenced by the frequent fluctuations in the prices of gold and silver.
Market Introduction:
Costume jewelry is a type of fashion item that enhances a look. Compared to precious materials like gold, diamonds, and jewels, the raw materials used to make this kind of jewelry are less valuable. For example, the basic materials used to make costume jewelry include glass, plastic, beads, leather, aluminium, brass, and semi-precious stones. It is anticipated that rising customer preferences for stylish yet reasonably priced jewelry would support market expansion. In developed nations like the United States, Canada, and Germany, costume jewelry has been widely adopted; however, developing nations like China, Brazil, and India are quickly catching up. Costume jewelry is often referred to as false jewelry, imitation jewelry, trinkets, fashion jewelry, and trash jewelry. The design uses a variety of raw materials, including glass, metals, beads, plastic, ivory, artificial stones, semi-precious stones, and other components. Costume jewelry is particularly popular among ladies, office professionals, and children. The global costume jewelry market is an accurate indication of the development of world fashion. A number of indicators suggests that the market is doing well in the short- and medium-term. Costume jewelry has become more and more desirable than real jewelry or ornaments due to factors such as growing demand for male costume jewelry, internationalisation of brands, growing fashion consciousness among consumers, rising costs of gold, diamond, silver, and other valuable gem jewelry, accessibility to a wide variety of designs in costume jewelry, and safety in carrying it anywhere. The extensive collection of costume jewelry products, which includes finger rings, neckpieces, bangles and earrings, offers customers a wide variety of options.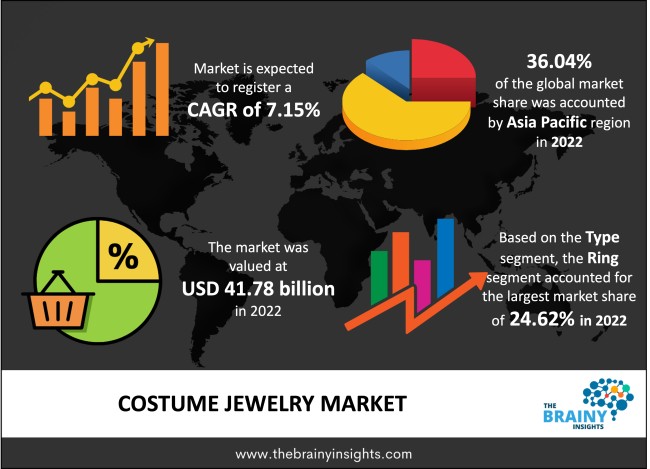 Get an overview of this study by requesting a free sample
Recent Development
The first-ever The Avatar-Inspired Jewelry line was launched by Melorra in December 2022, a well-known direct-to-consumer (D2C) company that specialises in lightweight, stylish gold Jewelry at affordable prices, to celebrate modernity and highlight a trend in the Jewelry market.
Sotheby launched its first Jewelry collection in March 2023, with Brazilian-Lebanese designer Nadine Ghosn as the first guest designer.
Market Dynamics:
Drivers
Trends in jewelry design and eye-catching promotional techniques- To increase sales in a variety of countries, manufacturers are updating their branding and marketing strategies for their products. The manufacturers have employed innovative strategies to increase sales of costume Jewelry, such as introducing new products with natural-looking semi-precious stones, bold Jewelry designs, and bright stones set in neatly packed chains. Costume Jewelry is becoming more and more popular among consumers, especially ladies, because it is easy to wear, affordable, and practical for travelling or attending social events. One frequent strategy used by manufacturers to attract more customers is to employ copper and brass as the main elements for making these products, which have no negative skin effects. This has additionally contributed to the revenue growth of businesses in this market. The manufacturers' collective adoption of these techniques is propelling the global costume Jewelry market's expansion.
Opportunities:
Growing market need for man-made jewelry- In the coming years, the market for fake and counterfeit Jewelry will grow rapidly. In terms of total sales, it is anticipated to stay only a small share of popular items like gold or silver Jewelry during the forecast period. In the global costume Jewelry market, rings, bracelets, and earrings have the most potential for sales. Costume Jewelry with less negative affects and fewer side effects is preferred by consumers. In addition, producers will probably use semi-precious metals like copper and brass to meet customer demands. Avon items, Inc., Buckley London, and Yurman Design, Inc. are just a few of the major companies in the market that intend to spend in marketing campaigns to highlight the advantages of their costume Jewelry items. As a result, there are a lot of opportunities for market expansion due to these initiatives by major players and the growing demand for fake Jewelry.
Regional segmentation analysis:
The regions analyzed for the market include North America, Europe, South America, Asia Pacific, the Middle East, and Africa. Asia Pacific emerged as the most significant global costume jewelry market, with a 36.04% market revenue share in 2022. India makes up the majority of contributions in Asia Pacific. The region's market is growing because of a large range of products that are well accepted by people of all ages.
Asia Pacific Region Costume Jewelry Market Share in 2022 - 36.04%
www.thebrainyinsights.com
Check the geographical analysis of this market by requesting a free sample
Type Segment Analysis
The type segment is divided into ring, earrings, necklace/chain, bracelet, and others. The ring segment dominated the market, with a market share of around 24.62% in 2022. The market is expected to be driven by rising demand for rings throughout the projected period, especially in nations like India where there is a strong demand for different kinds of diamonds. The ring includes generic designs for men and doesn't need a lot of personalization. In the upcoming years, rising male demand for the product is anticipated to drive the segment's growth. The ring's widespread acceptance and low cost make it the least expensive Jewelry, which is contributing to the market's gradual expansion.
Distribution Channel Segment Analysis
The distribution channel segment is divided into offline stores and online stores. The offline stores segment dominated the market, with a market share of around 75.18% in 2022. Because a large range of products and bargaining factors are available, traditional shopping has dominated the market. When it comes to Jewelry, customers prefer to visit physical stores to have their products customised to their specifications.
Some of the Key Market Players:
Avon Products, Inc.
LVMH Group
Compagnie Financière Richemont SA
Buckley London
DCK Group, Stuller, Inc.
Giorgio Armani S.p.A.
Yurman Design Inc.
H.Stern Jewelers, Inc.
Randa Accessories
Report Description:
| Attribute | Description |
| --- | --- |
| Market Size | Revenue (USD Billion) |
| Market size value in 2022 | USD 41.78 Billion |
| Market size value in 2032 | USD 83.34 Billion |
| CAGR (2023 to 2032) | 7.15% |
| Historical data | 2019-2021 |
| Base Year | 2022 |
| Forecast | 2023-2032 |
| Region | The regions analyzed for the market are Asia Pacific, Europe, South America, North America, and Middle East & Africa. Furthermore, the regions are further analyzed at the country level. |
| Segments | Type, Distribution Channel |