The complete nutrition products market was valued at USD 4.2 billion in 2021 and is expected to expand at a CAGR of 7.4% over the forecast period from 2022 to 2030. The growing demand for convenient and easy-to-cook food products due to hectic work schedules and sedentary lifestyles is driving the market demand. Complete nutrition products are blends of 20-30 essential vitamins and minerals, proteins, and carbohydrates.
Shifting consumer preference from carbonated RTD drinks to plant-based drinks is anticipated to increase the demand for complete nutrition shakes and RTD beverages. Furthermore, millennials' desire to know more about the manufacturing origin of the products and ingredient quality, could also provide opportunities to the manufacturers. Today, millennials are looking for experiences apart from buying the product, thus, manufacturers have been focusing on maintaining dialogues with consumers on social media platforms while marketing their products.
Rising health consciousness among consumers has increased the adoption of complete nutrition products. With growing awareness about the importance of nutrients for heath, consumers have been looking for products that provide essential nutrients in a convenient format. Complete nutrition products are highly beneficial, with the right balance of fats, vitamins, minerals, protein, and carbohydrates. Plus, these are available in on-the-go or ready-to-cook formats, which is driving their demand further, especially among millennials and Generation Z population groups that have lesser time to spend on cooking.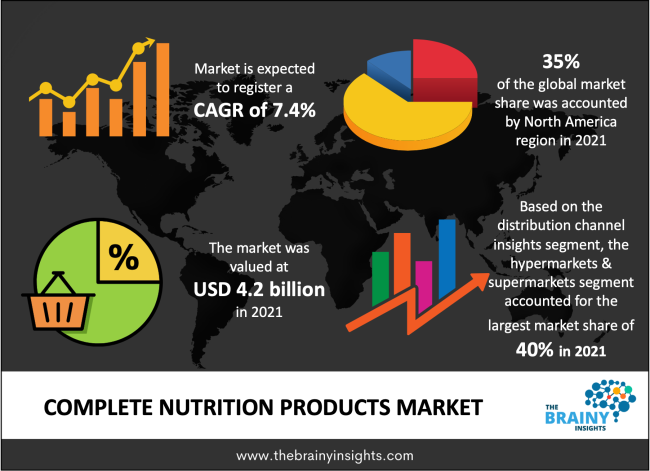 Get an overview of this study by requesting a free sample
The complete nutrition products market has several growth opportunities as consumers are willing to try new and innovative food products. Innovations in complete nutrition products, such as gluten-free, organic, clean-label, and plant-based options, are expected to provide significant opportunities to the manufacturers. Furthermore, innovation in product packagings such as single-serve pack size and sustainable packaging will drive the demand from environmentally-concerned consumers.
Players operating in the complete nutrition products market are focusing on product innovation and expansion to capture the maximum market share. They are also engaging in dialogue with their customers through social media apps like Facebook, Instagram, and Twitter to reach a greater number of consumers and gain their trust. For instance, in April 2020, Jimmy Joy, a Netherlands-based company operating in this market, created a buzz on Facebook and Twitter before launching its Plenny Shake v3.0 in July 2020.
Product Insights
Powder held the largest market share of more than 50% in 2021. The demand for powders is increasing owing to the deficiency of vitamins and minerals in regular diets. As a result, numerous health experts recommend these nutrition products. Furthermore, along with providing complete nutrition, these are also economical as compared to other products. Some of the popular brands include Ensure, Nutrihance, Soylent, and Huel.
RTD shake is expected to register the fastest CAGR during the forecast period. These pre-mixed drinks are often used post-workout and for on-the-go consumption. With these RTD shake, there is no need for any kind of preparation, which is influencing consumers to prefer these drinks. An increase in product offerings by key players is also anticipated to boost the demand for this segment in the coming years. For instance, Soylent offers different varieties of RTD shakes in flavors such as chocolate, mint, café latte, gingerbread, and others.
Distribution Channel Insights
The hypermarkets & supermarkets held the largest market share of more than 40% in 2021. A wide range of product availability of international and domestic brands is the key factor responsible for the dominance of this distribution channel. Further, heavy discounts and membership discounts on product purchases are expected to boost sales through this channel. Hypermarkets like Walmart, Tesco, Target, and Albertsons are some of the major stores offering these products.
The online distribution channel is anticipated to register the fastest CAGR of 8.0% during the forecast period. The shifting consumer preference towards online shopping is expected to boost the demand through this channel. Further, rising D2C platforms by manufacturers are also anticipated to propel the demand through this channel. For instance, Soylent offers its products through the D2C channel and also provides subscription services for products to aid convenience to consumers.
Regional Insights
North America accounted for the highest share of more than 35% in 2021. The rising consumer preference for health and wellness products is expected to drive the demand for complete nutrition products. People in countries like the US and Mexico suffer from diabetes and obesity. According to The World Population Review, the U.S. and Mexico has 36.2% and 28.9% obese populations in 2021 respectively.
RTD shakes are increasingly becoming popular among consumers in the North American region owing to their high convenience; hence, manufacturers are focused on launching these in the market. For instance, in November 2019, Labrada Nutrition launched a new line of nutritional and flavored RTD protein shakes under the brand name 'Lean Body'. These RTD protein shakes are available in seven different flavors- Chocolate, Salted Caramel, Vanilla, Banana, Strawberry, Cafe Mocha, and Cookies & Cream. Such new product launches are anticipated to increase product visibility across the region.
Asia Pacific is expected to witness the fastest growth from 2022-2030. The Asian population has been observed to be lacking a large number of nutrients. According to World Health Organization (WHO), deficiency of vitamin A is prevalent in many countries, including Asian countries. Further, according to a DSM senior scientist, an inadequate level of Vitamin D can be seen increasingly affecting women in Asian countries; however, it is often neither diagnosed nor treated and it has been estimated that by 2050, more than 50% of all hip fractures due to the condition will occur in this region.
Key Players
The complete nutrition products market is highly fragmented with the presence of small, medium, and large enterprises. Some players have been focusing on the special diets or requirements of the consumers. For instance, SlimFast offers products that are Keto friendly and aid in weight loss. On the other hand, companies such as LadyBoss targets only women.
Abbott Nutrition
Soylent
Ample Foods
Huel
IdealShape
OWYN
SlimFast
Numix
MuscleBlaze
LadyBoss
RSP Nutrition
Jimmy Joy
PROBAR
Segments Covered in the Report
Product
Distribution Channel

Supermarkets & Hypermarkets
Convenience Stores
Online
Others

Regional

North America
US
Canada
Mexico
Europe
UK
Germany
France
Italy
Spain
Asia Pacific
China
Japan
India
Australia
Central and South America
Brazil
Middle East and Africa
South Africa
UAE
1. Introduction
1.1. Objectives of the Study
1.2. Market Definition
1.3. Research Scope
1.4. Currency
1.5. Key Target Audience

2. Research Methodology and Assumptions

3. Executive Summary

4. Premium Insights
4.1. Porter's Five Forces Analysis
4.2. Value Chain Analysis
4.3. Top Investment Pockets
4.3.1. Market Attractiveness Analysis by Product
4.3.2. Market Attractiveness Analysis by Distribution Channel
4.3.3. Market Attractiveness Analysis by Region
4.4. Industry Trends

5. Market Dynamics
5.1. Market Evaluation
5.2. Drivers
5.2.1. The growing demand for convenient and easy-to-cook food products
5.3. Restraints
5.3.1. Presence of counterfeit products
5.4. Opportunities
5.4.1. Rising health consciousness among consumers

6. Global Complete Nutrition Products Market Analysis and Forecast, By Product
6.1. Segment Overview
6.2. Powder
6.3. Bars
6.4. RTD Shakes

7. Global Complete Nutrition Products Market Analysis and Forecast, By Distribution Channel
7.1. Segment Overview
7.2. Supermarkets & Hypermarkets
7.3. Convenience Stores
7.4. Online
7.5. Others

8. Global Complete Nutrition Products Market Analysis and Forecast, By Regional Analysis
8.1. Segment Overview
8.2. North America
8.2.1. U.S.
8.2.2. Canada
8.2.3. Mexico
8.3. Europe
8.3.1. Germany
8.3.2. France
8.3.3. U.K.
8.3.4. Italy
8.3.5. Spain
8.4. Asia-Pacific
8.4.1. Japan
8.4.2. China
8.4.3. India
8.5. South America
8.5.1. Brazil
8.6. Middle East and Africa
8.6.1. UAE
8.6.2. South Africa

9. Global Complete Nutrition Products Market-Competitive Landscape
9.1. Overview
9.2. Market Share of Key Players in the Complete Nutrition Products Market
9.2.1. Global Company Market Share
9.2.2. North America Company Market Share
9.2.3. Europe Company Market Share
9.2.4. APAC Company Market Share
9.3. Competitive Situations and Trends
9.3.1. Product Launches and Developments
9.3.2. Partnerships, Collaborations, and Agreements
9.3.3. Mergers & Acquisitions
9.3.4. Expansions

10. Company Profiles
10.1. Abbott Nutrition
10.1.1. Business Overview
10.1.2. Company Snapshot
10.1.3. Company Market Share Analysis
10.1.4. Company Product Portfolio
10.1.5. Recent Developments
10.1.6. SWOT Analysis
10.2. Soylent
10.2.1. Business Overview
10.2.2. Company Snapshot
10.2.3. Company Market Share Analysis
10.2.4. Company Product Portfolio
10.2.5. Recent Developments
10.2.6. SWOT Analysis
10.3. Ample Foods
10.3.1. Business Overview
10.3.2. Company Snapshot
10.3.3. Company Market Share Analysis
10.3.4. Company Product Portfolio
10.3.5. Recent Developments
10.3.6. SWOT Analysis
10.4. Huel
10.4.1. Business Overview
10.4.2. Company Snapshot
10.4.3. Company Market Share Analysis
10.4.4. Company Product Portfolio
10.4.5. Recent Developments
10.4.6. SWOT Analysis
10.5. IdealShape
10.5.1. Business Overview
10.5.2. Company Snapshot
10.5.3. Company Market Share Analysis
10.5.4. Company Product Portfolio
10.5.5. Recent Developments
10.5.6. SWOT Analysis
10.6. OWYN
10.6.1. Business Overview
10.6.2. Company Snapshot
10.6.3. Company Market Share Analysis
10.6.4. Company Product Portfolio
10.6.5. Recent Developments
10.6.6. SWOT Analysis
10.7. SlimFast
10.7.1. Business Overview
10.7.2. Company Snapshot
10.7.3. Company Market Share Analysis
10.7.4. Company Product Portfolio
10.7.5. Recent Developments
10.7.6. SWOT Analysis
10.8. Numix
10.8.1. Business Overview
10.8.2. Company Snapshot
10.8.3. Company Market Share Analysis
10.8.4. Company Product Portfolio
10.8.5. Recent Developments
10.8.6. SWOT Analysis
10.9. MuscleBlaze
10.9.1. Business Overview
10.9.2. Company Snapshot
10.9.3. Company Market Share Analysis
10.9.4. Company Product Portfolio
10.9.5. Recent Developments
10.9.6. SWOT Analysis
10.10. LadyBoss
10.10.1. Business Overview
10.10.2. Company Snapshot
10.10.3. Company Market Share Analysis
10.10.4. Company Product Portfolio
10.10.5. Recent Developments
10.10.6. SWOT Analysis
10.11. RSP Nutrition
10.11.1. Business Overview
10.11.2. Company Snapshot
10.11.3. Company Market Share Analysis
10.11.4. Company Product Portfolio
10.11.5. Recent Developments
10.11.6. SWOT Analysis
10.12. Jimmy Joy
10.12.1. Business Overview
10.12.2. Company Snapshot
10.12.3. Company Market Share Analysis
10.12.4. Company Product Portfolio
10.12.5. Recent Developments
10.12.6. SWOT Analysis
10.13. PROBAR
10.13.1. Business Overview
10.13.2. Company Snapshot
10.13.3. Company Market Share Analysis
10.13.4. Company Product Portfolio
10.13.5. Recent Developments
10.13.6. SWOT Analysis

List of Table
1. Global Complete Nutrition Products Market, By Product, 2019-2030 (USD Billion)
2. Global Powder Complete Nutrition Products Market, By Region, 2019-2030 (USD Billion)
3. Global Bars Complete Nutrition Products Market, By Region, 2019-2030 (USD Billion)
4. Global RTD Shakes Complete Nutrition Products Market, By Region, 2019-2030 (USD Billion)
5. Global Complete Nutrition Products Market, By Distribution Channel, 2019-2030 (USD Billion)
6. Global Supermarkets & Hypermarkets Complete Nutrition Products Market, By Region, 2019-2030 (USD Billion)
7. Global Convenience Stores Complete Nutrition Products Market, By Region, 2019-2030 (USD Billion)
8. Global Online Complete Nutrition Products Market, By Region, 2019-2030 (USD Billion)
9. Global Others Complete Nutrition Products Market, By Region, 2019-2030 (USD Billion)
10. Global Complete Nutrition Products Market, By Region, 2019-2030 (USD Billion)
11. North America Complete Nutrition Products Market, By Product, 2019-2030 (USD Billion)
12. North America Complete Nutrition Products Market, By Distribution Channel, 2019-2030 (USD Billion)
13. U.S. Complete Nutrition Products Market, By Product, 2019-2030 (USD Billion)
14. U.S. Complete Nutrition Products Market, By Distribution Channel, 2019-2030 (USD Billion)
15. Canada Complete Nutrition Products Market, By Product, 2019-2030 (USD Billion)
16. Canada Complete Nutrition Products Market, By Distribution Channel, 2019-2030 (USD Billion)
17. Mexico Complete Nutrition Products Market, By Product, 2019-2030 (USD Billion)
18. Mexico Complete Nutrition Products Market, By Distribution Channel, 2019-2030 (USD Billion)
19. Europe Complete Nutrition Products Market, By Product, 2019-2030 (USD Billion)
20. Europe Complete Nutrition Products Market, By Distribution Channel, 2019-2030 (USD Billion)
21. Germany Complete Nutrition Products Market, By Product, 2019-2030 (USD Billion)
22. Germany Complete Nutrition Products Market, By Distribution Channel, 2019-2030 (USD Billion)
23. France Complete Nutrition Products Market, By Product, 2019-2030 (USD Billion)
24. France Complete Nutrition Products Market, By Distribution Channel, 2019-2030 (USD Billion)
25. U.K. Complete Nutrition Products Market, By Product, 2019-2030 (USD Billion)
26. U.K. Complete Nutrition Products Market, By Distribution Channel, 2019-2030 (USD Billion)
27. Italy Complete Nutrition Products Market, By Product, 2019-2030 (USD Billion)
28. Italy Complete Nutrition Products Market, By Distribution Channel, 2019-2030 (USD Billion)
29. Spain Complete Nutrition Products Market, By Product, 2019-2030 (USD Billion)
30. Spain Complete Nutrition Products Market, By Distribution Channel, 2019-2030 (USD Billion)
31. Asia Pacific Complete Nutrition Products Market, By Product, 2019-2030 (USD Billion)
32. Asia Pacific Complete Nutrition Products Market, By Distribution Channel, 2019-2030 (USD Billion)
33. Japan Complete Nutrition Products Market, By Product, 2019-2030 (USD Billion)
34. Japan Complete Nutrition Products Market, By Distribution Channel, 2019-2030 (USD Billion)
35. China Complete Nutrition Products Market, By Product, 2019-2030 (USD Billion)
36. China Complete Nutrition Products Market, By Distribution Channel, 2019-2030 (USD Billion)
37. India Complete Nutrition Products Market, By Product, 2019-2030 (USD Billion)
38. India Complete Nutrition Products Market, By Distribution Channel, 2019-2030 (USD Billion)
39. South America Complete Nutrition Products Market, By Product, 2019-2030 (USD Billion)
40. South America Complete Nutrition Products Market, By Distribution Channel, 2019-2030 (USD Billion)
41. Brazil Complete Nutrition Products Market, By Product, 2019-2030 (USD Billion)
42. Brazil Complete Nutrition Products Market, By Distribution Channel, 2019-2030 (USD Billion)
43. Middle East and Africa Complete Nutrition Products Market, By Product, 2019-2030 (USD Billion)
44. Middle East and Africa Complete Nutrition Products Market, By Distribution Channel, 2019-2030 (USD Billion)
45. UAE Complete Nutrition Products Market, By Product, 2019-2030 (USD Billion)
46. UAE Complete Nutrition Products Market, By Distribution Channel, 2019-2030 (USD Billion)
47. South Africa Complete Nutrition Products Market, By Product, 2019-2030 (USD Billion)
48. South Africa Complete Nutrition Products Market, By Distribution Channel, 2019-2030 (USD Billion)
List of Figures
1. Global Complete Nutrition Products Market Segmentation
2. Complete Nutrition Products Market: Research Methodology
3. Market Size Estimation Methodology: Bottom-Up Approach
4. Market Size Estimation Methodology: Top-Down Approach
5. Data Triangulation
6. Porter's Five Forces Analysis
7. Value Chain Analysis
8. Global Complete Nutrition Products Market Attractiveness Analysis by Product
9. Global Complete Nutrition Products Market Attractiveness Analysis by Distribution Channel
10. Global Complete Nutrition Products Market Attractiveness Analysis by Region
11. Global Complete Nutrition Products Market: Dynamics
12. Global Complete Nutrition Products Market Share by Product (2022 & 2030)
13. Global Complete Nutrition Products Market Share by Distribution Channel (2022 & 2030)
14. Global Complete Nutrition Products Market Share by Regions (2022 & 2030)
15. Global Complete Nutrition Products Market Share by Company (2021)