The citrus oil market was valued at USD 13.8 billion in 2021 and is expected to expand at a CAGR of 6.8% over the forecast period from 2022 to 2030. The growing demand for natural products owing to the rising trend of health and wellness among consumer is driving the market. Further, the growing application of citrus oil in personal care and aromatherapy for benefits such as reduced stress, improved blood circulation, boosted immunity, rejuvenation of the mind, and aided digestion is also expected to drive market growth.
Essential oils are used in cosmetic products such as fragrances, serums, creams, shampoo, and toiletries. The growing awareness about the benefits of aromatherapy on both mental and physical health is also expected to drive the demand for citrus oil. Moreover, increasing consumer spending and changing lifestyles in developing countries like India are driving the market for essential oils at home, yoga studios, and spas
Citrus oil has been widely used in alternative medicine for a long time. However, the rediscovery and confirmation of some of its beneficial properties and its role as an antimicrobial, immunomodulatory, and cancer chemopreventive or chemotherapeutic agent have been attracting pharmaceutical companies to research it further and develop drugs with citrus oil as a key ingredient. Such efforts are likely to continue driving the market.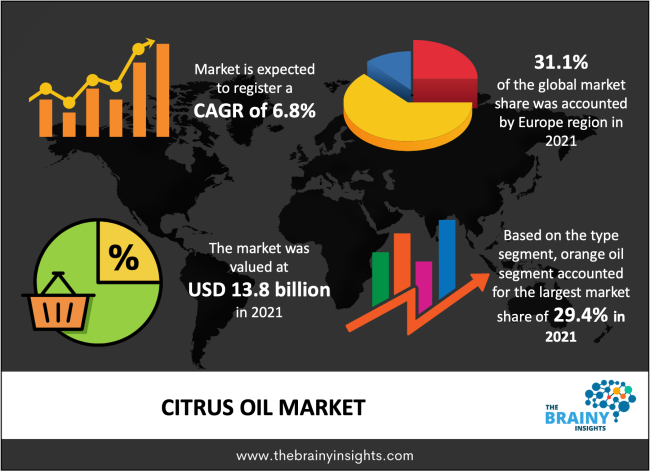 Get an overview of this study by requesting a free sample
The COVID-19 pandemic has severely impacted the citrus oil market. The supply of raw materials took a severe toll due to strict restrictions on movement. Furthermore, the closure of manufacturing plants disrupted the supply chain for citrus oil. In addition to this, months of lockdown orders, international travel bans, and work-from-home advisories across countries such as the U.S., the U.K., Germany, and India heavily impacted the purchase and usage behavior of consumers.
The application of citrus oil in the food and beverage sector has also been growing as it enhances the flavor and aroma of food products such as bakery items, beverages, and salads. Furthermore, the increasing recognition of citrus oil as a functional ingredient is anticipated to drive its uptake in the food industry. Its usage as a food preservative has also been rising due to its antimicrobial properties. Moreover, citrus oil is considered to be a good source of vitamin C and antioxidants and this is spurring its usage in the preparation of various ethnic foods.
Type Insights
Orange oil held the largest market share of 29.4% in 2021. The extensive use of orange oil to treat acne and chronic stress and other health concerns contributes significantly to the segment's dominance. Orange oil also reduces symptoms of anxiety and depression and has a relaxing and calming effect that helps lower the pulse rate. Two forms of orange oil are available in the market. These are sweet orange essential oil and bitter orange essential oil. The growing popularity of aromatherapy is contributing heavily to the adoption of citrus oil.
Lemon oil is expected to register the highest CAGR in 2021. Lemon oil is extracted from the peel of fresh lemons using a cold-pressing process. The main constituents of the oil are limonene, α-pinene, camphene, β-pinene, sabinene, myrcene, nerol, and neral. It can be diluted to reduce its concentration and can be applied for skin brightening and lightening. It also helps with depression, clears the skin, kills harmful viruses and bacteria, and reduces inflammation.
Application Insights
The application of citrus oil in personal care products is expected to register the highest growth rate. Citrus oils are primarily used in natural cosmetics due to their anti-inflammatory, antibacterial, and antiviral properties. Multiple skin cleansers contain a healthy dose of citrus oil because of their cleansing property. The oil smells of freshness, and, thus, helps in waking up the skin every morning. These oils contain chemical compounds that can kill acne-causing bacteria to help regulate stressed skin due to hormones. New natural skin-care lines such as Trilogy and Natrèceutique are using citrus oil in their products.
Food & beverages application held a market share of more than 25% in 2021. Citrus oils have invigorating aromas and flavors that enhance the taste of a dish. Fine dining restaurants use these oils in various meals, salads, marinades, dips, and desserts. Some of these oils are known to boost the digestive system of the body, for instance, grapefruit essential oil activates enzymes that break down body fat. Combining the consumption of pure citrus oil with a healthy diet and regular exercise is expected to accelerate one's weight loss journey, which makes it a preferred choice by modern health-conscious consumers.
Regional Insights
Europe accounted for the highest share of 31.1% of the market in 2021. European flavoring manufacturers are turning to natural ingredients to produce flavors instead of using synthetic ingredients to address the growing concerns of consumers for clean-label products, which is expected to drive the demand for citrus oil in this region. Germany, the U.K., France, and Spain have huge food industries, which are the most important end users of essential oils in Europe. Furthermore, the growing popularity of ethnic food dishes in Europe is anticipated to boost the region's citrus oil market.
Asia Pacific is expected to witness the highest CAGR of 7.1% during the forecast period. An increasing number of wellness & relaxation centers in this region is expected to drive the market for citrus oil. According to the Global Wellness Institute report 2018, revenues from a spa in the Asia Pacific region increased to USD 1,500.2 billion in 2020 from USD 1,370.5 in 2017. Spa promotes health and wellness using essential oils such as citrus oil, rosemary oil, or a blend of different oils. These oils are also used in spa bath treatments.
Key Players
Key players operating in the market are adopting various steps to increase their footprints worldwide. Strategies such as partnerships, mergers & acquisitions, research & development, product innovation, and launches are being adopted by players.
Symrise AG
Bontoux
LIONEL HITCHEN
doTerra
Citrus & Allied Essences Ltd
Young Living Essential Oils
Citromax Flavors, Inc.
FAROTTI SRL
Mountain Rose Inc.
Lebermuth, Inc.
Segments Covered in the Report
Type

Lemon
Orange
Lime
Grapefruit
Others

Application

Food & Beverages
Aromatherapy
Cosmetics & Personal Care
Others

Regional

North America
US
Canada
Mexico
Europe
UK
Germany
France
Italy
Spain
Asia Pacific
China
Japan
India
South Korea
Thailand
Central and South America
Brazil
Middle East and Africa
South Africa
UAE
1. Introduction
1.1. Objectives of the Study
1.2. Market Definition
1.3. Research Scope
1.4. Currency
1.5. Key Target Audience

2. Research Methodology and Assumptions

3. Executive Summary

4. Premium Insights
4.1. Porter's Five Forces Analysis
4.2. Value Chain Analysis
4.3. Top Investment Pockets
4.3.1. Market Attractiveness Analysis by Type
4.3.2. Market Attractiveness Analysis by Application
4.3.3. Market Attractiveness Analysis by Region
4.4. Industry Trends

5. Market Dynamics
5.1. Market Evaluation
5.2. Drivers
5.2.1. The growing demand for natural products
5.3. Restraints
5.3.1. High cost of the oil
5.4. Opportunities
5.4.1. Increasing consumer spending and changing lifestyles in developing countries

6. Global Citrus Oil Market Analysis and Forecast, By Type
6.1. Segment Overview
6.2. Lemon
6.3. Orange
6.4. Lime
6.5. Grapefruit
6.6. Others

7. Global Citrus Oil Market Analysis and Forecast, By Application
7.1. Segment Overview
7.2. Food & Beverages
7.3. Aromatherapy
7.4. Cosmetics & Personal Care
7.5. Others

8. Global Citrus Oil Market Analysis and Forecast, By Regional Analysis
8.1. Segment Overview
8.2. North America
8.2.1. U.S.
8.2.2. Canada
8.2.3. Mexico
8.3. Europe
8.3.1. Germany
8.3.2. France
8.3.3. U.K.
8.3.4. Italy
8.3.5. Spain
8.4. Asia-Pacific
8.4.1. Japan
8.4.2. China
8.4.3. India
8.5. South America
8.5.1. Brazil
8.6. Middle East and Africa
8.6.1. UAE
8.6.2. South Africa

9. Global Citrus Oil Market-Competitive Landscape
9.1. Overview
9.2. Market Share of Key Players in the Citrus Oil Market
9.2.1. Global Company Market Share
9.2.2. North America Company Market Share
9.2.3. Europe Company Market Share
9.2.4. APAC Company Market Share
9.3. Competitive Situations and Trends
9.3.1. Product Launches and Developments
9.3.2. Partnerships, Collaborations, and Agreements
9.3.3. Mergers & Acquisitions
9.3.4. Expansions

10. Company Profiles
10.1. Symrise AG
10.1.1. Business Overview
10.1.2. Company Snapshot
10.1.3. Company Market Share Analysis
10.1.4. Company Product Portfolio
10.1.5. Recent Developments
10.1.6. SWOT Analysis
10.2. Bontoux
10.2.1. Business Overview
10.2.2. Company Snapshot
10.2.3. Company Market Share Analysis
10.2.4. Company Product Portfolio
10.2.5. Recent Developments
10.2.6. SWOT Analysis
10.3. LIONEL HITCHEN
10.3.1. Business Overview
10.3.2. Company Snapshot
10.3.3. Company Market Share Analysis
10.3.4. Company Product Portfolio
10.3.5. Recent Developments
10.3.6. SWOT Analysis
10.4. doTerra
10.4.1. Business Overview
10.4.2. Company Snapshot
10.4.3. Company Market Share Analysis
10.4.4. Company Product Portfolio
10.4.5. Recent Developments
10.4.6. SWOT Analysis
10.5. Citrus & Allied Essences Ltd
10.5.1. Business Overview
10.5.2. Company Snapshot
10.5.3. Company Market Share Analysis
10.5.4. Company Product Portfolio
10.5.5. Recent Developments
10.5.6. SWOT Analysis
10.6. Young Living Essential Oils
10.6.1. Business Overview
10.6.2. Company Snapshot
10.6.3. Company Market Share Analysis
10.6.4. Company Product Portfolio
10.6.5. Recent Developments
10.6.6. SWOT Analysis
10.7. Citromax Flavors, Inc.
10.7.1. Business Overview
10.7.2. Company Snapshot
10.7.3. Company Market Share Analysis
10.7.4. Company Product Portfolio
10.7.5. Recent Developments
10.7.6. SWOT Analysis
10.8. FAROTTI SRL
10.8.1. Business Overview
10.8.2. Company Snapshot
10.8.3. Company Market Share Analysis
10.8.4. Company Product Portfolio
10.8.5. Recent Developments
10.8.6. SWOT Analysis
10.9. Mountain Rose Inc.
10.9.1. Business Overview
10.9.2. Company Snapshot
10.9.3. Company Market Share Analysis
10.9.4. Company Product Portfolio
10.9.5. Recent Developments
10.9.6. SWOT Analysis
10.10. Lebermuth, Inc.
10.10.1. Business Overview
10.10.2. Company Snapshot
10.10.3. Company Market Share Analysis
10.10.4. Company Product Portfolio
10.10.5. Recent Developments
10.10.6. SWOT Analysis

List of Table
1. Global Citrus Oil Market, By Type, 2019-2030 (USD Billion)
2. Global Lemon Citrus Oil Market, By Region, 2019-2030 (USD Billion)
3. Global Orange Citrus Oil Market, By Region, 2019-2030 (USD Billion)
4. Global Lime Citrus Oil Market, By Region, 2019-2030 (USD Billion)
5. Global Grapefruit Citrus Oil Market, By Region, 2019-2030 (USD Billion)
6. Global Others Citrus Oil Market, By Region, 2019-2030 (USD Billion)
7. Global Citrus Oil Market, By Application, 2019-2030 (USD Billion)
8. Global Food & Beverages Citrus Oil Market, By Region, 2019-2030 (USD Billion)
9. Global Aromatherapy Citrus Oil Market, By Region, 2019-2030 (USD Billion)
10. Global Cosmetics & Personal Care Citrus Oil Market, By Region, 2019-2030 (USD Billion)
11. Global Others Citrus Oil Market, By Region, 2019-2030 (USD Billion)
12. Global Citrus Oil Market, By Region, 2019-2030 (USD Billion)
13. North America Citrus Oil Market, By Type, 2019-2030 (USD Billion)
14. North America Citrus Oil Market, By Application, 2019-2030 (USD Billion)
15. U.S. Citrus Oil Market, By Type, 2019-2030 (USD Billion)
16. U.S. Citrus Oil Market, By Application, 2019-2030 (USD Billion)
17. Canada Citrus Oil Market, By Type, 2019-2030 (USD Billion)
18. Canada Citrus Oil Market, By Application, 2019-2030 (USD Billion)
19. Mexico Citrus Oil Market, By Type, 2019-2030 (USD Billion)
20. Mexico Citrus Oil Market, By Application, 2019-2030 (USD Billion)
21. Europe Citrus Oil Market, By Type, 2019-2030 (USD Billion)
22. Europe Citrus Oil Market, By Application, 2019-2030 (USD Billion)
23. Germany Citrus Oil Market, By Type, 2019-2030 (USD Billion)
24. Germany Citrus Oil Market, By Application, 2019-2030 (USD Billion)
25. France Citrus Oil Market, By Type, 2019-2030 (USD Billion)
26. France Citrus Oil Market, By Application, 2019-2030 (USD Billion)
27. U.K. Citrus Oil Market, By Type, 2019-2030 (USD Billion)
28. U.K. Citrus Oil Market, By Application, 2019-2030 (USD Billion)
29. Italy Citrus Oil Market, By Type, 2019-2030 (USD Billion)
30. Italy Citrus Oil Market, By Application, 2019-2030 (USD Billion)
31. Spain Citrus Oil Market, By Type, 2019-2030 (USD Billion)
32. Spain Citrus Oil Market, By Application, 2019-2030 (USD Billion)
33. Asia Pacific Citrus Oil Market, By Type, 2019-2030 (USD Billion)
34. Asia Pacific Citrus Oil Market, By Application, 2019-2030 (USD Billion)
35. Japan Citrus Oil Market, By Type, 2019-2030 (USD Billion)
36. Japan Citrus Oil Market, By Application, 2019-2030 (USD Billion)
37. China Citrus Oil Market, By Type, 2019-2030 (USD Billion)
38. China Citrus Oil Market, By Application, 2019-2030 (USD Billion)
39. India Citrus Oil Market, By Type, 2019-2030 (USD Billion)
40. India Citrus Oil Market, By Application, 2019-2030 (USD Billion)
41. South America Citrus Oil Market, By Type, 2019-2030 (USD Billion)
42. South America Citrus Oil Market, By Application, 2019-2030 (USD Billion)
43. Brazil Citrus Oil Market, By Type, 2019-2030 (USD Billion)
44. Brazil Citrus Oil Market, By Application, 2019-2030 (USD Billion)
45. Middle East and Africa Citrus Oil Market, By Type, 2019-2030 (USD Billion)
46. Middle East and Africa Citrus Oil Market, By Application, 2019-2030 (USD Billion)
47. UAE Citrus Oil Market, By Type, 2019-2030 (USD Billion)
48. UAE Citrus Oil Market, By Application, 2019-2030 (USD Billion)
49. South Africa Citrus Oil Market, By Type, 2019-2030 (USD Billion)
50. South Africa Citrus Oil Market, By Application, 2019-2030 (USD Billion)
List of Figures
1. Global Citrus Oil Market Segmentation
2. Citrus Oil Market: Research Methodology
3. Market Size Estimation Methodology: Bottom-Up Approach
4. Market Size Estimation Methodology: Top-Down Approach
5. Data Triangulation
6. Porter's Five Forces Analysis
7. Value Chain Analysis
8. Global Citrus Oil Market Attractiveness Analysis by Type
9. Global Citrus Oil Market Attractiveness Analysis by Application
10. Global Citrus Oil Market Attractiveness Analysis by Region
11. Global Citrus Oil Market: Dynamics
12. Global Citrus Oil Market Share by Type (2022 & 2030)
13. Global Citrus Oil Market Share by Application (2022 & 2030)
14. Global Citrus Oil Market Share by Regions (2022 & 2030)
15. Global Citrus Oil Market Share by Company (2021)