The calcium silicate market was estimated at around USD 1.8 billion in 2021, growing at a CAGR of nearly 4.2% during 2022-2030. The market is projected to reach approximately USD 2.6 billion by 2030.
Calcium Silicate Market: Overview
When silica and calcium oxide are combined in different amounts, a chemical known as calcium silicate, often referred to as calcium orthosilicate, is created. Limestone and diatomaceous earth are also naturally produced sources of calcium silicate. It is a free-flowing powder with a high capacity to absorb physical water and a low bulk density. When food is being prepared, calcium silicate is utilized as an antacid and an anti-caking agent. Applications for calcium silicate include food additives, insulation, sealants, and more. contributing to calcium silicate's broad range of applications. Throughout the projected period, it is anticipated that the demand for calcium silicate would increase significantly. Due to growing applications across many end use sectors, including construction, food & beverage, and pharmaceuticals, the calcium silicate market size is expected to experience considerable expansion throughout the anticipated time period. Additionally, rising public spending on infrastructure improvements in developing nations is anticipated to benefit market expansion. When employed in the building industry, these goods provide exceptional thermal insulating qualities, fire and corrosion resistance, and performance stability, all of which are projected to increase demand for calcium silicate.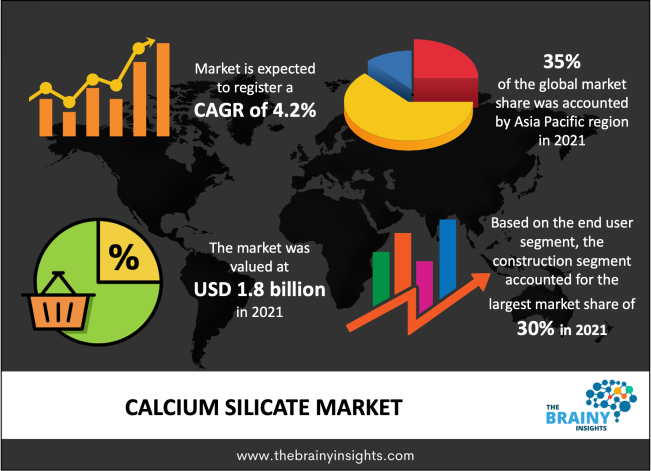 Get an overview of this study by requesting a free sample
Calcium Silicate Market: COVID – 19 Impact Analysis
Calcium silicate businesses have been severely impacted by the COVID-19 pandemic because to supply chain interruptions and worker health. The supply chain and demand for calcium silicate have declined as a result of the temporary closure of enterprises that use calcium silicate minerals for a variety of applications, including insulation and stabilizing agents. It is anticipated that a shortage of calcium silicates during the COVID-19 pandemic due to lower productivity rates will increase the price of calcium silicate and hence impede the market's expansion. The demand for calcium silicate as a raw material to be utilized in medications for various medicinal applications is anticipated to rise as the pharmaceutical industry expands.
Calcium Silicate Market: Growth Drivers
Rising investments in infrastructure to accelerate the market's growth
The need for residential and commercial structures has increased as a result of rising infrastructure development investments and the growing urbanization of populations, which is anticipated to fuel market expansion for construction calcium silicate. The substance serves as a replacement for hazardous building materials like asbestos and phthalates since it effectively insulates sound, has a high light density, and is resistant to water damage. Over USD 10 trillion was spent on construction worldwide in 2018, which is expected to boost market expansion. These products are suitable for roofing, brick, and floor tile applications since they are lighter than fiber cement board. The demand for the product will be boosted by the expanding building and construction sector and rising investment in infrastructure projects around the world.
Rising pharmaceutical industry drive the market expansion
The size of the pharmaceuticals market has increased as a result of the enormous demand for healthcare services and therapeutic treatments that the rising prevalence of diseases has generated. Due to its ability to allow free flow of ingredients during the preparation of medicines as it absorbs moisture and surplus water, calcium silicate, a chemically stable component, is used as an additive in medical powders. The inclusion of calcium silicate in medications aids in the treatment of weak bones and encourages the development of healthy bones in children and women, which is anticipated to positively affect market growth. These materials are also employed in the creation of drug delivery systems because they provide a lengthy drug release period, greatly extending the therapeutic efficacy of pharmaceuticals. The expansion of the calcium silicate market is projected to be boosted by rising government funding for healthcare innovation and rising consumer expenditure on health and wellness products.
Calcium Silicate Market: Segmentation Analysis
The calcium silicate market is segmented into end user and region. Based on end user, the market for construction segment is estimated to lead the market during the forecast period. Due to the increasing rise in urbanization, the construction sector is the most important one. Building construction and other factors, along with an increase in investments, have driven the industry ahead. Calcium silicate can be used to replace hazardous building materials like asbestos and phthalates since it provides thorough insulation, a low density, and water resistance. Ten trillion dollars were spent on building worldwide in 2018. Products made of calcium silicate are more effective and waterproof than cement board since they are lighter.
Because calcium silicate is used as a powder in medication, the pharmaceutical segment is the one with the fastest growth in the calcium silicate market. Calcium silicate is a stable chemical element that is utilized as an addition in medicinal powders because it can produce an endless stream of products and because it can absorb water during the manufacturing process of medicines.
Report Scope
| Attribute | Description |
| --- | --- |
| Market Size(unit) | USD Billion |
| CAGR | 4.2% |
| Historical data | 2019-2020 |
| Base Year | 2021 |
| Forecast | 2022-2030 |
| Segments Covered | By End User |
| Regional scope | North America, Europe, Asia Pacific, Middle East & Africa, and Latin America |
Key Insights:
Based on end-user segmentation, the construction segment is the leading revenue-generating category during the forecast period.
On the basis of geography/region, the Asia Pacific region was the leading revenue generator in 2021.
Recent Development
November 2019: The business, owned by Illinois Tool Works Inc., is well known in the industrial sector for its high-quality, low-temperature polyisocyanurate foam insulations and metal jacketing solutions. Today, Johns Manville (JM), a Berkshire Hathaway company and major manufacturer of building products, announced that it has entered into an agreement to acquire ITW Insulation Systems. Early December is the anticipated closing date for the deal.
August 2017: Thermo-1200TM would be the first water-resistant calcium silicate to be made available in North America by Johns Manville Industrial Insulation Group (IIG), a leading manufacturer of building supplies and a Berkshire Hathaway firm. Thermo-12 Gold, the existing high-temperature calcium silicate product from Johns Manville Industrial Insulation Group, will be replaced with this product, which will be offered around the world. Thermo-1200 has comparable thermal performance and corrosion-resistance to Thermo-12 Gold, but it also resists moisture.
Regional Landscape
The Asia-Pacific region, which currently accounts for the majority of the market's revenue share, is anticipated to remain one of the most appealing markets throughout the projection period. It is anticipated that rising development in nations like China and India will increase demand for tiles and cement, which will in turn boost calcium silicate growth during the coming years. Due to the lower costs of labor and raw materials in China and India, major corporations have begun moving manufacturing operations there. China is anticipated to play a significant role in fostering growth in the Asia Pacific area.
Due to rising consumer spending on healthcare facilities in the region, the North American calcium silicate market demand, led by the United States and Canada, is predicted to experience considerable increase over the expected time period. While total pharmaceutical sales in the U.S. reached over USD 370 billion in 2017, North America's healthcare business generated over USD 710 billion in revenue in 2018. Key variables influencing product demand include the rise in lifestyle diseases, increased consumer health consciousness, and expanding government spending on healthcare and wellness programs.
List of the prominent players in the Global Calcium silicate market:
Associated Ceramics & Technology, Inc.
Johns Manville
Morgan Advanced Materials
Mil-Spec Industries Corporation
Industrial Insulation Group, LLC
Promat International
ZIRCAR CERAMICS
kamol
American Elements
Weifang Hongyuan Chemical
The global Calcium silicate market is segmented as follows:
By End user
Construction
Pharmaceutical
Food & Beverages
Others
By Region/Geography
France
The UK
Spain
Germany
Italy
Rest of Europe
China
Japan
India
Australia
South Korea
Rest of Asia Pacific
Saudi Arabia
UAE
South Africa
Rest of the Middle East & Africa
Brazil
Argentina
Rest of Latin America
1. Introduction
1.1. Objectives of the Study
1.2. Market Definition
1.3. Research Scope

2. Research Methodology and Assumptions

3. Executive Summary

4. Premium Insights
4.1. Porter's Five Forces Analysis
4.2. Value Chain Analysis
4.3. Top Investment Pockets
4.3.1. Market Attractiveness Analysis By End User
4.4. Industry Trends

5. Market Dynamics
5.1. Market Evaluation
5.2. Drivers
5.2.1. Rising investments in infrastructure to accelerate the market's growth
5.2.2. Rising pharmaceutical industry drive the market expansion
5.3. Restrains
5.3.1. inadequate knowledge on the use of insulating goods would hamper the market
5.4. Opportunities
5.4.1. increasing demand for green construction materials

6. Global Calcium Silicate Market Analysis and Forecast, By End User
6.1. Segment Overview
6.2. Construction
6.3. Pharmaceutical
6.4. Food & Beverages
6.5. Others

7. Global Calcium Silicate Market Analysis and Forecast, By Regional Analysis
7.1. Segment Overview
7.2. North America
7.2.1. U.S.
7.2.2. Canada
7.2.3. Mexico
7.3. Europe
7.3.1. Germany
7.3.2. France
7.3.3. U.K.
7.3.4. Italy
7.3.5. Spain
7.3.6. Rest of Europe
7.4. Asia-Pacific
7.4.1. Japan
7.4.2. China
7.4.3. India
7.4.4. Australia
7.4.5. South Korea
7.4.6. Rest of Asia-Pacific
7.5. South America
7.5.1. Brazil
7.5.2. Argentina
7.5.3. Rest of South America
7.6. Middle East and Africa
7.6.1. UAE
7.6.2. South Africa
7.6.3. Saudi Arabia
7.6.4. Rest of Middle East & Africa

8. Global Calcium Silicate Market-Competitive Landscape
8.1. Overview
8.2. Market Share of Key Players in the Calcium Silicate Market
8.2.1. Global Company Market Share
8.2.2. North America Company Market Share
8.2.3. Europe Company Market Share
8.2.4. APAC Company Market Share
8.3. Competitive Situations and Trends
8.3.1. Type Launches and Developments
8.3.2. Partnerships, Collaborations, and Agreements
8.3.3. Mergers & Acquisitions
8.3.4. Expansions

9. Company Profiles
9.1. Associated Ceramics & Technology, Inc.
9.1.1. Business Overview
9.1.2. Company Snapshot
9.1.3. Company Market Share Analysis
9.1.4. Company End User Portfolio
9.1.5. Recent Developments
9.1.6. SWOT Analysis
9.2. Johns Manville
9.2.1. Business Overview
9.2.2. Company Snapshot
9.2.3. Company Market Share Analysis
9.2.4. Company End User Portfolio
9.2.5. Recent Developments
9.2.6. SWOT Analysis
9.3. Morgan Advanced Materials
9.3.1. Business Overview
9.3.2. Company Snapshot
9.3.3. Company Market Share Analysis
9.3.4. Company End User Portfolio
9.3.5. Recent Developments
9.3.6. SWOT Analysis
9.4. Mil-Spec Industries Corporation
9.4.1. Business Overview
9.4.2. Company Snapshot
9.4.3. Company Market Share Analysis
9.4.4. Company End User Portfolio
9.4.5. Recent Developments
9.4.6. SWOT Analysis
9.5. Industrial Insulation Group, LLC
9.5.1. Business Overview
9.5.2. Company Snapshot
9.5.3. Company Market Share Analysis
9.5.4. Company End User Portfolio
9.5.5. Recent Developments
9.5.6. SWOT Analysis
9.6. Promat International
9.6.1. Business Overview
9.6.2. Company Snapshot
9.6.3. Company Market Share Analysis
9.6.4. Company End User Portfolio
9.6.5. Recent Developments
9.6.6. SWOT Analysis
9.7. ZIRCAR CERAMICS
9.7.1. Business Overview
9.7.2. Company Snapshot
9.7.3. Company Market Share Analysis
9.7.4. Company End User Portfolio
9.7.5. Recent Developments
9.7.6. SWOT Analysis
9.8. kamol
9.8.1. Business Overview
9.8.2. Company Snapshot
9.8.3. Company Market Share Analysis
9.8.4. Company End User Portfolio
9.8.5. Recent Developments
9.8.6. SWOT Analysis
9.9. American Elements
9.9.1. Business Overview
9.9.2. Company Snapshot
9.9.3. Company Market Share Analysis
9.9.4. Company End User Portfolio
9.9.5. Recent Developments
9.9.6. SWOT Analysis
9.10. Weifang Hongyuan Chemical
9.10.1. Business Overview
9.10.2. Company Snapshot
9.10.3. Company Market Share Analysis
9.10.4. Company End User Portfolio
9.10.5. Recent Developments
9.10.6. SWOT Analysis

List of Table
1. Global Calcium Silicate Market, By End User, 2022-2030(USD Million)
2. Global Construction Calcium Silicate Market, By Region, 2022-2030(USD Million)
3. Global Pharmaceutical Calcium Silicate Market, By Region, 2022-2030(USD Million)
4. Global Food & Beverages Calcium Silicate Market, By Region, 2022-2030(USD Million)
5. Global Others Calcium Silicate Market, By Region, 2022-2030(USD Million)
6. Global Calcium Silicate Market, By Region, 2022-2030(USD Million)
7. Global Calcium Silicate Market, By North America, 2022-2030(USD Million)
8. North America Calcium Silicate Market, By End User, 2022-2030(USD Million)
9. U.S. Calcium Silicate Market, By End User, 2022-2030(USD Million)
10. Canada Calcium Silicate Market, By End User, 2022-2030(USD Million)
11. Mexico Calcium Silicate Market, By End User, 2022-2030(USD Million)
12. Europe Calcium Silicate Market, By End User, 2022-2030(USD Million)
13. Germany Calcium Silicate Market, By End User, 2022-2030(USD Million)
14. France Calcium Silicate Market, By End User, 2022-2030(USD Million)
15. U.K. Calcium Silicate Market, By End User, 2022-2030(USD Million)
16. Italy Calcium Silicate Market, By End User, 2022-2030(USD Million)
17. Spain Calcium Silicate Market, By End User, 2022-2030(USD Million)
18. Rest of Europe Calcium Silicate Market, By End User, 2022-2030(USD Million)
19. Asia Pacific Calcium Silicate Market, By End User, 2022-2030(USD Million)
20. Japan Calcium Silicate Market, By End User, 2022-2030(USD Million)
21. China Calcium Silicate Market, By End User, 2022-2030(USD Million)
22. India Calcium Silicate Market, By End User, 2022-2030(USD Million)
23. Australia Calcium Silicate Market, By End User, 2022-2030(USD Million)
24. South Korea Calcium Silicate Market, By End User, 2022-2030(USD Million)
25. Rest of Asia-Pacific Calcium Silicate Market, By End User, 2022-2030(USD Million)
26. South America Calcium Silicate Market, By End User, 2022-2030(USD Million)
27. Brazil Calcium Silicate Market, By End User, 2022-2030(USD Million)
28. Argentina Calcium Silicate Market, By End User, 2022-2030(USD Million)
29. Rest of South America Calcium Silicate Market, By End User, 2022-2030(USD Million)
30. Middle East and Africa Calcium Silicate Market, By End User, 2022-2030(USD Million)
31. UAE Calcium Silicate Market, By End User, 2022-2030(USD Million)
32. South Africa Calcium Silicate Market, By End User, 2022-2030(USD Million)
33. Saudi Arabia Calcium Silicate Market, By End User, 2022-2030(USD Million)
34. Rest of Middle East & Africa Calcium Silicate Market, By End User, 2022-2030(USD Million)
List of Figures
1. Global Calcium Silicate Market Segmentation
2. Calcium Silicate Market: Research Methodology
3. Market Size Estimation Methodology: Bottom-Up Approach
4. Market Size Estimation Methodology: Top-Down Approach
5. Data Triangulation
6. Porter's Five Forces Analysis
7. Value Chain Analysis
8. Global Calcium Silicate Market Attractiveness Analysis By End User
9. Global Calcium Silicate Market Attractiveness Analysis By Region
10. Global Calcium Silicate Market: Dynamics
11. Global Calcium Silicate Market Share By End User(2022 & 2030)
12. Global Calcium Silicate Market Share by Regions (2022 & 2030)
13. Global Calcium Silicate Market Share by Company (2021)