The global Beach Hotels market generated USD 132.65 billion revenue in 2022 and is projected to grow at a CAGR of 4.35% from 2023 to 2032. The market is expected to reach USD 203.06 billion by 2032. One of the primary drivers is the increasing purchasing power of individuals in developing countries. Additionally, there is a growing trend towards vacationing in seaside areas, and the availability of online booking discounts for beachfront hotels is further propelling market expansion. Moreover, the rising demand for beach hotels can be attributed to guests' preference for tranquil, less congested and overcrowded locations.
Market Introduction:
Beach hotels are a category of hospitality establishments strategically located along the picturesque shorelines of oceans, seas, or coastal areas. These hotels are specifically designed to offer guests a unique and idyllic experience centered around beachfront living. They typically feature direct access to sandy beaches and stunning waterfront views. Beach hotels are characterized by their serene environments, making them popular for vacationers and those seeking relaxation and leisure. Guests can typically expect a range of amenities and services that cater to their desire for a coastal retreat. These may include well-appointed guest rooms or suites with balconies or terraces overlooking the sea, outdoor pools, water sports facilities, and private access to the beach. Many beach hotels offer restaurants and bars with oceanfront dining options, allowing guests to savour delicious cuisine while enjoying the sound of the waves. Spa and wellness facilities are often available for guests seeking rejuvenation and relaxation. The ambience is typically designed to reflect the coastal surroundings, with soothing colour palettes and tropical decor. Moreover, these hotels are popular for hosting destination weddings, allowing couples to exchange vows against a backdrop of sun, sand, and sea. Overall, beach hotels provide a perfect blend of natural beauty, luxury, and recreation, making them a sought-after choice for those looking to escape to the shores and enjoy a memorable seaside experience.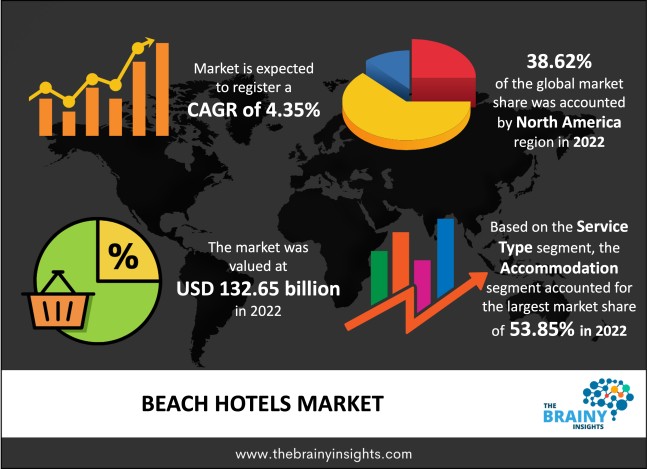 Get an overview of this study by requesting a free sample
Recent Development
In October 2023: IHG Hotels & Resorts is pleased to unveil a series of new voco hotel properties, marking a significant brand expansion throughout Europe. Voco hotels have gained popularity for their adaptable design and operational structure, which empowers property owners to realize their distinct visions for each establishment. Guests are drawn to the unique personality and local allure of each hotel, and the rapid growth of the brand in these sought-after markets serves as compelling evidence of its winning formula.
In September 2023: The partnership between Cisneros and Four Seasons is officially revealed as they embark on developing the Four Seasons Resort and Residences Dominican Republic at Tropicalia. This opulent destination is set to grace a sixty-acre stretch of unspoiled beachfront along Playa Esmeralda, situated in the northeastern region of the Dominican Republic, offering breathtaking views of Samaná Bay's southern shores. This endeavour harmoniously fuses Four Seasons' globally acclaimed hospitality and service excellence with Cisneros' extensive experience and investments in the Dominican Republic, Latin America, and the United States. With construction currently underway, the resort is on track to welcome guests in early 2026.
In February 2023: Red Sea Global and Four Seasons Hotels and Resorts, a leading luxury hospitality company, have unveiled their collaborative endeavour to present a Four Seasons Resort within The Red Sea masterplan development. This upcoming resort will be nestled in The Red Sea destination, an expansive stretch of 200 kilometres of breathtaking coastline along the western shores of the Kingdom of Saudi Arabia. Specifically, the new Four Seasons Resort will find its home on Shura Island, the central hub of this development. It also hosts a yacht marina, an array of leisure and lifestyle facilities, a golf course, various retail offerings, and more.
Market Dynamics:
Drivers
Scenic Locations - Beach hotels are primarily located in picturesque coastal areas, providing guests with stunning ocean views, sandy shores, and access to water-based activities. The natural beauty and serene surroundings attract travellers looking for a relaxing getaway.
Tourism and Travel Trends - As global tourism continues to grow, beach destinations remain popular choices for leisure travellers. Tourists seek sunny and tropical beach locations for vacations, honeymoons, and special occasions.
Adventure and Water Activities - Beaches are renowned for exhilarating water-based activities, providing a playground for adventure enthusiasts and water sports aficionados. These activities not only allow individuals to immerse themselves in the stunning natural beauty of coastal environments but also offer thrilling and memorable experiences. As a result, it fueled the market's growth.
Restraints:
Seasonal Variability - Many beach destinations are highly seasonal, with peak demand during the summer months and holidays. This factor can lead to inconsistent revenue and profitability, making it challenging for beach hotels to maintain year-round operations.
Weather and Natural Disasters - Beach hotels are susceptible to weather-related disruptions, such as hurricanes, tsunamis, and coastal erosion. Natural disasters can damage properties and disrupt operations, leading to costly repairs and downtime.
Opportunities:
Diversified Target Markets - Beach hotels can tap into a diverse range of target markets, including families, honeymooners, adventure enthusiasts, wellness seekers, and corporate travellers. Tailoring services and marketing to these segments can help capture a broader audience.
Eco-Tourism and Sustainability - Embracing eco-tourism and sustainability practices can attract environmentally-conscious travellers. Beach hotels can invest in green initiatives, renewable energy sources, and eco-friendly construction to meet the growing demand for sustainable travel.
Health and Wellness Tourism – The wellness travel market is expanding rapidly. Beach hotels can incorporate wellness programs, spa services, yoga and meditation retreats, and fitness facilities to cater to health-conscious travellers.
Challenges:
Environmental Concerns - Rising environmental concerns, including beach erosion, pollution, and coral reef degradation, can impact the sustainability of beach destinations and may lead to increased regulatory restrictions.
Regulatory and Zoning Issues - Coastal areas often have stringent regulations and zoning restrictions to protect the environment and local communities. These regulations can limit the expansion or development of beach hotels.
Regional segmentation analysis:
The regions analyzed for the market include North America, Europe, South America, Asia Pacific, the Middle East, and Africa. North America emerged as the most prominent global Beach Hotels market, with a 38.62% market revenue share in 2022.
North America boasts a vast and diverse coastline, including the Atlantic Ocean, the Pacific Ocean, the Gulf of Mexico, and the Great Lakes. This diversity offers a wide range of beach experiences, from tropical paradises in Florida and Hawaii to rugged coastlines in California and the picturesque beaches of the Northeast. In addition, North America is home to numerous iconic tourist destinations, including Miami Beach, Myrtle Beach, the Florida Keys, Cancun in Mexico, and the Caribbean islands. These destinations attract travellers worldwide, making North America a magnet for beachgoers. The region is also well-connected with major international airports, highways, and cruise ports, making it easy for travellers to access beach destinations. Accessibility is a critical factor in driving tourism and the beach hotel market. Furthermore, North America has a stable and robust economy, which encourages domestic and international travel. The high disposable income of its residents and strong currency also contribute to the growth of the beach hotel market. Additionally, North America offers many accommodation options, from luxury beachfront resorts to budget-friendly beach hotels and vacation rentals. This diversity caters to a broad spectrum of travellers. Europe is predicted to notice significant growth over the forecast years. Many European beach destinations are rich in history and culture. Visitors can combine their beach vacation with cultural exploration, sightseeing, and visits to historical landmarks, creating a holistic travel experience. While Europe experiences peak beach tourism during the summer, it also attracts visitors during the shoulder seasons and for winter sun escapes. This seasonal variability extends the tourism season and offers opportunities for year-round operations. Besides, European beach destinations often feature world-class cuisine, and tourists are drawn to the opportunity to savour local dishes and international fare in picturesque seaside settings.
North America Region Beach Hotels Market Share in 2022 - 38.62%
www.thebrainyinsights.com
Check the geographical analysis of this market by requesting a free sample
Type Segment Analysis
The type segment includes budget, premium and standard. The standard segment dominated the market, with a share of 51.32% in 2022. Standard beach hotels typically offer more affordable pricing than luxury or boutique beach hotels. This affordability makes them accessible to a broader range of travellers, including budget-conscious individuals and families. In addition, many standard beach hotels are well-suited for family vacations. They often offer family rooms or suites, and their pricing allows families to enjoy beachfront accommodations without breaking the bank. Moreover, standard hotel chains often provide consistent quality and service standards. This predictability can be reassuring for travellers who prefer a certain level of comfort and amenities without surprises.
Service Type Segment Analysis
The service type segment is classified into accommodation, food & beverage and others. The accommodation segment dominated the market, with a share of around 53.85% in 2022. The accommodation segment offers a broad spectrum of choices, from standard hotels and luxury resorts to boutique inns and vacation rentals. This diversity caters to many traveller preferences, budgets, and needs. Additionally, standard and budget accommodations provide cost-effective options for travellers, making beachfront stays accessible to a broad demographic of guests, including families and budget-conscious travellers. Furthermore, accommodation options within this segment attract a steady flow of frequent travellers, such as business travellers, tourists, and conference attendees, who seek comfort, convenience, and reliable services.
Occupants Segment Analysis
The occupants segment is divided into group and solo. The group segment dominated the market, with a share of around 76.41% in 2022. Group occupants, such as families, friends, and corporate groups, often book multiple rooms or accommodations, resulting in higher revenue for beach hotels. This segment can provide a steady stream of guests, leading to consistent occupancy rates. Moreover, families are a significant portion of the group occupants segment. Beach destinations are popular for family vacations due to the various activities and facilities catering to all age groups. In addition, group occupants often include attendees of large events, conferences, weddings, and reunions held at beachfront locations. These events bring substantial business to beach hotels and can lead to full property bookings.
Some of the Key Market Players:
ITC Limited
Four Seasons Holdings Inc.
IHG (InterContinental Hotels Group PLC)
Hyatt Hotels Corporation
Marriott International, Inc.
Shangri-La Asia Limited.
Wyndham Worldwide Corporation
Accor SA
The Indian Hotels Company Limited
Hilton Worldwide Holdings Inc.
The Oberoi Group
Sunset Key Guest Cottages
Montage Laguna Beach
Four Seasons Resort
Jade Mountain
Belmond Maroma Resort & Spa
Capri Laguna
Laguna Beach House
Casa Laguna Hotel & Spa.
Hyatt Hotels Corporation
Report Description:
| Attribute | Description |
| --- | --- |
| Market Size | Revenue (USD Billion) |
| Market size value in 2022 | USD 132.65 Billion |
| Market size value in 2032 | USD 203.06 Billion |
| CAGR (2023 to 2032) | 4.35% |
| Historical data | 2019-2021 |
| Base Year | 2022 |
| Forecast | 2023-2032 |
| Region | The regions analyzed for the market are Asia Pacific, Europe, South America, North America, and Middle East & Africa. Furthermore, the regions are further analyzed at the country level. |
| Segments | Type, Service Type and Occupants |