The global bakery processing equipment market is expected to reach USD 24.3 billion by 2032, at a CAGR of 6.4% during the forecast period 2022 to 2032. North America is expected to grow the fastest during the forecast period.
Market Overview:
Bakery processing equipment is essential in bakery item production, such as bread, cookies, pastries, cakes, biscuits, pizzas, and doughnuts. Mixing, cooling, baking, extrusion, and enrobing are some steps to produce bakery items. Due to the rise in the fast food industry and the increasing consumption of fast food products such as pizzas, burgers, sandwiches, etc., the demand for bakery processing equipment is increasing drastically. In addition, fastly changing lifestyles in developed and developing countries are also helping to raise market growth. Not only fast-food items but traditional bakery products demand is also increasing, such as muffins, scones, rolls, bagels, etc. Automation and robotic technologies have considerably aided businesses in lowering overall production costs and manual labour expenses. The expansion of the global population is predicted to contribute to the growth of the bread processing equipment market. The Food and Drug Administration (FDA) and the state governments are ruling the market with the help of certificates and standards enforced by multiple organizations and regulations.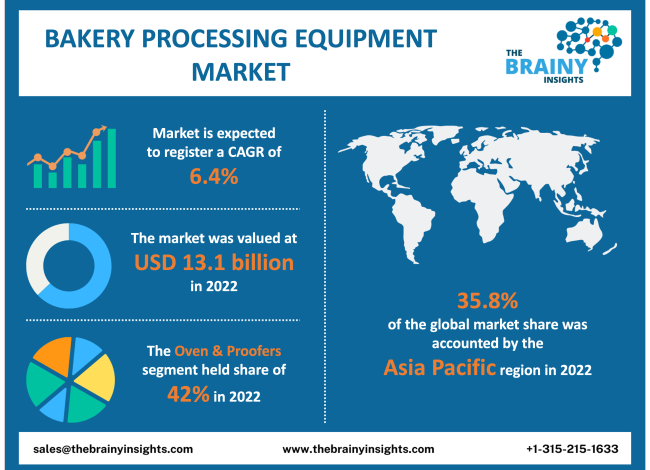 Get an overview of this study by requesting a free sample
Recent Development
In April 2019., MiddleBy announced the acquisition of Standex Cooking Solutions Group. MiddleBy Commercial Foodservice Group has acquired a variety of new trademarks, including Bakers Pride, Bakers Pride, Ultrafryer, and BKI.
In February 2018, MiddleBy finalized the acquisition of Hinds-Bock Corporation, a maker of bakery and food filling and depositing products and solutions. The acquisition expands MiddleBy's current portfolio's baking and processing systems.
Market Dynamics:
Drivers
Increased techniques in bakery goods production and rising fortified baked items- The bakery industry is one of the world's largest, having a diverse range of manufacturing scales and techniques. Following the economic downturn, the worldwide baked goods sector recovered quickly and has shown robust growth in recent years. The top three markets in the global bakery market are the United States, China, and Brazil, which account for 30.8% of the global market share. Convenience, affordability, health benefits, and increased demand for healthier fortified baked items with reduced levels of fat, sugar, and calories are factors connected with the rise of the baked goods products industry.
Restraints:
High cost of equipment- High fixed costs and equipment maintenance are projected to limit market expansion to some extent. Established food processors, such as bakery firms, must invest significantly to set up machine lines to produce specific or novel baked foods. According to the American Bakers Association, cookie and cracker producers in the United States spend over USD 800 million on energy each year. An ordinary bread and roll bakery spends roughly USD 200,000 on energy each year, but a cookie and cracker bakery spends around USD 1.5 million.
Opportunities:
Rising consumption- Bakery products are increasingly available to people of all ages. Thus, rising bakery product consumption aids in the development of the bakery processing business, increasing demand for bakery processing equipment. Furthermore, as energy and labour costs rise, bakery makers are increasingly focusing on improving production efficiency. This is expected to drive demand for novel automated bakery processing technologies that are more efficient and produce less food waste.
Challenges:
Maintenance cost- The cost of installing new machinery, as well as the cost of proper maintenance, is high. Small and medium-sized enterprises need help investing substantial sums of money installing bakery processing equipment.
Regional segmentation analysis:
The regions analyzed for the market include North America, Europe, South America, Asia Pacific, the Middle East, and Africa. Asia Pacific emerged as the largest market for the global bakery processing equipment market, with a 35.8% market revenue share in 2022.
Asia Pacific currently dominates the bakery processing equipment market with a 35.8% market revenue share in 2022. Food consumption in Asia Pacific is continually increasing, owing to the rising population, fast urbanization, and rising affluence. Because of the hectic lifestyles of customers in nations such as India, China, and Japan, students and urban workers choose bakery products as snacks. Imported bakery items are in high demand in China due to their superior quality and packaging. These factors are expected to contribute to the expansion of bakery product markets.
North America is expected to witness the fastest growth during the forecast period. Several North American firms offer limited-edition, nostalgic, and seasonal items to attract consumers to purchase bakery products. As a result, over the forecast period, demand for bakery processing equipment with maximum flexibility, such as the capacity to change the ingredients/raw materials batch by batch, is predicted to expand significantly. Furthermore, increased demand for frozen baked products, premium pastries, whole grain bakery items, and healthy snacks is driving the market in North America. The availability of well-established infrastructure facilities and the application of novel manufacturing technologies are projected to drive market growth.
Asia Pacific Region Bakery Processing Equipment Market Share in 2022 - 35.8%
www.thebrainyinsights.com
Check the geographical analysis of this market by requesting a free sample
Equipment Analysis:
The equipment segment is divided into oven & proofers, mixer & blenders, moulders & sheeters, dividers & rounders, and others. The oven & proofers segment dominated the market, with a market share of around 42% in 2022, because of their widespread usage in baking and the rising demand for baked foods. Furthermore, the introduction of low-energy-consumption ovens is expected to drive the market. The oven is the essential processing stage in baking because both heat and transfer phenomena occur concurrently inside ovens, creating biochemical and physiochemical changes in the product. This procedure also functions as a key step, killing bacteria from growing within the product.
Application Analysis:
The application segment is divided into cakes & pastries, bread, pizza crusts, cookies & biscuits, and others. The bread segment dominated the market, with a market share of around 40% in 2022. This is due to the high demand for bread in North America and Europe due to their client's nutritional choices. Furthermore, the market will likely be pushed over the forecast period by rising bread demand in nations such as India and China. Three of America's major pizza companies intended to expand into developing countries. For example, Pizza Hut planned to open 1000 new shops in China in 2019, followed by Papa John's and Domino's (each with 50 locations). Some of the machines used in bread making include a sieve, baking trays, dough dividers, dough scorers, weighing scales, bread moulds, and ovens.
List of Key Market Players:
Ali Group S.r.l.
Baker Perkins Limited
Koenig Maschinen GmbH
The Middleby Corporation.
Bühler AG
GEA Group Aktiengesellschaft
Markel Food Group
Anko Food Machine Co., Ltd.
JBT Corporation
Heat & Control, Inc.
Report Description:
| Attribute | Description |
| --- | --- |
| Market Size | Revenue (USD Billion) |
| Market size value in 2022 | USD 13.1 billion |
| Market size value in 2032 | USD 24.3 billion |
| CAGR (2023 to 2032) | 6.4% |
| Historical data | 2019-2021 |
| Base Year | 2022 |
| Forecast | 2023-2032 |
| Regional Segments | North America, Asia Pacific, Europe, Latin America, Middle East and Africa |
| Segments | Equipment, Application |
Frequesntly Asked Questions
As per The Brainy Insights, the size of the bakery processing equipment market was valued at USD 13.1 billion in 2022 to USD 24.3 billion by 2032.
The global bakery processing equipment market is growing at a CAGR of 6.4% during the forecast period 2023-2032.
Asia Pacific emerged as the largest bakery processing equipment market.
1. Introduction
1.1. Objectives of the Study
1.2. Market Definition
1.3. Research Scope
1.4. Currency
1.5. Key Target Audience

2. Research Methodology and Assumptions

3. Executive Summary

4. Premium Insights
4.1. Porter's Five Forces Analysis
4.2. Value Chain Analysis
4.3. Top Investment Pockets
4.3.1. Market Attractiveness Analysis by Equipment
4.3.2. Market Attractiveness Analysis by Application
4.3.3. Market Attractiveness Analysis by Region
4.4. Industry Trends

5. Market Dynamics
5.1. Market Evaluation
5.2. Drivers
5.2.1. Increase techniques in bakery goods production and rising fortified baked items
5.3. Restraints
5.3.1. High cost of equipment
5.4. Opportunities
5.4.1. Rising consumption
5.5. Challenges
5.5.1. Maintenance cost

6. Global Bakery Processing Equipment Market Analysis and Forecast, By Equipment
6.1. Segment Overview
6.2. Oven & Proofers
6.3. Mixer & Blenders
6.4. Molders & Sheeters
6.5. Dividers & Rounders
6.6. Others

7. Global Bakery Processing Equipment Market Analysis and Forecast, By Application
7.1. Segment Overview
7.2. Cakes & Pastries
7.3. Bread
7.4. Pizza Crusts
7.5. Cookies & Biscuits
7.6. Others

8. Global Bakery Processing Equipment Market Analysis and Forecast, By Regional Analysis
8.1. Segment Overview
8.2. North America
8.2.1. U.S.
8.2.2. Canada
8.2.3. Mexico
8.3. Europe
8.3.1. Germany
8.3.2. France
8.3.3. U.K.
8.3.4. Italy
8.3.5. Spain
8.4. Asia-Pacific
8.4.1. Japan
8.4.2. China
8.4.3. India
8.5. South America
8.5.1. Brazil
8.6. Middle East and Africa
8.6.1. UAE
8.6.2. South Africa

9. Global Bakery Processing Equipment Market-Competitive Landscape
9.1. Overview
9.2. Market Share of Key Players in Global Bakery Processing Equipment Market
9.2.1. Global Company Market Share
9.2.2. North America Company Market Share
9.2.3. Europe Company Market Share
9.2.4. APAC Company Market Share
9.3. Competitive Situations and Trends
9.3.1. Product Launches and Developments
9.3.2. Partnerships, Collaborations, and Agreements
9.3.3. Mergers & Acquisitions
9.3.4. Expansions

10. Company Profiles
10.1. Ali Group S.r.l.
10.1.1. Business Overview
10.1.2. Company Snapshot
10.1.3. Company Market Share Analysis
10.1.4. Company Product Portfolio
10.1.5. Recent Developments
10.1.6. SWOT Analysis
10.2. Baker Perkins Limited
10.2.1. Business Overview
10.2.2. Company Snapshot
10.2.3. Company Market Share Analysis
10.2.4. Company Product Portfolio
10.2.5. Recent Developments
10.2.6. SWOT Analysis
10.3. The Middleby Corporation.
10.3.1. Business Overview
10.3.2. Company Snapshot
10.3.3. Company Market Share Analysis
10.3.4. Company Product Portfolio
10.3.5. Recent Developments
10.3.6. SWOT Analysis
10.4. Bühler AG
10.4.1. Business Overview
10.4.2. Company Snapshot
10.4.3. Company Market Share Analysis
10.4.4. Company Product Portfolio
10.4.5. Recent Developments
10.4.6. SWOT Analysis
10.5. GEA Group Aktiengesellschaft
10.5.1. Business Overview
10.5.2. Company Snapshot
10.5.3. Company Market Share Analysis
10.5.4. Company Product Portfolio
10.5.5. Recent Developments
10.5.6. SWOT Analysis
10.6. Anko Food Machine Co., Ltd.
10.6.1. Business Overview
10.6.2. Company Snapshot
10.6.3. Company Market Share Analysis
10.6.4. Company Product Portfolio
10.6.5. Recent Developments
10.6.6. SWOT Analysis
10.7. JBT Corporation
10.7.1. Business Overview
10.7.2. Company Snapshot
10.7.3. Company Market Share Analysis
10.7.4. Company Product Portfolio
10.7.5. Recent Developments
10.7.6. SWOT Analysis
10.8. Heat & Control, Inc.
10.8.1. Business Overview
10.8.2. Company Snapshot
10.8.3. Company Market Share Analysis
10.8.4. Company Product Portfolio
10.8.5. Recent Developments
10.8.6. SWOT Analysis
10.9. Markel Food Group
10.9.1. Business Overview
10.9.2. Company Snapshot
10.9.3. Company Market Share Analysis
10.9.4. Company Product Portfolio
10.9.5. Recent Developments
10.9.6. SWOT Analysis
10.10. Koenig Maschinen GmbH
10.10.1. Business Overview
10.10.2. Company Snapshot
10.10.3. Company Market Share Analysis
10.10.4. Company Product Portfolio
10.10.5. Recent Developments
10.10.6. SWOT Analysis
List of Table
1. Global Bakery Processing Equipment Market, By Equipment, 2019-2032 (USD Billion)
2. Global Oven & Proofers, Bakery Processing Equipment Market, By Region, 2019-2032 (USD Billion)
3. Global Mixer & Blenders, Bakery Processing Equipment Market, By Region, 2019-2032 (USD Billion)
4. Global Molders & Sheeters, Bakery Processing Equipment Market, By Region, 2019-2032 (USD Billion)
5. Global Dividers & Rounders, Bakery Processing Equipment Market, By Region, 2019-2032 (USD Billion)
6. Global Others, Bakery Processing Equipment Market, By Region, 2019-2032 (USD Billion)
7. Global Bakery Processing Equipment Market, By Application, 2019-2032 (USD Billion)
8. Global Cakes & Pastries, Bakery Processing Equipment Market, By Region, 2019-2032 (USD Billion)
9. Global Bread, Bakery Processing Equipment Market, By Region, 2019-2032 (USD Billion)
10. Global Pizza Crusts, Bakery Processing Equipment Market, By Region, 2019-2032 (USD Billion)
11. Global Cookies & Biscuits, Bakery Processing Equipment Market, By Region, 2019-2032 (USD Billion)
12. Global Others, Bakery Processing Equipment Market, By Region, 2019-2032 (USD Billion)
13. North America Bakery Processing Equipment Market, By Equipment, 2019-2032 (USD Billion)
14. North America Bakery Processing Equipment Market, By Application, 2019-2032 (USD Billion)
15. U.S. Bakery Processing Equipment Market, By Equipment, 2019-2032 (USD Billion)
16. U.S. Bakery Processing Equipment Market, By Application, 2019-2032 (USD Billion)
17. Canada Bakery Processing Equipment Market, By Equipment, 2019-2032 (USD Billion)
18. Canada Bakery Processing Equipment Market, By Application, 2019-2032 (USD Billion)
19. Mexico Bakery Processing Equipment Market, By Equipment, 2019-2032 (USD Billion)
20. Mexico Bakery Processing Equipment Market, By Application, 2019-2032 (USD Billion)
21. Europe Bakery Processing Equipment Market, By Equipment, 2019-2032 (USD Billion)
22. Europe Bakery Processing Equipment Market, By Application, 2019-2032 (USD Billion)
23. Germany Bakery Processing Equipment Market, By Equipment, 2019-2032 (USD Billion)
24. Germany Bakery Processing Equipment Market, By Application, 2019-2032 (USD Billion)
25. France Bakery Processing Equipment Market, By Equipment, 2019-2032 (USD Billion)
26. France Bakery Processing Equipment Market, By Application, 2019-2032 (USD Billion)
27. U.K. Bakery Processing Equipment Market, By Equipment, 2019-2032 (USD Billion)
28. U.K. Bakery Processing Equipment Market, By Application, 2019-2032 (USD Billion)
29. Italy Bakery Processing Equipment Market, By Equipment, 2019-2032 (USD Billion)
30. Italy Bakery Processing Equipment Market, By Application, 2019-2032 (USD Billion)
31. Spain Bakery Processing Equipment Market, By Equipment, 2019-2032 (USD Billion)
32. Spain Bakery Processing Equipment Market, By Application, 2019-2032 (USD Billion)
33. Asia Pacific Bakery Processing Equipment Market, By Equipment, 2019-2032 (USD Billion)
34. Asia Pacific Bakery Processing Equipment Market, By Application, 2019-2032 (USD Billion)
35. Japan Bakery Processing Equipment Market, By Equipment, 2019-2032 (USD Billion)
36. Japan Bakery Processing Equipment Market, By Application, 2019-2032 (USD Billion)
37. China Bakery Processing Equipment Market, By Equipment, 2019-2032 (USD Billion)
38. China Bakery Processing Equipment Market, By Application, 2019-2032 (USD Billion)
39. India Bakery Processing Equipment Market, By Equipment, 2019-2032 (USD Billion)
40. India Bakery Processing Equipment Market, By Application, 2019-2032 (USD Billion)
41. South America Bakery Processing Equipment Market, By Equipment, 2019-2032 (USD Billion)
42. South America Bakery Processing Equipment Market, By Application, 2019-2032 (USD Billion)
43. Brazil Bakery Processing Equipment Market, By Equipment, 2019-2032 (USD Billion)
44. Brazil Bakery Processing Equipment Market, By Application, 2019-2032 (USD Billion)
45. Middle East and Africa Bakery Processing Equipment Market, By Equipment, 2019-2032 (USD Billion)
46. Middle East and Africa Bakery Processing Equipment Market, By Application, 2019-2032 (USD Billion)
47. UAE Bakery Processing Equipment Market, By Equipment, 2019-2032 (USD Billion)
48. UAE Bakery Processing Equipment Market, By Application, 2019-2032 (USD Billion)
49. South Africa Bakery Processing Equipment Market, By Equipment, 2019-2032 (USD Billion)
50. South Africa Bakery Processing Equipment Market, By Application, 2019-2032 (USD Billion)
List of Figures
1. Global Bakery Processing Equipment Market Segmentation
2. Global Bakery Processing Equipment Market: Research Methodology
3. Market Size Estimation Methodology: Bottom-Up Approach
4. Market Size Estimation Methodology: Top-Down Approach
5. Data Triangulation
6. Porter's Five Forces Analysis
7. Value Chain Analysis
8. Global Bakery Processing Equipment Market Attractiveness Analysis by Equipment
9. Global Bakery Processing Equipment Market Attractiveness Analysis by Application
10. Global Bakery Processing Equipment Market Attractiveness Analysis by Region
11. Global Bakery Processing Equipment Market: Dynamics
12. Global Bakery Processing Equipment Market Share by Equipment (2023 & 2032)
13. Global Bakery Processing Equipment Market Share by Application (2023 & 2032)
14. Global Bakery Processing Equipment Market Share by Regions (2023 & 2032)
15. Global Bakery Processing Equipment Market Share by Company (2022)