The global baby stroller market is expected to reach USD 5.3 billion by 2032, at a CAGR of 6.4% during the forecast period 2023 to 2032. Asia Pacific is expected to grow the fastest during the forecast period.
Market Overview:
A baby stroller, often known as a pram, transports an infant or small child. Baby strollers are usually pushed by a parent or carer, although the child may pull them along. Technical improvements in infant care items, such as multi-functional features and customization to meet the needs of parents, are a significant element boosting demand for baby strollers. Furthermore, the expanding trend of travelling among millennials and baby boomers has broadened the possibility for simple travel with newborns, increasing the use of baby strollers. Rising birth rates in emerging countries and growing safety concerns have expanded the market for baby strollers. The market growth is rising due to the use of strollers for transporting babies in vehicles or carrying children while walking, shopping or for an evening walk. The device's convenience, ease of use, and cost-effectiveness are anticipated to encourage the adoption of baby strollers. Furthermore, the expanding tendency to travel across generations has created a demand for simple and pain-free baby travel. As a result, parents choose to incorporate an additional seat for their babies during travelling by car. Also, growing consumer use of proms has aided in adopting baby strollers. Furthermore, manufacturers' new product innovation has introduced multi-functional convertible strollers.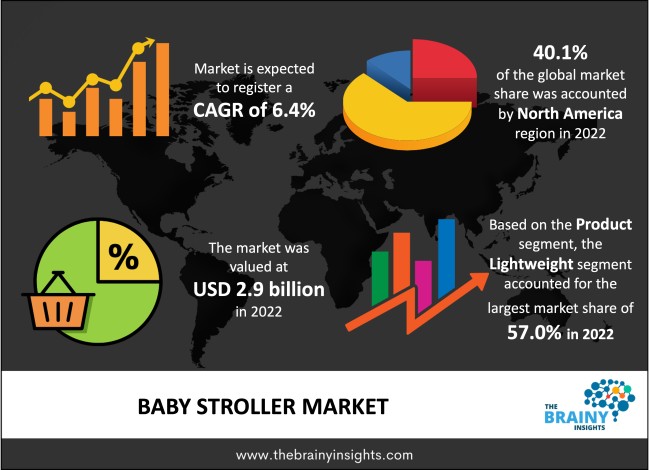 Get an overview of this study by requesting a free sample
Recent Development
In May 2022, Mercedes AMG GT will release a limited-edition pram with Hartan, a premium and well-known pram brand. This design is supposed to be influenced by AMG automobiles.
In March 2022, Silver Cross will release the Dune and Reef strollers. According to the company, Dune is the Silver Cross small, feature-packed travel system suited for urban families or those searching for an intelligent, space-saving pushchair.
Market Dynamics:
Drivers
Rising Popularity of Travelling- Car seats have been in use since the 1960s when they were improved with features like the metal frame, harness, and rear-facing option. For many years, and still today, the car seat category was seen as a broad market where goods were marketed independently. The growing popularity of travelling with infants and toddlers has paved the way for expansion in a new sector known as travel system strollers. Mercedes-AMG GT, for example, released a limited-edition pram in partnership with Hartan. AMG automobiles are said to have impacted the design. Bugaboo, another company, debuted Bugaboo Flex, a monthly subscription service for their strollers, in 2021.
Restraints:
Shorter Life Cycle- The baby stroller's short life cycle is a significant challenge for the worldwide baby stroller market. Infants develop quickly, and baby equipment, such as baby strollers, must be adjusted to the child's weight, age, and size. Furthermore, established-brand of infant strollers are expensive.
Opportunities:
Technological Advancements- As the world moves towards IoT and automation, integrating innovative and electronic technology in consumer items has grown in popularity in recent years. Vendors compete with competitors in competitive marketplaces, such as baby strollers, to maintain their leading position through ingenious enhancements and innovative technology. Cybex and Emmaljunga's invention of e-strollers is predicted to be game changers. Smart bed, for example, is the first to invent an intelligent stroller. An innovative bed is an all-in-one system that includes over 10 safety, comfort, security, and convenience-enhancing features that can be accessed by iOS and Android smartwatches and smartphones.
Challenges:
Limited Use- Baby strollers have expiry dates, and customers should not use these products after their expiry dates. Exposure to the sun damages such items over time. Customers believe the investment in strollers needs to be more justified due to their limited use. As a result, new parents do not think investing in quality baby strollers is worthwhile.
Regional segmentation analysis:
The regions analyzed for the market include North America, Europe, South America, Asia Pacific, the Middle East, and Africa. North America emerged as the most significant global baby stroller market, with a 40.1% market revenue share in 2022.
North America dominates the baby stroller market with a 40.1% market revenue share in 2022. The growing tendency of single parents in the region has put the burden on one individual to manage a job and family. Thus, baby strollers can easily travel with a baby without a partner. As a result, manufacturers concentrate on integrating features that allow a single person to operate the pram. Cybex, for example, introduced the E-Priam electric pram. Furthermore, mothers' growing interest in physical health activities, such as walking and jogging with their babies, is projected to raise the demand for such products in the region.
Asia Pacific is expected to witness the fastest growth during the forecast period. An increasing working population and rising urbanization in developing nations like India and China have pushed the region's baby stroller market. Furthermore, the growing preference for nuclear family structures has raised the need for baby strollers since parents cannot risk leaving their newborns at home alone. Because of the increasing number of working women in countries such as Iceland, Norway, Denmark, and Sweden, the demand for strollers in Europe is steadily expanding.
North America Region Baby Stroller Market Share in 2022 - 40.1%
www.thebrainyinsights.com
Check the geographical analysis of this market by requesting a free sample
Product Analysis:
The product segment is divided into a travel system and lightweight. The lightweight segment dominated the market, with a share of around 57.0% in 2022. The baby stroller is made of lightweight materials and has fewer functions, making it ideal for short trips. Lightweight strollers are appropriate for young babies who can sit upright and accompany their parents on a walk in the park or other nearby activities such as shopping. Because of its ease of use and low cost in comparison to other models, this pram is widely available in the market. Furthermore, in keeping with its popularity, Emirates Airlines provides a complimentary pram for parents arriving and transiting at Dubai International Airport for simple boarding and disembarkation.
Distribution Channel Analysis:
The distribution channel segment is divided into online and specialist retailers. The specialist retailers segment dominated the market, with a market share of around 53.8% in 2022. The expansion of baby care retailers selling everything connected to newborn and baby care products has raised knowledge of valuable equipment such as cribs, prams, and strollers. Because of the convenience and less time spent searching for products in other stores, parents' preference for purchasing all baby care supplies from the same store has expanded the number of retail businesses offering baby basics. Furthermore, the growing desire among the working population for one-stop purchasing facilities to save time and efficiency is a crucial element driving the industry.
List of Key Market Players:
Good Baby
Seebaby
Artsana
Combi
Newell Rubbermaid
UPPAbaby
Shenma Group
BBH
Dorel
Mybaby
Aing
Emmaljunga
Stokke
Roadmate
Hauck
ABC Design
Peg Perego
Report Description:
| Attribute | Description |
| --- | --- |
| Market Size | Revenue (USD Billion) |
| Market size value in 2022 | USD 2.9 billion |
| Market size value in 2032 | USD 5.3 billion |
| CAGR (2023 to 2032) | 6.4% |
| Historical data | 2019-2021 |
| Base Year | 2022 |
| Forecast | 2023-2032 |
| Regional Segments | North America, Asia Pacific, Europe, Latin America, Middle East and Africa |
| Segments | Product, Distribution Channel |
Frequesntly Asked Questions
1. Introduction
1.1. Objectives of the Study
1.2. Market Definition
1.3. Research Scope
1.4. Currency
1.5. Key Target Audience

2. Research Methodology and Assumptions

3. Executive Summary

4. Premium Insights
4.1. Porter's Five Forces Analysis
4.2. Value Chain Analysis
4.3. Top Investment Pockets
4.3.1. Market Attractiveness Analysis by Product
4.3.2. Market Attractiveness Analysis by Distribution Channel
4.3.3. Market Attractiveness Analysis by Region
4.4. Industry Trends

5. Market Dynamics
5.1. Market Evaluation
5.2. Drivers
5.2.1. Rising Popularity of Travelling
5.3. Restraints
5.3.1. Shorter Life Cycle
5.4. Opportunities
5.4.1. Technological Advancements
5.5. Challenges
5.5.1. Limited Use

6. Global Baby Stroller Market Analysis and Forecast, By Product
6.1. Segment Overview
6.2. Travel System
6.3. Lightweight

7. Global Baby Stroller Market Analysis and Forecast, By Distribution Channel
7.1. Segment Overview
7.2. Online
7.3. Specialist Retailers

8. Global Baby Stroller Market Analysis and Forecast, By Regional Analysis
8.1. Segment Overview
8.2. North America
8.2.1. U.S.
8.2.2. Canada
8.2.3. Mexico
8.3. Europe
8.3.1. Germany
8.3.2. France
8.3.3. U.K.
8.3.4. Italy
8.3.5. Spain
8.4. Asia-Pacific
8.4.1. Japan
8.4.2. China
8.4.3. India
8.5. South America
8.5.1. Brazil
8.6. Middle East and Africa
8.6.1. UAE
8.6.2. South Africa

9. Global Baby Stroller Market-Competitive Landscape
9.1. Overview
9.2. Market Share of Key Players in Global Baby Stroller Market
9.2.1. Global Company Market Share
9.2.2. North America Company Market Share
9.2.3. Europe Company Market Share
9.2.4. APAC Company Market Share
9.3. Competitive Situations and Trends
9.3.1. Product Launches and Developments
9.3.2. Partnerships, Collaborations, and Agreements
9.3.3. Mergers & Acquisitions
9.3.4. Expansions

10. Company Profiles
10.1. Good Baby
10.1.1. Business Overview
10.1.2. Company Snapshot
10.1.3. Company Market Share Analysis
10.1.4. Company Product Portfolio
10.1.5. Recent Developments
10.1.6. SWOT Analysis
10.2. Seebaby
10.2.1. Business Overview
10.2.2. Company Snapshot
10.2.3. Company Market Share Analysis
10.2.4. Company Product Portfolio
10.2.5. Recent Developments
10.2.6. SWOT Analysis
10.3. Artsana
10.3.1. Business Overview
10.3.2. Company Snapshot
10.3.3. Company Market Share Analysis
10.3.4. Company Product Portfolio
10.3.5. Recent Developments
10.3.6. SWOT Analysis
10.4. Combi
10.4.1. Business Overview
10.4.2. Company Snapshot
10.4.3. Company Market Share Analysis
10.4.4. Company Product Portfolio
10.4.5. Recent Developments
10.4.6. SWOT Analysis
10.5. Newell Rubbermaid
10.5.1. Business Overview
10.5.2. Company Snapshot
10.5.3. Company Market Share Analysis
10.5.4. Company Product Portfolio
10.5.5. Recent Developments
10.5.6. SWOT Analysis
10.6. UPPAbaby
10.6.1. Business Overview
10.6.2. Company Snapshot
10.6.3. Company Market Share Analysis
10.6.4. Company Product Portfolio
10.6.5. Recent Developments
10.6.6. SWOT Analysis
10.7. Shenma Group
10.7.1. Business Overview
10.7.2. Company Snapshot
10.7.3. Company Market Share Analysis
10.7.4. Company Product Portfolio
10.7.5. Recent Developments
10.7.6. SWOT Analysis
10.8. BBH
10.8.1. Business Overview
10.8.2. Company Snapshot
10.8.3. Company Market Share Analysis
10.8.4. Company Product Portfolio
10.8.5. Recent Developments
10.8.6. SWOT Analysis
10.9. Dorel
10.9.1. Business Overview
10.9.2. Company Snapshot
10.9.3. Company Market Share Analysis
10.9.4. Company Product Portfolio
10.9.5. Recent Developments
10.9.6. SWOT Analysis
10.10. Mybaby
10.10.1. Business Overview
10.10.2. Company Snapshot
10.10.3. Company Market Share Analysis
10.10.4. Company Product Portfolio
10.10.5. Recent Developments
10.10.6. SWOT Analysis
10.11. Aing
10.11.1. Business Overview
10.11.2. Company Snapshot
10.11.3. Company Market Share Analysis
10.11.4. Company Product Portfolio
10.11.5. Recent Developments
10.11.6. SWOT Analysis
10.12. Emmaljunga
10.12.1. Business Overview
10.12.2. Company Snapshot
10.12.3. Company Market Share Analysis
10.12.4. Company Product Portfolio
10.12.5. Recent Developments
10.12.6. SWOT Analysis
10.13. Stokke
10.13.1. Business Overview
10.13.2. Company Snapshot
10.13.3. Company Market Share Analysis
10.13.4. Company Product Portfolio
10.13.5. Recent Developments
10.13.6. SWOT Analysis
10.14. Roadmate
10.14.1. Business Overview
10.14.2. Company Snapshot
10.14.3. Company Market Share Analysis
10.14.4. Company Product Portfolio
10.14.5. Recent Developments
10.14.6. SWOT Analysis
10.15. Hauck
10.15.1. Business Overview
10.15.2. Company Snapshot
10.15.3. Company Market Share Analysis
10.15.4. Company Product Portfolio
10.15.5. Recent Developments
10.15.6. SWOT Analysis
10.16. ABC Design
10.16.1. Business Overview
10.16.2. Company Snapshot
10.16.3. Company Market Share Analysis
10.16.4. Company Product Portfolio
10.16.5. Recent Developments
10.16.6. SWOT Analysis
10.17. Peg Perego
10.17.1. Business Overview
10.17.2. Company Snapshot
10.17.3. Company Market Share Analysis
10.17.4. Company Product Portfolio
10.17.5. Recent Developments
10.17.6. SWOT Analysis
List of Table
1. Global Baby Stroller Market, By Product, 2019-2032 (USD Billion)
2. Global Travel System, Baby Stroller Market, By Region, 2019-2032 (USD Billion)
3. Global Lightweight, Baby Stroller Market, By Region, 2019-2032 (USD Billion)
4. Global Baby Stroller Market, By Distribution Channel, 2019-2032 (USD Billion)
5. Global Online, Baby Stroller Market, By Region, 2019-2032 (USD Billion)
6. Global Specialist Retailers, Baby Stroller Market, By Region, 2019-2032 (USD Billion)
7. North America Baby Stroller Market, By Product, 2019-2032 (USD Billion)
8. North America Baby Stroller Market, By Distribution Channel, 2019-2032 (USD Billion)
9. U.S. Baby Stroller Market, By Product, 2019-2032 (USD Billion)
10. U.S. Baby Stroller Market, By Distribution Channel, 2019-2032 (USD Billion)
11. Canada Baby Stroller Market, By Product, 2019-2032 (USD Billion)
12. Canada Baby Stroller Market, By Distribution Channel, 2019-2032 (USD Billion)
13. Mexico Baby Stroller Market, By Product, 2019-2032 (USD Billion)
14. Mexico Baby Stroller Market, By Distribution Channel, 2019-2032 (USD Billion)
15. Europe Baby Stroller Market, By Product, 2019-2032 (USD Billion)
16. Europe Baby Stroller Market, By Distribution Channel, 2019-2032 (USD Billion)
17. Germany Baby Stroller Market, By Product, 2019-2032 (USD Billion)
18. Germany Baby Stroller Market, By Distribution Channel, 2019-2032 (USD Billion)
19. France Baby Stroller Market, By Product, 2019-2032 (USD Billion)
20. France Baby Stroller Market, By Distribution Channel, 2019-2032 (USD Billion)
21. U.K. Baby Stroller Market, By Product, 2019-2032 (USD Billion)
22. U.K. Baby Stroller Market, By Distribution Channel, 2019-2032 (USD Billion)
23. Italy Baby Stroller Market, By Product, 2019-2032 (USD Billion)
24. Italy Baby Stroller Market, By Distribution Channel, 2019-2032 (USD Billion)
25. Spain Baby Stroller Market, By Product, 2019-2032 (USD Billion)
26. Spain Baby Stroller Market, By Distribution Channel, 2019-2032 (USD Billion)
27. Asia Pacific Baby Stroller Market, By Product, 2019-2032 (USD Billion)
28. Asia Pacific Baby Stroller Market, By Distribution Channel, 2019-2032 (USD Billion)
29. Japan Baby Stroller Market, By Product, 2019-2032 (USD Billion)
30. Japan Baby Stroller Market, By Distribution Channel, 2019-2032 (USD Billion)
31. China Baby Stroller Market, By Product, 2019-2032 (USD Billion)
32. China Baby Stroller Market, By Distribution Channel, 2019-2032 (USD Billion)
33. India Baby Stroller Market, By Product, 2019-2032 (USD Billion)
34. India Baby Stroller Market, By Distribution Channel, 2019-2032 (USD Billion)
35. South America Baby Stroller Market, By Product, 2019-2032 (USD Billion)
36. South America Baby Stroller Market, By Distribution Channel, 2019-2032 (USD Billion)
37. Brazil Baby Stroller Market, By Product, 2019-2032 (USD Billion)
38. Brazil Baby Stroller Market, By Distribution Channel, 2019-2032 (USD Billion)
39. Middle East and Africa Baby Stroller Market, By Product, 2019-2032 (USD Billion)
40. Middle East and Africa Baby Stroller Market, By Distribution Channel, 2019-2032 (USD Billion)
41. UAE Baby Stroller Market, By Product, 2019-2032 (USD Billion)
42. UAE Baby Stroller Market, By Distribution Channel, 2019-2032 (USD Billion)
43. South Africa Baby Stroller Market, By Product, 2019-2032 (USD Billion)
44. South Africa Baby Stroller Market, By Distribution Channel, 2019-2032 (USD Billion)
List of Figures
1. Global Baby Stroller Market Segmentation
2. Global Baby Stroller Market: Research Methodology
3. Market Size Estimation Methodology: Bottom-Up Approach
4. Market Size Estimation Methodology: Top-Down Approach
5. Data Triangulation
6. Porter's Five Forces Analysis
7. Value Chain Analysis
8. Global Baby Stroller Market Attractiveness Analysis by Product
9. Global Baby Stroller Market Attractiveness Analysis by Distribution Channel
10. Global Baby Stroller Market Attractiveness Analysis by Region
11. Global Baby Stroller Market: Dynamics
12. Global Baby Stroller Market Share by Product (2023 & 2032)
13. Global Baby Stroller Market Share by Distribution Channel (2023 & 2032)
14. Global Baby Stroller Market Share by Regions (2023 & 2032)
15. Global Baby Stroller Market Share by Company (2022)