The global auto insurance market was valued at USD 810.0 billion in 2022, growing at a CAGR of 8.1% from 2023 to 2032. The market is expected to reach USD 1764.9 billion by 2032. Given the rising rate of traffic accidents in most of the world's nations, the vehicle insurance market has a lot of room to develop.
Market Introduction:
Auto insurance covers vehicles on the road, including cars, trucks, motorbikes, and others. Its main function is to offer financial protection against bodily harm or physical damage sustained in auto accidents, as well as against potential liability resulting from similar situations involving vehicles. In addition to financial protection against traffic collision damage, motor insurance may provide coverage against theft, weather-related or natural disaster-related damage, and damage resulting from collisions with stationary objects. The global auto insurance market is expanding due to increased accidents, strict government regulations requiring auto insurance, and a global upsurge in car sales. The auto insurance sector dominates the market for non-life insurance. Since auto vehicle insurance premiums are the most heavily collected by insurers, growth in this market segment generally plays a significant role in explaining overall trends in the non-life sector. In several nations, this business category was shown to be a major force behind advancements in the non-life divisions. Approximately 36.3% of non-life insurance premiums worldwide are contributed by auto vehicle insurance.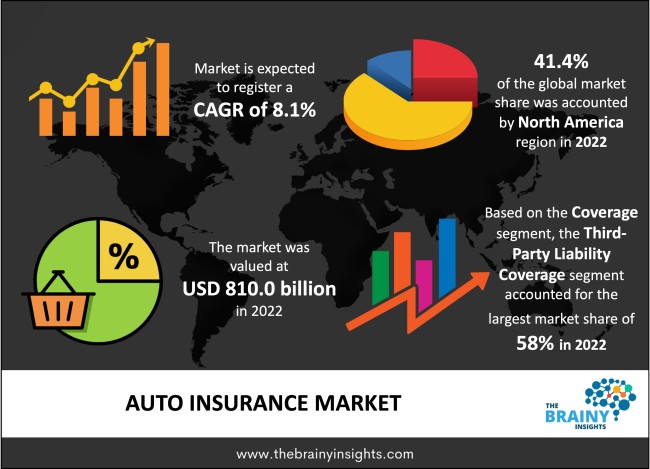 Get an overview of this study by requesting a free sample
Recent Development
In August 2021, AXA S.A., a major insurance provider, unveiled STeP, a new digital claims solution designed to make clients' vehicle insurance processes easier. According to AXA, STeP has reduced the time from partner arrangements for repair or salvage to client notice to only a few minutes.
In May 2021, GEICO collaborated with AI startup Tractable to expedite its auto claim and repair procedures. A patented computer vision technique developed by Tractable has been trained on millions of past claims. Like a human assessor, the AI can evaluate vehicle damage based on photographs. GEICO wants to use Tractable's technology to assess estimates more quickly and correctly while cutting down on administrative work.
Market Dynamics:
Drivers
Rise in traffic accidents- Pressure to invest in and develop such products that have less proliferation, high coverage, and provide financial security in the form of medical injury or any other damages is increasing as the market for auto insurance on accidents such as traffic collision, physical damage or bodily injury, theft, and fire grows. Auto insurance has become more necessary in light of the rise in traffic injuries, drunk driving, and distracted driving due to speeding in recent years. Most car owners rely on auto insurance to shield them from future financial losses like injuries to other drivers, passengers, or pedestrians.
Restraints:
Lack of awareness- Lack of knowledge and comprehension of auto insurance coverage is a major factor impeding the expansion of the auto insurance industry. Of the approximately 18 crore registered cars on Indian roadways, just 6.5 to 7 crore have insurance, according to the Insurance Information Bureau. Consumer experiences with frequent traffic accidents and low auto insurance adoption represent the primary challenge that needs to be addressed by eliminating knowledge gaps in the field of auto insurance.
Opportunities:
Digital transformation- Auto insurance firms can now offer their clients extremely customized user experiences owing to digital transformation. In addition, because of social alienation, digital technologies like cell telematics and photo estimating tools are increasingly used in claim resolutions. Therefore, it is anticipated that these technologies will present the insured with profitable and remunerating opportunities during the forecast period.
Regional segmentation analysis:
The regions analyzed for the market include North America, Europe, South America, Asia Pacific, the Middle East, and Africa. North America emerged as the largest global auto insurance market, with a 41.4% market revenue share in 2022.
In North America, the population's increasing disposable income drives the auto insurance market. Due to advancements in technology and ongoing research and development into the security of autonomous vehicles, the market will grow. The increase in traffic accidents, collisions, injuries, and property damage in this area has also contributed to the popularity of auto insurance. Increased auto sales and laws mandating insurance for all vehicles are also anticipated to raise the demand for auto insurance and spur market expansion.
North America Region Auto Insurance Market Share in 2022 - 41.4%
www.thebrainyinsights.com
Check the geographical analysis of this market by requesting a free sample
Coverage Segment Analysis
The coverage segment is divided into collision/comprehensive/other optional coverages and third-party liability coverage. The third-party liability coverage segment dominated the market, with a market share of around 58% in 2022. A policy of third-party liability insurance is purchased to protect against lawsuits from third parties. The Motor Vehicles Act mandates the purchase of third-party liability insurance. Owners of both new and used cars must be present at the time of vehicle registration, which is a major factor driving the global market expansion.
Distribution Channel Segment Analysis
The distribution channel segment is divided into direct response, insurance agents/brokers, banks, and others. The direct response dominated the market, with a market share of around 32% in 2022. Selling insurance to customers directly over the phone, on television, through direct mail, or other methods is known as "direct response." Furthermore, auto insurance companies research novel approaches for selling auto insurance to customers and focus on expanding their customers while trying to get the most out of their investment.
Vehicle Age Segment Analysis
The vehicle age segment is divided into used vehicles and new vehicles. The new vehicles segment dominated the market, with a market share of around 65% in 2022. A brand-new car has never registered on the market or belonged to anyone other than a distributor, dealer, or manufacturer. In addition, new automobile buyers need to get long-term third-party auto insurance for a minimum of three or five years. Additionally, because the manufacturer, distributor, or dealer has connections to many other market participants, they provide several benefits to buyers who finance new cars.
Application Segment Analysis
The application segment is divided into commercial and personal. The personal segment dominated the market, with a market share of around 59% in 2022. Eight passengers, including the driver, can fit in a car designated as a personal vehicle. These vehicles have experienced tremendous market expansion because of their great cost-effectiveness, enhanced comfort, and increased durability, propelling the segment's growth.
Some of the Key Market Players:
State Farm
Ping An Insurance
Zurich AG
AllState
PICC Property & Casualty Co Ltd
Allianz SE
AXA SA
Assicurazioni Generali
GEICO
Bajaj Finserv
Report Description:
| Attribute | Description |
| --- | --- |
| Market Size | Revenue (USD Billion) |
| Market size value in 2022 | USD 810.0 Billion |
| Market size value in 2032 | USD 1764.9 Billion |
| CAGR (2023 to 2032) | 8.1% |
| Historical data | 2019-2021 |
| Base Year | 2022 |
| Forecast | 2023-2032 |
| Region | The regions analyzed for the market are Asia Pacific, Europe, South America, North America, and Middle East & Africa. Furthermore, the regions are further analyzed at the country level. |
| Segments | Coverage, Distribution Channel, Vehicle Age, Application |