The global athletic footwear market was valued at USD 129.52 Billion in 2022, which is anticipated to grow at a CAGR of 5.83% from 2023 to 2032. Growing passion and understanding about the health advantages of sports and fitness activities, a growing retail e-commerce industry around the world, and rising levels of consumer disposable income are expected to be the key trends driving market expansion. Young people are becoming more interested in leading a healthy lifestyle, and as a result, they are becoming more involved in sports and other related activities. Simultaneously, individuals have begun to recognise that sports and exercise activities can assist assure good health and lower the risk of chronic disorders such as depression, cardiovascular disease, and diabetes.
Market Introduction:
Athletic footwear is intended for use in sports, exercise, and recreational activities such as racquetball, running, and aerobic dancing. Athletic shoes include shoes for running, basketball and tennis, among other sports, but exclude shoes for football (soccer) and rugby. The shoes themselves are composed of flexible material and often have a rubber sole. While the original design was simple, manufacturers have subsequently customised athletic shoes for the various sports that they can be used for. Athletic shoes, particularly for the casual market, have grown in favour among young people. Athletic footwear, like clothes and equipment, is designed for optimum performance and is considered a crucial part of an athlete's kit. Athletic shoes provide cushioning, flexibility, stability, traction, and durability tailored to various sports. The force of impact is reduced by cushioning. The athletic footwear market is predicted to develop due to increased awareness about the health advantages of sports and fitness activities, which assist to minimise the risks of various illnesses such as obesity, depression, diabetes, and others. Changing consumer lifestyles, rising disposable income, and a developing retail e-commerce industry globally are also projected to drive market expansion over the projection period. Furthermore, technical improvements, the introduction of new and inventive shoes, and increased knowledge about the need of wearing the proper type of shoes to avoid muscle and leg injuries are driving the rise of sports shoes. Also, rising fashion trends of wearing branded athletic footwear, particularly among young people, drive market growth. However, rising raw material prices and the increasing incidence of counterfeit and brand-copied athletic footwear items may limit market expansion. The increased awareness of the health advantages of sports activities has resulted in market expansion. Furthermore, increased youth participation in sports and fitness activities is one of the primary factors driving the growth of the athletic footwear market. Furthermore, increasing people's disposable income might accelerate market expansion.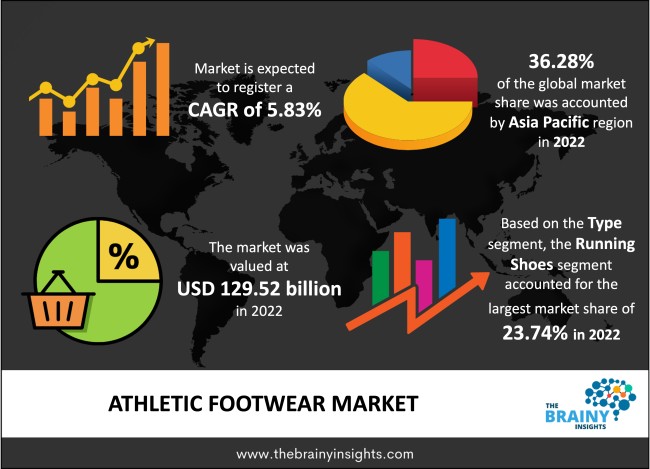 Get an overview of this study by requesting a free sample
Recent Development
ASICS, a Japanese multinational firm that manufactures sportswear, released the GEL- KAYANO, the most comfortable stability running shoe, in June 2023, including fresh new technology to provide runners with adaptable stability and unmatched comfort with every step.
In June 2021, Adidas released the "Solarthon" golf shoe, which is both lightweight and comfy. Solarthon will also be available in limited-edition grey, blue, and white hues, according to the brand. To support the company's "End Plastic Waste" campaign, the new sneaker incorporates Adidas' Primeblue textile upper, a recycled yarn comprising at least 50% Parley Ocean Plastic.
Nike introduced its newest product, the "ZoomX Invincible Run" running shoes, as an addition to its growing line of athletic footwear in May 2021. The new product's design was inspired by the brand's last release, the "Nike React Infinity Run" sneakers.
Market Dynamics:
Drivers
A growing need for running shoes- The rising demand for running shoes is likely to propel market expansion. The increasing demand for running shoes for daily use, as well as the availability of these shoes at a wide variety of prices ranging from inexpensive athletic shoes to really elegant ones, will drive market expansion. Shoes for advanced running, road running, training, track running, trail running, and racing are all examples of running shoes. Increasing technical improvements that have provided hikers with greater freedom and comfort are projected to boost market expansion.
Restraints:
Growing environmental concerns- Growing environmental concerns are projected to hamper the athletic footwear market's expansion. The active actions adopted by environmental groups and the government to combat pollution are projected to be an important barrier to market expansion. Business is a major source of pollution in the environment and rivers.
Opportunities:
Athleisure's influence and growing sports participation- Consumers are increasingly opting for designer athletic shoes that incorporate elements of sports design in accordance with the athleisure trend. Furthermore, the global demand for cycling and running footwear is being driven by a consumer shift towards more active lifestyles. The growing popularity of fitness and sports activities such as jogging, aerobics, swimming, and yoga will create numerous opportunities for market players in the global athletic footwear market. Furthermore, an increasing number of women are participating in sports and fitness activities, increasing demand for attractive and comfortable sports footwear. As a result of this issue, consumers, particularly women, are purchasing more athletic footwear. Furthermore, athleisure has become increasingly popular, affecting the sports footwear selections of millennial parents. Athletic footwear is also popular among all age groups, including baby boomers, Generation Z, Generation X, and millennials, because they all participate in sports.
Regional segmentation analysis:
The regions analyzed for the market include North America, Europe, South America, Asia Pacific, the Middle East, and Africa. Asia Pacific emerged as the most significant global athletic footwear market, with a 36.28% market revenue share in 2022. Rising disposable income and e-commerce penetration are expected to play a significant influence in fuelling demand for athletic footwear in Asia Pacific. Participation in numerous sporting events, such as the Asian Games, the ICC Cricket World Cup, and the ACC Asia Cup, is fueling the regional market's expansion.
Asia Pacific Region Athletic Footwear Market Share in 2022 - 36.28%
www.thebrainyinsights.com
Check the geographical analysis of this market by requesting a free sample
Type Segment Analysis
The type segment is divided into running shoes, trekking & hiking shoes, aerobic shoes, sports shoes, and walking shoes. The running shoes segment dominated the market, with a market share of around 23.74% in 2022. It can be attributed to the widespread use of running shoes and the availability of these shoes at a variety of costs ranging from low-cost athletic shoes to high-end sports shoes. Running shoes are shoes that are needed for training, advanced running, road running, trail running, track running, and racing. The running shoe category was further examined based on prevalent sports in each location.
End-user Segment Analysis
The end-user segment is divided into women, men, and children. The women segment dominated the market, with a market share of around 35.58% in 2022. Women's footwear is increasingly coming up as the popularity of sports among women grows, particularly in previously untapped markets. When compared to developing and undeveloped countries, the proportion of women athletes representing their respective country in major sporting events is significant in most affluent countries.
Some of the Key Market Players:
ASICS Corporation
Under Armour, Inc.
New Balance Athletics, Inc.
Nike, Inc.
Reebok International Ltd.
Adidas AG
Lotto Sport Italia S.p.A
Puma SE
Fila Inc.
Vans, Inc.
Report Description:
| Attribute | Description |
| --- | --- |
| Market Size | Revenue (USD Billion) |
| Market size value in 2022 | USD 129.52 Billion |
| Market size value in 2032 | USD 228.25 Billion |
| CAGR (2023 to 2032) | 5.83% |
| Historical data | 2019-2021 |
| Base Year | 2022 |
| Forecast | 2023-2032 |
| Region | The regions analyzed for the market are Asia Pacific, Europe, South America, North America, and Middle East & Africa. Furthermore, the regions are further analyzed at the country level. |
| Segments | Type, End-user |