The global appointment scheduling software market was valued at USD 400.6 million in 2022, growing at a CAGR of 10.4% from 2023 to 2032. The market is expected to reach USD 1077.4 million by 2032. The appointment scheduling software market is expected to grow due to the rising use of appointment scheduling software for facilities management and rising demand for smart city development and urban planning.
Market Introduction:
Clients may book, reschedule, and cancel appointments via an online interface due to the business features of appointment scheduling software. Both online and appointment booking software are other names for it. It lets customers easily schedule appointments according to their preferred times without scheduling conflicts and losing key resource hours. It does away with the problems associated with telephone-based booking, conserves the time of customer support workers, and offers an optimized appointment calendar, all of which are expected to accelerate market growth. Software for managing bookings and scheduling appointments is created primarily for commercial and professional use. Support for mobile devices, payment processing, staff and customer administration, appointment reminders, calendar integration, and other features are some of the software's most popular applications. Since AI-powered scheduling algorithms can automatically discover the optimal time slots for appointments based on characteristics such as availability and preferences, AI technology is being increasingly included in appointment scheduling software. AI-powered chatbots offer a more effective and personalized user experience, which is also used to handle appointment booking and other duties. This presents a significant growth opportunity for the market.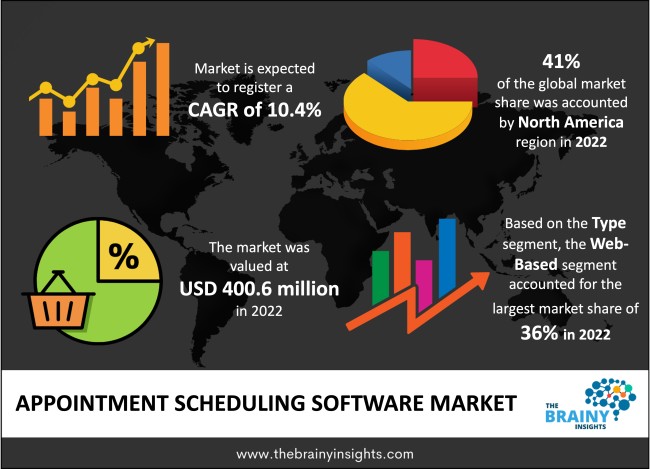 Get an overview of this study by requesting a free sample
Recent Development
In August 2022, To highlight the eminent doctors and skilled practitioners in the healthcare network and improve the online experience for finding care, Kyruus collaborated with Christus Health Partners to develop a contemporary digital directory. This information-rich directory promotes improved patient-provider matching.
In April 2022, To assist healthcare organizations with patient recruitment, activation, and retention, Kyruus teamed up with Upfront. By combining the two platforms, healthcare organizations may give patients improved digital experiences.
In 2020, Dessa, a company that develops machine learning solutions, was purchased by Square Inc. The goal of this acquisition is to strengthen the company's products even more, advance machine learning skills, and eventually assist its clients throughout the world.
Market Dynamics:
Drivers
Increasing digitization- The demand for appointment scheduling software is rising due to factors including expanding digitization, the tendency to use and embrace more digital communication tools, and other factors. The market's growth rate is anticipated to be driven by the trend towards an app-based culture, particularly the increased use of apps by users to carry out daily tasks. This scheduling software is also being made possible by expanding digitization and technological breakthroughs in numerous industries and sectors. The need for appointment scheduling software is anticipated to increase due to these enhanced capabilities with other services.
Restraints:
Low investment- For any firm to grow considerably, funding and investments are absolutely necessary. Lack of capital and investment from market participants could impede the expansion of the industry as a whole. Major participants in this sector have yet to be able to attract a lot of finance or investment during the past few years. This restricts how much money the market players may spend on activities that include developing new services and products.
Opportunities:
The popularity of client management software is growing- Technology has substantially improved our understanding of how operations are carried out and how firms are run nowadays. Because employees can now work remotely from any location, business priorities have shifted to cloud-based and client management solutions. These solutions give businesses access to data or information on several platforms from anywhere. Additionally, the proliferation of small and medium-sized businesses due to globalization has boosted the need for these systems, creating enormous prospects for market expansion.
Regional segmentation analysis:
The regions analyzed for the market include North America, Europe, South America, Asia Pacific, the Middle East, and Africa. North America emerged as the largest global appointment scheduling software market, with a 41% market revenue share in 2022.
North America is expected to emerge as the largest global appointment-scheduling software market due to the region's early acceptance of digitization, widespread use of online reservation systems across several service-based industries, and heavy mobile device usage. Additionally, the presence of the majority of the key companies in appointment scheduling software supports the expansion of this market. As internet adoption and access are rapidly growing in developed North American countries, aiding market expansion, consumers in the region benefit from online purchases.
North America Region Appointment Scheduling Software Market Share in 2022 - 41%
www.thebrainyinsights.com
Check the geographical analysis of this market by requesting a free sample
Type Segment Analysis
The type segment is divided into SaaS, mobile app, web-based, and others. The web-based segment dominated the market, with a market share of around 36% in 2022. The web-based software, which allows businesses to track and record sales, manage people, strengthen client relationships, and manage appointments, helps drive the segment's growth.
Organization Size Segment Analysis
The organization size segment is divided into small & medium-sized enterprises and large enterprises. The large enterprises segment dominated the market, with a market share of around 55% in 2022. Due to the increasing adoption of sophisticated and integrated software solutions to manage client appointments, the large enterprise segment has been driving the segment.
End-User Industry Segment Analysis
The end-user industry segment is divided into beauty & wellness, healthcare, education, corporate, and others. The healthcare segment dominated the market, with a market share of around 34% in 2022. The market's dominance by the healthcare sector was primarily caused by the expansion of the global m-health app market and the rapid development of healthcare infrastructure.
Some of the Key Market Players:
MindBody
SuperSaaS
10to8
Appointy
Melian Labs, Inc.
Acuity Scheduling
SimplyBook.me
Timetrade
Square, Inc
Setmore
Report Description:
| Attribute | Description |
| --- | --- |
| Market Size | Revenue (USD Million) |
| Market size value in 2022 | USD 400.6 Million |
| Market size value in 2032 | USD 1077.4 Million |
| CAGR (2023 to 2032) | 10.4% |
| Historical data | 2019-2021 |
| Base Year | 2022 |
| Forecast | 2023-2032 |
| Region | The regions analyzed for the market are Asia Pacific, Europe, South America, North America, and Middle East & Africa. Furthermore, the regions are further analyzed at the country level. |
| Segments | Type, Organization Size, End-User Industry |