The global acidity regulators market was valued at USD 6.81 billion in 2022 and growing at a CAGR of 7.50% from 2022 to 2030. The market is expected to reach USD 12.14 billion by 2030. Increasing concern about food spoiling induced by bacterial activity is decreasing the storage life of food and beverage-related products, driving the need for acidity regulators in the forthcoming years. Acidity regulators are being utilized more frequently in canned food in growing countries as they perform a critical part in controlling and changing the alkalinity or acidity on a particular level in canned meals, which is essential for improved flavor and better food quality. Similarly, the increasing need for processed foods like cheese, noodles, and savory snacks, is anticipated to push the usage of acidity regulators, which is predicted to propel market growth over the projection years. Food & beverage industry development and rising expenditure on technical improvement in growing markets like China, India, and Brazil are foreseen to drive acidity regulators' needs. Customers' high purchasing power in emerging economies of Latin America, Asia Pacific, and the Middle East have pushed the need for sauces, dressings, and bakery products. The rising product market is expected to boost the usage of acidity regulators as a food additive over the prediction time. FDA and European Commission have prepared different rules concerning the limitation on chemical-based additives in the food & beverage industry, hindering market development.
Market Introduction:
The bunch of acidulants prevents the growth of hostile bacteria, adjusting acidity to maintain food safety and improve flavor are known as Acidity regulators. Examples of acidic regulators are Sodium Citrate, Citric Acid, Malic Acid, and Phosphoric Acid; numerous additional Acidity Regulators are Tartaric Acid, Calcium Acetate, and Lactic Acid. Citric acid improves the activity of numerous antioxidants. It is primarily utilized as an acidity regulator and an aroma mixture. Additionally, it increases gel texture in marmalades and reduces enzymatic browning in fruits and fruit products. Similarly, Calcium acetate has different functions. It is utilized in some foods as a thickening agent like cake mixtures, pie fillings, and puddings, and also functions as a protector in maintaining the pH of food in the processing time, and as a preservative to control microbial growth, and as a calcium supplement in pet food. Inadequate pH control can lead to unwanted germs in the product and health risks which ultimately influences the expanded usage of acidity regulators in different areas, including bakeries and confectionery. Fumaric acid, for instance, is used as a flavoring component in fruit wine, bread, sweets, pie fillings, and drinks, impacting the demand for acidity regulators in bakery and confectionery products.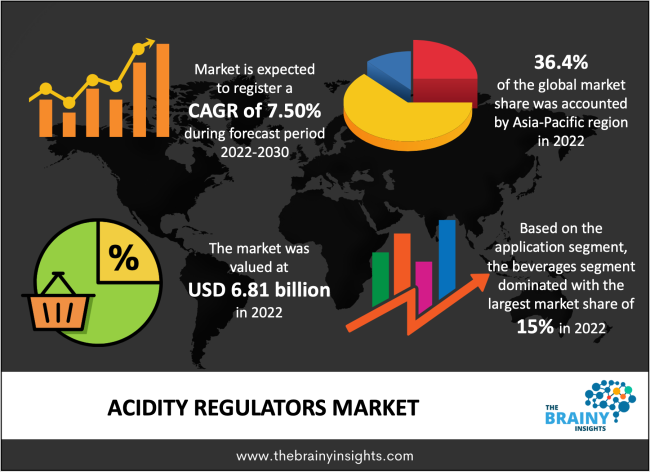 Get an overview of this study by requesting a free sample
Recent Development
In June 2018, The United States. International Trade Commission decided to extend an anti-dumping and countervailing duties investigation into imports of citric acid and certain citrate salts from Colombia, Belgium, and Thailand in reaction to a petition from U.S.-based food processing and commodities companies Archer Daniels Midland and Cargill Inc.
Market Dynamics:
Drivers
Increasing use of Acidity Regulators across different industries- Acetic acid in the textile industry is used as a buffering agent in dye baths and for neutralization. Many consumers utilize this for fabric dyeing to control PH levels. Glacial acetic acid, the most widely utilized organic acid, is typically used in printing. Lactic acid is broadly used as a mordant in the textile sector. It also performs the function of chrome-level effluent control during dye application, showing better dye yields. Similarly, the food sector utilizes acetic acid, which provides a distinctive flavor to food. Acetic acid is used for microbial decontamination of meat and a soft descaling agent in the food industry. Similarly, World Health Organization has recorded acetic acid among vital medicines utilized to treat outer ear infections like bacteria and fungus growth. Therefore, the change in the textile, food and pharmaceutical sectors further propels the market's growth.
Helpful In Treating Kidney Stones- Acidity Regulator also aids in controlling and treating the formation of kidney stones. Acidity Regulator, when utilized as potassium citrate, is of good support in splitting kidney stones already formed within the body.
Restraints:
It May Provoke Allergies- It has been noticed that intolerance or pseudo-allergic reactions, but only rarely. People intolerant to the product must bypass soft fruits, all types of berries, and items with citric acid. People having a strong allergy to citric acid should be careful. The individual must be cautious to avail of emergency assistance if they notice any symptoms of an allergy while consuming the product. Common signs are hives, tongue, difficulty breathing, lips, face, and throat swelling.
Opportunities:
Various Health Benefits- Citric acid controls unwanted bacteria from entering the food and also maintains many intrinsic health advantages. Firstly, citric acid stimulates renal health. Its alkalizing properties aid in preventing the formation of kidney stones. As an antioxidant, it is anti-carcinogenic as it neutralizes the effects of free radicals. Usually seen in face packs, citric acid can rejuvenate the skin, restoring tissue and slowing the aging process. The miraculous citric acid can decrease tonsillitis rash and reduces any feelings of nausea.
Segmentation analysis:
Regional segmentation analysis:
The regions analyzed for the market include North America, Europe, South America, Asia Pacific, the Middle East, and Africa. Asia Pacific emerged as the largest market for the global acidity regulators market, with a 36.4% share of the market revenue in 2022.
Asia-Pacific region maintains a significant market share, followed by the North American region over the prediction years due to beverage and canned food growth. India, Japan, and China are the foremost producers of canned foods in the Asia-Pacific. These drinks are providing an additional increase to the market for acidity regulators in the region. In the region of North America, acidity regulators will notice substantial development owing to the raised consumption of vegetable and fruit juices in the United States. A favorable industry perspective for the processed food sector in African and Middle East countries, including Saudi Arabia, is foreseen to ultimately influence the market growth of acidity regulators during the projection period.
Asia Pacific Region Acidity Regulators Market Share in 2022 - 36.4%
www.thebrainyinsights.com
Check the geographical analysis of this market by requesting a free sample
Product Type Segment Analysis
The product type segment is divided into phosphoric acid, acetic acid, citric acid, maleic acid, and lactic acid. The citric acid segment dominated the market, with a market share of around 25% in 2022 due to the rising benefits of acidity regulator across different industries like pharmaceutical, food, beverages, and others. Citric acid is preferred for its delightful flavor, pH effects, and solubility. In expansion, citric acid's excellent distributing abilities round off these products' properties and prepare them for multiple applications such as food and beverage, personal care, and pharmaceuticals.
Application Segment Analysis
The application segment is divided into beverages, bakery products, confectionery, processed food, dairy products, dressings & condiments, and others. The beverages segment dominated the market, with a market share of around 15% in 2022. The growing demand for the non-alcoholic beverage industry is anticipated to push acidity regulators' market needs. Similarly, the increasing use of lactic acid in manufacturing dairy products like cheese, buttermilk, yogurt, and other dairy products, especially fermentation, propels market development. The growing e-commerce industry, increasing population, and food and beverage demand further contribute to the market development.
Some of the Key Market Players:
Tate & Lyle Plc.
Merko Group Llc.
Jungbunzlauer Suisse AG
Fuerst Day Lawson.
Foodchem International Corporation.
FBC Industries Inc.
Chemelco International.
Celrich Products.
Cargill Incorporated.
Bartek Ingredients Inc.
Archer Daniels Midland.
American Tartaric Products.
Report Description:
| Attribute | Description |
| --- | --- |
| Market Size | Revenue (USD Billion), Volume (ML) |
| Market size value in 2022 | USD 6.81 Billion |
| Market size value in 2030 | USD 12.14 Billion |
| CAGR (2022 to 2030) | 7.50% |
| Historical data | 2019-2020 |
| Base Year | 2021 |
| Forecast | 2022-2030 |
| Segments | Product Type, Application |
| Regional Segments | The regions analyzed for the market are North America, Middle East & Africa, Asia Pacific, Europe, and South America. Furthermore, the regions are further analyzed at the country level. |
Frequesntly Asked Questions
1. Introduction
1.1. Objectives of the Study
1.2. Market Definition
1.3. Research Scope
1.4. Currency
1.5. Key Target Audience

2. Research Methodology and Assumptions

3. Executive Summary

4. Premium Insights
4.1. Porter's Five Forces Analysis
4.2. Value Chain Analysis
4.3. Top Investment Pockets
4.3.1. Market Attractiveness Analysis by Product Type
4.3.2. Market Attractiveness Analysis by Application
4.3.3. Market Attractiveness Analysis by Region
4.4. Industry Trends

5. Market Dynamics
5.1. Market Evaluation
5.2. Drivers
5.2.1. Increasing use of acidity regulators across different industries
5.2.2. Helpful in treating kidney stones
5.3. Restraints
5.3.1. It may provoke allergies
5.4. Opportunities
5.4.1. Various health benefits

6. Global Acidity Regulators Market Analysis and Forecast, By Product Type:
6.1. Segment Overview
6.2. Phosphoric Acid
6.3. Acetic Acid
6.4. Citric Acid
6.5. Maleic Acid
6.6. Lactic Acid

7. Global Acidity Regulators Market Analysis and Forecast, By Application
7.1. Segment Overview
7.2. Beverages
7.3. Bakery Products
7.4. Confectionery
7.5. Processed Food
7.6. Dairy Products
7.7. Dressings & Condiments
7.8. Others

8. Global Acidity Regulators Market Analysis and Forecast, By Regional Analysis
8.1. Segment Overview
8.2. North America
8.2.1. U.S.
8.2.2. Canada
8.2.3. Mexico
8.3. Europe
8.3.1. Germany
8.3.2. France
8.3.3. U.K.
8.3.4. Italy
8.3.5. Spain
8.4. Asia-Pacific
8.4.1. Japan
8.4.2. China
8.4.3. India
8.5. South America
8.5.1. Brazil
8.6. Middle East and Africa
8.6.1. UAE
8.6.2. South Africa

9. Global Acidity Regulators Market-Competitive Landscape
9.1. Overview
9.2. Market Share of Key Players in the Acidity Regulators Market
9.2.1. Global Company Market Share
9.2.2. North America Company Market Share
9.2.3. Europe Company Market Share
9.2.4. APAC Company Market Share
9.3. Competitive Situations and Trends
9.3.1. Product Launches and Developments
9.3.2. Partnerships, Collaborations, and Agreements
9.3.3. Mergers & Acquisitions
9.3.4. Expansions

10. Company Profiles
10.1. Tate & Lyle Plc.
10.1.1. Business Overview
10.1.2. Company Snapshot
10.1.3. Company Market Share Analysis
10.1.4. Company Product Portfolio
10.1.5. Recent Developments
10.1.6. SWOT Analysis
10.2. Merko Group Llc.
10.2.1. Business Overview
10.2.2. Company Snapshot
10.2.3. Company Market Share Analysis
10.2.4. Company Product Portfolio
10.2.5. Recent Developments
10.2.6. SWOT Analysis
10.3. Jungbunzlauer Suisse AG
10.3.1. Business Overview
10.3.2. Company Snapshot
10.3.3. Company Market Share Analysis
10.3.4. Company Product Portfolio
10.3.5. Recent Developments
10.3.6. SWOT Analysis
10.4. Fuerst Day Lawson
10.4.1. Business Overview
10.4.2. Company Snapshot
10.4.3. Company Market Share Analysis
10.4.4. Company Product Portfolio
10.4.5. Recent Developments
10.4.6. SWOT Analysis
10.5. Foodchem International Corporation.
10.5.1. Business Overview
10.5.2. Company Snapshot
10.5.3. Company Market Share Analysis
10.5.4. Company Product Portfolio
10.5.5. Recent Developments
10.5.6. SWOT Analysis
10.6. FBC Industries Inc
10.6.1. Business Overview
10.6.2. Company Snapshot
10.6.3. Company Market Share Analysis
10.6.4. Company Product Portfolio
10.6.5. Recent Developments
10.6.6. SWOT Analysis
10.7. Chemelco International.
10.7.1. Business Overview
10.7.2. Company Snapshot
10.7.3. Company Market Share Analysis
10.7.4. Company Product Portfolio
10.7.5. Recent Developments
10.7.6. SWOT Analysis
10.8. Celrich Products.
10.8.1. Business Overview
10.8.2. Company Snapshot
10.8.3. Company Market Share Analysis
10.8.4. Company Product Portfolio
10.8.5. Recent Developments
10.8.6. SWOT Analysis
10.9. Cargill Incorporated
10.9.1. Business Overview
10.9.2. Company Snapshot
10.9.3. Company Market Share Analysis
10.9.4. Company Product Portfolio
10.9.5. Recent Developments
10.9.6. SWOT Analysis
10.10. Bartek Ingredients Inc
10.10.1. Business Overview
10.10.2. Company Snapshot
10.10.3. Company Market Share Analysis
10.10.4. Company Product Portfolio
10.10.5. Recent Developments
10.10.6. SWOT Analysis
10.11. Archer Daniels Midland
10.11.1. Business Overview
10.11.2. Company Snapshot
10.11.3. Company Market Share Analysis
10.11.4. Company Product Portfolio
10.11.5. Recent Developments
10.11.6. SWOT Analysis
10.12. American Tartaric Products.
10.12.1. Business Overview
10.12.2. Company Snapshot
10.12.3. Company Market Share Analysis
10.12.4. Company Product Portfolio
10.12.5. Recent Developments
10.12.6. SWOT Analysis
List of Table
1. Global Acidity Regulators Market, By Product Type, 2019-2030 (USD Billion)
2. Global Phosphoric Acid Acidity Regulators Market, By Region, 2019-2030 (USD Billion)
3. Global Acetic Acid Acidity Regulators Market, By Region, 2019-2030 (USD Billion)
4. Global Citric Acid Acidity Regulators Market, By Region, 2019-2030 (USD Billion)
5. Global Maleic Acid Acidity Regulators Market, By Region, 2019-2030 (USD Billion)
6. Global Lactic Acid Acidity Regulators Market, By Region, 2019-2030 (USD Billion)
7. Global Acidity Regulators Market, By Application, 2019-2030 (USD Billion)
8. Global Beverages Acidity Regulators Market, By Region, 2019-2030 (USD Billion)
9. Global Bakery Products Acidity Regulators Market, By Region, 2019-2030 (USD Billion)
10. Global Confectionery Acidity Regulators Market, By Region, 2019-2030 (USD Billion)
11. Global Processed Food Acidity Regulators Market, By Region, 2019-2030 (USD Billion)
12. Global Dairy Products Acidity Regulators Market, By Region, 2019-2030 (USD Billion)
13. Global Dressings & Condiments Acidity Regulators Market, By Region, 2019-2030 (USD Billion)
14. Global Others Products Acidity Regulators Market, By Region, 2019-2030 (USD Billion)
15. North America Acidity Regulators Market, By Product Type, 2019-2030 (USD Billion)
16. North America Acidity Regulators Market, By Application, 2019-2030 (USD Billion)
17. U.S. Acidity Regulators Market, By Product Type, 2019-2030 (USD Billion)
18. U.S. Acidity Regulators Market, By Application, 2019-2030 (USD Billion)
19. Canada Acidity Regulators Market, By Product Type, 2019-2030 (USD Billion)
20. Canada Acidity Regulators Market, By Application, 2019-2030 (USD Billion)
21. Mexico Acidity Regulators Market, By Product Type, 2019-2030 (USD Billion)
22. Mexico Acidity Regulators Market, By Application, 2019-2030 (USD Billion)
23. Europe Acidity Regulators Market, By Product Type, 2019-2030 (USD Billion)
24. Europe Acidity Regulators Market, By Application, 2019-2030 (USD Billion)
25. Germany Acidity Regulators Market, By Product Type, 2019-2030 (USD Billion)
26. Germany Acidity Regulators Market, By Application, 2019-2030 (USD Billion)
27. France Acidity Regulators Market, By Product Type 2019-2030 (USD Billion)
28. France Acidity Regulators Market, By Application, 2019-2030 (USD Billion)
29. U.K. Acidity Regulators Market, By Product Type, 2019-2030 (USD Billion)
30. U.K. Acidity Regulators Market, By Application, 2019-2030 (USD Billion)
31. Italy Acidity Regulators Market, By Product Type, 2019-2030 (USD Billion)
32. Italy Acidity Regulators Market, By Application, 2019-2030 (USD Billion)
33. Spain Acidity Regulators Market, By Product Type, 2019-2030 (USD Billion)
34. Spain Acidity Regulators Market, By Application, 2019-2030 (USD Billion)
35. Asia Pacific Acidity Regulators Market, By Product Type, 2019-2030 (USD Billion)
36. Asia Pacific Acidity Regulators Market, By Application, 2019-2030 (USD Billion)
37. Japan Acidity Regulators Market, By Product Type, 2019-2030 (USD Billion)
38. Japan Acidity Regulators Market, By Application, 2019-2030 (USD Billion)
39. China Acidity Regulators Market, By Product Type 2019-2030 (USD Billion)
40. China Acidity Regulators Market, By Application, 2019-2030 (USD Billion)
41. India Acidity Regulators Market, By Product Type 2019-2030 (USD Billion)
42. India Acidity Regulators Market, By Application, 2019-2030 (USD Billion)
43. South America Acidity Regulators Market, By Product Type, 2019-2030 (USD Billion)
44. South America Acidity Regulators Market, By Application, 2019-2030 (USD Billion)
45. Brazil Acidity Regulators Market, By Product Type 2019-2030 (USD Billion)
46. Brazil Acidity Regulators Market, By Application, 2019-2030 (USD Billion)
47. Middle East and Africa Acidity Regulators Market, By Product Type, 2019-2030 (USD Billion)
48. Middle East and Africa Acidity Regulators Market, By Application, 2019-2030 (USD Billion)
49. UAE Acidity Regulators Market, By Product Type, 2019-2030 (USD Billion)
50. UAE Acidity Regulators Market, By Application, 2019-2030 (USD Billion)
51. South Africa Acidity Regulators Market, By Product Type 2019-2030 (USD Billion)
52. South Africa Acidity Regulators Market, By Application, 2019-2030 (USD Billion)
List of Figures
1. Global Acidity Regulators Market Segmentation
2. Acidity Regulators Market: Research Methodology
3. Market Size Estimation Methodology: Bottom-Up Approach
4. Market Size Estimation Methodology: Top-Down Approach
5. Data Triangulation
6. Porter's Five Forces Analysis
7. Value Chain Analysis
8. Global Acidity Regulators Market Attractiveness Analysis by Product Type
9. Global Acidity Regulators Market Attractiveness Analysis by Application
10. Global Acidity Regulators Market Attractiveness Analysis by Region
11. Global Acidity Regulators Market: Dynamics
12. Global Acidity Regulators Market Share by Product Type (2022 & 2030)
13. Global Acidity Regulators Market Share by Application (2022 & 2030)
14. Global Acidity Regulators Market Share by Regions (2022 & 2030)
15. Global Acidity Regulators Market Share by Company (2021)